Top 10 consulting firms
Emma Rovit, ex-Bain Consultant, ex-Instacart
Published: August 13, 2020
Top firms by revenue | Firm summaries
McKinsey, BCG and Bain gets lots of love - but do they get all the revenue? The answer is no.
In this post, we do a deep dive on the top ten consulting firms, stack ranking them by annual revenue. While McKinsey, BCG and Bain benefit from great reputations their overall consulting businesses are relatively small when stacked up against some of the implementation heavy weights like Deloitte and Accenture.
To tell the full story, we researched the top consulting firms revenues, number of employees, and revenue per employee - to give a sense of how efficient each firm is at putting their resources to work. All data comes from the best public sources (full list below).
Top firms by revenue (Top)
Before you dive in, there is one important caveat to be mindful of.
Massive firms like Deloitte and PWC have non-consulting businesses too - such as accounting services, audit & risk, etc - that boost their overall revenues. So, it's not quite an apples to apples comparison.
However, as traditional strategy consulting continue to expand and build new competencies - McKinsey has an corporate restructuring group it acquired and BCG has IT implementation that looks increasingly similar to some work Accenture does - these lines will blur and thus comparing overall revenues is instructive to get a sense of relative scale.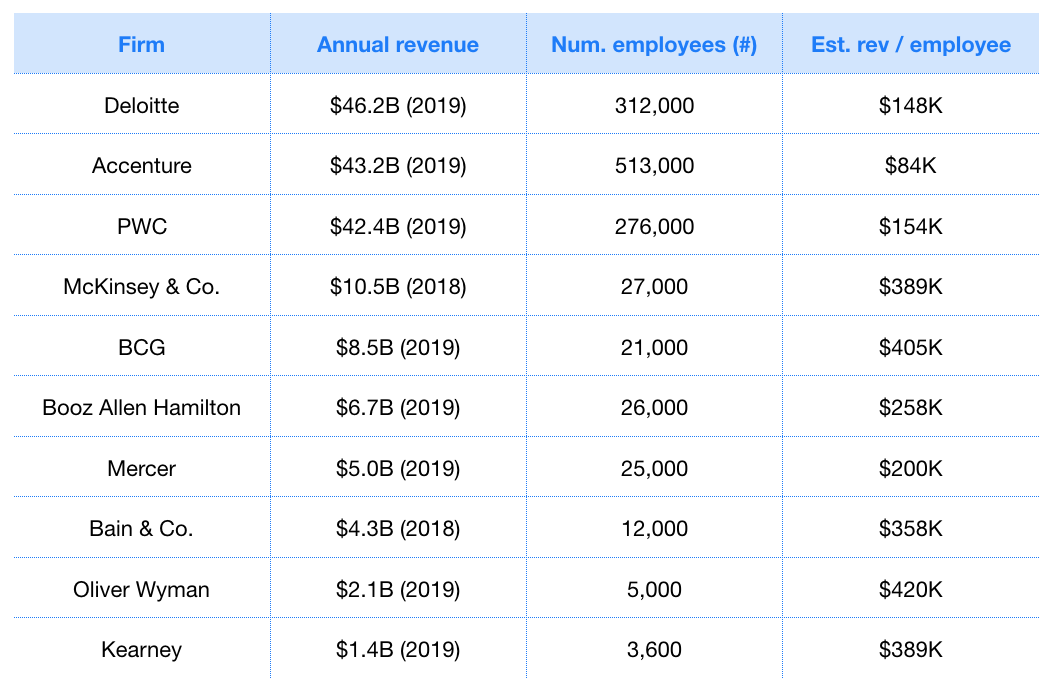 Summary of firms, ordered by annual revenue (Top)
Deloitte
Deloitte is the largest firm on this list by revenue ($46B), although that's shared across several divisions of professional services including audit & insurance, tax & accounting, risk advisory, and consulting. They were founded in 1845 as an accounting firm, and it wasn't until 1995 that they expanded into consulting.
Deloitte's consulting division includes ~30K employees and is organized into three different groups: human capital, strategy & operations, and technology. Fun fact, Deloitte opened Deloitte University in 2011, a Texas-based facility dedicated to learning and development.
Accenture
Accenture, as we know it today, has only been around since 2001, but its roots go back to the early 50's, when it was part of a company called Arthur Andersen. Today, Accenture's massive business is split across several divisions, including Strategy, Digital, Technology, and Consulting (their management consulting branch).
Accenture leverages their deep technology expertise across many projects including strategic transformation, systems integration, and implementation. While the official HQ is in Dublin, Ireland, Accenture has offices in more than 200 offices, and consultants often work with peers in other offices. Fun fact, each consultant at Accenture is paired with a career counselor who provides support and guidance outside their project.
Price Waterhouse Coopers (PWC)
Based in London, PWC is a global professional services network with expertise in tax & accounting, audit & risk, and consulting. Its roots go back to the mid 1800s, but it has existed in its current state since 1998.
Strategy& is a strategy consulting firm that sits under the PWC umbrella. It has a slightly complicated history: the entity was originally part of Booz Allen Hamilton, but split off in 2008 under the name Booz & Company. Then in 2013, they were bought by PWC and re-branded to Strategy&. This firm has around 3,000 employees that take on more of the traditional consulting projects at PWC.
Fun fact, PWC provides tax services for more than 90% of the FT's Global 500 firms.
McKinsey & Co.
The largest and oldest of MBB, McKinsey was founded in Chicago in 1926 and now has a global presence across 130 offices. While their roots are in traditional strategy consulting, their capabilities now include implementation, data analytics and digital strategy.
McKinsey is one of the most prestigious companies in the world - their alumni can be found in nearly every sector of business as well as start ups, politics, and the arts. While the long hours and intense travel are not for everyone, the caliber of clients, peers, and exit opportunities can't be beat. Fun fact, McKinsey doesn't have a stated HQ, rather it rotates to the home office of the managing partner at any given time.
BCG
Based in Boston, BCG is one of the top management consulting firms in the world. They were founded in 1963 with a focus on strategy consulting, where they developed innovative frameworks such as the growth share matrix. In 1990, they expanded to broader management consulting, and areas of expertise now include digital ventures, technology implementation, and advanced analytics.
BCG consistently ranks in the top 5 of Fortune's 100 Best Companies to Work For due to their collaborative culture, investment in learning and development, and excellent compensation. Fun fact, BCG was quick to expand their services overseas, in fact, more than half of their revenues came from abroad as early as 1978.

"I recommend RocketBlocks to everyone at Wharton who asks. Our 1st years just had a great recruiting season thanks to RocketBlocks and it helped me land my McKinsey internship." -- Morgan Cummings Gray, McKinsey Engagement Manager
Booz Allen Hamilton
Founded in 1914 in Chicago, Booz Allen Hamilton is now headquartered in Virginia and is known as a top management and IT consulting firm. They have a large presence in cybersecurity work, as well as the defense and energy sectors. In 2008, the commercial arm of Booz Allen Hamilton split off to form Booz & Company, which was later acquired by PWC and renamed Strategy&.
Fun fact, Booz Allen Hamilton was named "the world's most profitable spy organization" by Bloomberg, as they have numerous former intelligence officers and employees with security clearance.
Bain & Co.
The youngest of MBB, Bain was founded by Bill Bain, an ex-BCG VP, in 1973. Since its founding, Bain has grown rapidly and now has a presence in 37 countries. Bain's expertise in private equity is a differentiator from other management consulting firms, which is due to their long history with the private equity group Bain Capital.
Bain is best known for their tight-knit culture, which often garners them the top spot in Glassdoor's Best Places to Work list. Bain consultants are often said to have less rigorous travel requirements than their peers, as the firm takes a home staffing approach, which prioritizes local teams on local clients. Fun fact, Bain invests heavily in training, with week-long offsite sessions that include skill building, guest speakers, and even lip sync competitions.
Mercer
Mercer is an HR consulting firm that's a subsidiary of the professional services firm Marsh and McLennan, which also owns Oliver Wyman. They are based in NYC, but have offices in 43 countries. Their capabilities include benefits and retirement, talent strategy, and M&A advisory.
As part of their Wealth consulting division, which advises clients on investments and retirement plans, Mercer has more than $300B of assets under management. Fun fact, Mercer took the #1 spot in Vault's Best Consulting Firms for HR Consulting for 16 straight years before dropping to #2 2020.
Kearney
Kearney, which until recently was known as A.T. Kearney, is a global management consulting firm based in Chicago, which was founded in 1926. Their capabilities include strategy, analytics, operations, M&A, and sustainability.
Kearney is consistently ranked as a top firm for working families and women, as well as a best place to work for LGBTQ equality. Fun fact, Kearney was started by the first McKinsey partner, Andrew Kearney, who managed the Chicago office and split from McKinsey in 1939.
Oliver Wyman
Oliver Wyman is the smallest firm on our list, both by revenue and number of employees. Like Mercer, they are owned by the professional services firm Marsh and McLennan. They were founded in 1984 and now have offices in 30 countries. In addition to strategy, their expertise also includes organizational transformation, risk management, and operations.
Oliver Wyman has a culture of trust, both within their teams and with their clients. They were recently named one of Fortune's Best Places to Work for Millenials. Fun fact, all employees receive 8 hours of paid time off each year for volunteering.
Conclusion
As you can see from our list, there's a really wide spread in the annual revenue each of the top 10 consulting firms are bringing in - from just over $1B to nearly $50B. In addition, the most well known or prestigious firms don't necessarily have the largest revenue.
It's also interesting to compare annual revenue per employee, as this varies from ~$85K (Accenture), all the way up to $420K (Oliver Wyman). However, it is important to note that some of the bigger firms like Accenture include a variety of professional services such as accounting, which may have lower client rates than a typical management consulting case.
It will be interesting to see how these metrics continue to change over the coming years. Which firm do you think will grow the most?
Real interview drills. Sample answers from ex-McKinsey, BCG and Bain consultants. Plus technique overviews and premium 1-on-1 Expert coaching.
Sources for revenue and employee data: