Healthcare consulting: everything you need to know
Kenton Kivestu, ex-Google, ex-BCG, Founder at RocketBlocks
Published: August 29, 2019
Project types | Client types | Key firms | Interview prep | Summary
Healthcare is a massive industry. In the US alone, it accounts for roughly 1/3 of the $20 trillion US economy.
Thus, it should be no surprise that there is a robust healthcare consulting industry that supports almost every different aspect of the healthcare industry (and trust us, there are many dimensions to explore!).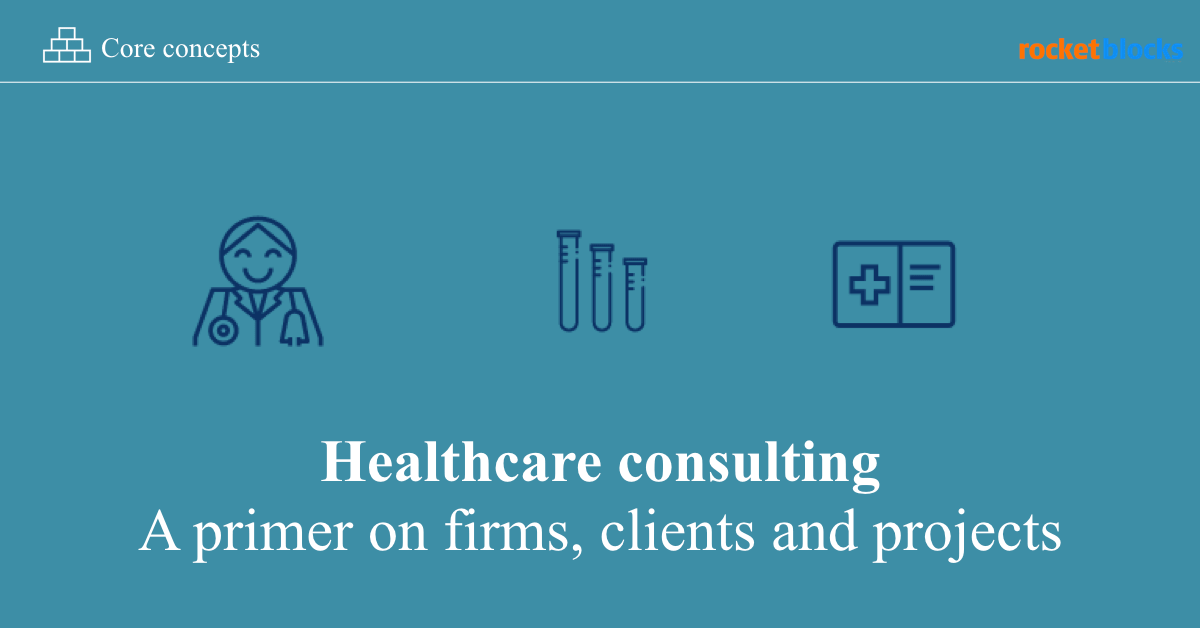 In this post, we'll do a deep dive on the healthcare industry to get you up to speed. We'll cover the range of clients firms work with, the type of projects and engagements they work on, which consulting firms are the key players and we'll end with tips on how to break into healthcare consulting.
Healthcare consulting project types: product vs. delivery (Top)
At the highest level, you can think of all healthcare consulting as boiling down to two, top level buckets: product-based work and delivery-based work.
Product-based healthcare projects
Product-based work centers around the development, distribution, marketing and strategy of building medical products.
Delivery-based healthcare projects
Delivery based work centers around issues of delivering healthcare services to patients, including everything from how patients pay for that service to where they receive it (e.g., over a video-conference call or in an ambulance).
We'll dive deeper below, but for now, here is an easy way to think of it:
A product-oriented consulting project might focus on helping a company build a new EMR (electronic medical records) feature. A delivery-based project might revolve around helping a hospital group rollout usage of that EMR feature across their network.
Healthcare consulting clients: who hires healthcare consultants? (Top)
Now that we've covered the high-level types of work, let's examine which types of companies hire healthcare consulting firms (or healthcare-focused teams from larger firms).
One helpful way to think of this is a spectrum: start with companies helping to deliver service directly to patients on one end and put companies (or organizations) paying for services on the other. It would look like this:

On the left side, you've got provider institutions we're all familiar with: hospitals, doctors' offices, ambulance providers, neighborhood health clinics, etc. On the right hand side, you've got large insurance companies and even the government (given that in most countries, the government is the largest payor for healthcare services). In the middle, you've got lots of the product organizations like medical devices companies, pharmaceutical companies, medical testing labs, etc.
The four types of healthcare consulting firms (Top)
As you might imagine, a wide range of consulting firms play in this space, from the 800lb gorillas like McKinsey & Co. to super specialized niche healthcare like Kantar Health. Below, we'll walk through the different players and in what capacity they might engage.
#1: Generalist firms
Firms like McKinsey, BCG, Accenture, Deloitte, LEK and Simon Kutcher participate across industries (e.g., from CPG to travel) and healthcare is no exception. In most cases, these firms have the capacity to help across product and delivery-type projects and compete for large projects. For example, you might find a firm like BCG supporting a rheumatology franchise and helping firm up their corporate strategy.
#2: Product firms
Firms like Trinity, HealthAdvances, and Clearview primarily focus their consulting efforts on getting medical products into markets ranging from medical devices, digital health offerings (e.g., telemedicine), diagnostics and lab tools to pharmaceuticals and over-the-counter remedies.
While these product-focused firms occasionally do high level strategy, like a generalist firm might, the bulk of the work is centered on specific products or franchises. For example, a firm like HealthAdvances might be engaged to help a Canadian based developer and manufacturer of insulin pumps expand into the US market.
#3: Delivery firms
Delivery focused specialists like Chartis focus on helping care providers, like doctor networks, hospital groups and specialty practices, operate efficiently. Instead of helping deliver a product into a new market, like the product-focused firms might do, the delivery firms will help with care providers of all stripes in implementing and integrating the right technology, standardizing back-office systems (e.g., HR, legal, accounting) and overall strategies.
For example, a firm like Chartis, might help a network of Children's hospitals determine whether they should buy existing technology or develop in-house solutions to specific use cases they face in children's care.
#4: Specialists firms
Finally, there is a solid base of specialty healthcare firms that help across specific, critical needs that come up from various healthcare players. Some firms in this space are IQVIA (formerly IMS Health), Kantar Health, Evidera.
A player like IQVIA, which owns a proprietary database that tracks prescription fulfillment, could help a pharmaceutical company understand usage trends in a certain category. Kantar Health, another specialist, focuses on HEOR (health economics and outcomes research), which is critical for helping product companies prove the value of their products to payors.
Healthcare consulting interview prep (Top)
Finally, if you're interested in pursuing a career in healthcare, here are a few suggestions to kick you off.
First, make sure you have an interest in healthcare. The best way to do this is by digging into industry news and confirming that you find it engaging. Research current health trends (e.g., telehealth), top performing drugs (e.g., Humira) and how technology is being integrated (e.g., data analytics). To help, check out industry news sources like Endpoints News and Fierce Pharma.
Second, learn the language. Naturally, this will flow out of the first but will be an important way for you to signal your interest during interviews. For example, if you're interested in product-focused work, knowing the key terms around pharmaceuticals makes sense: small molecule (e.g., simple like H20) and biologics (e.g., complex drugs, high R&D). Pfizer makes both types of drugs but many firms specialize. Also, make sure you know the terms for large players in the industry (e.g., payors, providers, etc.).
Third, start prepping for healthcare case interviews. What types of cases show up in healthcare consulting cases? Well, depending on the firm you're talking to - a case covering any of the aforementioned topics could pop up - so be ready for anything! One popular type is a healthcare focused flavor of market sizing cases. For example, estimating the number of patients who might have a particular condition, how many are diagnosed, what percentage are being treated, what varying solutions are out there and, finally, what type of market share could a particular player earn.
💡 Shameless plug: Our consulting interview prep can help build your skills
Healthcare consulting is complex, multi-faceted and dynamic - which makes it an exciting field that attracts a lot of talent!
At the highest level, you can think of healthcare consulting by breaking it down into two big buckets: product-focused work (e.g., launching a new insulin pump) to delivery-focused work (e.g., helping a hospital network run more efficiently).
If you're interested in a healthcare consulting career, the first step is to start "peeling the onion" to learn about the different players, different types of projects and where different consulting firms engage in the process. This primer should help you get started down the right path but it's just the beginning - good luck!
Real interview drills. Sample answers from ex-McKinsey, BCG and Bain consultants. Plus technique overviews and premium 1-on-1 Expert coaching.