Acquisitions by consulting companies
Emma Rovit, ex-Bain, ex-Instacart

Published: April 29, 2020 | Last updated: May 4, 2020
In our recent posts on McKinsey Analytics, BCG DV, and Bain Vector, we've highlighted how MBB have been expanding their expertise in key capabilities such as data analytics and digital transformation.
While all three firms are growing their digital and analytics abilities organically (e.g., hiring for non-traditional consulting roles), they are increasingly using acquisitions to accelerate their presence in these fields.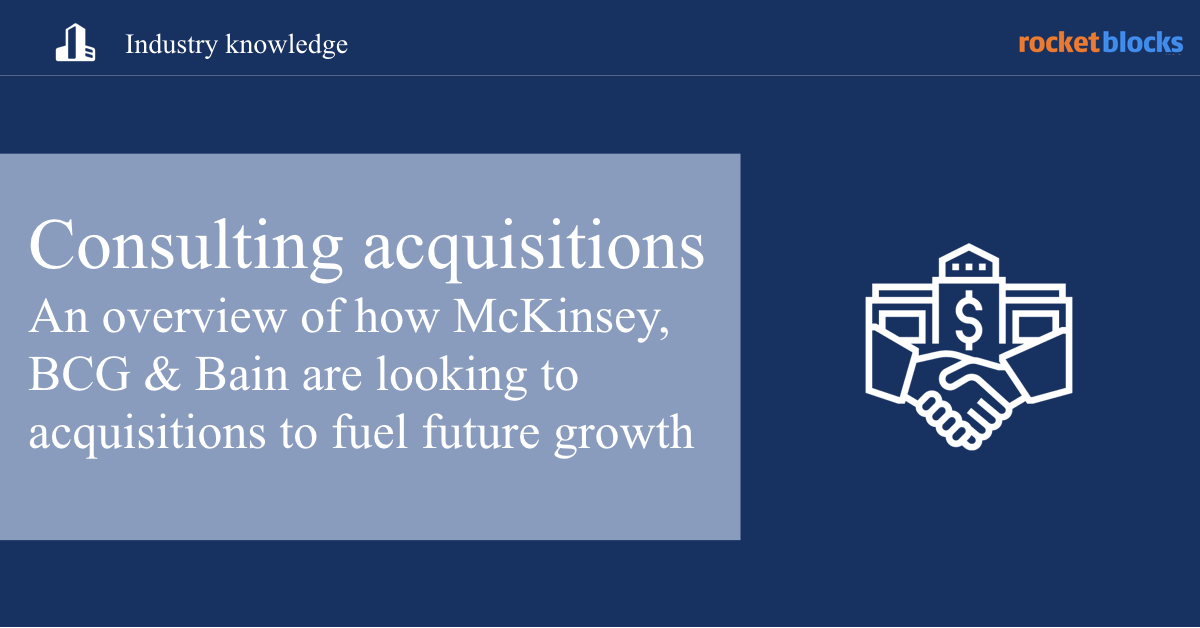 In this post, we'll dive into these acquisitions in more detail to get a sense of the types of companies they're buying and how these purchases fit into the broader strategy of each. We will cover:
Types of acquisitions
Across MBB, acquisitions tend to fall into three main categories: data analytics groups, design or digital agencies, and boutique consultancies. We'll cover these below.
1. Data Analytics Acquisitions
Data analytics companies are a key target for MBB for a couple reasons. First of all, they often have proprietary software systems and/or data sets that make them attractive.
The Simulation Group (acquired by BCG in 2019) is a perfect example. This company built proprietary technology that essentially creates a 'digital twin' of a company. A virtual copy is built through inputting data around businesses processes, operations, and financials. Then, simulations can be run to forecast how the company might fare under various scenarios. One previous client of theirs was an airport, which simulated various delay conditions, plane sizes, and gate availability to optimize takeoff schedules. As you can see, this software could be a really valuable tool for a management consulting firm to use with clients when predicting future performance.
McKinsey leads the pack in data analytics acquisitions - they've purchased 7 companies since 2013. Many of these acquisitions are highly specialized and help McKinsey build a competitive advantage in specific industries and niche analytics functions.
For example, VisualDoD (acquired by McKinsey in 2015) focuses on aerospace and defense. Specifically, they created a comprehensive database of budget and market information for the government and defense industries. This data enabled companies to develop a more concrete view on trends in the sector. With this purchase, McKinsey was able to take ownership of the database, making this market knowledge a competitive advantage for them and their clients.
Another acquisition, Risk Dynamics (bought by McKinsey in 2016) specialized in risk modeling and management. Their capabilities centered on building and validating models to forecast and mitigate risk for clients. A previous investment banking client engaged Risk Dynamics to support them in validating models determining earnings risk to companies based on various risk factors such as interest rates, inflation, and currency volatility. Through this purchase McKinsey gained modeling tools and capabilities as well as analytics talent within the company.
2. Design and Digital Agencies
Design consultancies and digital marketing agencies make up the second broad category of companies MBB have been acquiring. These types of companies span a fairly wide range of capabilities, from human-centered product design (Lunar, bought by McKinsey in 2015) to marketing transformation (FRWD, bought by Bain in 2018).
This category of purchases is less about obtaining a proprietary piece of software and more about gaining the talent, reputation, and 'cool factor' of the acquisition. As clients increasingly look for competitive advantages and innovative solutions to their biggest problems, they are looking for a team with diverse expertise who can advise across a wide range of topics.
Management consulting firms have historically hired individuals with backgrounds in finance, economics, or business, whereas design consultancies recruit a broader range of backgrounds such as industrial designers, design researchers, or software designers. By acquiring design consultancies and digital agencies, MBB are able to quickly bring on a new type of talent base with creative capabilities to their teams.
Furthermore, clients increasingly want consultants to support through the implementation stage of recommendations. Having design and digital agencies under their umbrella allows management consultancies to tap into these more specialized skill sets as needed.
For example, say a strategy case team were to advise a large department store client to tap into experiential in-store offerings to connect with younger generation customers. This team of consultants might not have the capabilities to test out this recommendation. However, a design consultancy has expertise in rapid prototyping and design thinking. They may be brought in at this stage to develop a plan for testing the idea in the field and implementing in phases. For example, their first step may be launching a pop-up version of the department store with a few experiential classes to test demand.
3. Boutique consultancies acquisitions
The final group of acquisitions is a bit of a mixed bag which we'll call boutique consultancies.
Often, these acquisitions are more about expanding into a new geographic region quickly or acquiring a company with a particularly strong reputation in an industry niche.
For example, Bain acquired QVARTZ in 2019, which had a strong presence in Nordic countries and allowed Bain to quickly enter that geographic region with a strong team. McKinsey's acquisition of Westney Consulting, a firm specializing in evaluating mega-scale capital projects, is a good example of a niche industry acquisition that is also common in this category.
List of acquisitions by McKinsey, BCG and Bain
We've compiled a list of MBB's acquisitions below, the earliest being McKinsey's 2013 purchase of Lixto. These have been broken out by acquiring firm, year and acquisition category:
Acquisitions as a strategy
There are several factors at play for why MBB is pursuing acquisitions as a strategy:
First of all, acquisitions are a quick way to jumpstart growth in a new capability or region. Buying existing expertise is always faster than developing it in-house.
Second, management consultancies may believe they don't have the right hiring funnels to grow these capabilities in-house. MBB have historically recruited from top universities and MBA programs; they don't have relationships or reputations with the top design or technical schools.
Finally, management consultancies may be using acquisitions as an initial step to growing out these more specialized capabilities. For example, once a design consultancy is acquired, the top talent from that purchase may become the capability leader, who will begin to manage recruiting and expansion internally.
As you can see from the list of acquisitions above, McKinsey has embraced acquisitions as a much larger part of its growth strategy, purchasing 12 companies over the past 7 years. On the opposite end, Bain & Co. has only purchased 3 companies, and they have all been in the past 2 years. BCG is in the middle, with 5 acquisitions across the past 6 years.
As we mentioned in the Bain Vector post, Bain has prioritized building their capabilities internally and partnering with more specialized companies as needed e.g. their strategic partnership with the design consultancy FLUXX. BCG and McKinsey, on the other hand, have been scooping up companies fairly frequently and folding them into their firms.
Part of this difference in approach may have to do with their deeper pockets - McKinsey's revenue is almost double Bain's. Culture may be playing a role as well. Bain sells their culture and people as one of their defining aspects; they may be wary of acquiring too many companies too quickly and losing hold of this competitive advantage.
Summary
Acquisitions are an exciting new growth driver for McKinsey, BCG and Bain and one that they've all embraced recently to varying degrees.
As discussed, MBB's acquisitions typically fall into two key categories where they are trying to beef up their efforts: advanced analytics groups and design and digital consultancies. Given clients' desire for advanced data analytics and digital transformation support, it is likely this trend will continue and possibly accelerate.
Finally, integrating these new acquisitions may be a challenge for MBB; it will be interesting to see how they pursue their growth strategies in the future and how they fare at practicing their own PMI (post-merger-integration) skills on their own businesses.