What is BCG Platinion?
Kenton Kivestu, ex-Google, ex-BCG, Founder at RocketBlocks
Published: October 14, 2019
BCG Platinion is a new unit within BCG that focuses on technology implementation.
Specifically, Platinion focuses on delivering value to clients by enabling their core businesses with technology. If that still sounds a little vague, don't worry we'll break it down below and examine the two key parts of this mission.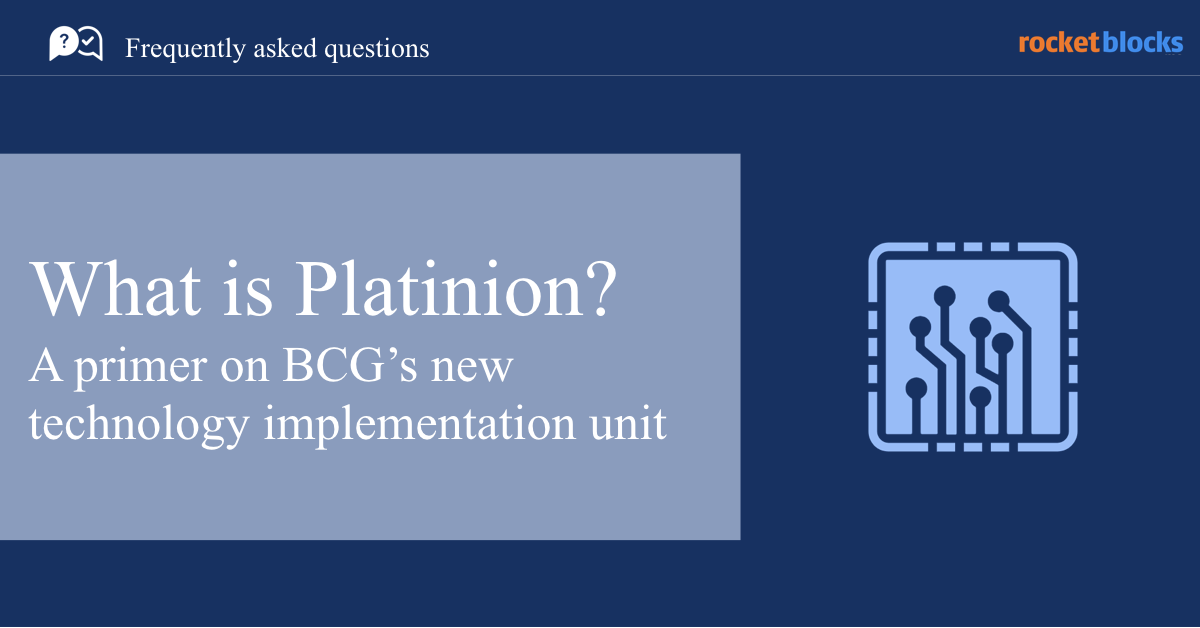 In this deep dive, we'll cover the following topics:
Let's go!
Understanding BCG Platinion's mission
First, Platinion is actually building and implementing technology - this is the "enablement" part. This is a different value proposition than BCG "Classic" offers, which focuses on analyzing a business problem or scenario and making a recommendation.
Second, Platinion is squarely focused on helping the client's core business. While other BCG units help spin up new initiatives or business lines, Platinion is designed to accelerate and improve the core business with better technology.
What type of client hires BCG Platinion?
The answer is pretty straight-forward: any business that recognizes that modern technology could help accelerate their business but either doesn't have the internal capabilities or doesn't want to develop the capabilities to build software.
For many technology companies (e.g., Google, Amazon) or younger technology enabled companies (e.g., Airbnb), this need likely isn't an issue. However, companies with deep benches of technology and engineering talent that build all their own technology are a small minority of the overall landscape - BCG Platinion can help any company build first-class technology.
Example BCG Platinion project
For example, consider the successful car rental company, Hertz.
Hertz is one of the largest global car rental companies. They operate in over 150 countries, employ roughly 40K people and earn roughly $10B in revenues annually. The core of their business is renting cars, and the key ancillary operations to support that: acquiring and maintaining a global fleet of cars, staffing rental centers and booking reservations and eventually selling rental cars back to dealerships.
When Hertz was founded in 1918, it's safe to say they weren't using software to run their business. While Hertz's core business is still renting cars (e.g., it's not a tech company like Google), there is no doubt that Hertz will employ software to streamline their core business and make it as efficient as possible.
Below, we'll look at three fictional, representative Hertz projects to understand where Platinion fits in vis-a-vis other BCG technology units.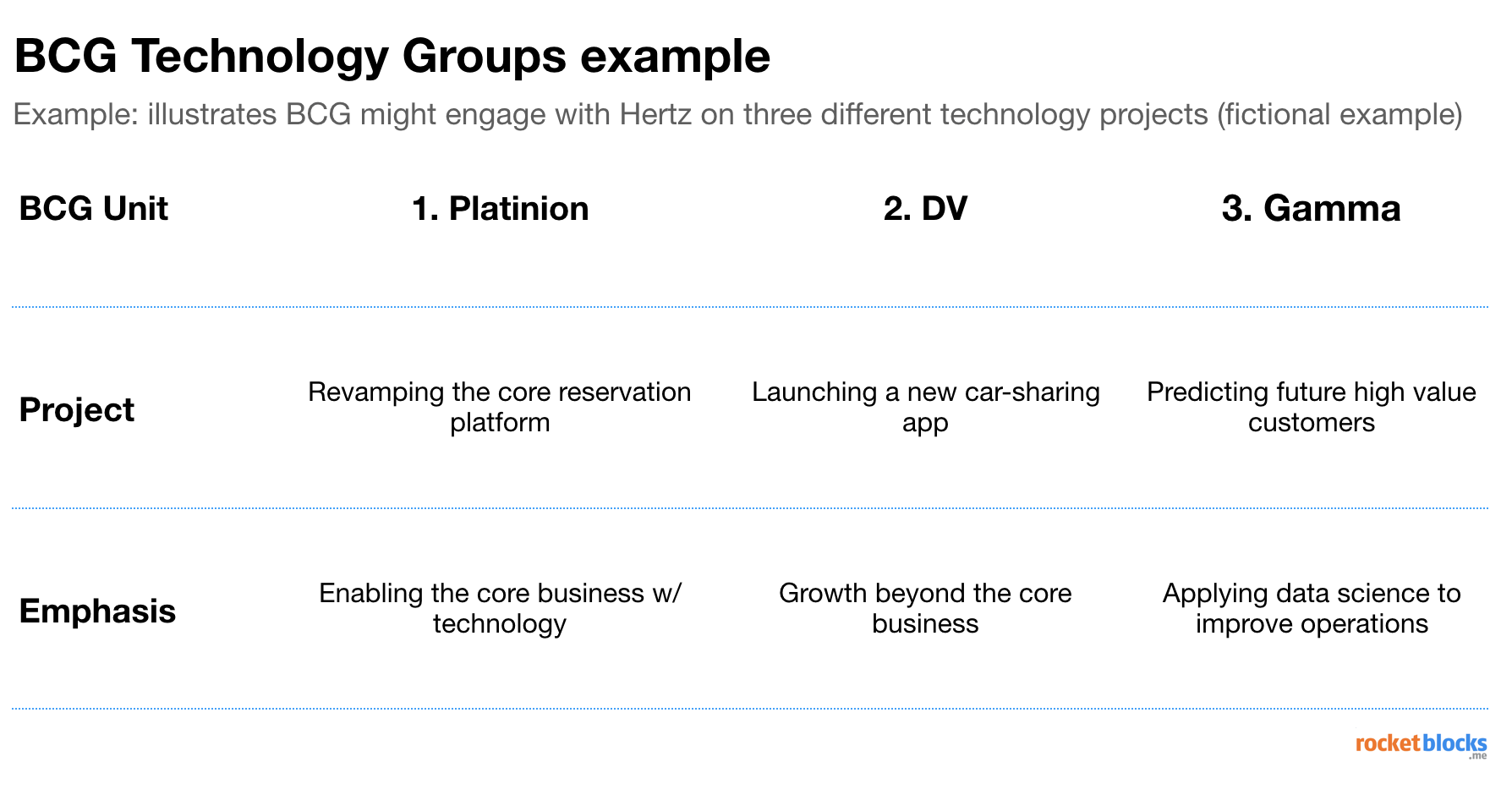 Now, imagine that Hertz determines that improving their global reservation software could improve customer service efficiency and enable staff to provide better service. But how can they accomplish this? Hertz doesn't have the right in-house talent to plan out the product needs, staff up an engineering and design team to build it and launch it. This is where BCG Platinion comes in.
Platinion can help Hertz scope out the needs for this project. It can staff an appropriate team of architects, engineers, designers and product managers against it to build it out, launch it and get it integrated into global operations. This is the exact type of work that BCG Platinion takes on - it's a technology project that enables the core business.
How is Platinion different than BCG Digital Ventures?
If you've already read about BCG Digital Ventures, often referred to as BCG DV, you might wonder: why wouldn't Hertz come to DV with this technology project? Aren't they the BCG group focused on building technology?
As mentioned above, the key difference is that Platinion is focused on the client's core business whereas DV is focused on helping launch new business lines, applications or digital experiences. So for a project like revamping Hertz's global reservation system, Platinion would be the right fit.
A BCG DV example case
However, now imagine Hertz wanted to pursue a second technology project: testing and launching a new car-sharing experience focused on business travelers. This project is more experimental in nature, it's about spinning up a new an entirely new effort with new technology. Given that, this project would likely be handled by BCG DV.
Essentially, Platinion is focused on digitally transforming the core business while DV is focused on growth beyond the core business. Both address critical client challenges but the nature of the tasks at hand are different.
How is Platinion different than BCG Gamma?
This is another good question: BCG Gamma is a third BCG unit that builds technology on behalf of its clients.
Here, the key difference is that BCG Gamma is focused on data science technology: it's building algorithms, machine learning systems and other data intensive products for its clients.
A BCG Gamma example case
What's an example? Consider a third Hertz project specifically focused on identifying future high value customers that Hertz wants to give special treatment to now in the hopes of winning their long term loyalty.
This type of project would be data intensive: it might include mining all their existing customer data, marrying it with publicly available customer information and building a prediction engine to determine which customers are likely to become valuable in the future. This is a perfect project for Gamma, which is focused on data science and well-equipped to lead a project like this.

"RocketBlocks was a key component of my success in securing consulting offers from the top 3 consulting firms. I can't recommend its tools enough." -- David Dance, BCG Project Leader
Why did BCG launch Platinion?
Now that we understand what type of work Platinion does, why did BCG launch this unit?
Ultimately, BCG is pursuing a strategy that allows it to help its clients run the gamut: from helping define right strategy to building the right technology to follow through on it.
In many ways, BCG has already proven that the hypothesis of strategy plus implementation works. For example, BCG has a well regarded post-merger integration practice which is focused on how to successfully integrate an acquired company, not on the strategic decision itself to acquire (or not acquire) a company.
BCG is simply extending that principle to technology implementation. After a strategic recommendation has been made to build X or Y technology to achieve a goal, BCG can now extend their relationship with the client and pass the project onto the Platinion team for implementation. For BCG, this is obviously valuable as a new revenue stream and for the client, it's valuable too since they might need help building out the technology and by working with the same company they can gain better alignment between requirements and what's delivered.
What type of people does BCG Platinion hire?
Finally, let's discuss how Platinion executes on this type of work.
As you can imagine, the talent needed to scope core technology projects and execute on them is different than the talent base that BCG has traditionally hired in its core strategy consulting group. For BCG Platinion, they're focused on hiring:
Product managers
Engineers
Designers (UI / UX)
Software architects
IT Experts (e.g., agile, cybersecurity, devops)
You can see a full list of openings on the Platinion careers page but the key point is that instead of focusing on smart generalists from top undergrad and MBA schools, Platinion is focused on hiring technologists, just like Google, Amazon and Facebook.
Summary
Ultimately, BCG Platinion is a logical extension of BCG's strategy consulting efforts. It provides a logical way to deepen relationships with clients by helping with everything: from strategy through implementation.
In addition, as highlighted in our post on the future of consulting, it makes sense for BCG to amp up technology enablement efforts as software continues to become increasingly critical to all aspects of running a business.
Finally, BCG's entrance into this space also opens up the aperture for the type of talent they're hiring - from smart generalists (e.g., MBAs and top undergrads) to engineers, designers and product managers. If you're interested in product management roles at BCG Platinion, BCG DV or BCG Gamma, check out RocketBlocks PM interview prep below.
Real interview questions. Sample answers from PM leaders at Google, Amazon and Facebook. Plus study sheets on key concepts.