What is BCG Gamma?
Emma Rovit, ex-Bain, ex-Instacart

Published: January 6, 2020
BCG Gamma is a group within BCG that focuses on data science and advanced analytics projects.
Launched in 2016, BCG Gamma now has a global presence, with offices in LA, Boston, Tokyo, Paris and more. The team both partners with traditional BCG consulting case teams to offer advanced analytics support, but also staffs their own projects to deliver applied data science insights, machine learning solutions, and more.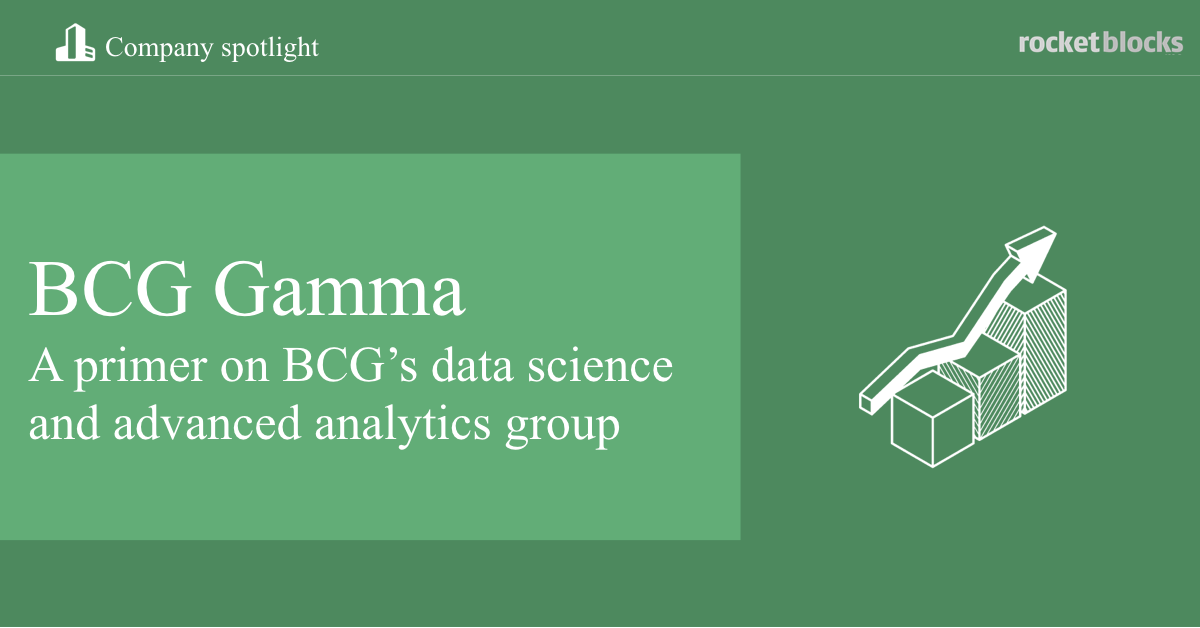 Don't worry if this sounds like a bunch of buzz-wordy jargon to you, we'll get into the details below. In this post, we'll cover the following:
Let's start at the beginning.
What makes BCG Gamma different?
As you know, BCG has traditionally partnered with clients to identify strategic business opportunities, overcome challenges, and support large-scale transformations. This work has historically been centered on delivering recommendations, however the management consulting industry as a whole has been shifting towards implementation/execution projects for some time now.
BCG Gamma is part of this broader trend: the group aims to deliver functional products and tangible results to clients in a short time frame. Specifically, Gamma uses agile methods to develop innovative and data-centered solutions that will drive real value for a client and be fairly 'plug and play' with regards to the clients' existing technology and data analytics capabilities.
Is Gamma distinct from other BCG digital groups?
Short answer: yes!
How is BCG Gamma different from DV or Platinion? Well, BCG Gamma is focused on applied data science solutions, whereas BCG Platinion builds technologies for clients' core business and BCG DV builds technologies to support new or non-core business.
A helpful way to think about these deltas is to consider how BCG's different groups would engage with a single client. Below, we've created a representative example of how BCG's different groups might engage with the popular car rental company, Hertz.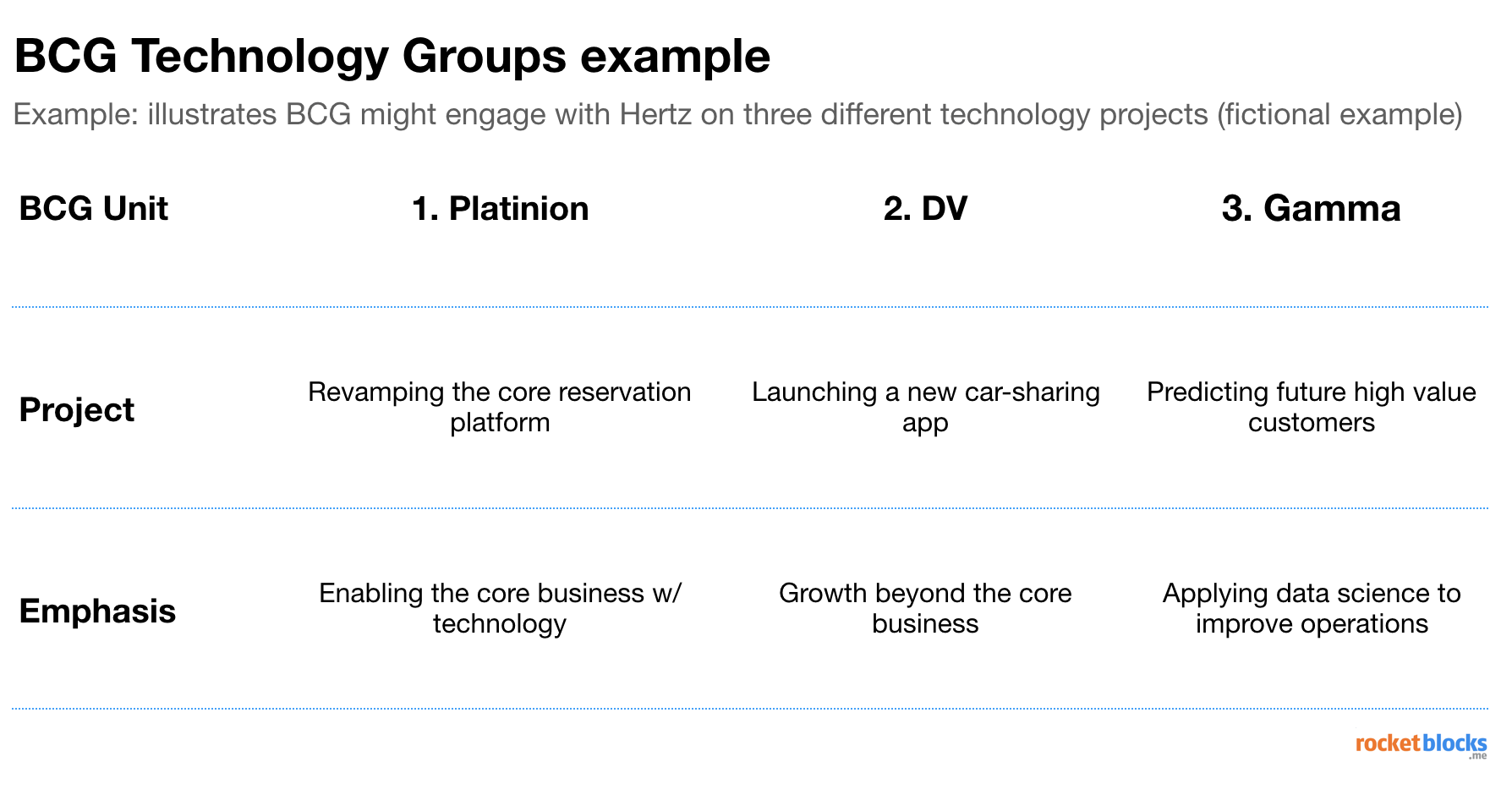 For further details on those BCG units, see our posts on BCG Platinion and BCG DV.
BCG Gamma example project
The primary difference between a classic BCG case and a BCG Gamma case is the deliverable: Gamma delivers data-based products and solutions, whereas BCG typically delivers recommendations in a slide deck.
Given BCG Gamma is working with big data sets, developing advanced models, and testing their solutions on real data, they tend to commit to longer client projects than BCG (9 to 12 vs. the typical 3 to 6 months) as they need more time to build out these products. The focus of each Gamma project varies, from personalized marketing to price optimization. The common thread is working with large, complex client data sets to draw out new insights and build advanced analytical models.
Example Gamma project (Fictional Kroger case)
Let's walk through an example.
Say a large company like Kroger, a large US based grocery chain with over 3,000 locations and $100B in revenue, wants to improve their profitability. They have lots of customer data from their rewards program (items bought over time, locations visited, online/offline purchases, phone number), but don't think they're using the data to its full advantage. This is a perfect project for BCG Gamma.
They might merge Kroger's data with publicly available data (demographic info by zip code, or aggregated anonymized credit card transactions) to unlock new insights about customer buying habits and product preferences. Through this data analysis, they might realize they lost 'big spend' customers when they stopped stocking a particular brand or product. Gamma's model may enable a more comprehensive view of their inventory by showing correlations between certain items like Bob's Red Mill flour, and more profitable ones, like vanilla.
Alternatively, Gamma might use machine learning to develop a model that predicts sales at a more granular level. The team would review purchasing data over time, build models to forecast future purchasing behavior, test the models on real data, and refine them until they could predict customer buying habits with a certain degree of accuracy.
The output would be a living model that the client could continue to iterate over time as their data changed. From a business standpoint, this model would lower costs for the client by optimizing their inventory management.

"RocketBlocks was a key component of my success in securing consulting offers from the top 3 consulting firms. I can't recommend its tools enough." -- David Dance, BCG Project Leader
Why did BCG launch Gamma?
The creation of BCG Gamma speaks to the larger trend of management consulting firms offering more niche services to support the ever-expanding role of data and technology in business. We've all heard about the exponential growth in data - from social media to the internet of things. The next frontier is figuring out how to apply this data in useful ways.
BCG recognized many of its clients have large, complex data sets but may not have the capabilities internally to extract full value from them. Those that do have advanced analytics teams might not be integrating them across the business. This is where BCG Gamma comes in - they offer data science expertise paired with strategy consulting to drive valuable and innovative solutions.
What type of people does BCG Gamma hire?
Given BCG Gamma's unique value proposition, it's not surprising that they're looking to hire people with very specific backgrounds. As opposed to hiring smart generalists like McKinsey, BCG and Bain (often referred to as MBB) typically do, Gamma is looking for those with deeper training and technical expertise. In particular, they recruit:
Data scientists
Software engineers
Machine learning engineers
Data architects
Individuals with advanced analytics expertise
They staff full client teams, so are looking for both early career (after university) and more experienced hires who have managed analytics or engineering teams before.
Interested in applying for this group? As BCG states on the Gamma careers page, you can expect several rounds of interviews (run by both generalist and Gamma consultants), plus a technical test (data science or coding, depending on your background) and a case. If you're hired, hours, pay, and travel will be on par with generalist consultant roles.
Summary
In summary, BCG Gamma is a fairly new client-facing group within BCG that specializes in data science projects. They offer clients expertise in advanced analytics, machine learning and AI, which can often be difficult capabilities to build out internally. Projects leverage complex datasets to help companies improve operations or uncover new insights.
With the explosion of data, it's no surprise that BCG Gamma has been so successful in its first couple years - expanding into new regions like Poland and Canada, and buying up smaller data science consultancies (e.g. Kernel Analytics). This group is well positioned to continue growing as companies collect more data and look for innovative ways to compete.
Real interview drills. Sample answers from ex-McKinsey, BCG and Bain consultants. Plus technique overviews and premium 1-on-1 Expert coaching.