What is BCG Digital Ventures?
Kenton Kivestu, ex-Google, ex-BCG, Founder at RocketBlocks
Updated: June 4, 2021
BCG DV is a wholly-owned subsidiary of BCG that helps large corporations build and launch new businesses.
Given the rapidly changing corporate landscape, this group acts as BCG's primary way to help large corporations deploy the roughly $3 trillion dollars on their balance sheets into corporate innovation and new ventures.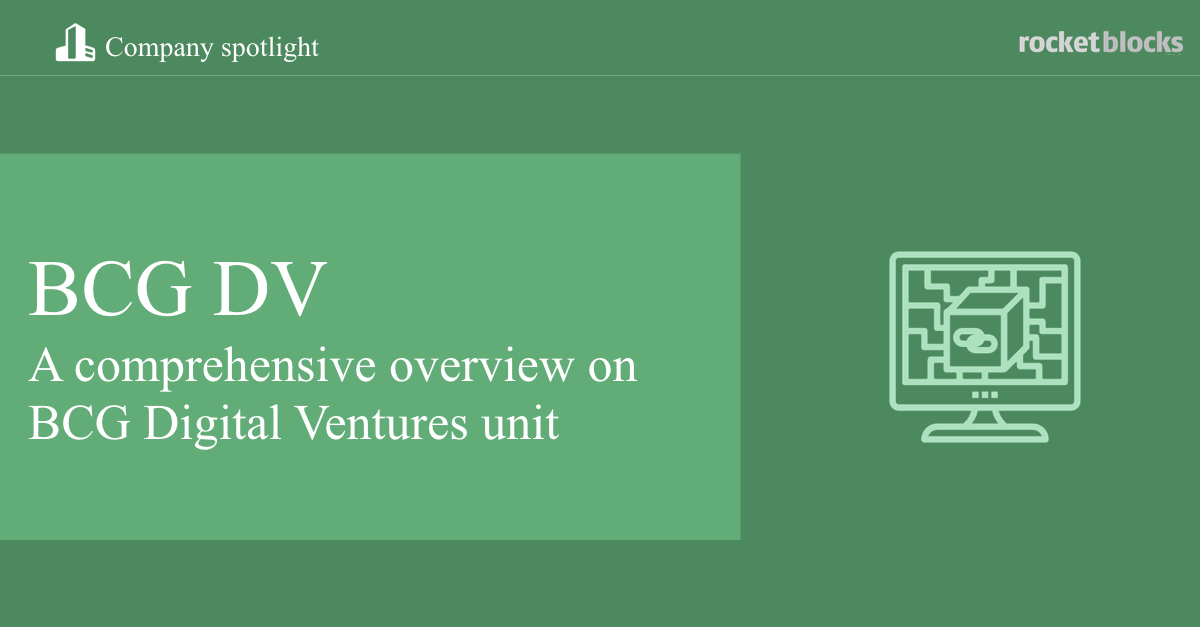 In this deep dive, we'll cover the following:
The founding of BCG DV
Oddly enough, BCG DV was started by Jeff Schumacher, a former McKinsey & Co. Partner who also did a stint as the CMO of SportsAuthority, in 2014.
Essentially, Schumacher's founding thesis was that large corporations have lots of money (roughly $3T on their balance sheets in aggregate) but struggle to deploy it effectively on new business creation and innovation. This corporate conundrum created a market opportunity to help corporations invest in innovation at-scale.
And this is what BCG DV is designed to do. By hiring the right mix of talent - from product management to design to engineering - DV can offer corporate partners a way to invest and build relevant new businesses without fully needing to scale up the infrastructure and know-how themselves.
The model appears to be working. Since its launch in 2014, BCG DV is continuing to expand and has grown from its Manhattan Beach HQ in LA to nine offices across the globe, including locations in Berlin, Tokyo and Singapore.
The work BCG DV does
Essentially, BCG DV builds, launches, and scales new businesses.
Since 2014, DV has helped launch 80 businesses for its clients, from helping UPS launch a new turn-key fulfillment network offering to helping Sartorius, a lab equipment supplier, launch a new digital lab assistant called LabTwin.
Illuminating DV work via an example
Let's examine the LabTwin example further to build our understanding.
Sartorius partnered with BCG DV to build a new digital assistant specifically tailored to use cases that lab scientists face doing their day-to-day work. DV staffed a cross-functional team of engineers, designers, and product managers to build a new digital assistant from the ground up.
In turn, Sartorius helped define the use cases and connected the DV team to relevant industry experts and early customers. The end result is that a new company, LabTwin, has been created by Sartorious and BCG DV together. While the financial details aren't public, Sartorious likely paid for the development of the new digital assistant and the two entities agreed upon an equity split in the new business. You can find additional LabTwin details here.
It's worth highlighting the equity component here, since this is significantly different from the traditional BCG consulting fees. For example, when working with a company, like Sartorius, BCG DV's investment committee evaluates taking an equity stake, say 15% equity in LabTwin, as partial payment for their work. An internal committee will evaluate the opportunity and decide whether or not it's sensible to accept some payment via equity (which is risky - it could ultimately be worth nothing). This helps them make their decision on whether or not they should take the project. Similarly, BCG DV also puts fees at risk - another way they put real "skin in the game". When hiring BCG, companies agree to certain metrics, milestones, and outcomes. If they're hit, BCG gets a payout.
Where BCG DV fits in the BCG family
If you've heard of other BCG technology-focused groups like BCG Gamma or BCG Platinion, you might be wondering how BCG DV fits in with those?
Essentially, the differentiation between the groups comes down to what type of technology they build. BCG Platinion focuses on building technology that enables the client's core business to accelerate - instead of launching new businesses like DV.
BCG Gamma is focused on analytics and data science heavy problems within the client's core business, as well. So again, this steers clear of DV's efforts because in most new businesses, there is no data to analyze since there are no customers and activity yet!

"RocketBlocks was a key component of my success in securing consulting offers from the top 3 consulting firms. I can't recommend its tools enough." -- David Dance, BCG Project Leader
A Hertz rental car example
Let's consider Hertz rental cars as an example. Hertz operates in over 150 countries, employs roughly 40K people, and earns roughly $10B in revenues annually.
Now imagine that they have three, distinct technology-focused projects they'd like to invest in: 1) use their data to predict future high value customers 2) modernize their internal reservation system and 3) launch a new car-sharing business.
If they wanted to hire BCG to help with all three, which units would make the most sense for which projects? Likely, the sensible breakdown would look like the below, with each BCG technology unit helping out where it fits with their core mission: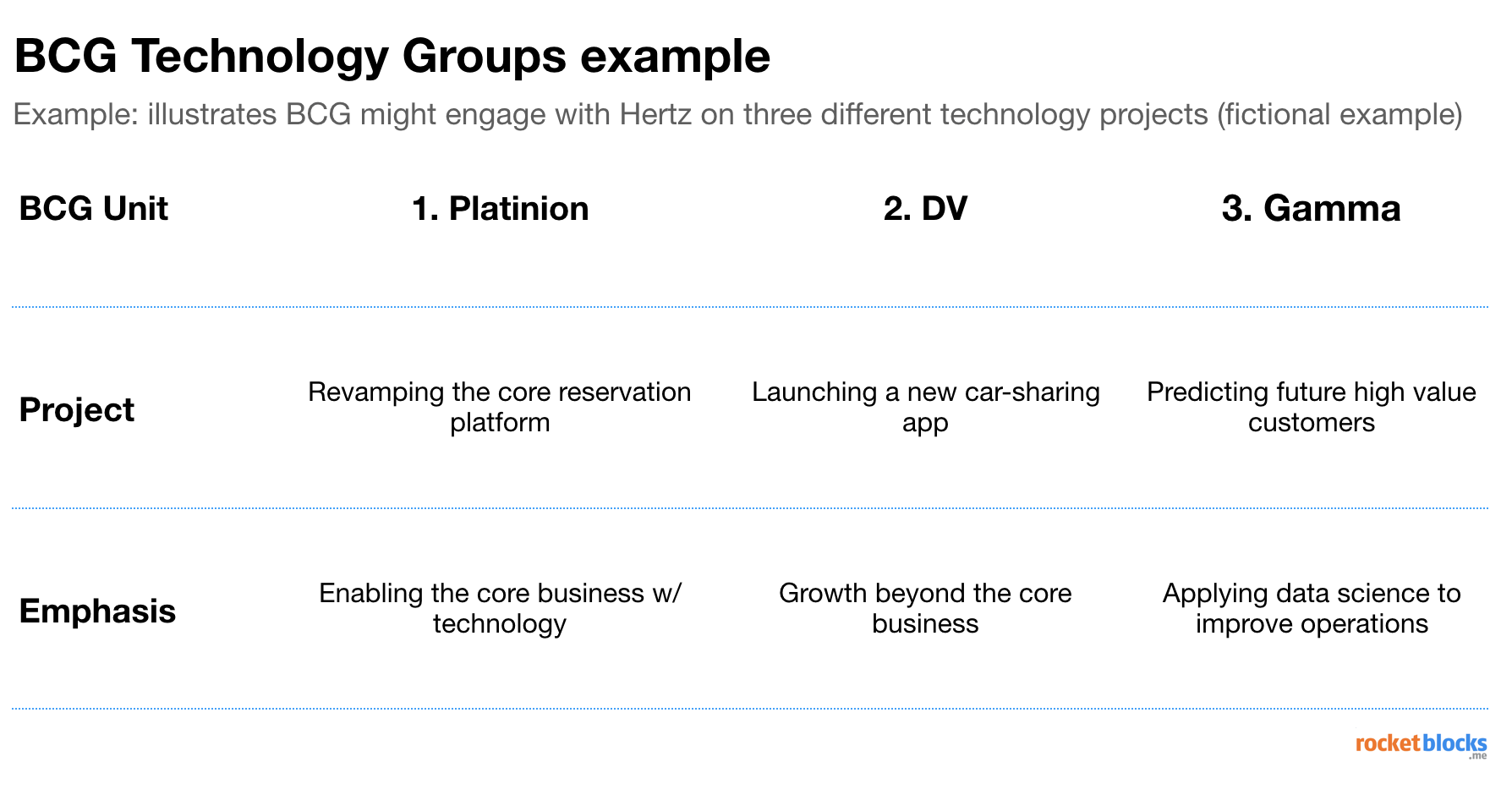 For BCG DV, the project that makes the most sense is helping Hertz spin up a new business focused on car sharing.
What type of roles does BCG DV hire people for?
The hiring funnel for BCG DV looks significantly different than it does for BCG's core strategy consulting group and, given everything above, that should make sense!
To help build, launch, and scale new businesses, DV needs cross-functional teams of engineers, designers, and product managers that know how to build and launch software. You can see the demand for these positions at DV's official careers page.
BCG DV, composed of about 1,000 employees, has about 6 or 7 different talent cohorts. This brings in a lot of smart, talented people, but as you can imagine, the workplace is saturated with Type A personalities. BCG DV recruits the following people:
Product managers: The product manager's role is more defined during the incubation phase. They play a typical PM role, guiding the building of software with the engineering and design teams.
Designers: Both experience and strategic designers are hired, depending on the needs of the project.
Engineers: Engineers at BCG DV span from product to test engineers to front-end engineers to data scientists. This is an innovative group of people, tackling challenges at their core.
Venture architects: For this position, BCG DV generally recruits management consultants (ex-MBBs), startup COOs, venture capitalist investment specialists, or MBA candidates. This role focuses on financial modeling and organizational structure. The person in this position leads the project.
Growth marketers: This role is recruited for, typically, during the incubation phase. However, it is not uncommon for growth marketers to come in earlier.
General manager: This person owns the client relationship, somewhere between a lead and a director. This person serves as a product lead, generally until incubation. When a CEO is hired, the GM typically assumes the role, otherwise, the person is replaced.
The most unique part about BCG DV is its employee proposition. People at BCG DV get to work on the consulting side of projects and bring cool projects/ventures to market. Imagine landing your dream role, working for a start-up, without the associated risks of a start-up. That's the cool part about DV, you work on bringing new ideas to market, but you're backed by a big-name company, BCG. On top of that, DV employees often get offered high level positions during the early stages of the spinoff.
Summary
In summary, BCG helps leading companies launch new business units.
Since many successful companies are "cash-rich" but struggle to create new innovations in-house, BCG DV offers a convenient way to partner with a trusted party, get the expertise they need to launch a new business and retain a significant chunk of the upside while doing so.
However, given the executional nature of this task, almost everything about how DV operates is different from the core BCG strategy consulting operation, and this reality impacts how they work, what type of people they hire and, ultimately, the work they produce.
Still thinking about DV? Check out our Founder's video summary below.
Real interview questions. Sample answers from PM leaders at Google, Amazon and Facebook. Plus study sheets on key concepts.