McKinsey Analytics: the definitive overview
Emma Rovit, ex-Bain, ex-Instacart

Published: April 8, 2020
McKinsey Analytics is a functional group within McKinsey that provides both data-driven insights and analytical solutions to clients. They also partner with clients to support the development of internal analytical capabilities.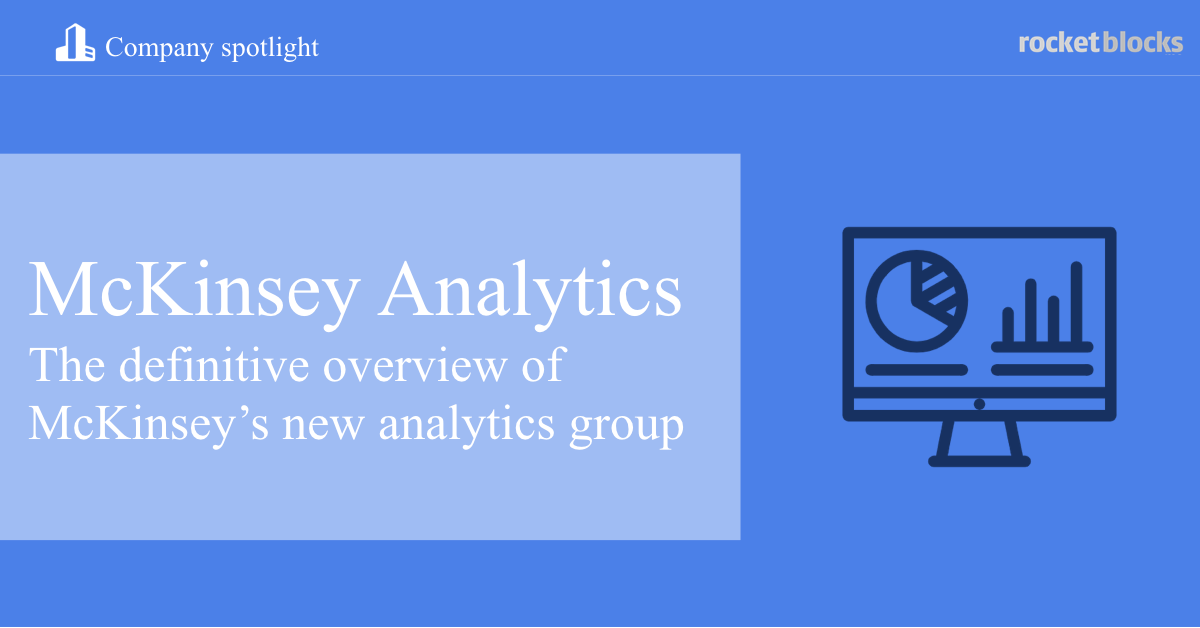 The creation of this group highlights McKinsey's desire to both expand their capability and emphasize their offerings in the world of analytics. Their strategy is not surprising, as this is a large and growing market for consulting projects, valued at more than $23B in the US.
We'll get into more detail below, including:
Overview of McKinsey Analytics
Let's start off with a brief orientation to the way McKinsey organizes their client offerings.
Orientation to the McKinsey product matrix
Like most consulting firms, McKinsey looks at projects through a matrix of industries and functions. On the industry side, for example, they have retail, aerospace, and consumer packaged goods (CPG). In terms of functions, their capabilities include strategy, mergers and acquisitions (M&A), digital, analytics, and more.
As you might expect, new industries don't pop up very often. The functions McKinsey specializes in, on the other hand, evolve more rapidly. This is due to the changing needs and priorities of the clients they work with. For example, as digital strategy (e.g. helping a traditional bank offer its services online and on mobile) has become more top-of-mind for clients, McKinsey has invested in growing this function. We dove into this example in more detail in an earlier post.
The development of McKinsey Analytics follows a similar pattern.
How analytics fits into McKinsey's broader strategy
McKinsey Analytics is McKinsey's data-analytics-focused capability. It's both an organizational construct with specific recruitment channels and career paths, as well as a branded offering with pre-packaged products that are marketed to clients. If you're familiar with Bain's Vector, or BCG's Gamma, this is McKinsey's product offering in the analytics consulting space.
As we mentioned, there has been a shift recently in clients looking for increased support in digital and analytics work. To address this need and improve their competitive position versus other management consulting firms, McKinsey has invested heavily in their analytics function.
They have done this both by acquiring more specialized companies (e.g., Quantum Black, Orpheus) as well as by increasing their hiring efforts in more technical roles. In addition, McKinsey has stepped up their marketing efforts to broadcast this new expertise to clients and position themselves as a leader in the space. For example, they have expanded the analytics-based real estate on their website and increased the amount of white papers and surveys focused on new insights in analytics.
McKinsey Analytics example project
So, if you're a Fortune 500 company, how might you engage with McKinsey Analytics?
Let's say you're a large retail bank, Bank Co., based in the US. You have a ton of data on your customers, including demographic information, credit scores, purchasing behavior and savings. You think there's an untapped opportunity to take advantage of this data to improve profitability. This would be a perfect case for McKinsey Analytics to engage with.
In this scenario, McKinsey would likely staff a normal case team, but pull in additional support from the McKinsey Analytics function. This might be in the form of a partner with expertise in the capability who would scope the project, or several data scientists who could run the eventual analysis.
For this example, the team might use previous customer data to build a predictive model, which would be able to gauge both the likelihood of any individual customer buying a certain banking product and the potential lifetime value of a specific individual. Through this model, they might discover there's a 40% probability of a customer that only has a savings account signing up for a credit card with a high annual fee. However, there is an 85% probability if a customer has an investment account over a certain threshold, a short-term loan, and a mortgage. The model could also estimate the expected lifetime value of each customer.
This type of analysis would enable Bank Co. to roll out hyper-targeted marketing campaigns to promote high probability products directly to customers previously identified as being more receptive. The output of this model could also be fed to customer service reps as guidance for when to suggest a certain product.

"I recommend RocketBlocks to everyone at Wharton who asks. Our 1st years just had a great recruiting season thanks to RocketBlocks and it helped me land my McKinsey internship." -- Morgan Cummings Gray, McKinsey Engagement Manager
Recruiting for McKinsey Analytics
What does McKinsey Analytics mean for you?
If you're looking to hire in as a generalist consultant, then not a lot. It's great to understand more about McKinsey's offerings and this knowledge could provide excellent talking points for your interview, but you'll still be going through the standard recruiting process. That said, if you're interested in being more involved in analytics-heavy cases, McKinsey's expertise in this realm is definitely something you want to be aware of.
If you have more of a technical background, however, McKinsey's career page for the Analytics function is a great place to look for more information. There are a variety of technical roles open, including for data scientists and data engineers. Furthermore, there is an opportunity to hire into a more specialized track, such as healthcare or operations, if that's of interest. If not, there's also the standard 'analytics generalist' track.
The analytics interview process
In terms of the hiring process, if you're applying to a role in the Analytics function, you can expect a mix of general and technical cases.
It's not uncommon to get 5 regular business case interviews and 2 analytics-based interviews before receiving an offer. The firm wants to test your overall business acumen as well as your analytical know-how, so they'll likely pair you with both generalist consultants as well as those in the Analytics function to conduct your interviews. For the analytics-based interviews, expect your interviewers to probe deeper on the specific techniques you might use to run an analysis (e.g., using a machine learning technique like a k-means model to segment a customer base).
Regardless of what role you're aiming to fill at McKinsey, you're bound to interact with the Analytics function in some way, as this is a large and growing field.
Summary
Given its push into implementation work, McKinsey's expansion into analytics makes good sense. As companies sit upon growing amounts of data, opportunities for firms like McKinsey to help drive operational improvements through analytics abound.
As the firm continues to evolve and expand with its industry, it's likely this trend will accelerate and they'll grow the practice further both organicially (e.g., hiring and staffing up) and inorganically via acquisitions (e.g., Quantum Black).
If you're looking to work at the cutting edge of analytics with some of the largest companies in the world, McKinsey Analytics is a great place to be.
Real interview drills. Sample answers from ex-McKinsey, BCG and Bain consultants. Plus technique overviews and premium 1-on-1 Expert coaching.