McKinsey Digital: A complete overview
Kenton Kivestu, ex-Google, ex-BCG, Founder at RocketBlocks
Published: November 6, 2019 | Last updated: November 11, 2019
McKinsey Digital is a new group within McKinsey & Co. that helps clients build, develop and operate technology critical to running their business.
For those familiar with the classic McKinsey strategy consulting engagements, this seems like a significant departure - and it is.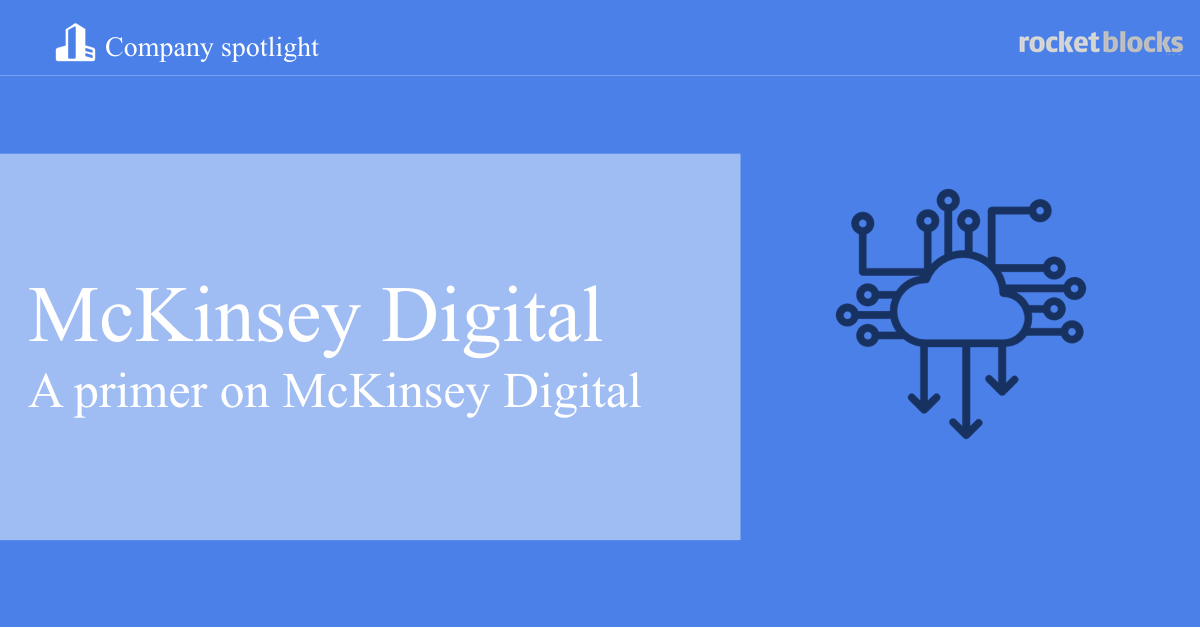 However, creating this group is a signal that McKinsey is serious about helping clients transition into a software-based world. And they're not alone in pursuing this opportunity - BCG has launched multiple groups like Platinion, DV and Gamma to pursue it as well.
In this post, we'll do a deep dive on this new organization:
Let's jump in.
The origins of McKinsey Digital
Despite its relatively young age compared to the near 100-year history of McKinsey & Co., McKinsey Digital has expanded rapidly: it now boasts 2,100 consultants across 60 different offices.
In the beginning, McKinsey's foray into digital implementation and execution took a range of different forms. It started with the Business Technology Office which was primarily helping companies implement IT strategies.
In 2013, McKinsey launched Digital Labs, which started as an informal effort to help clients create technology-oriented proofs of concept. This team started growing rapidly as demand from clients grew quickly.
Finally, in 2015 McKinsey began acquiring a string of technology and design groups, including Lunar, Veryday, Carbon12, Quantum Black, Digital Quotient, Horizon 360, etc.
McKinsey Digital is the current culmination of these related but disparate efforts - bringing all these groups under a unified umbrella group.
The work that McKinsey Digital does
So what type of work does McKinsey Digital actually do?
It helps clients build, launch and operate technology which is critical to running their business. One way to think of this is as a logical extension of their strategy consulting engagements - when the recommendation from an engagement involves building and implementing technology, McKinsey Digital can lead and execute on that.
In particular, McKinsey Digital often implements technology to help clients modernize IT infrastructure, migrate into the cloud, implement new cybersecurity procedures or otherwise digitally transform the business.
Example McKinsey Digital engagement
Imagine that McKinsey worked with a legacy retailing company with locations all over Europe and North America and found that sales were suffering because competitors were doing a better job of personalizing their marketing messages and offering a more streamlined online shopping experience.
Given that finding, the McKinsey strategy team made a two-fold recommendation: 1) use data collected in-store from customers to power automated recommendations delivered via online channels and 2) modernize and revamp their online shopping experience.
This is where McKinsey Digital steps in.
Rather than the client attempting to execute on that recommendation alone, McKinsey Digital can help define the technology that needs to be built, staff a team of engineers, designers and product managers against it and launch it.
As one can imagine, McKinsey Digital teams often coordinate with McKinsey strategy but, in many cases, a client may come directly to McKinsey Digital with specific technology challenges too. For another example, see how McKinsey Digital worked with a legacy wealth management firm to simplify its onboarding process and adopt a more agile approach.
Why did McKinsey launch McKinsey Digital?
If you've been following McKinsey & Co. for awhile, you might wonder why they've launched such a big McKinsey Digital initiative now. After all, McKinsey has had a specific technology practice within their core strategy consulting group for decades, so what's changed?
Ultimately, there are two key drivers.
Driver #1: demand for implementation
First, clients are increasingly asking consulting firms to help implement the recommendations they're making in strategy cases. This makes perfect sense too - you should only be willing to pay multi-millions for a strategy engagement if you're serious about implementing the findings. Otherwise, why spend the money!
Driver #2: software driven solutions
Second, the vast majority of strategic recommendations these days require building, launching and iterating on software and technology to improve the business. Since "software is eating the world," as Marc Andreesen famously said, taking any significant action often requires building software.
Together, these two drivers make a powerful case for launching a group like McKinsey Digital - it sits squarely at the intersection of implementation work plus a technology-enabled world.
Who does McKinsey Digital hire?
If you're interested in working for McKinsey Digital, here's the good news: they're hiring for almost every function. Whether it's engineering, design, product management, data science or core consultants, there are openings in the McKinsey Digital organization.
Similarly to the rest of the firm, McKinsey Digital also hires Business Analysts out of undergrad and Associates out of industry or grad school programs. While the engagements these consultants will work on are technology focused, candidates for those roles don't need a specific engineering degree or technology background (although it can help!).
Finally, for those interested in Associate and Business Analyst roles within McKinsey Digital, the interview process is exactly the same as for those roles elsewhere in the firm: case interviews plus personal experience interviews to learn about your accomplishments.
💡 Shameless plug: Our consulting interview prep can help build your skills
Summary
McKinsey Digital is an exciting new group at the forefront of corporate transformation. As companies make the shift to a software-enabled world, McKinsey Digital is well positioned to help companies set themselves up for success in the coming decades.
Given the nature of building and launching software, McKinsey Digital employs a wide range of people - from engineers to designers to consultants - and makes for an interesting environment to work and learn in.
Still thinking about McKinsey Digital? Check out our Founder's video summary below.
Real interview drills. Sample answers from ex-McKinsey, BCG and Bain consultants. Plus technique overviews and premium 1-on-1 Expert coaching.