Consulting international recruiting
Jessie Wang, McKinsey & Co., Associate
Published: August 17, 2022
Context | Application tips | FAQ
What is considered 'international' recruiting (Top)
In the world of consulting recruitment, international recruiting is when a candidate from country X applies to an office for a consulting firm located in country Y.
The office can be located in your country of origin or where you have citizenship, but if you are not living there, it can still count as international recruiting (though your process may be simplified if this is the case).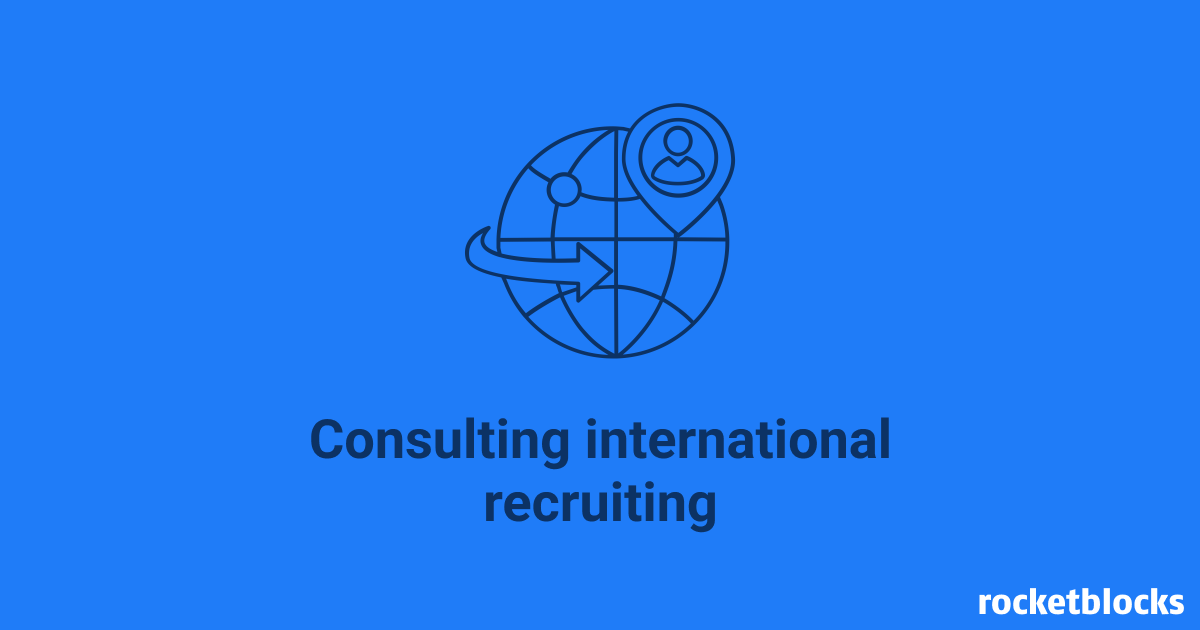 Some examples of what would qualify as international recruiting include:
A UK citizen in an American MBA program applying for a role in Bain London.
An individual working in Dubai applying for the Deloitte Chicago office, McKinsey New York office, or Deloitte Dallas office.
Generally, an American citizen in a British MBA program applying for the London office is not considered international recruiting given the person is already based in the UK.
Why is it important to differentiate international recruiting and how does it differ?
While the role you are ultimately applying for may be quite similar across offices, there are some key differences in the application process that are worth considering.
Language requirements - Before deciding the office you are applying to, it is critical to check if there are language requirements. The language requirement generally follows the dominant business language in the country. E.g. The Paris office requires a fluency in French for almost all the firms. However, the language requirements can be waived for certain types of applications depending on what track you are applying from. E.g. MBA applicants from top 10 schools can have language requirements waived for offices where local language is recommended and not required. More information can be found on the firm websites but it is critical to check with the office recruiter as exceptions will not be publicly listed.
Process - Local office processes can vary widely with differences in the number of interviews, interview formats, and who you interview with. Online assessments such as Pymetrics and assessment games are still being rolled out and your office may not require them at all or you may end up doing them twice if you move to an international office later on in the process. Similarly, Super Days have picked up in the US but multiple round interviews are still more common internationally.
Timeline - The typical timeline for on campus recruiting for internships and full time recruiting can often differ by country with some doing year round internships and others only offering certain semesters. Full time recruiting timelines also vary depending on headcount.
Region specific events - To help applicants learn about the global offices, there are often region specific events that are in English or the local language. These events will provide the best insights into the types of projects, business areas, and leadership of an office or region. If you are recruiting for an international office, these events are certain to be more valuable than general sessions. For example, McKinsey Asia hosts an open house series where they review the key practice areas in the office and application requirements.
Recruiting team - When you apply, you may get a home country recruiter as your point of contact but they will likely have limited knowledge of international offices. Subsequently, it is critical to find the recruiter for the office you are applying to as they will know more about the specific process and be able to connect you with individuals in that office. Additional representatives also exist at a regional level. E.g. BCG has an EMEA recruiter in addition to office specific recruiters.
💡 Shameless plug: Our consulting interview prep can help build your skills
Tips for applying to international offices (Top)
Know the process and requirements - Oftentimes international office requirements can be hard to gather just from the website and the information can be dated. As a result, it is important to speak to a recruiter to learn the specific requirements that apply to you. This should be done before you start preparing your application. You can find the recruiter for the office by speaking to consultants in that office, via LinkedIn, or attending region specific events often hosted by the recruitment team.
Network, network, network - This is especially important if you are not planning on physically being in the same region as the office you are applying to. To stay top of mind and not get left behind, you need to network and have individuals championing for you. This RocketBlocks post offers tactical advice to network your way into a first interview.
Write the cover letter - While cover letters are optional in many cases, for international recruiting it gives you the space to explain who you are and why you want to move abroad and can be a valuable resource. Here's a RocketBlocks blog post on how to craft a Consulting international recruiting, with tips and examples.
Have a good reason why you are applying - Because it is an investment to move someone abroad and your sponsorship/funding will come from the specific office, everyone will want to know that you are serious about staying for the foreseeable future and that you have the experience to figure out how to live abroad. Your reason should be specific, clear, and well thought out, covering both the professional and personal reasons. Good reasons include your partner living/working there along with the key practice areas matching up with your interests.
Research the differences in types of work, office culture, salary, benefits etc. - Consulting pay and benefits are pretty transparent but large variations exist between offices and it is important to do your research to level set expectations. E.g. London pay is almost 30% less than the US offices. However, the office sponsors the second year tuition for MBAs. Researching work and office culture is equally important as consulting can differ from the working culture in the city you are looking at and offices can have different staffing models with smaller offices sharing a staffing pool. E.g. Nordic offices sharing a staffing pool.
Can I apply for more than one international office? - This is not advisable given the importance of making a clear case for why you are applying internationally. However, there are exceptions if one location is your home and the other is your international office. But even in this case, your weighted values should be very differentiated with the international office weighted greater than 50%.
Am I more likely to get an offer in an international office? - The short answer is, not necessarily. It is a bad idea to play your chances and apply for offices that you believe are easier to get an offer from. This can result in the office feeling that you are not genuine and likelihood of an offer can vary greatly based on the firm and the headcount expectations for the year.
How easy is it to transfer after? - Your recruiting strategy should not be to transfer offices especially if they are in different countries. This often requires a very good reason and support from both offices. It could also result in you getting a different start date, rerecruiting, renetworking etc. While transfers are generally supported in consulting, this can lead to a lot of uncertainty and is hard to time.
How do I meet consultants in an office where I am not from and currently do not live near? - The easiest way to network and meet consultants is directly through the recruiter as they will have a sense of people with your similar background and be able to directly get feedback from the people you ultimately speak with. A second way to network is directly via LinkedIn and finding individuals that you share common networks with. Other options include attending region specific events and asking individuals from your local office if they've worked with others in the office you are looking at.
Conclusion
International recruiting can be a bit daunting given: a) you will likely be more on your own than if you were applying for a local office, b) the process can be more muddled if your school is not on their target list which is often local, and c) the burden of proof is on you to demonstrate that you are serious about the office and moving. As a result, you will likely need to do more research and stay connected with the recruiter for the office you are looking at to ensure that no roadblocks come up later in the recruiting timeline or the requirements needed.
All the challenges aside, if you have a good reason and are doing enough networking, it is definitely possible to recruit internationally and most offices would be excited to have international talent!
Real interview drills. Sample answers from ex-McKinsey, BCG and Bain consultants. Plus technique overviews and premium 1-on-1 Expert coaching.