Consulting internships at MBB
Rafaella Lellis, Product at Nana Delivery, ex-McKinsey & Company
Published: Feb 9, 2022
Consulting internship context | Expectations & challenges | Next steps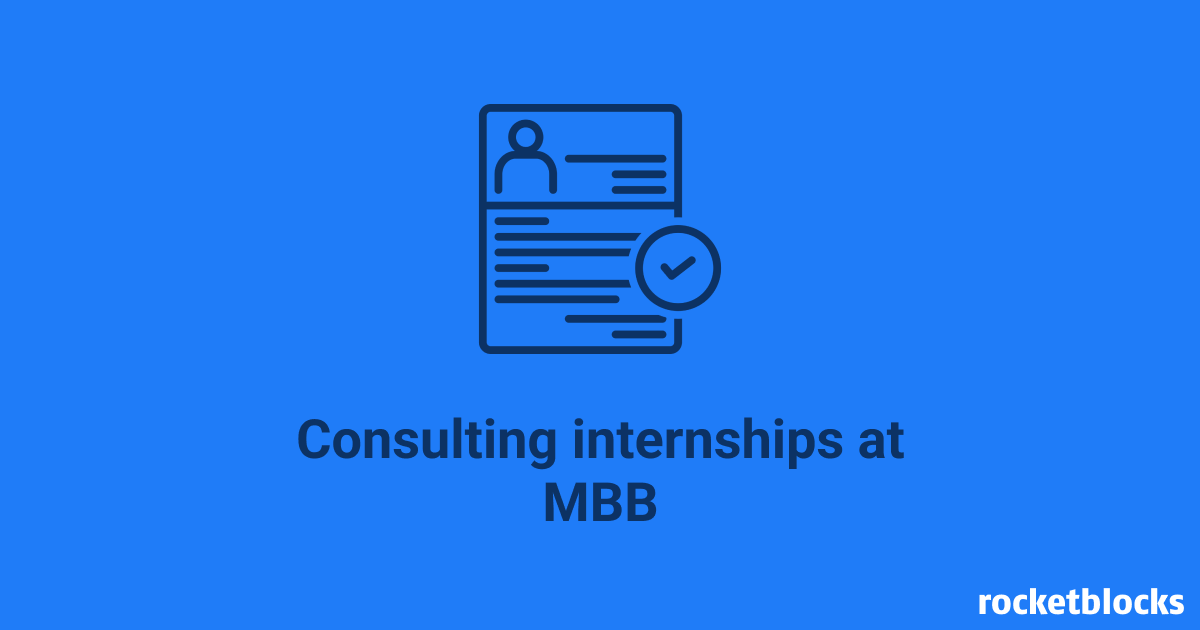 How to land a consulting internship (Top)
Be aware of consulting internship positions
The first thing to do if you think you want to intern at a consulting firm is to look for information regarding their available internship programs.
Some firms only offer internships for candidates who are pursuing an MBA, others offer opportunities for undergraduate students during their graduation time and this last one could be a summer position for a couple of months or a whole year internship program. The types of opportunities available can vary also from office to office within the same firm or change year over year.
For example, I joined McKinsey in December 2017 as a Summer Business Analyst Intern at the São Paulo's Office. This program is designed for students who have completed halfway through their degree. However, in North America there is a program called First Year Summer Business Analyst tailored for students in the beginning of their graduation.
The best way to learn about what programs are available for you is to visit the careers page on their websites filtering for specific locations. There you can also look for information regarding how the selection process works for such positions and when they usually accept applications.
In the screenshot below it is possible to check McKinsey career opportunities website and how you can look for "internship" positions and filter by desired location.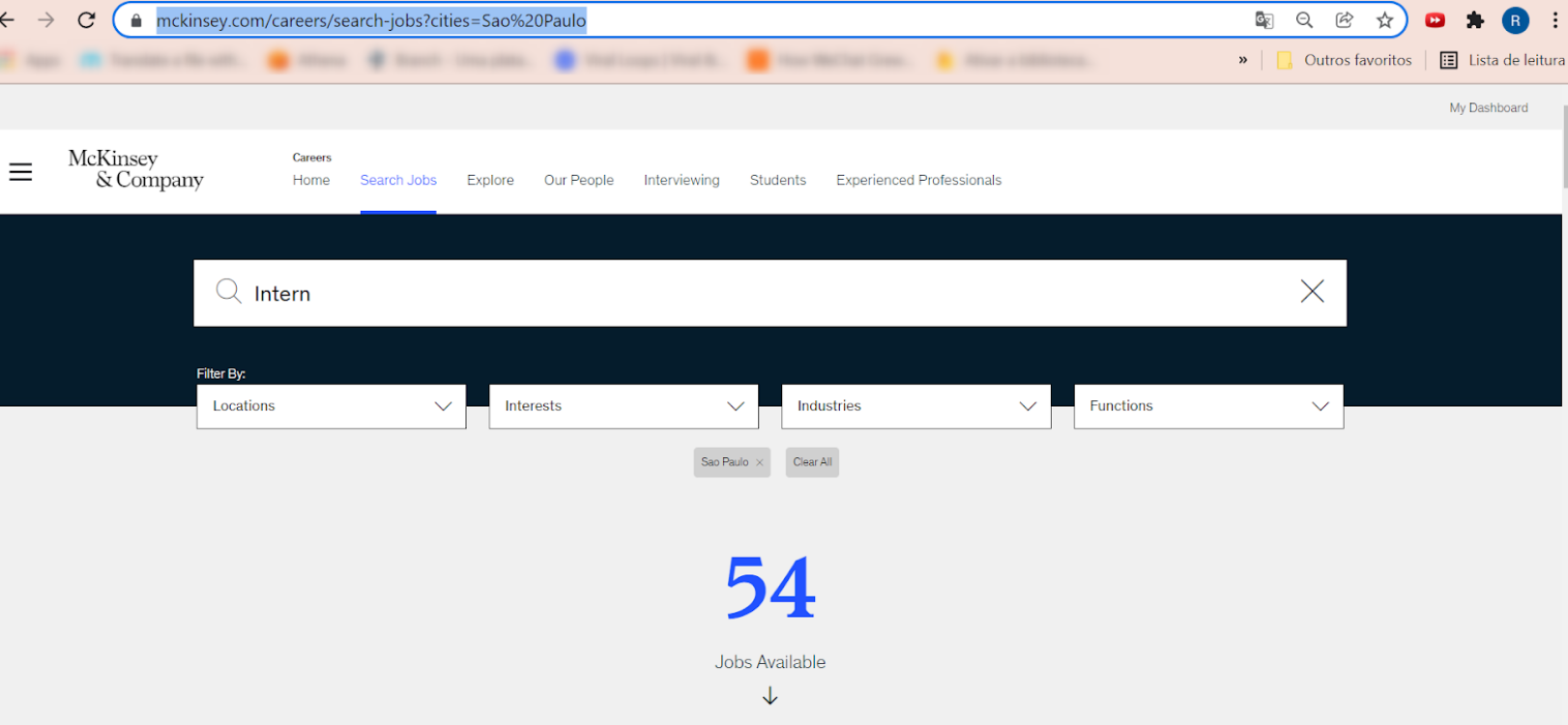 Here are some useful links for MBB:
Once you find out if there is a program suited for you, the next step is to make sure you get to know when the firms start recruiting for it.
Some tactical ways of being aware of opportunities are:
Being connected to consulting clubs that might exist at your university, you can look for their facebook page, messaging groups etc;
Following consulting firms pages on social media, MBB for example have Linkedin, Facebook and Instagram accounts, where they publish information regarding their selection process;
Participating in events where consulting firms are involved focused on students or affinity groups with which you might relate (for example events focused on black community, LGBTQIA+, women etc). In such events, students have a chance to ask about the opportunities, application process and also start developing their network with people already in consulting or those who are also interested in getting in. Consulting clubs and the firms usually publicize such events on their social media pages.
Differences in the consulting recruitment process
Common phases of recruitment selection process for consulting firms are:
Resume and cover letter screening by HR;
Some variation of a logical test or game (for McKinsey this phase consists of taking an online problem solving game);
Group activities (not applicable for McKinsey process);
Interview rounds composed of case resolution and behavioral/fit questions.
Usually internship candidates have to go through the same steps, the difference relies on what is expected of them in each phase, logically the standards upon which candidates will be evaluated takes into consideration their level of experience. For example, if during the interview the candidate is prompt to tell a story about a situation in life in which leadership was demonstrated, it is okay to share a story about a project you were responsible for in college or school, the candidate is not expected to share a super complex or professional experience.
Nonetheless, important elements for acing consulting interviews will still be analyzed, such as structured thinking, communication and problem solving skills. What the interviewers look for are candidates that show two things: (i) high potential, which could be good problem solving skills, structured communication, creativity, entrepreneurial driver, good attitude; (ii) interest to be developed, this is about wanting to learn more, determination to thrive and leverage what a top consulting firm can offer you.
It is relevant to say that for some consulting firms in specific locations there are shortcuts for the internship recruitment process. In McKinsey Brazil, for instance, the firm promotes some students' competition around exercising real world problem solving (McKinsey Impact Experience) in which ending at a good classification can take the student directly to the final round of interviews. So it is good to keep an eye out there for this type of opportunity as well.
How I managed to get a consulting internship at McKinsey
As mentioned above, I joined McKinsey as a Summer Business Analyst Intern right after finishing my 3rd year at law school (in Brazil, law school takes 5 years), here are the main steps that took me there:
After realizing my interest in joining McKinsey, started following all of the firm's pages on Linkedin and Facebook;
Registered my resume on the firm's careers website;
Saw a post on facebook about the opening of a recruitment process focused on women, for all levels and positions;
Applied on that specific recruitment process;
Participated on all events that were publicized for candidates in the process;
Followed all the process from resume screening to final round of interviews, preparing for each phase accordingly;
Received an offer for the summer internship.
Looking back, I think the most important steps I took were: (i) follow the firm on social media, because that is how I got aware of the specific recruitment process and (ii) participated on a lot of McKinsey events, with that I got to know more people already in the firm and get tips for my preparation.
💡 Shameless plug: Our consulting interview prep can help build your skills
What you can expect from a consulting internship (Top)
Daily routine
In general, an intern will perform similar activities to an analyst, which includes making benchmark research, running analysis and putting together pages for presenting findings to internal team and client.
The benchmark research could be to understand how your client is performing in one specific metric, for instance growth rate of online sales, in comparison to other competitors in the industry. So the intern would need to look for available sources that provide such information inside and outside the firm, in order to extract the relevant data and apply it into other analyses.
There are several types of analyses consultants will do, one example, linked to the situation described above, would be to find the growth trend of online sales vs. offline sales for a company, segmenting it by its key consumer segments.
From the result of the analyses and research performed, the consultant will have some insights which he or she will use to create a presentation and communicate to colleagues or client members.
What will vary are the responsibilities and level of autonomy. If an analyst usually is responsible for a specific workstream, the intern normally shares or assists someone at his or hers workstream. The intern will have more guidance from the rest of the team.
However, responsibilities and autonomy grows as the intern develops their skills, builds confidence and inspires confidence in teammates.
Most common challenges for consulting interns
I can think of 4 biggest challenges that an intern can face at a top consulting firm, each of them will vary in intensity considering the intern's level of experience with the corporate or professional world:
Finding balance between engagement activities and university commitments - even though the intern will have lesser responsibilities than full-time positions, there will still be a lot expected to be delivered, so it is important to find and establish the limits needed to perform well in both the internship and with the studies;
Understanding the level of discipline that is expected, even interns who are recent joiners on the consulting firms will have the opportunity to participate in meetings with important clients, such clients can be very senior on their companies making it important for interns to project seniority and behave according to the audience;
Being overwhelmed by a whole new world of information, top consulting firms are a particular world with its own rules and acronyms, it is normal to take some time to start keeping up with all of that;
Having to uphold confidentiality, for top consulting firms confidentiality is a serious thing, under no circumstance the intern will be allowed to share the name of clients or details of projects with family and friends, no matter how exciting they are
6 benefits of landing a consulting internship
Each person can have a different experience at their internship, but I would like to highlight 5 upsides of choosing this path that applied not only for me but for almost all of other MBB interns I have met:
Learning a lot, at MBB, for example, there is a full range of training available for all consultants, from hard to soft skills, on demand or live. Besides the formal training, the intern will specially learn on-the-job by being surrounded and coached by brilliant people as part of a team of consultants staffed in a project to solve real business problems;
Developing a valuable network of consultants, other professionals from the firm and clients;
Having unique experiences in the corporate environment, as an intern at McKinsey I was able to attend several meetings where the CEO of the client company was present and strategic decisions were being made, I can not think of other job that would provide my 20 years old self with such experience;
Great remuneration in comparison to other options, top consulting firms usually pay really well even when it comes to internship;
Having a top consulting firm name on the resume can draw attention to the student profile and help to land other future jobs;
Finally, but maybe the most important for a lot of candidates: Opportunity to receive an offer of a full-time position. In my case, I was a Summer Business Analyst Intern for 3 months, at the end of such period I received an offer to become a Business Analyst Intern for a year period (so I could finish law school), by the end of that second internship I received an offer to become a full-time Business Analyst. As a Business Analyst and Senior Business Analyst I was always able to leverage things from my internship, for example projects that I was part of, colleagues that I met or even knowledge that I gained.
Would a consulting internship be a good choice for you? (Top)
A lot of people are not aware of the extent of consulting internship opportunities, but they can be a great door to get into a top consulting firm and also a low risk way to test if a consultancy career is really for you.
If you want a fast development path to your career, are eager to learn a lot about different topics while being able to handle the discipline, dedication and hours needed then applying for an internship program might be a good fit for you.
If that is the case, follow the tips provided on the first section of this post to be aware of opportunities and start preparing for the recruitment process, it is not a piece of cake.
If you don't feel like it would be a good match, that is ok too, you can also think about other internship opportunities in different industries. For instance, in tech companies, RocketBlocks can help you with that as well.
Real interview drills. Sample answers from ex-McKinsey, BCG and Bain consultants. Plus technique overviews and premium 1-on-1 Expert coaching.