Transitioning from a PhD to Consulting
Jessica Sharrock, incoming Life Sciences Consultant at Putnam Associates
Updated: September 20, 2022
Key considerations | Best practices | Conclusion
For many years, consulting has continued to be one of the main alternative careers for individuals with PhDs (or other advanced degrees such as JDs and MDs).
As PhDs, we have spent many years learning to problem solve effectively, think on our feet, and thrive when challenged with diverse and complex issues. The skills we acquire over the many years are highly sought-after by consulting firms all over the world, however, it can be hard for us to get our foot in the door as we often lack the desired business acumen and interview experience.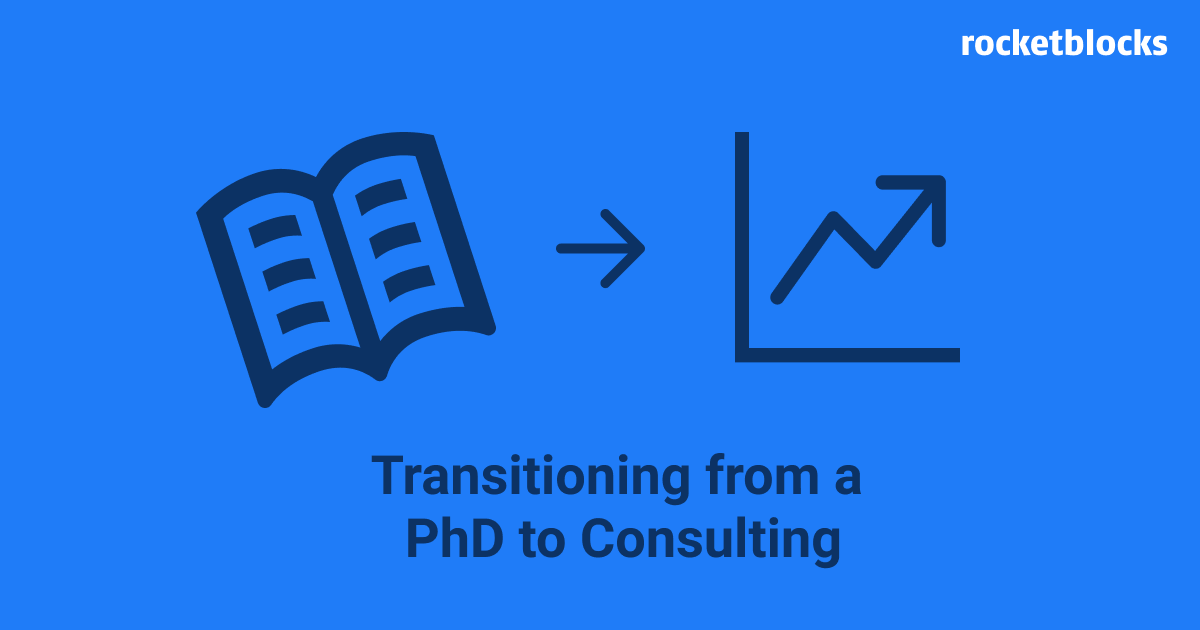 In this post, we highlight the main things to consider when exploring the transition from a PhD to consulting, along with some of the key points we would have done differently during our advanced degree application process.
What to consider during the transition? (Top)
There are a number of things to consider when thinking about making the move from a PhD into the world of consulting. First, if your advanced degree is not business focused, it is important to decide early on if you think the consulting lifestyle (and casing) is for you, even the interview process and preparation itself can be extremely different from anything you have encountered before. Talking to consultants, ex-consultants, and recruiters can provide great starting points to help make up your mind, it is also worth trying out a case or two!
Figure out your "why"
As you start to think about the transition, it's incredibly important to think about why you want to make the move into consulting and how the skills from your PhD will make you a good consultant, and ultimately a great fit for consulting firms. Down the road when you begin to network and start the application process, it's going to be crucial to have a clear and concise answer to this question as it will most definitely make an appearance during any informal or formal interview settings.
Attached below is great video where RocketBlocks Founder, Kenton Kivestu, shares three key tips on how to approach answering "why do you want to work here?" in an interview.
Identify target firms
If you do think consulting is for you, it's important to consider which firms recruit PhDs and what you're most interested in. For example, would you want to immerse yourself in the larger generalist firms (such as McKinsey, BCG, Bain, LEK) or maybe try for Boutique or Life Science specific firms (such as Putnam Associates, IQVIA, ClearView, Trinity)?
As a science PhD, I found interviewing at Life Science firms much more natural and far less scary than the generalist firms. Additionally, it's important to think about location, along with your preferences for work travel (post pandemic, of course!), offices in places like New York and San Francisco tend to be slightly more competitive than other US locations.
Align to the recruiting cycle
For advanced degrees, most generalist and Life Science firms have a focused recruitment cycle (usually around the summer) for the following year, for example interviewing in summer 2021 would lead to a 2022 job start.
However, it is good to note that some of the smaller firms will review applications and interview 'off-cycle' throughout the year - so keep your eye out for individual firm updates. Due to these specific timelines, it's essential to think about the amount of time you have around your PhD or postdoc for networking, building up that resume, writing applications, and acing those interviews.
Here's some more information on what the recruitment process for advanced degrees looks like at MBB firms:
McKinsey advanced degree
Advanced degree candidates at McKinsey are considered for a business analyst position or an associate position depedning on their relevant career and educational experiences. More information on the requirements and the types of roles available can be found here.
BCG advanced degree
BCG regularly recruits advanced degree candidates pursuing a JD, Ph.D, or Md. Click here for more information on hiring oppotunities and upcoming events.
Bain advanced degree
Like McKinsey and BCG, Bain has a focused recruiting cycle for advanced degree candidates. More information can be found here. In addition, Bain has an Advanced Analytics Group (AAG) which consists of members holding advanced degrees in statistics, mathematics, computer sciences and other quantitative disciplines. More information on the application process and open positions for the AAG can be found here.
Best practices for PhDs (Top)
Everyone applying and interviewing for a consulting job, both advanced degree candidates and regular hires, will have their own adventure and along the way learn things they wish they had done differently. Here are a few hard-earned tips from PhDs who've already gone through the consulting recruitment process:
Start the process early
Remember it's a marathon, not a sprint particularly if you are from a non-business background, the whole process is going to be very new. Along with juggling a PhD or postdoc, the recruitment process can be long and time consuming; try to be organised from the start with dates and deadlines, so you know what you are working towards and reduce any potential elements of surprise.
Preparing for the case interview as a PhD is potentially the most daunting part of the recruitment process, but it's really helpful to find consistent casing partners, friends, and people you don't know with different backgrounds and casing abilities early on. I personally learnt a lot by casing with MBAs and experienced hires. It's also important to spend time personalising and tailoring cover letters and resumes for specific firms of interest so you stand out to recruiters from the beginning. RocketBlocks, and other online sources, have a number of free guides to help you get started with the consulting application preparation and case interviews.
💡 Shameless plug: Our consulting interview prep can help build your skills
Focus on those 'soft skills'
As advanced degrees, consulting firms know you are smart which means competition is about way more than just your grades. Be sure to get involved in extracurriculars and use your application to demonstrate interests, skills, and passions away from your PhD. Leading a consulting club, participating in student/postdoc councils, or being involved in sporting activities will help you to stand out to recruiters and give you things to talk about during interviews (but make sure you actually do those things, don't make it up!).
Build your business acumen
It may seem silly, but learn some of the essential business concepts and brush up on current affairs around the world, particularly if you are lacking a business background! Knowing some of the lingo and having some general knowledge can be a powerful tool when networking and further down the line during the interview process. There are some great podcasts out there for quick and current business news! Also, if you plan on interviewing for Life Science firms, it's good to have a working knowledge of recent healthcare/pharma news.
Build your network and learn about the firms
Due to the yearly timelines for advanced degrees, once springtime hits 'Information Sessions' (organised through your school or local consulting club) and 'Coffee Chats' are usually held by many consulting firms. These are great places to start learning about the general overview of firms and network with current employees – take advantage of these easy opportunities to meet people! Another huge advantage of building a network with consultants at these firms is the chance of getting a formal, or informal referral. A referral from someone within the firm can give your application a massive boost in front of recruiters, which could lead to an interview invite instead of a rejection.
It's important to research the firms you are applying to, it seems easy to just throw your resume out everywhere, but it's not always the most successful method. Spend some time understanding the values and goals of each firm and make sure they align with your own. Think about what you are looking for in an employer, and how the firm aligns with your future career goals. Some firms are going to be a better fit for your needs than others, and that's OK!
Apply for the advanced degree summer programs
Many of the firms, both generalist and Life Science, hold summer programs for advanced degree candidates (including McKinsey Insights, Bridge to BCG, ADvantage Bain, Connect to ClearView, Clarion PROPEL) which usually last for 1-3 days in a local office or online. Applications go live in February, and they are typically due in March. These programs are a great way to learn about the firms, work in case teams, and network with lots of different people (at various stages of their career). These programs tend to be highly competitive but often lead directly to a first-, or even second-round interview.
Don't forget about the rest of the interview
It's so easy to get hung up on the casing part of the interview, particularly because it feels like the scariest bit, but often this may only make up half of the interview. Remember to use the interview to sell yourself; for the fit component of the interview make sure to prepare engaging and interesting stories and practice them out loud with other people.
The video below focuses on finding the right stories for the fit portion of your consulting interviews.
Finally, try and enjoy the process as much as possible!
Conclusion
Although it can definitely feel intimidating to start with, consulting can be a great move for PhDs that want to develop in a more business focused environment. Finding ways to sell the many skills you have developed during your advanced degree and giving yourself enough preparation time can be a massive help in being successful in the application process.
Real interview drills. Sample answers from ex-McKinsey, BCG and Bain consultants. Plus technique overviews and premium 1-on-1 Expert coaching.