Consulting exit opportunities
Kenton Kivestu, ex-Google, ex-BCG, Founder at RocketBlocks
Published: April 15, 2022
Technology | Finance | Industry | Public Policy
Consulting is famously considered a launching pad to a successful career - in tech, finance (VC, PE, Hedge fund), industry or public policy. The opportunities are endless! However, in conversations about exit opportunities what is often left unsaid is why would anyone want to leave consulting in the first place? And what exactly are these blue sky exit opportunities? And how does consulting help someone find their exit opportunity of choice? We wrote this blog post in the hopes of providing clarity on all these questions!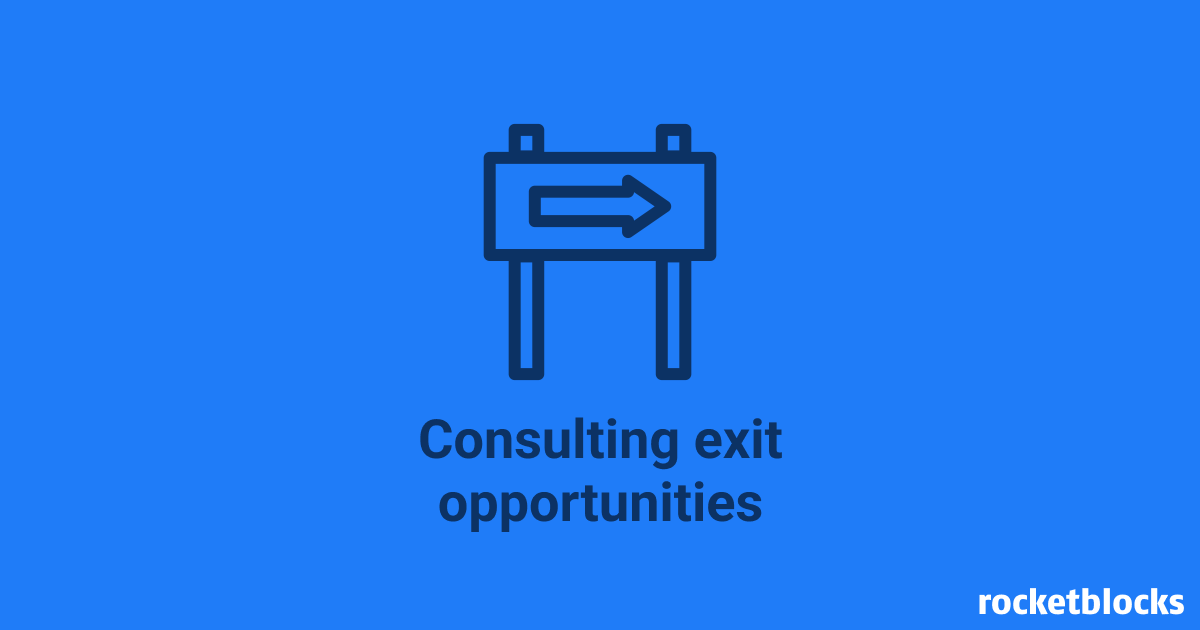 Why do people want to exit consulting
There are a variety of reasons why consultants opt to exit consulting after a couple of years. The most common reasons are driven by a desire to improve lifestyle, chase passions and explore something different from advisory services.
Lifestyle: It is no secret that consulting can be taxing for a person's lifestyle. Life on the road with large amounts of traveling can become taxing for people prompting a desire to switch to a slower paced job.
Passions: Sometimes a consultant may gain exposure to an industry or company that they feel a deep passion towards. This can propel them to look to exit into said company or industry so they can explore these passions further.
Non Advisory Services: Often, consultants may find that they would like to experience something different from an advisory role and would like to be deep in the trenches as an operator prompting a move out of consulting into industry.
Why is consulting a popular route to exiting to the job of your dreams
Consulting is considered a launchpad to a successful career because it provides access to both a great network and experience solving a deep bench of business problems.
Exposure: Consulting provides exposure to a wide variety of industries (e.g. tech, finance, industrials, media etc.) and various different types of functions/ problems/ services (e.g. strategy, growth, operations, sales and marketing etc.). This enables someone entering the workforce (analyst level roles) or someone deciding where to build their career long term (associate level roles) to gain exposure to a broad set of problems (strategy, growth, operations etc.) and to gain experience working across a broad set of industries (consumer and retail, healthcare, pharmaceuticals, financial services). As a result, they can make an informed decision while narrowing down their sector/ function of interest for their long term careers.
Network: Consulting provides access to a rich network composing your consulting colleagues, your clients and alumni of your consulting firm. From this network, you have access to a deep wealth of knowledge on career trajectories that you can leverage to understand all the different potential exit career pathways out there. Additionally, this network becomes a pipeline for potential exit opportunities as consulting alumni are often looking to expand their teams and value the consultant skill set as they grow.
💡 Shameless plug: Our consulting interview prep can help build your skills
What are the exit options after consulting
The most common exit trajectories from consulting are in the following categories: tech, Private Equity / Venture Capital, public policy / nonprofits / foundations and industry specific roles.
Technology (Top)
The most popular exit opportunities in tech are either at established large technology companies (FAANG - Facebook, Apple, Amazon, Netflix, Google etc.), large tech enabled companies (e.g. ridesharing companies such as Lyft, Uber, fintech companies such as Plaid, Stripe) or at fast growing startups.
The roles consultants generally exit into vary by the type of tech company they aspire to work in.
For large established tech companies (e.g., FAANG), the most popular roles for consultants to exit into are Product Manager roles or Associate roles in Growth/ Strategy teams (e.g. Product Manager at Meta, Growth Associate at Uber, Strategy Associate at Amazon). The recruiting process for these roles is established and straightforward similar to the recruiting processes for consulting. Generally, there are 3 ways to apply - through a headhunter, on a job posting or through a friend who is willing to put in a referral. The interview process requires a lot of preparation and has both a technical and non technical interview component. The timeline for when applications are due, when interviews are conducted is structured though there is off cycle recruiting as well. For more information on getting a PM interview check out this blog post by Kenton Kivestu (ex-Zynga PM).
For growth, business development or operations roles in startups, leads are found either through the consulting network (i.e. another consulting alum who left consulting to work at a startup is now hiring for his/ her team) or a job posting on the consulting firms exit opportunity database or, more rarely, a public job posting. The recruiting process for companies such as these is a bit more organic/ hustle driven and not as structured as FAANG.
Private Equity / Venture Capital / Hedge Fund (Top)
For consultants interested in recruiting for opportunities at investment funds there are typically 3 different types of investment vehicles: Private Equity (PE), Venture Capital (VC), Hedge Funds. These fund types can be further segmented by fund size for example, PE funds have mega funds, mid market funds and impact funds (size of asset size varies), hedge funds have mega funds and boutique funds and VC funds have seed stage and growth stage funds. Depending on your investment interest, you will want to target the right type of fund and fund size for exit opportunities.
As a Business Analyst or Associate in Consulting (with ~2 years of experience) you will typically recruit for an Investment Associate role. This role involves a combination of sourcing (finding an asset to potentially invest in), diligence (evaluating an asset to see if it is a good fit for the fund) and portfolio work (this entails working with the asset to ensure it is growing correctly if the asset is successfully bought).
The recruiting process for hedge funds and PE funds is similar to consulting in that it is structured with both a case interview and a modeling test. (You can find a few examples of LBO tests here). However, unlike consulting the process of recruiting for an interview is typically conducted through a headhunter so you need to sign up for headhunter list servs and actively network with them. You then apply for interviews as you get leads/ as postings come up. The process of preparing for the interview is rigorous and you typically need to be proficient at the required modeling skills (e.g. LBO for PE) and need to have strong business thinking skills for the case interview.
The recruiting process for VCs is more network driven and requires you to conduct outreach / network with your fund of interest that invests in the investment thesis you are interested in. This is a lot more organic and has a flavor of "right place right time."
Industry specific roles (Top)
These exit opportunities can vary depending on which industry you pick and the types of roles that company hires from a consulting background. To give you a sense of the diversity of routes you can pursue in industry, typically large manufacturing/ industrial companies will hire ex-consultants for operations (procurement, supply chain, logistics etc.) if they have deep experience performing those operational functions at McKinsey. Alternatively, large financial services or consumer product companies can hire for roles that are more strategy/ growth based if that is the type of work you performed while in consulting.
For example, a couple of roles include associate/ VP level gigs in the following capacity: growth at Sephora, pricing at Cargill, strategy at Meta, content development at Netflix, business development at Amazon, operations excellence at Ford etc. - the opportunities really are infinite and for you to craft as your interests evolve through your consulting experiences!
The pathway to recruit for these roles is perhaps the most network driven out of all the exit opportunities available in consulting. Typically, as a consultant if you are able to establish deep relationships with your clients, you can organically cultivate an opportunity to join them longer term. This requires luck and hard work. It is also not uncommon to see organized recruiting searches/ processes for these roles but generally those are for an Associate Partner level (post MBA/ graduate school role) where the consultant has had a half decade of experience in consulting itself.
Public Policy / Non Profit / Foundations (Top)
Another popular exit trajectory from consulting is to move into strategic or operational roles (e.g. strategy, development, operations, fundraising) at non profits, foundations and public policy institutes (E.g. strategy associate at the Bill and Melinda Gates Foundation, strategy associate at the NYCEDC, business development associate at Generation).
Recruiting for these roles is also network driven and has a serendipitous "right place, right time" flavor. Typically alums from consulting will have exited into these roles/ organizations and will post job postings as openings come up on their teams. Another potential pathway to recruiting for a role such as this is to convey your enthusiasm to the organization and try to actively network with the teams you would be excited to join.
Interviews are highly varied and depend on the non profits mission. Typically, they are more anchored towards fit and will likely have a case component to give you a flavor of the work you will have to do.
As you enter consulting, you will have a blank canvas to paint with opportunity as you see fit. It's a good strategy to cast your net wide, audit different industries, talk to many people and make an informed decision about the trajectory that is the best fit for you. When you decide which industry and role you would like to recruit for, remember to take advantage of the incredible network consulting provides as you seek out opportunities and prepare for roles.
Real interview drills. Sample answers from ex-McKinsey, BCG and Bain consultants. Plus technique overviews and premium 1-on-1 Expert coaching.