McKinsey consultant salary
Annie Zhou, Content Marketing Intern at RocketBlocks, ex-Amazon intern
Published: November 16, 2022
Salary progression | Compensation breakdown | Getting started
Consulting is a popular career choice, especially for people coming out of college, due to its promise of high pay and engaging work. McKinsey & Company is one of the most prestigious career destinations. How much does a McKinsey consultant make?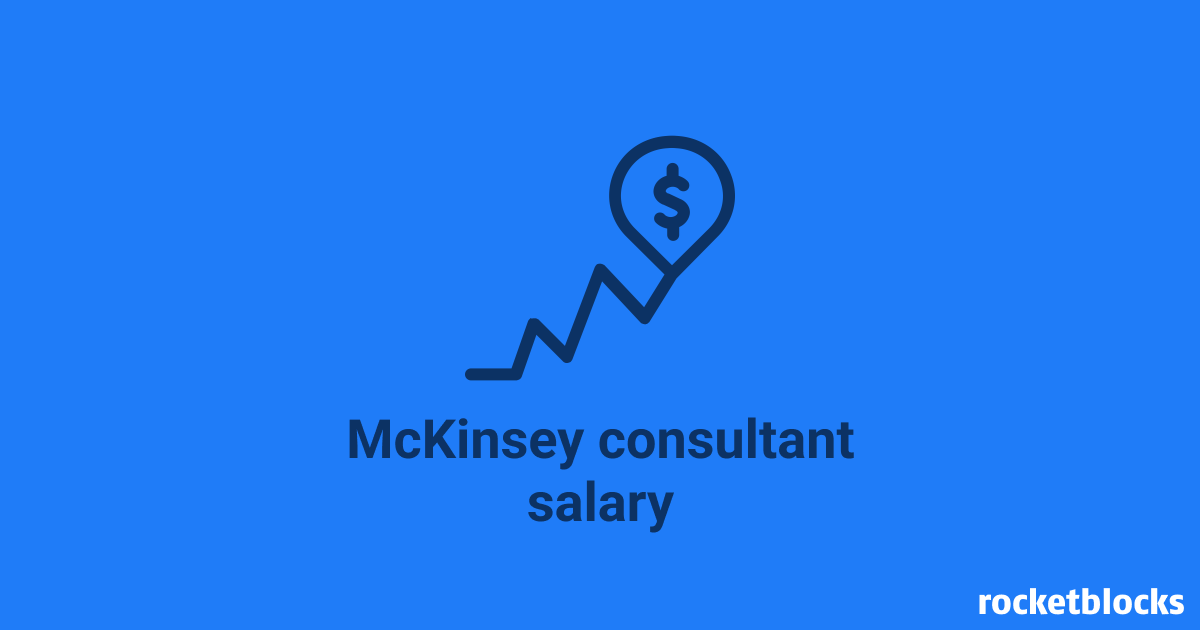 Compensation starts at $100k and only increases as you move up the ladder. Let's take a look at each level's salary ranges to understand what your salary may look like as a McKinsey consultant. All information is collected from real data at Levels.fyi. Note that years of experience may vary based on your past experiences and performance at each stage.
McKinsey salary progression (Top)
Business analyst
Years of Experience: 0-1
Expected Salary Range: $120k - $140k
Median Salary: $130k
Early career undergraduates typically enter McKinsey as business analysts. Although they can come from any school, a large proportion come from top undergraduate schools such as Harvard, University of Pennsylvania, Yale, Stanford, Duke, and Princeton. Students from top business programs, such as University of Michigan and Berkeley, also make up a large proportion of a business analyst class.
As an analyst, you focus on gathering data and information, analyzing it, and delivering findings through presentations.
Senior business analyst
Years of Experience: 3-5
Expected Salary Range: $160k - $220k
Median Salary: $200k
A Senior Business Analyst's responsibilities may vary, but you typically tackle more complex projects.
Associate
Years of Experience: 5-15
Expected Salary Range: $200k - $215k
Median Salary: $205k
Associates can be promoted from analyst or join McKinsey after an MBA or related experience. McKinsey targets students from top MBA programs, such as Columbia Business School, Sloan School of Management, and Kellogg School of Management. Expectations for MBA students are higher than for undergraduate students, and incoming associates get compensated accordingly.
As an associate, you own an area of a project and oversee the work of analysts. You have a direct involvement in client relationships and develop the project deliverables.
Engagement manager
Years of Experience: 7-15
Expected Salary Range: $235k - $300k
Median Salary: $270k
As engagement manager, you are responsible for planning, executing, and delivering a project. Tasks include leading teams, coordinating with project stakeholders, and supporting internal events.
You'll be in charge of scoping out a problem and delegating parts of the problem to your team members, such as business analysts. It's crucial to break down the problem into smaller but separate chunks for the different analysts on your team, while still covering the full problem space and assessing all possible key issues.
For more information on how structured thinking can help throughout your career as a consultant, check out our post on Analytical Skills for Consulting Interviews.
Associate principal
Years of Experience: 10+
Expected Salary Range: $355k - $510k
Median Salary: $400k
As associate partner, you're in charge of selling projects to clients. You own project delivery and may manage multiple projects at once.
Partner
Years of Experience: N/A
Expected Salary Range: Varies, up to $2M
As a partner, your role is to build trusted relationships with your clients. You help clients identify business areas, scope work, and set project teams. They typically are less involved in day-to-day work, instead providing advice for challenging aspects of the project. Partners specialize in a practice such as due diligence, implementation, pure strategy, digital, and more.
Your compensation can be heavily affected by how many cases you sold, the overall performance of the company, and how much you contribute to the firm itself and its brand. As a result, your salary can range heavily, but top performers can earn up to $2M or more! For more information on how much a partner might make, check out our Consulting Firm Partner Salary post.
💡 Shameless plug: Our consulting interview prep can help build your skills
Compensation breakdown (Top)
It's no secret that tech salaries are high—but the compensation itself can be broken down into several parts.
Base salary
Performance bonus
Sign-on bonus
Relocation assistance
1. Base salary
This is a fixed, yearly payment that makes up the bulk of compensation.
2. Performance bonus
This is calculated as a percentage of your base salary, typically a 10-20% increase. Bonuses can be based on personal performance, the success of the business, and peer feedback.
3. Sign-on bonus
These bonuses are incentives for new hires to accept an offer with McKinsey and are typically given as a one-time payment.
4. Relocation assistance
McKinsey offers up to $10k in relocation expenses.
Cities with highest McKinsey salaries (Top)
Your salary can depend greatly on the city you work in and its average cost of living. For McKinsey, the cities that have the highest salary are New York, San Francisco, Washington, and Seattle. McKinsey is headquartered in NYC, making this location the most sought-after destination for consultants.
Getting started with consulting (Top)
Now that you have an idea of the typical compensation for a consultant, it's time to dive into prep for consulting interviews. If you want to read more about the consulting role, check out our Consulting Prep. For advice on how to prep for your upcoming interview at McKinsey, check out McKinsey Interview Prep Plan.
Real interview questions. Sample answers from PM leaders at Google, Amazon and Facebook. Plus study sheets on key concepts.