Associate Consultant salaries
Team RocketBlocks
Published: June 9, 2022
The role | Salary at top firms | Types of associate consultants & salaries
Are you an aspiring associate consultant, but you haven't a clue about what your salary might be? If so, you've come to the right place!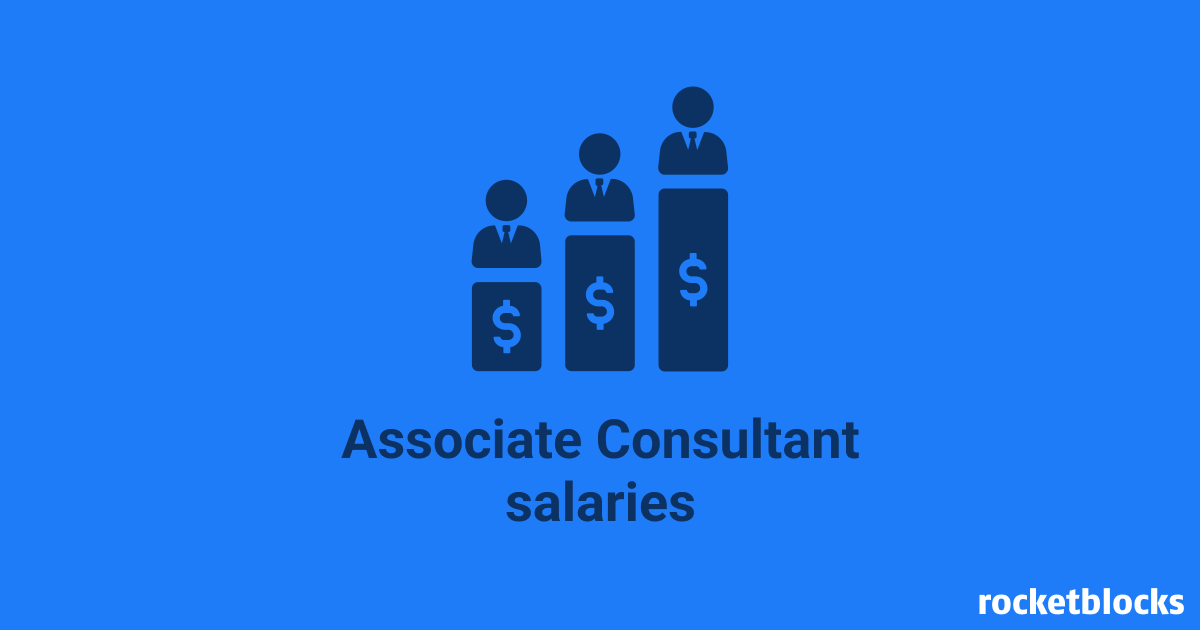 Our RocketBlocks article will tell you all about this role and provide you with all the little details you need to know about it. You will also learn about the salary at different tier positions and many other things!
What does an associate consultant do? (Top)
Associate consultants usually work with senior consultants, with whom they help clients with their consulting services. They provide their input on implementing and developing new strategies, conducting research, and performing other tasks related to the clients' goals.
This role has numerous responsibilities, which mostly depend on the clients' needs. One of their most common jobs would be gathering information on a client's business and industry for the senior consultants and, most importantly, presenting them concisely.
How much can you earn during your first year as an associate consultant?
You shouldn't expect a six-figure salary during your first year as an associate consultant, but you're looking at making at least $60,000 and more. This might not seem like much, especially for a consulting salary and given the number of working hours you'll have, but at the end of the day, your salary will rack up after one year of consulting.
Let's talk numbers now. During their first year of consulting, most consultants who have a Bachelor's degree can expect a salary of anywhere between $60,000 and $90,000 at most major firms.
This number can get close to $100,000, but this is only true for a handful of companies. You should also keep in mind that you'll most likely be working 10 to 14 hours a day during your first year, which translates to around 70 working hours per week. This means that you're looking at a $21 per hour salary for your first year of consulting.
Overall, the numbers you'll earn during your first year as an associate consultant aren't impressive. Still, once you get over that initial period, you'll be able to earn staggering amounts of money working in bigger firms. Consistency is one of the most important aspects of being a successful associate consultant, and it's also important if you want to earn big bucks.
How big is the associate consultant salary on average in top-tier firms? (Top)
Once you're experienced enough as an associate consultant, you'll be able to move on to higher roles and thus earn a higher salary. If you're someone with some experience on their back and you're applying for a major company, check out the table below to see the salaries you can expect: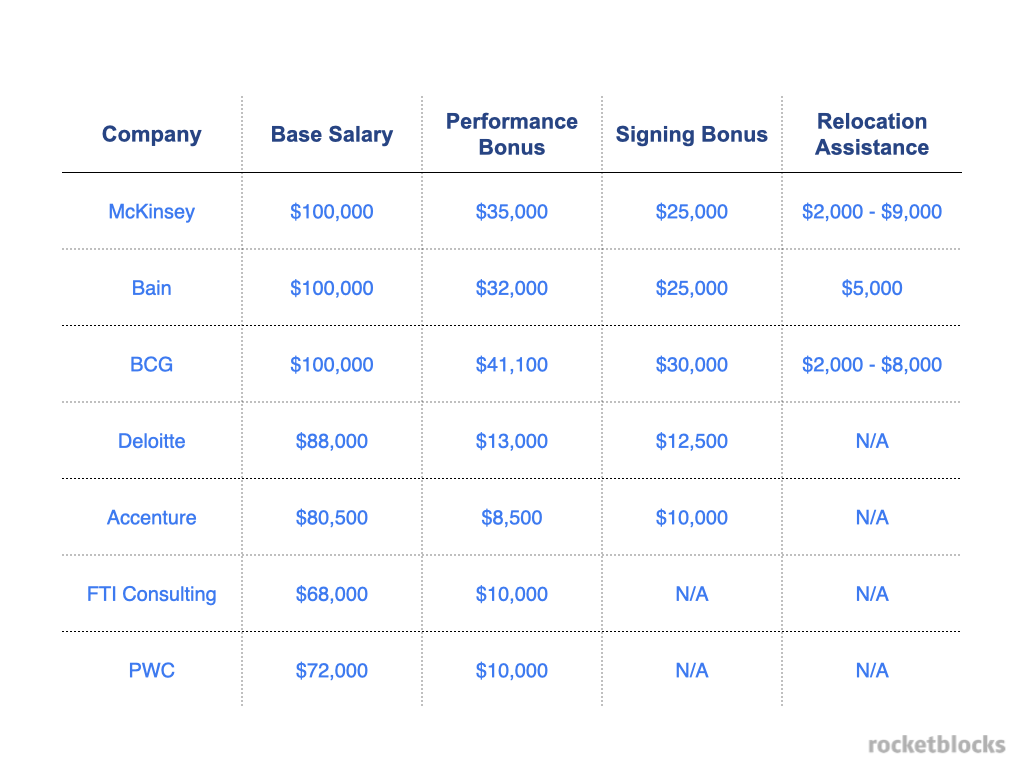 How much do associate consultants make on average?
On average, associate consultants in the U.S. make around $73,000. The average hourly pay this role earns is $35.39, whereas the average entry-level role earns $62,000 annually. Highest paying states for this role include:
Washington ($85,937)
New Jersey ($83,318)
Colorado ($85,937)
Massachusetts ($85,937)
The bottom 10% of consultants in the U.S. make roughly $62,000 annually, whereas the top 10% earns $86,000. The industries where the associate consultants earn the most include:
Professional
Health care
Finance
Why the consultant pay is so high
Having great consultants is crucial for any business out there, as they are the ones who need to come up with solutions to complex problems. Mostly, consultants are professionals who know how to work with people and people corporate executives can trust. In bigger companies, seniors from management usually rely on junior associate consultants to complete a vast majority of the work.
That's why only the best of the best from business schools and colleges are drafted to be consultants. They want candidates who have some experience on their hands and a clear, specific set of goals. There are even countless summer internships with solid pay for candidates that come from top schools.
💡 Shameless plug: Our consulting interview prep can help build your skills
Different types of associate consultants & their average salaries (Top)
The key to growing as a consultant is to focus on a specific set of goals. For example, there are consultants that focus on problem-solving strategies, whereas there are also those who focus on technology and information technology consultants. The more specific you are as a consultant, the higher your pay might get. You can be a:
Management & Strategy consultant
Information technology consultant
Human resource consultant
Risk consultant
Financial consultant
Program management consultant
Implementation consultant
Business analyst-consultant
Solutions consultant
Developer/consultant
Management & Strategy Consultant
Management consultants focus on thorough analysis of companies and businesses, including their target markets.
They use their findings to come up with strategies to help businesses grow and gain a profit. This role is often required to solve particular issues, which requires them to investigate a problem, assess the damage, and come up with the best solutions.
It's also crucial that this role adheres to the company's goal and vision. Their average salary is $106,642.
As a strategy consultant, your main job would be to advise your clients on how they can adapt their strategies to grow their business. This can either be regarding the penetration of new markets or planning a relocation.
The base salary for strategy consultants is anywhere between $70,000 and $100,000 for entry-level. MBA grads and experienced consultants can earn up to $150,000.
Information Technology Consultant
If you opt to become an information technology consultant, your job will be to provide technology-based solutions to clients so they can incorporate them and experience growth, more efficiency, and, most importantly, increased profits.
The base salary for information technology consultants is around $75,000 in lower-tier firms, whereas, at higher-tier firms, you're looking at $85,000 to $90,000 salaries. Experienced consultants and MBA grads can earn up to twice the salary.
Human Resource Consultant
Your job will be to establish employee programs for your clients, find top talent, and come up with solid retirement plans. There is more need for human resource consultants by the day because people want to boost productivity in their companies, which this role can help.
Entry-level human resource consultants can earn at least $80,000 from lower-tier firms, while their salaries can double in higher-tier firms with more experience.
Risk Consultant
Risk consultants' main job is to identify loss exposure and come up with adequate mitigation steps. Businesses face various risks. Whether it's workers' compensation claims or unsuccessful investments, these consultants need to propose effective mitigation steps to solve any situation.
Due to the high risk-reward ratio of this position, these consultants can get around $100,000 at an entry-level salary.
Financial Consultant
If you want to deal with risk management, taxes, and everything related to money, you'll be a good financial consultant. This role helps clients with their monetary problems in all sorts of situations. They use loads of data, research, and their experience to come up with financial clients for their clients.
This role's entry-level salary is around $90,000, while it can reach $140,000 in top-tier firms.
Project Management Consultant
The job of a project management consultant consists of analyzing project requirements, developing solid improvement techniques, reviewing project deliverables, and similar tasks. This role needs to be able to identify project initiatives and solve any issues that may come up.
Project management consultants also work a lot with clients, as they have to inform them about progress and updates on the projects they're working on. The average salary this role can earn is $107,729.
Implementation Consultant
Implementation consultants work on job sites and help clients install various hardware and software solutions. They must have knowledge about the software application, which can help them train internal and external customers. This role might also be required to come up with teaching aids (e.g., training handbooks, multimedia visual aids, etc.). They need technical certificates, with the main focus being on software and hardware installation. This earns them $78,926 on average.
Business Analyst Consultant
Business analyst-consultant is a role that oversees project managers and ensures the operations and projects meet the deliverables. They work with clients, monitor the resources for the tasks and processes for completion, then align them to meet the budget goals.
These consultants also work with the development team for coming up with various strategies for brand promotion. They are required to have superb communication and soft and organization skills, especially when it comes to identifying new opportunities for business. On average, they earn $82,545 annually.
Solutions Consultant
Solutions consultants are professionals who have excellent knowledge about the technology that can help a company increase sales, solve various problems, and connect better with their customers.
They are responsible for installing customized software solutions and generally they train other dealers and sales engineers. This role also has to attend trade shows and other similar events as they're the ones who represent their company and have to demonstrate the technology they use. If you want to be a solutions consultant, you can expect a salary of $99,635.
Developer/Consultant
Developers/consultants work on system databases and applications, which depend on the clients needs and specifications.
They optimize the performance and productivity for the timely delivery of projects and also handle any inquiries and concerns the clients might have. Superb communication skills are required for this role as they have to inform the clients on the necessary adjustments for improving procedures and processes.
Their analytical skills also have to be solid as they usually work in the technology industry. On average, they earn $102,960.
Ace your next interview
At the end of the day, salary is the last thing you'll want to think about when applying for an associate consultant position. Your best bet would be to prepare as much as possible for the interview, focus on the process, and nail it.
If you're afraid of what you might get asked at your interview or if you're feeling the jitters, feel free to contact us over at RocketBlocks. We'll be more than happy to help you prepare and tell you what you can expect in an interview for such a position!
Real interview drills. Sample answers from ex-McKinsey, BCG and Bain consultants. Plus technique overviews and premium 1-on-1 Expert coaching.