Consulting cover letter
Jessie Wang, McKinsey & Co., Associate
Published: August 10, 2022
Context | Cover letter tips | Key things to avoid | Example consulting cover letters
What is a consulting cover letter? (Top)
By this point, you have likely written a cover letter or two and definitely reused a cover letter by quickly changing the name of the company and the role, so you may be wondering what really differentiates a consulting cover letter and if you even need to do anything differently.
Hopefully by the end of this article we will convince you to relook at your cover letter before you submit and maybe even help improve your other cover letters as well!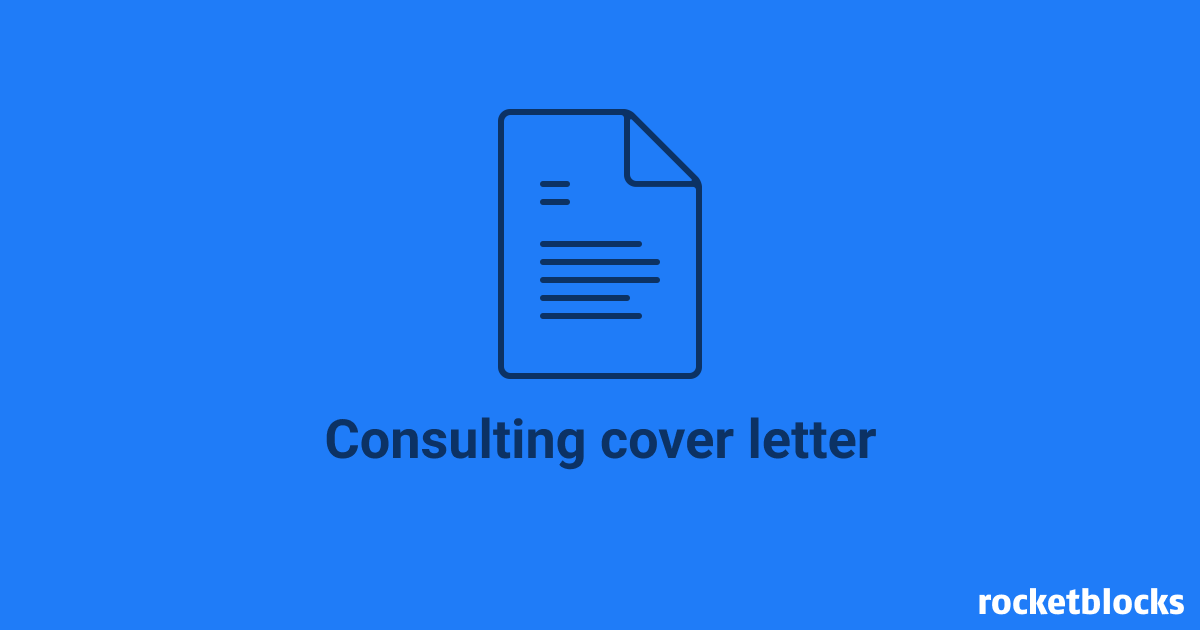 You will likely see the cover letter option when you go to submit your consulting application. Whether or not it is optional will depend on the firm, office, and the level you are applying from. For example, MBB North American offices for the MBA no longer require it and McKinsey is clear in stating that they will not read cover letters at all. However, MBB European offices highly recommend them and Asian offices require them. Regardless of the options you are given, whether to write a letter is also highly dependent on your profile as well.
Is the cover letter really optional?
The cover letter is a chance to cover things that are not obvious in your resume and to provide more context to your background and experiences. When you have the optional cover letter, the some of the questions to consider when deciding whether to write it include:
Are there unexplained gaps in work experience on your resume?
Is your career path considered non-traditional?
Does the location that you have selected make sense given your living or past work experience?
Have you applied in the past?
Are there any red flags on things like GPA?
If these apply to you, then the cover letter is a good time to provide more details and explanations. A cover letter is likely less influential when you have:
a linear career path within the industry
are applying from a structured school based program and have already done the networking,
or been told by a recruiter to submit your application.
Whether you should write a cover letter or not does not make you a better or worse candidate, it is just a matter of how much more context you should provide for your application.
Tips to help start working on your cover letter (Top)
Tip #1: Follow the standard format- The standard format includes the heading, closing, and paragraph structure that you see across cover letters. Standardized formatting allows the recruiter to quickly review your cover letter and is the easiest to create in Word. Don't fix what isn't broken!
Tip #2: Start by covering the basics- Your first paragraph should state who you are, what office you are applying to, where in your education or working experience you are at, the title/role you are applying for. This will give the recruiter a sense of how to place you.
Tip #3: Hone in on the key things that you plan to get across- Rather than trying to cover every part of your work experience, select one or two narratives or two or three strengths that you find the most valuable to cover. (Sample strengths include: analytical skills, collaborative work experience; sample narratives include: why pivoting to consulting, why a particular office). Focusing on your key points will allow you the word count to bring up things outside of your resume and make it more clear why you are writing a cover letter.
Tip #4: Write a paragraph for each narrative or strength and then combine- By writing out your paragraphs for each of the points you are trying to get across and then bringing them together, this will ensure that each paragraph has a clear point.
Tip #5: Research the language each firm uses- While there is a lot of jargon and language that isn't very differentiated, there are differences between firms and the way they describe the skill sets they are looking for. E.g. Mckinsey is focused on personal impact when it comes to working effectively with people versus Bain would describe that more as one team. You can read the websites and other firm content to see how they describe themselves.
Tip #6: Read to delete- After you write your cover letter, go back through and delete the fluffy language to ensure that it's to the point and concise.
💡 Shameless plug: Our consulting interview prep can help build your skills
Key things to avoid (Top)
Regurgitating your resume- The cover letter is not your resume in paragraph format. Instead, the cover letter should add more context to your resume and mediate for things that are not addressed or you don't have the opportunity to explain in your resume.
Focusing on breadth over depth- Trying to cover too many attributes will make it confusing for the reader and hard to determine what your actual strengths or focal points are.
Verbose language about how great a company is- The firm knows you are interested, it's why you are applying. You can talk specifically about projects you are interested in or people you have spoken to, but do not spend paragraphs listing out the awards or recognition a company has received unless it is relevant to you. (E.g. Do not include sentences on how the company is the best or largest in the world. However, it is okay to highlight awards on best work place or diversity if gender or racial representation is important to you.)
Going over one page- Stick to the classic formatting discussed above but also make sure your cover letter is under one page. This is a time to highlight key attributes, going over one page will seem like you are over justifying things. Recruiters also only have limited time to review.
Consulting cover letter examples (Top)
Sample consulting cover letter formatted for relevant strengths
August 1, 2022
To Whom It May Concern:
I'm an MBA candidate at the Kellogg School of Management recruiting for the New York office. While my background may be less traditional to the consulting recruiting path, I believe that there are many skills I've acquired along the way in my career in tech that are transferable to client and management consulting work. Subsequently, I am excited to make the transition and apply for an Associate position at Bain.
The three skills I think best highlight the connections between my tech background and consulting work include:
Entrepreneurial drive - Early in my career, I worked at a growing startup where I wore many hats. Because we were still looking for product market fit, I needed to be open to new ideas and approaches even if they didn't fit my model of what the consumer wanted. Additionally, to test and learn in an affordable and efficient way, I was constantly challenged to come up with innovative ways to iterate quickly. I believe that these skills will be important in client work where you are often asked to take feedback and quickly implement it.


Problem solving ability- As a leader on a strategy team, part of my job was to take ideas from senior leaders where there were often no clear answers and provide a recommendation. In each project, I was tasked with coming up with a framework, laying out assumptions, identifying critical data, conducting analysis, and presenting our ideas. While it may require more external engagement, I can see a situation where each of these steps are mirrored in a consulting project.


Analytical mindset- Today, there is plenty of readily available data from internal and externally sources. However, it is important to think through what is the most relevant and how to apply it. Across my roles in tech, I worked with business intelligence and data science teams to identify the best data sets or create data lakes to start tracking the information we needed. By leading with an analytical approach, I often pushed us to start first with data rather than our initial reactions.
There are many more skills relevant to the consultant role but if given the chance and the support of my team at Bain, I am confident that I will be able to continue to grow in the areas where I am less experienced.
Thank you for the time and consideration,
Jessie Wang
Sample consulting cover letter addressing a key topic such as why you've selected a particular location
August 1, 2022
To Whom It May Concern:
I'm a MBA candidate at University of Chicago Booth School of Business and am planning on recruiting for the McKinsey London office. While I understand that cover letters were not required, I wanted to set aside some space to explain why I am interested in recruiting for London specifically and what I hope to bring to contribute to future teams.
My initial interest in the London office was primarily personal as it is geographically closer to my partner's family and is the largest English speaking office in EMEA. However, as I began to learn more about the office both from recruiting events and the consultants in the office, I quickly realized that London is also a strong professional fit for me as well.
Over the summer, I had many opportunities to learn more about living and working in the UK as an American and the international working culture of the office from my informal conversations with consultants. When I worked in Beijing, I felt constrained by the homogeneity of the working culture and these conversations helped me to see the range of opportunities available to consultants to connect with and work across other offices both in EMEA and Israel which share a staffing pool. Then, with official recruiting I was able to meet individuals specifically in digital and TMT where I plan to focus. These conversations helped me understand the scope of London's digital practice and the continued investment in the space. I know what I've learned about the London office is just the tip of the iceberg as the office covers a wide range of industries and practices but I am looking forward to being able to explore the different career paths and build my own McKinsey experience.
If given the chance, I am confident that I will be able to contribute professionally and quickly adapt to working life in London given my past experience living and working abroad.
Thank you for the time and consideration,
Jessie Wang
Conclusion
Write a cover letter but make it highly effective and specific to your application. Do not have a generic cover letter, it is a waste of time for the person reviewing it especially since the cover letter is optional in certain cases and it will also not help your application. Specific applications will highlight your narrative, demonstrate firm specific language, and limit what is covered in your resume.
When thinking about what you want to cover in your strengths or your narrative, think about questions such as: What are the things that you are worried about in your resume or application? How can you strengthen your case? What are the key principles you most align with? What does your resume not show about you? Focus on a few key points and how they relate to the firm or the work that you will do in consulting and don't try to cover too much.
Real interview drills. Sample answers from ex-McKinsey, BCG and Bain consultants. Plus technique overviews and premium 1-on-1 Expert coaching.