Land a consulting job without an MBA
Zahid Gani, BCG Consultant, ex-KPMG
Published: August 18, 2021
Experienced vs. MBA | Landing an interview | Personal example & tips
One of the most common paths into consulting is to join after completing an MBA. There is no denying that an MBA is a powerful tool in career development, but it is not the only way in.
An often-overlooked path is to join as an experienced hire. Below, I'll share my thoughts on how to think about this route, plus a detailed playbook on how I made this transition myself (including screenshots from networking emails, etc.).
Experienced hire recruiting happens year round and it's a great alternative for people who are intently focused on getting into consulting vs. getting an MBA (and then doing consulting or something else).
Experienced hire vs. MBA hire (Top)
Choosing to forgo an MBA is often a big decision that has a multitude of factors that comes along with it. While it is a personal decision because of each person's unique professional and personal circumstances, there are a few instances where I believe it is always better to try to join a consultancy than to pursue an MBA:
1) You are dead set on consulting (and MBA is just a means to an end).
There are many reasons to do an MBA, one of them being as a tool for a career change. If you know that you want to move into consulting and are considering pursuing an MBA as a tool for the change, then there is no valid reason not to attempt to move without the MBA.
This could potentially save you (hundreds of) thousands of dollars in fees and lost income. Additionally, if unsuccessful you can still pursue an MBA and retry. Applying without the MBA has no negative impact on the pursuit of an MBA and there is only upside from trying.
2) You already have the skills needed.
In this instance, you could have an undergraduate degree in business or have already been working in an industry where the skills you developed are similar to consulting (finance, investment banking, advisory etc.).
You may have heard (and I have heard this before) that an MBA will not provide the value to you that it would for candidates without a business background and experience. If so, you could forgo the MBA and rely on your existing skills to make the move.
Landing an interview (Top)
One of the most common myths about consulting is that you need to be an expert in all aspects of business to join a consultancy. This is simply not true.
To join a consultancy, you need an understanding of business in a way that allows you to draw appropriate conclusions, a willingness and ability to learn and be capable of professionally managing client relationships.
These skills are not unique to consulting and are prevalent in many professions. The key is to understand how your current skill set relates to the consulting skill set and focus on developing the skills you don't already have. There are many resources available to learn about different industries, understand business and build professional soft skills (an MBA is one of these). Consider how you can do this without an MBA.

"RocketBlocks was a key component of my success in securing consulting offers from the top 3 consulting firms. I can't recommend its tools enough." -- David Dance, BCG Project Leader
Understand the recruiting process (Top)
One of the biggest challenges with getting into consulting is the recruitment process. Often just getting an interview is as difficult as the interview itself. One of the key advantages of a business school is that the consulting firms will recruit directly from the MBA class. Unfortunately as we will be looking to skip this step, and the associated time/cost, we won;t have this advantage.
Without this advantage the networking process becomes that much more important. Ultimately, there is no low intensity way to join consulting (and if you need one you might not like the job). While there is no silver bullet that guarantees your acceptance into consulting, there are many actions that increase the likelihood of success. Your efforts here are directly correlated with your likelihood of success.
There are many resources on the process (Rocketblocks has an excellent article here). So I will be brief on these. The three key aspects are:
Networking & building connections
Speaking to as many people as you can from your target firms provides insight into the culture and people. This is both so that you can make the choice on the right firm and also to increase your profile within the firm. The more people who know you the greater your chances of getting a reference and an interview.
Getting a reference
We all know the difficulty of applications going through an online portal. These systems are impersonal (after doing a few of them you may even consider them inhumane). In contrast, getting a reference allows you to this step and ensure your resume gets into the right hands.
Getting a reference will increase your likelihood of getting an interview enormously.
Preparing your resume
Once your resume is in the right hands that person will need to make an interview decision. The question is, "Will the reader of this resume be willing to take time (that would otherwise be revenue generating) out of four people's days to interview you?" Considering that each candidate will be interviewed by at least two junior level people and two senior level people, that is a lot of forgone revenue for each interview. If the reader is not convinced that you can do the job, they will not waste everyone's time.
Read RocketBlocks's resume tips for consulting blog post to learn more about perfecting your resume. Also, as you network with more people from your desired firm, you could also ask for advice on your resume (please make sure you believe your resume is ready for application before asking for advice, giving them a resume that hasn't been worked on will come across as lazy and could damage your chance of a referral).
Once you get an interview, you are judged on your performance during the interview process and nothing else matters. You will be in the same process with the same expectations as MBA candidates and your performance and professionalism will be the primary decision point from here on in. There are many resources on how to excel in interviews (like rocketblocks) and this part of the process is identical across all candidates.
Personal example: here's how I did it (Top)
Although I was initially dead set on getting an MBA, the COVID-19 pandemic altered my course as I didn't want to pursue a virtual experience and there was no guarantee that school would be in person. I decided to change my focus to join MBB without an MBA.
Although the below is set out in stages, everything seems to blend together and happen at once as all the steps are related. The time you spend writing your resume will also be related to your interview prep for behavioral questions, these will also drive which areas you need to focus on for case prep and help direct how you choose to network. It is important to think of this as one continuous process to ensure you are presenting yourself consistently.
Step 1: Skill assessment
The first step was to figure out where my skill set was in relation to the consulting skill set. Having a background in finance and accounting certainly made this easier, but there were aspects of consulting that I was unfamiliar with, namely the hypothesis driven approach, structuring and non-financial cases (market-entry, organizational design/people related cases, etc.). In addition to that I needed to reinforce my math skills and some accounting and finance concepts that I hadn't used since university.
I used a variety of resources for this, including watching YouTube videos on consulting prep, reading through case books from MBA programs to understand the different industries and reading books on joining consulting (e.g., Marc Cosetino etc.).
Step 2: Resume prep
The next step (albeit more concurrent with the first) was to complete my resume. This was an important step as it's the only perception of you that the person selecting candidates to interview will see. I spent about 80 hours on this as it was a continuous iteration as I learned more about the process, did more introspection into my career and found experiences that were relevant and displayed my abilities in a concise manner.
One of the most surprising things about the resume process is that it didn't end until I submitted my resume. Each time I reviewed it, I made changes. Each time I learned a bit more about the process, I made changes. And each time I practiced and developed my behavioural story answers, I made changes. This iterative process is expected and both you and your resume should develop in unison.
Step 3: Networking
The next step was to network with current MBB consultants to get an understanding of their experiences and hopefully get that coveted referral.
There are two things that are important to understand here. The first is that how you behave and approach these conversations will impact how willing the person is to refer you for the job. Nobody wants to refer somebody who will make them look bad (this could be unprofessional behaviour, a complete lack of understanding of what consulting is about or potentially undesirable behavioral traits like arrogance or being rude). The second aspect is that you should also be evaluating this person, gaging whether or not you would want to work with them. Different companies have different personalities and styles, and this shows through in their culture and their people. You should use this information to guide your company culture fit.
For this part of the process, I did use LinkedIn to search for people who worked at one of the consultancies and fit one of three criteria:
They are in my network
They are a second level connection (i.e. I know someone who knows them)
They have the same pre-consulting background as me
The easiest of the three is contacting the person you already know, but unfortunately for me, I moved to Canada three years ago and have a limited network here, so the two people in this bucket were in South Africa. I connected with both of them to listen to their views and understanding, but unfortunately, I was unable to get a reference into my target offices.
In my network
One of these people was a friend from school (we were in the same class from grade 3 until grade 8) with whom I was relatively close. This made it easier to connect, and given our relationship, I sent him a message on instagram and it was fairly casual (he also later did a mock interview with me).
Below is a screenshot of the conversation, however, I would advise against being as casual as I am here without truly knowing where you stand with the person.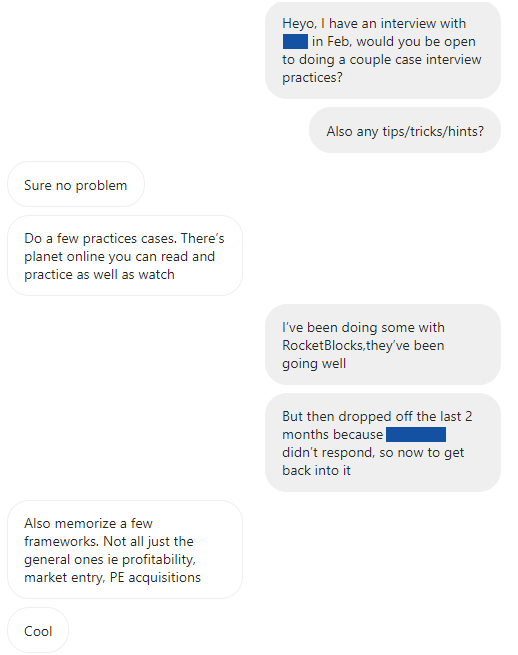 Second connection
The second bucket was a bit more difficult as I had to ask people to connect me with their peers. Although not as direct as the first bucket, this tends to have a higher hit rate as people trust people who are 'known' in some way and the implication of the introduction is that it is a worthwhile conversation. I spoke to three people in this way, and I was able to get some good insight on company culture. I even got a reference! Below is a screenshot of the email I sent to the friend who knew someone for an intro. As you can see this one is more professional than the last, but not as professional as I would be for someone I don't know at all. There is a fair bit of other detail I wouldn't necessarily share, like talking about leaving my current role and my GMAT score. Both of these things could be perceived negatively by someone you don't know (why are you leaving? are you showing off?), but with someone you know you can gauge how they would react to this before sending it. (NOTE: the RocketBlocks founder has a good video on writing a networking intro ask).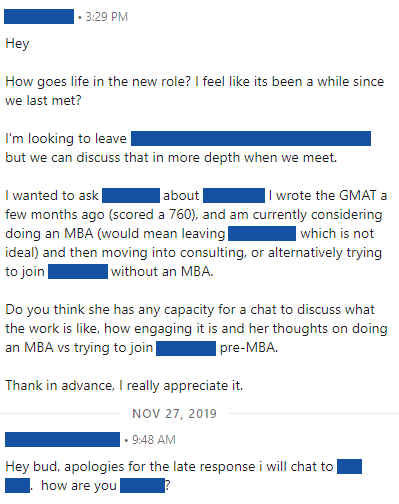 Once you meet the target person, it is effectively a networking coffee/call. It is important to be as professional as possible. The person does not have the benefit of knowing you and will need to make judgments based on your interactions with them (i.e., am I willing to put this person forward as a reference with my name on it?).
Same pre-consulting background
The third bucket of people are people with similar backgrounds who you can reach out to for insights. There are many resources online on how to cold-email, but I find that people are willing to share if you focus on their experiences. It can be more difficult for people to connect if you are focused on yourself. Be polite, thank them for their time, and be clear on why you want to speak to them and how they/their experience can add value to your process.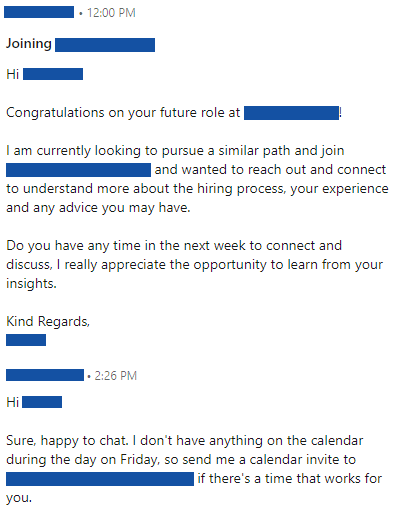 For all of the above circumstances, it is important to remember that all of these people were once where you are and can most likely relate to your situation. This makes them extremely open to helping others. For perspective, since joining consulting, I have had ~7 calls with prospective candidates who have reached out to me via LinkedIn to share my experiences. Although not a step outlined here, this an important step in helping others in their application journey.
After networking and speaking to 12 people at the different firms, I received references to two and submitted my resume and cover letter to the portal. It was now time to finalize my interview prep.
The final (and most daunting) stage was to make sure I was prepared for the interviews. This was a combination of getting ready for cases and developing stories for behavioural questions. The behavioural aspect is often overlooked but is also an important aspect of the recruitment process.
For interview prep, I found a few resources online and decided to use RocketBlocks's partner interview feature to gauge my abilities. In addition to this, I used various case books from different MBA programs (also found through Rocketblocks as other candidates are always willing to share and assist).
A combined effort of reading through the materials to understand the concepts and then doing case practice got me to a level where I was confident in my abilities. All in all, I set up approximately 45 partner cases on RocketBlocks and had my wife run through another 30 mock interviews.
For the behavioural questions, I used multiple blogs (including RocketBlocks) to gauge what firms are looking for and then went through my entire career to find situations that highlighted those traits in each of my previous roles. I ended up with around 20 different stories and then revised them to make them more concise and punchy. It is extremely difficult to recall a specific moment on the spot, in an interview, so I would encourage you to have the stories aligned before the process starts.
Conclusion
Although an MBA may be the most visible way for candidates to make the move into consulting, it is important that you assess your chances of joining without an MBA before choosing to pursue one. This could potentially save you two years and hundreds of thousands of dollars. By forgoing an MBA and shifting the attention that would have gone into the admissions process into consulting recruitment, I was able to land an experienced hire role at an MBB at the equivalent level of a post-MBA hire.
Real interview drills. Sample answers from ex-McKinsey, BCG and Bain consultants. Plus technique overviews and premium 1-on-1 Expert coaching.