Strategy & Ops role at tech companies
Jon Yang, Revenue Strategy & Analytics, Asana, ex-Disney
Publishled: December 28, 2020
The strategy & business operations (known informally as "biz ops") role at a technology company varies based on company maturity, business model, team size, and other situational factors.
There is, however, a core tenet that all biz ops roles operate under, and that is to drive growth in the business by either launching and scaling new initiatives or by optimizing day-to-day operations within the company.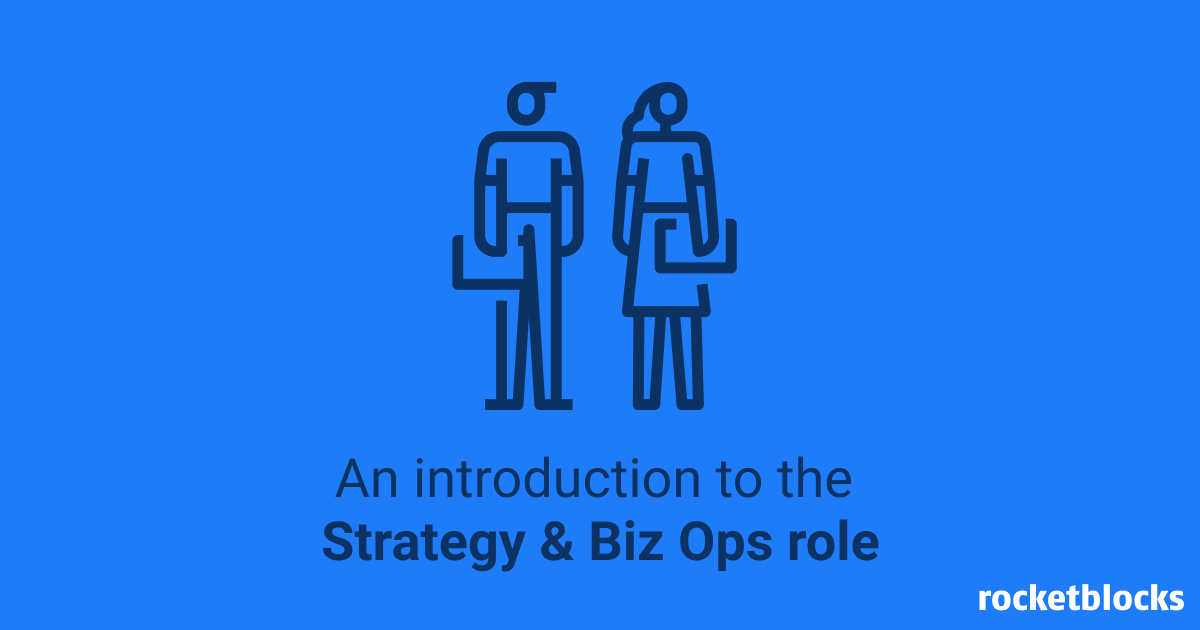 To do so, biz ops coordinates and aligns strategy and operations across all key functional areas of an enterprise such as sales & marketing, product, finance, analytics, human resources, and operations.
The role offers an ability to have a major impact on all aspects of the business, an opportunity to carry out projects from inception to execution, and fundamentally shape the company's future along with solving the company's most pressing problems.
The biz ops role
Biz ops team members are naturally curious and driven by solving problems, and the role itself is highly engaging.
They are frequently placed on projects and tasked with solving a myriad of different problems facing the business, from launching and scaling new sales and customer success teams to coordinating with product managers to launching a new feature to helping set up the company's pricing strategy.
Project-based work
The nature of this role is similar to that of an internal strategy consultant.
You'll be parachuting into some of the most pressing problems facing the company - taking on problems that individual functions might not be able to handle themselves. At earlier-stage companies, you'll be focused more on building and establishing new teams, products and processes.
At more mature companies, you'll be more focused on optimizing existing business lines and scoping out new growth opportunities such as entering new markets.
Length of projects
The length of these projects varies from anywhere between a couple of weeks to 9-month engagements, depending on the scope of the task and the number of cross-functional stakeholders. A shorter project that would take a couple weeks could involve scoping out the opportunity of expanding into international markets. A longer, more cross-functional project that would take many months could involve working with product, product marketing managers, finance and the sales team to launch a pricing change.
Cross-functional in nature
The beauty of the role is that in many of these projects you'll be working with a wide variety of stakeholders across the organization, giving you valuable insights and learnings on how to effectuate change across an organization. On the other hand, colleagues in more siloed positions, such as software engineers or sales representatives, won't get this type of exposure, since they largely work within their teams.
Driving impact
Ultimately, the most attractive part of this role is the ability to drive meaningful impact and change across an organization. Members of strategy & biz ops are expected to take full ownership of initiatives - from inception to execution and then to iteration. Being so hands on in the process of building something from the ground up is what makes the job so much more rewarding when a job is well-executed.
The four phases of a biz ops project
To bring this role to life, the following example outlines a prototypical project and highlights the four key project stages.

Example: Imagine that you're a member of the business operations team for a software company that sells its product on a subscription basis (SaaS). Revenue growth on the sales team has slowed, and company leadership has tasked you with putting together a plan to scale the team and reaccelerate growth.
1. Research: turning data into insights
Your first step should involve investigating why growth in the sales team has slowed and looking for both qualitative and quantitative insights. For qualitative insights, this can involve meeting with all members of the sales team, from executives to sales representatives, to hear their perspectives. Based on these conversations, let's say a frequent piece of feedback you hear is that the sales representatives feel that they are constantly at capacity and find it difficult to spend sufficient time on all of their leads.
Aha! This insight leads you to form a hypothesis that the sales team is currently at capacity, and that headcount on the sales team should increase in order to handle the excess lead volume. To verify this, you dive into a business analytics tool, such as Snowflake or Tableau, and use SQL to pull metrics, such as monthly lead volume, leads per rep, and revenue per lead. In addition, you study similar metrics from other sales teams at leading SaaS companies and find that your sales reps are receiving too many leads and are monetizing them inefficiently.
2. Alignment: getting stakeholders on board with data and storytelling
Based on the insights you've found thus far, you put together a presentation detailing your research and conclude that the sales team could generate hundreds of thousands of dollars by hiring many more sales representatives.
To continue driving this forward, you realize that you need to partner and build consensus with teams in sales, finance, HR, and legal. Here, it is critical to understand their perspectives and answer their concerns. In this case, it would involve highlighting the revenue opportunity to both the sales and finance teams and making sure success metrics are clearly defined to measure the success of the project. For HR and legal, it might involve developing a hiring plan and training schedule. All in all, this cross-functional collaboration will allow you to develop a bulletproof plan, fully supported by all key stakeholders.
3. Execution & experimentation: helping the team get things done
For this endeavor in particular, after building consensus to execute, you can take a bit of a back seat. While you may not be as involved in the actual execution, such as interviewing candidates and training them, the responsibility is still on you to monitor the performance of the team. You'll still stay in close contact via weekly check-ins with key stakeholders and quickly respond to unforeseen potholes that could threaten to derail the success of the initiative.
Do note that, for other types of projects that work more closely with product teams, such as one involving optimizing the performance of the company's website, this might involve designing an experiment to test your ideas. You'll work with product, design, and data science to figure out what your audience will see, how many will see it, and what key performance indicators measure the success of your test.
4. Metrics & performance management: tracking success and keeping things on track
It's important to understand that the work continues much further beyond the initial launch of the initiative. Individuals in strategy & biz ops must monitor and track key success metrics associated with their projects. In this case, you'd want to keep a close eye on leads per rep, revenue per lead, and revenue per rep. If you notice any of these metrics trending upwards or downwards, then be ready to explain what is driving the change and, if further action needs to be taken, to maintain the success of the initiative.
Conclusion
As you can see, strategy & business operations is a highly-impactful function that's directly tied to the success of the company.
You'll likely be working on 2-4 high-impact projects at a time, working cross functionally with department executives to solve the company's most existential problems. Strategy & biz ops is constantly shaping the strategy of the company across all key functions, and there is never a dull day on the job.
The work itself is highly engaging, allowing individuals to build and grow the company from the ground up, and I believe it is one of the best opportunities for career growth. Read on for details on the skills needed, role comparisons (unicorn vs. big tech) and what to expect in interviews.
Get real interview questions. Learn from sample answers from BizOps leaders with experience at Google, Uber, Opendoor & more. Plus concept reviews and premium 1-on-1 Expert coaching.