Big tech example biz ops projects
Voke Elstein, Manager, Strategy & Operations at Twitter
Publishled: December 28, 2020
The role of a strategy and operations (stratops) resource varies quite a bit at large tech firms.
Some companies, Google and YouTube for example, staff the stratops function as an internal consulting team that takes on high-level strategy engagements with different departments as needed. Other companies - Facebook, LinkedIn and Walmart - have this function decentralized so that each function - product, marketing or operations - has its own strategy org.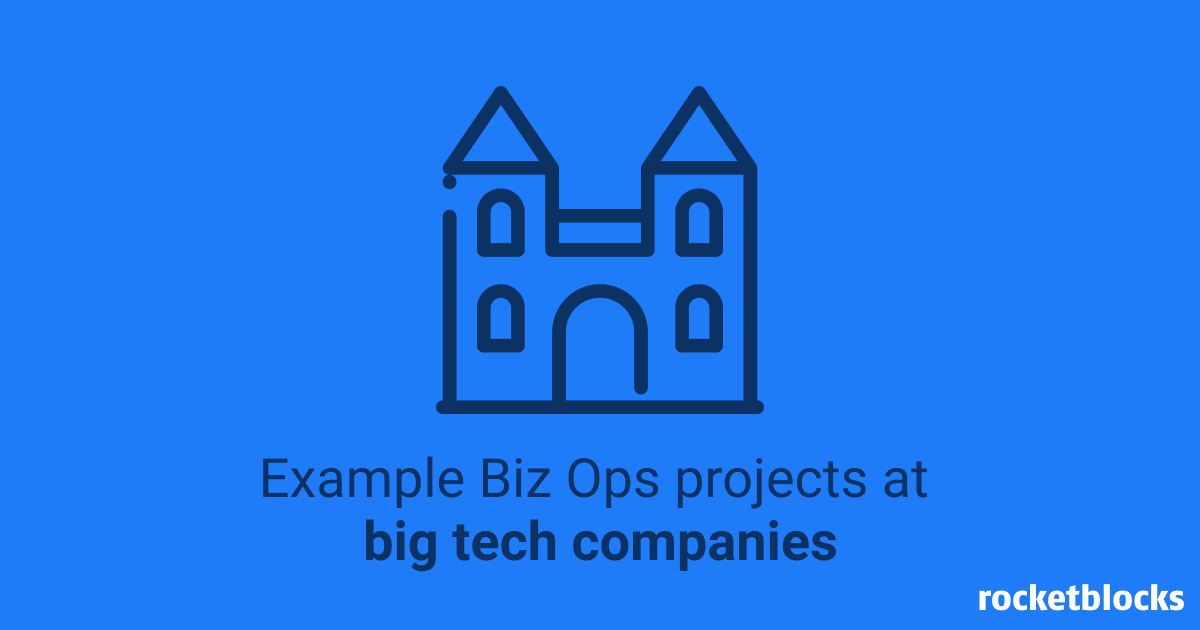 Big tech project context
The magnitude and the nature of projects worked on by a stratops resource depends on the staffing structure, centralized or decentralized, of the company.
Before diving into the first project, let's provide a little context: a key function of a stratops resource is to build a roadmap.
A roadmap is a comprehensive list of all the initiatives that a department or company intends to work on for the upcoming quarter, year or a number of years.

The main difference between a strategy & operations roadmap and a product roadmap is that the product roadmap contains the product vision, how the product will evolve with new features, and the former contains the company's over-arching vision including aspects like how the organization will grow, marketing priorities, etc.
At the director/senior director level, responsibilities are typically for the department or company roadmap. At the manager or associate level, responsibilities are for a team or part of a team's roadmap, respectively.
Initiatives can be viewed as a collection of projects that achieve an overarching goal. For example, an initiative in the roadmap could be building a new product feature. Multiple projects revolving around this new feature will feed into the initiative. An initiative could also be less structured... like the first project I cover below!
Project #1: Coordination and Planning [Roadmapping]
One project I worked on revolved around minimizing negative impact to our customers during feature launches.
The project focused on designing a process for different departments involved in a product launch to align on the steps involved so customers and users felt the least negative impact in the product functionality both during and after the launch. The latter is actually an initiative I led.
A tech product launch involves many different teams: engineering, product, design, trust & safety, marketing, legal & compliance, content moderation and a few other teams depending on the company's naming convention for its departments. Informing one of the non-technical teams too late may delay the product launch significantly. Informing these teams at the right time but without having a process for intaking new products or estimating product priorities could also delay the product launch. From the customer or user's point of view, launching multiple products in a short space of time leads to confusion and sometimes attrition; imagine if an app looked different every time you opened it, you'd start considering its competitor. Successfully getting multiple teams to align involves many meetings and a collaboration tool, which could be an enterprise software like Aha! or a Google or Microsoft spreadsheet or document.
A product launch intake process is a method of coordinating the release of new products so that the right teams are involved in the product development process early, and resources (people) are reserved and allocated in a timely manner to ensure the product's success. For this initiative, designing a product launch intake process, my role as the stratops resource was to assess the current landscape and propose a process that considers the users, the internal teams involved and the technical maturity of the company. I was also required to present relevant data to support my recommendation to the teams. My work did not end here. I was involved in weekly, monthly and quarterly business reviews, where I shared progress against the set targets.
Project #2: Workforce Strategy
A second project I worked on as a strategy and operations resource was to develop a workforce strategy for my department. I was tasked with figuring out in which U.S. cities and in which foreign countries the department's net new headcount should be staffed in. My business unit was planning on hiring over a hundred people, so it was important to get it right.
I partnered with the talent team, human resources business partners [HRBPs], hiring managers and the finance team to aggregate data on the projected team size 3-5 years out, the nature of the work the team would be tasked with, the physical location of key stakeholders and the team lead, and the fully-loaded hiring costs across different levels in the relevant cities and countries, to inform my analysis. I also consulted the people analytics team to get information on large themes from employee surveys around work-life balance, as the team was global and worked across multiple time zones. My final recommendation on which cities and which countries was based on the qualitative and quantitative data I uncovered.
These two projects spotlight key skills required by a strategy & operations resource: data analysis, project management, financial expertise, communication and leadership.
Get real interview questions. Learn from sample answers from BizOps leaders with experience at Google, Uber, Opendoor & more. Plus concept reviews and premium 1-on-1 Expert coaching.