Strategy & Biz Ops case interviews
Voke Elstein, Manager, Strategy & Operations at Twitter
Publishled: December 28, 2020
If you've ever been defeated by a case in a management consulting interview, know that many others, including me, have too.
The good thing about having been in those interviews is that you have experienced a case interview and have a sense of what a case interview looks and feels like. It's an experience that's to your advantage as you approach case interviews in strategy & operations (stratops) interviews.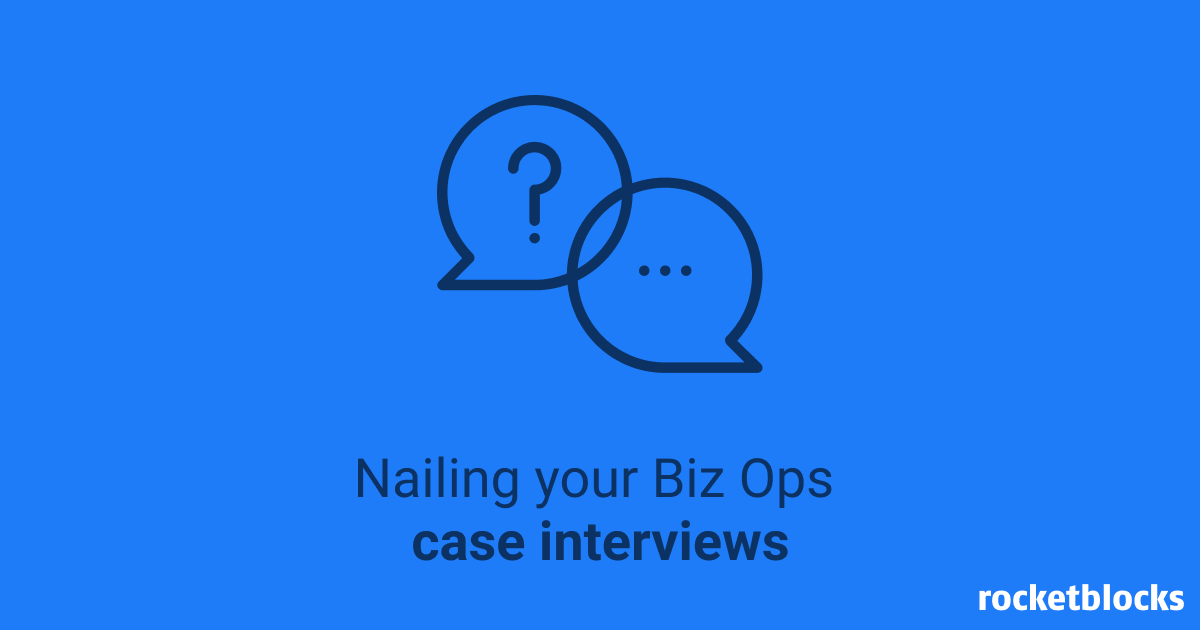 The stratops case interview is an interactive conversation between you and your interviewer(s). To succeed, structuring your thoughts and thinking aloud are key. These help your interviewer understand your thinking pattern, especially how you prioritize, as many stratops case questions involve selecting the best path for a company from several competitive alternatives.
Similar to a consulting case, some stratops cases require developing a framework and structure with which to explore the issue faced by the company. Others, however, are free-form conversations. Here are some questions you could encounter in a stratops case interview:
Sample biz ops case interview questions
What is your favorite company ABC's product and why? How would you increase growth and market share for that product?
Company XYZ is exploring new U.S. cities to expand to with its rideshare service. What factors would you consider as you select a city? Using these factors, what U.S. city should company XYZ enter next?
You are a stratops director supporting the consumer marketing org here at company ABC. Each of the five departments in the org has proposed a project to be completed this quarter, but the org only has resources for three projects. How would you go about deciding on which three to select?
Case interview prep tips
Adequate preparation is essential to successfully scaling case questions during your interviews. As you navigate the interview process, these 5 tips will come in handy.
1. Practice, practice and practice
It is almost impossible to wing a case interview. Like Dave Chapelle recently said on My Next Guest Needs No Introduction with David Letterman on Netflix, "it's easy to do something if you've seen it before." A case interview is definitely not something you want to tackle in an interview the first time you see it.
💡 Tip: Our biz ops interview prep can help
2. Context matters
Case interviews at stratops interviews are nowhere near as difficult as those for management consulting interviews, as they are more straightforward and involve fewer twists than you'd see in a consulting case interview. In fact, while generalist consulting interviews may expect you not to be an expert in the field in which the case is set, for stratops interviews, many companies expect you to have knowledge of the business or industry in which they operate. There is only so much "creativity" you can show about a business for which you are unfamiliar before you end up completely in the weeds with no hope of redemption! Before your interview, get familiar with the industry - trends, challenges, key players - and find out who the company's direct competitors are.
3. Be organized
The interview may take twists and turns, and you will need to find your way back to where you started from to give a good summary and final recommendation. Typically, your responses to the initial case questions lead to subsequent questions. Figure out a system of compiling your responses to each section, so that you can give a cohesive and holistic final response. The worst thing you can do is to contradict your initial stance with your final response.
4. Engage your interviewer
Approach your interview as a conversation rather than as an exam. Have a back and forth going with your interviewer - ask clarifying questions and incorporate the interviewer's responses as you work through the case. Avoid getting into "exam mode" - working on your own and then presenting your interviewer with a final solution.
5. Quantitative skills are important
Depending on the company and the department in which the stratops role reports into, your case interview may include a quant assessment. It could be in the form of mental math questions or a request for you to demo your Excel or SQL capabilities. Brush up and get comfortable with your numbers prowess!
To wrap up, the case questions you can expect to receive during the interview will likely be around a current problem the company is facing - growth strategy case, new business or market entry or just about anything the interviewer feels would give a good sense of your stratops skills. While the difficulty level of the stratops cases is on the medium scale when compared with management consulting interviews, you should approach your preparation, and indeed your interview, with the same diligence and professionalism as you would a management consulting case interview!
Get real interview questions. Learn from sample answers from BizOps leaders with experience at Google, Uber, Opendoor & more. Plus concept reviews and premium 1-on-1 Expert coaching.