Breaking into tech Strategy & Ops roles
Voke Elstein, Manager, Strategy & Operations at Twitter
Publishled: December 28, 2020
Most, not all, strategy and operations professionals have one thing in common; a consulting background from large firms like McKinsey, BCG, Bain, Deloitte and Accenture or from smaller consulting firms such as Slalom or Analysis Group.
A question I get asked a lot, and one you may be wondering about if you are reading this is: how can one successfully land a position as a strategy and operations professional without a consulting background?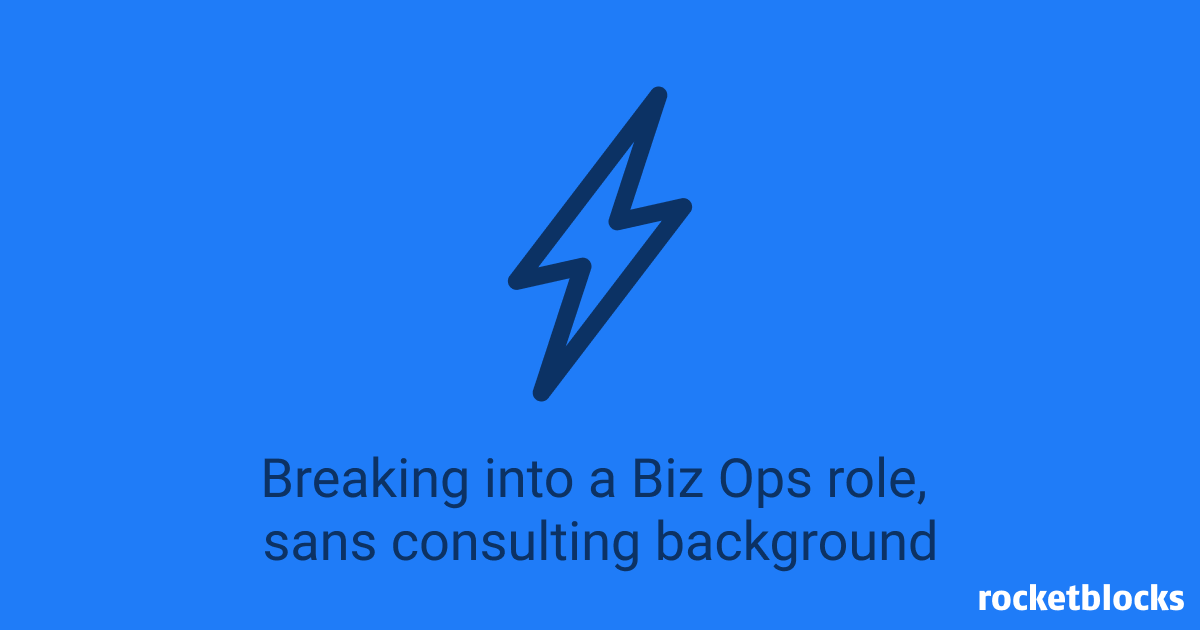 In the sections below, I'll share key strategies to help candidates like you, who have not done a stint at a consulting firm, begin their journey on the path towards a strategy and operations career, as I, and several other professionals I know, have done!
1. Identify your comparable, relevant experience
Do not despair if you have not worked as a management consultant and are seeking a position as a strategy and operations professional.
Besides a stint at a management consulting firm, working in corporate strategy, finance or investment banking, project management and communications are other required qualifications listed in job descriptions for strategy and operations roles.
Consultants are the default candidates, because recruiters and hiring managers expect them to have the core skills required for the role and think they'll ramp up quickly in any industry. When positioning yourself against consultants, if you have some of the same core skills that consultants are known for and have deep industry knowledge that is relevant, then you have an advantage over other candidates.
For example, retail or commerce experience for an ecommerce strategy and operations position, marketing experience for a strategy and operations role in a firm's marketing department and medical experience for a role in the healthcare industry.
2. Update your resume to include relevant buzzwords
The skills possessed by management consultants can be acquired from other work experience and should be prominently displayed in your resume. This article covers the fundamentals of a strategy and operations (also called business operations) position and shares what the expectations are for a strategy and operations resource.
One way to build a resume that will stand out, is to review your work experience and add recognizable buzz words to your resume to help the recruiter and/or hiring manager put your experience in perspective. For example:
If you have built a plan for your team or company that spanned a specific timeline - quarter, year, or multi-year period - then describe that experience as roadmapping or strategic planning.
If you have led project meetings with multiple cross-functional partners, that's stakeholder management.
Read through the job description carefully for nuances in the way the responsibilities and required skills are described. If you have the right experience as written in the job description, but have described it differently in your resume, then re-word your experience so that the recruiter or hiring manager recognizes the relevant aspects of your experience that match the candidate profile being sought.
A second way to stand out is to highlight strengths that play directly to the day-to-day of the strategy and operations role. Skills such as modelling and communication, which management consultants gain significant mastery of, through the constant use of Microsoft Excel and PowerPoint, are required.
Did you build financial models in a past role? Call it out.
Are you a great communicator, proficient in storytelling via PowerPoint or Google slides? Highlight it by sharing instances where you presented to large groups; at an All Hands or at a company town hall.
Spotlight your data analytics skills and instances where you have solved problems using insights from data, as this is a required function of the role.
You will need to catalogue the required skills for the role you are applying to and dig deep to find relevant aspects of your experience that tie directly to the role being applied for as you build your resume.
💡 Shameless plug: Our Strategy & BizOps interview prep can help build your skills
3. Consider alternate entry paths (e.g., chief of staff)
One way to land a strategy and operations role is to work as a chief of staff to an executive. The chief of staff role is a strategy and operations role within a department at a company - engineering, marketing, sales, operations or product.
The number of chief of staff openings are increasing at companies like Walmart, PayPal, and Google, and it has become more common for smaller companies and startups to hire a chief of staff to the CEO.
The chief of staff role is an extension of the executive - the right hand to the CEO, CFO, COO or Vice President the chief of staff reports into. Responsibilities for the chief of staff go beyond the traditional duties of a strategy and operations professional - scaling and optimizing the business, it also includes serving as a proxy for the executive. For this reason, working as a strategy and operations resource with members of the C-suite, a chief of staff can branch out into a strategy and operations role at another department within the same company, or directly into a strategy and operations role at another company.
One final note: networking with, and referrals from, current employees at companies of interest are becoming increasingly important in getting your application materials in front of the hiring team.
To network effectively, do your due diligence before making a request. You stand a better chance for success if your request is a light lift for the person receiving the request. Everyone's different; some people prefer to have a conversation with a prospective candidate first before referring them to a position at the firm. Others prefer a more direct approach; a referral request right off the bat. My recommendation is to send an email that combines both - ask to meet if the other party is available and also include a link to the role you are interested in and your resume in the same email, with your referral request. Make it easy for the other party to help you.
In addition to the tips above, I wish you the very best as you network your way into your dream job as a strategy and operations professional!
Get real interview questions. Learn from sample answers from BizOps leaders with experience at Google, Uber, Opendoor & more. Plus concept reviews and premium 1-on-1 Expert coaching.