The Strategy & Biz Ops career path
Voke Elstein, Manager, Strategy & Operations at Twitter
Publishled: December 28, 2020
If you are considering a career in strategy and operations you are not alone.
In fact, this function - also called bizops, business strategy & operations or strategy & business operations - has exploded in popularity in recent years.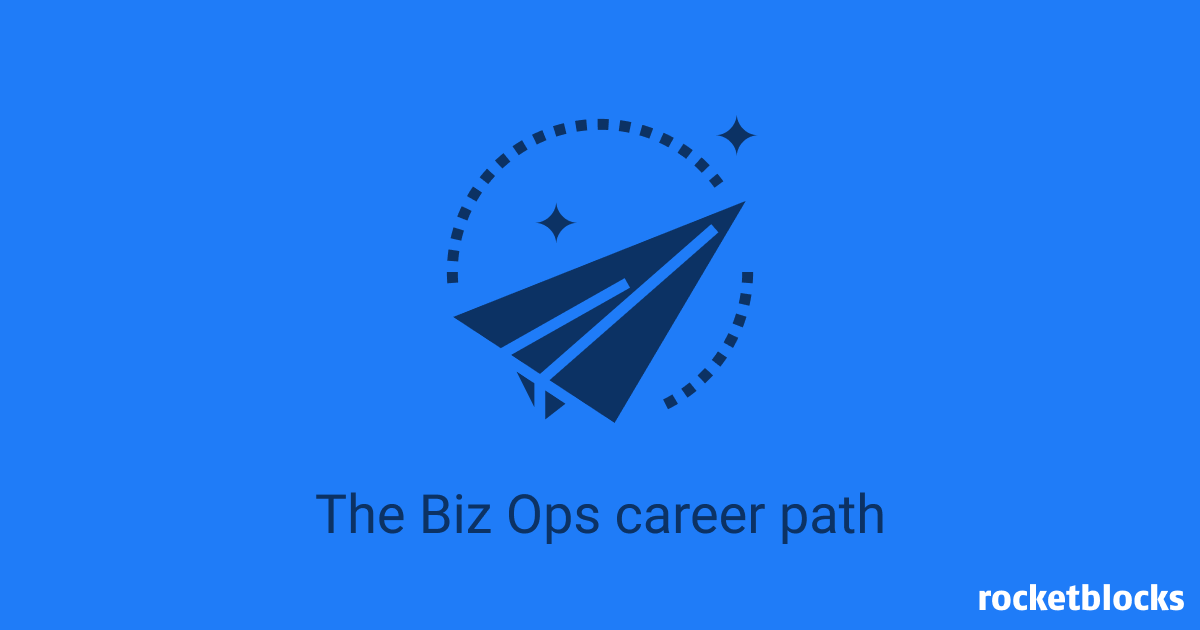 When I left business school many years ago, a career in strategy meant a role at a consulting firm. Today, it also means a strategy & operations position at companies like Asana, Facebook, Gusto, LinkedIn or Twitter.
BizOps career entry points
There are a variety of ways to break into a career in strategy & operations.
Transition from consulting
The easiest way, of course, is to have worked in the consulting sector with firms such as Accenture, BCG, Bain, or McKinsey. A quick look at LinkedIn will confirm this; almost every strategy & operations (stratops) role requires a consulting background.
Transition from finance
The second most popular experience sought by hiring firms for stratops roles is investment banking, finance and corporate strategy experience appear to round up the required experience list.
Here is an excerpt from a recent role spotlight published by a hiring manager on LinkedIn, which reinforces the two entry points above:
Youtube Strategy is looking to hire a Manager to focus on Music-related projects. Target background is someone with both Professional Services (Consulting, Banking, or in house Corp Strat) AND Music experience (label, streaming platform, etc.) Please DM me with any leads!
Transition from MBA or operating experience
However, if you do not have a consulting background or experience in the other three areas, fear not, many people still get hired with experience in other areas outside of these. A degree from a top MBA program, domain and industry expertise [for example, a retail background for ecommerce firms] and networking will help you get your foot in the door. I go into detail on my tips for how to do this here (I was in the same boat with no consulting experience when trying to land my first role!).
Transition from a Chief of Staff role
One other overlooked path which is actually an in into a stratops role is to work as a chief of staff to an executive. The chief of staff role could be staffed at an associate or all the way up to a vice president level and the executive supported by the chief of staff could be in any department at a company - engineering, marketing, operations, product, or even in the stratops department. At large companies like Walmart, PayPal and Google, the chief of staff role is essentially a stratops role. Even at more technical companies like Github, a chief of staff is still a stratops resource.
Career progress of the BizOps role
You've probably been asked the dreaded interview question, "where do you see yourself in five years" a number of times at interviews. Now, it's time for you to ask yourself that question, and I'll phrase it in the form of "where could a career in stratops lead?" The answer to this question depends on where you enter the stratops career ladder.
As an associate or manager, you could go all the way up the ladder as a stratops resource or exit before reaching a senior director position. From what I have seen, the role does seem to max out at the senior director level. I do not know of and have yet to find a job posting for a vice president, strategy & operations. Instead, at that level, the job postings are for vice presidents of corporate strategy.
Below are typical, primary responsibilities at the different levels in a strategy and operations organization.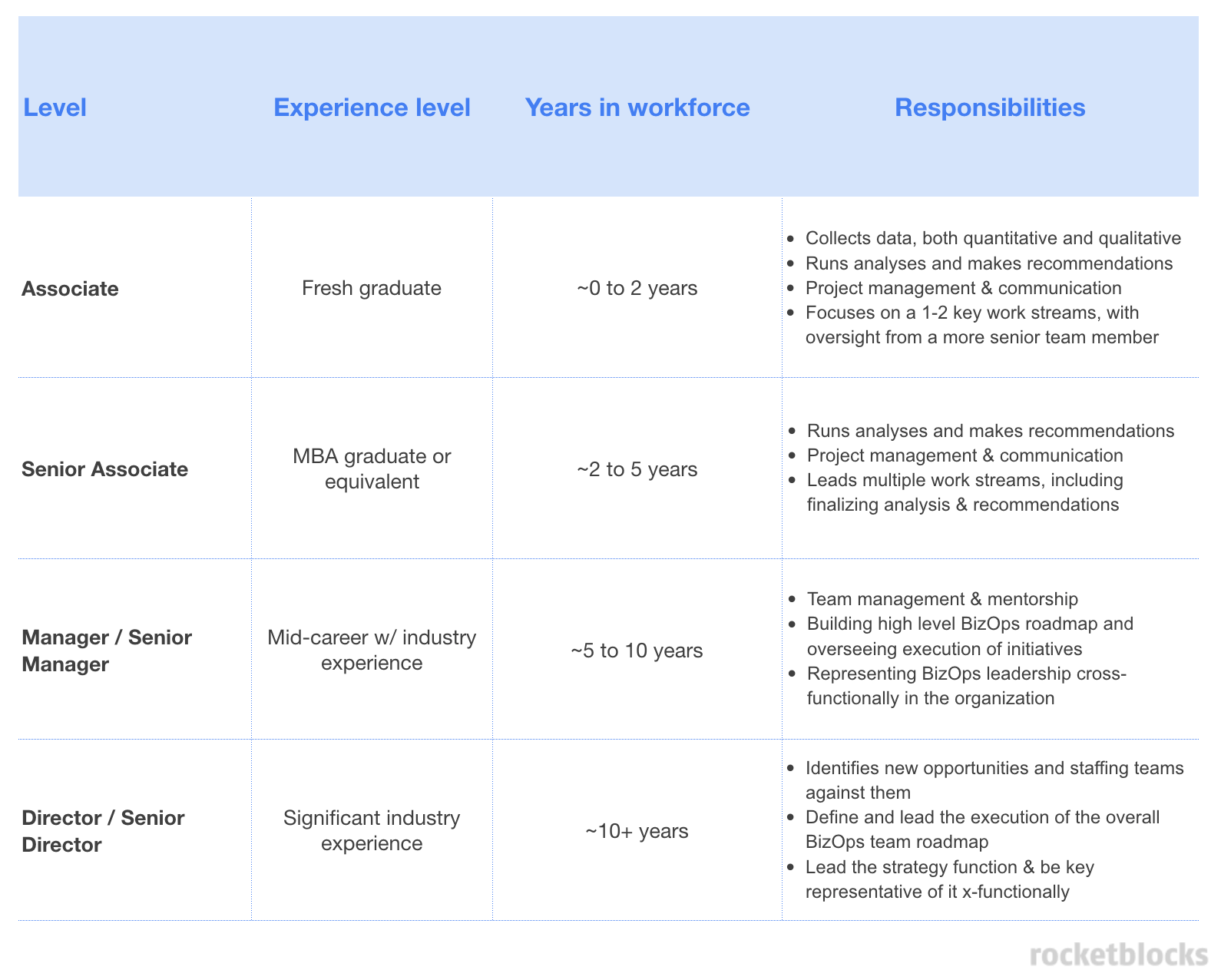 Exit options
Some professionals choose to exit the stratops org for other business functions within a company and take up roles in finance, operations, product or people operations. At the executive levels, titles they eventually hold include chief operating officer, chief financial officer or general manager.
My friend, Libby Leffler, was Facebook's first business lead (chief of staff) to the chief operating officer, Sheryl Sandberg. Many chief of staff roles have a term limit, and individuals typically graduate into more senior roles at their company. Libby went on to hold executive roles at Facebook and SoFi and is currently a regional president at Compass.
One other exit from a strategy & operations role that I have seen lately is into a position with a consulting firm; yes, the big three firms are delving into product strategy and are actively recruiting strategy & operations professionals at tech firms. So, if you've ever considered a career in management consulting, as surprising as it sounds, landing a strategy and operations role might very well be your in into a management consulting firm!
Get real interview questions. Learn from sample answers from BizOps leaders with experience at Google, Uber, Opendoor & more. Plus concept reviews and premium 1-on-1 Expert coaching.