What is Bain Vector?
Emma Rovit, ex-Bain Consultant, ex-Instacart
Published: March 20, 2020
If you've been following management consulting news, you've likely noticed an increase in digital capabilities recently.
Firms have been beefing up their resources to tap into the growing digital transformation consulting market - estimated at $44B in 2018.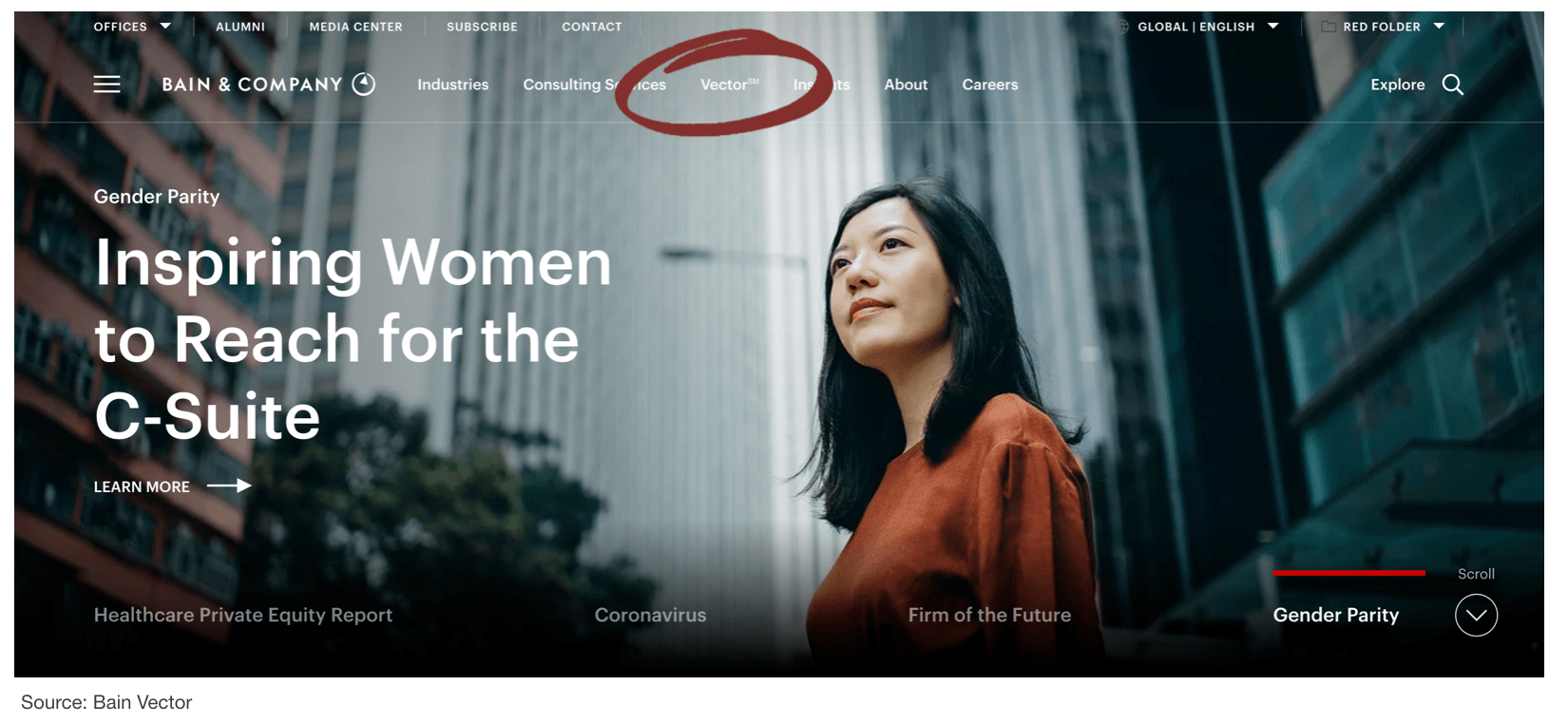 They've been going about this two ways: acquiring more specialized firms and hiring experts. We've written about a couple examples of this trend already, with our profiles on BCG Digital Ventures and McKinsey Digital.
Vector is Bain's answer to management consulting's growing presence in digital strategy and implementation. As their website explains, "Vector is a digital delivery platform that propels innovation and accelerates transformation by ensuring that the right digital capabilities are at the heart of everything you do".
What does that actually mean? We dug into the topic to explain in plain English and break it down for you below:
Let's get started!
Overiew of Bain Vector
Bain Vector is not a separate team or organizational construct within Bain & Co., rather it is a branded suite of products, tools, and capabilities. While these practice areas and tactics are not necessarily new, the way they are branded, grouped, and called out on their website as a unique offering is. Essentially, Bain Vector is an umbrella term for the firm's seven digital products and capabilities shown below.

Let's go through what each of these capabilities includes.
Vector capabilities
1. Advanced analytics
Supports clients in expanding their own analytical abilities and extracting insights from data. Their expertise includes in-house data science and analytics expertise.
2. Automation
Provides end-to-end support to recognize, quantify, and execute automation opportunities. This includes access to in-house expertise from Bain's 'Automation Center of Excellence' and external partnerships with cutting edge technology platforms.
3. Design / Build
Uses a customer-focused approach to identify, prototype, and test new business and product innovations; supported by Bain's internal design consulting arm, ADAPT@Bain.
4. Digital Marketing
Contributes to a more comprehensive, data-driven approach for clients' overall marketing strategies. In-house expertise is provided through Bain's 2018 acquisition of the digital marketing agency FWRD.
5. Enterprise Technology
Helps clients plan and enact a broader IT and technology strategy. This is supported by in-house experts as well as external expertise.
6. New business innovation
Assists clients in cultivating innovation internally and launching corporate venture arms. This includes support from the Bain Innovation Exchange (BIE), Bain's in-house group of innovation experts.
7. Partnership ecosystem
This is the catch-all term for the extensive relationships Bain has developed with various external experts in digital strategy, data analytics, and technology solutions. It includes 40+ members that can help across the aforementioned areas.
As shown, Bain Vector includes a wide range of capabilities which their consultants can leverage across a variety of cases. It's also worth noting that Bain has acquired other specialized firms (like FWRD) to build this suite of capabilities. This isn't something the firm has historically done, but may be pursuing now as a way to compete with BCG and McKinsey, which have used this strategy more frequently.
Below, we'll go through a hypothetical example to show how Bain Vector might fit into a typical case.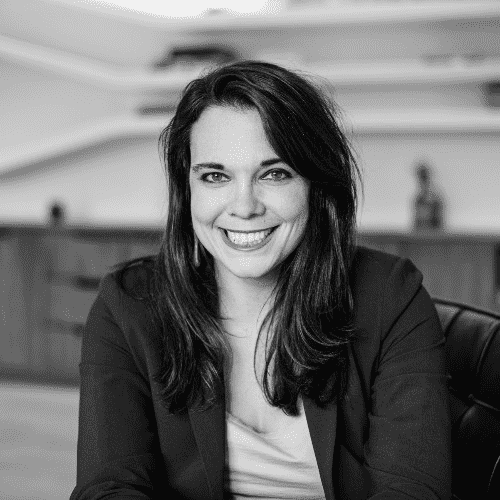 "I used RocketBlocks for 20 minutes each night during the recruiting process. Peers from MBB complimented my increased ease in math, which boosted my confidence and my ability to land offers with Bain, BCG, and McKinsey!" -- Lindsay Van Landeghem, Consultant at Bain & Co.
Vector's client engagement model
Let's say a large clothing retailer, Retail Co., comes to Bain with a problem - they are losing foot traffic in many locations around the country, and need to figure out how to increase both online and offline sales.
Partners might start by highlighting the Bain Vector toolkit during the selling process. For example, they could prepare materials showcasing Bain's expertise in digital transformation, using case studies of similar work they'd completed. They might also pull in consultants with expertise in some of the Vector capabilities like digital marketing and advanced analytics to provide additional insight.
Once the case was sold and a team was staffed on Retail Co., consultants might periodically lean on different parts of the Bain Vector toolkit where applicable throughout the case. This could include pulling in additional resources as well as using materials prepared by one of the capability leaders.
Potential Use Cases for Bain Vector
Continuing our hypothetical case, if Bain wanted to dive into Retail Co.'s sales data to uncover insights about shifts in customer buying patterns, the case team might set up a call with someone from the Advanced Analytics Group for help running a particularly tricky data pull.
Alternatively, if Bain decided Retail Co. should focus on improving their app, they might engage ADAPT@Bain to help them run a two-week customer-centric design sprint, culminating with a rough prototype to share with the client.
As you can see, the staffing of the case team itself would be no different than for any other client engagement, but the expertise and partnerships Bain leveraged throughout the case would be enabled through the Bain Vector platform.
How Vector fits into Bain's strategy
Now that the functionality of Bain Vector is clear, let's talk about how the introduction of this platform complements Bain's strategy more broadly.
It's clear that with the growth of digitization, the tools used by management consultancies to support clients would need to evolve as well. To support this shift, Bain has gradually introduced internal and external expertise in analytics, digital marketing, and innovation as a service to their portfolio. Vector is the ecosystem that brings these pieces together, enabling Bain to support their clients with a more holistic and multidimensional approach.
How does Bain's approach differ from competitors?
Rather than creating a separate digital business unit, as BCG did with Gamma and McKinsey did with Mckinsey Digital, Bain decided to keep these capabilities integrated within the business.
This means all Bain Vector capabilities are included in the standard case team offering. Although consultants can become experts in various digital capabilities, they won't sit in a separate organizational structure within Bain & Co.
Bain may have organized their business this way because they are a smaller firm and want to ensure all consultants are able to be staffed across the full spectrum of client engagements. Alternatively, they may have worried about clients getting paralyzed by information if they provided too many staffing options. Regardless of the reason, Bain put a clear stake in the ground by introducing the Bain Vector capabilities, and it will be interesting to see how they fare versus the more siloed BCG and McKinsey digital groups.
Recruiting impact of Vector
Given that Bain Vector is not a structural business unit within Bain, you don't need to worry about recruiting to multiple organizations. However, we do recommend reading up on the various capabilities under Bain Vector to gain a better understanding of the casework Bain takes on.
In addition, it's useful to compare the different approaches MBB have taken to digital transformation, both for your own knowledge and potentially to call out during an interview.
Finally, if you're interested in a non-consulting role at Bain, take a look at some of the other positions they recruit for. There are openings for software developers, data scientists, and design researchers to become in-house experts in the capabilities we've covered above. Opportunities vary by region.
Conclusion
Bain is aggressively pushing into the digital transformation market and "planting a flag" with the creation and branding of its Vector suite of services.
While their approach is different than McKinsey's or BCG's, the take away is the same: digital transformation is a massive, growing market and all the top firms are making moves to stake their claim.
Real interview drills. Sample answers from ex-McKinsey, BCG and Bain consultants. Plus technique overviews and premium 1-on-1 Expert coaching.