Strategy& recruitment and interview process
Farah Karabeg, ex-Strategy& Management Consultant
Published: July 20, 2022
Key considerations when applying | Recruitment process | Interview process | Additional tips
While less famous than its MBB competitors, Strategy& is one of the leading Tier-2 consulting companies, with a broad client portfolio and strong industry connections.
Founded in 1914 as Booz & Company, Strategy& was rebranded to its current name after the PwC acquisition in 2014 and currently has 65+ office locations spanning across Americas, Africa, Asia Pacific, Europe, and MENA regions.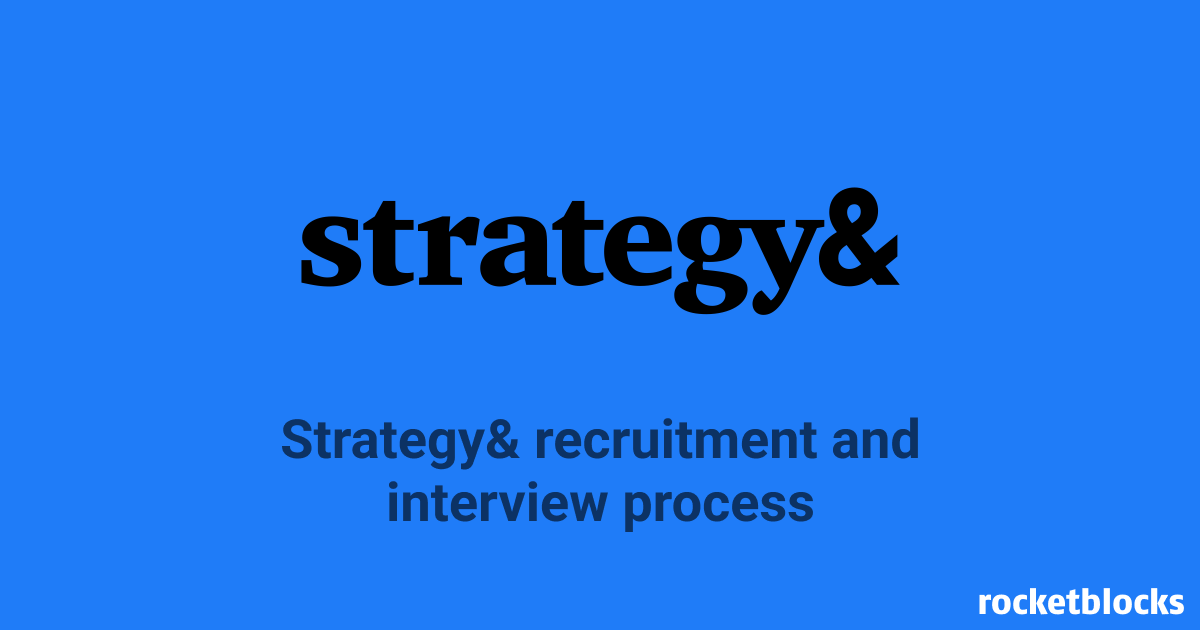 To this day, PwC and Strategy& remain somewhat separate brands, with degrees of integration varying in different locations – most notably, in the Middle East, Strategy& in the Middle East still keeps its offices in a different location and there is little overlap between the two companies' clients. European offices are almost completely integrated with PwC and consultants often collaborate on projects.
Important considerations when applying for Strategy& vs. other consulting firms (Top)
Culture: With its work-hard, play-hard work culture, Strategy& consultants are known to work long hours (comparable to MBB), yet the culture is collaborative and fun: self-organised weekend skiing or beach trips are a regular occurrence. The highlight of the social calendar is the yearly Soccer Tournament in Madrid, where teams from all over the world gather to showcase their ball-juggling skills (and occasionally Excel skills during breaks between the matches ☺ )
Target backgrounds and schools: Strategy& is a great place to start the consulting career for candidates coming from non-traditional backgrounds. Due to the diverse nature of its projects, the company is keen on hiring qualified applicants with degrees in engineering, natural and social sciences, and often actively looks for experienced hires who are experts in their respective fields. Similarly, strong candidates from schools that are traditionally considered non-target, have a good chance of being invited for an interview, as long as they are top performers in their class.
Typical career path: The typical career path might be somewhat slower than in other consulting companies, mostly due to the fact that in some office locations, promotions at the entry level (Associate) are based on tenure, rather than on performance. Post-entry level, promotions become merit-based like in majority of other consulting companies. New hires joining the firm post-Bachelor degree can expect to spend 3-5 years working as an Associate, 2-3 years as a Senior Associate, and 2-3 years as a Manager.
MBA sponsorship: This greatly depends on the office location, so if the MBA sponsorship is high up on your list of reasons for joining consulting, make sure to check Strategy& website before applying. In the MENA region, MBA sponsorships are not only possible, but highly encouraged.
Geographic flexibility: Unlike MBB, Strategy& does not have a global staffing model, and each of the offices are considered a standalone location. Thus, a relocation to a different office would require an employee to submit an internal application and go through the interview process.
Compensation: What it lacks in geographic flexibility and brand reputation, Strategy& compensates in top-of-the-market pay, as a way to attract top-quality candidates.
Strategy& recruitment process (Top)
As previously mentioned, Strategy& is keen on hiring candidates with various backgrounds.
Depending on your educational level, you might join the firm at different roles:
Bachelor level – Associate 0
Master's degree – Associate 1
MBA degree – Senior Associate
Experienced hires – anywhere from Associate to Manager or higher, depending on the type of experience
Application process happens on a rolling basis year-round, so it is worth investing time into strengthening your application and brushing up on your casing skills before applying. Once ready, there are two ways to apply:
Career portal: this is the standard way to apply, if you are comfortable with the strength of your application and have absolutely no one in your network who works in Strategy&. You will be asked questions about your education and experience, and will need to submit your resume and cover letter.
Personal recommendation: this is the recommended way to apply. It is worth reaching out to your network or making new introductions on LinkedIn to organise a coffee chat, understand ways of working from the first hand, and ultimately, ask the contact if they would be willing to submit your resume directly through the internal review process.
If applying through the career portal, you can expect to hear back within 4 to 6 weeks, with either a rejection email, or an invitation for an interview. The feedback loop is (typically, not always) somewhat shorter for personal recommendations, and it could take as short as 2 weeks to hear back.
💡 Shameless plug: Our consulting interview prep can help build your skills
How Strategy& interviews work (Top)
You can expect to have four interviews in total, and in some outstanding cases, more than that. Interviews are split in two rounds, with the same level of difficulty between the rounds. The goal of the interviews is to get to know your background and interests, and assess your quantitative and qualitative analysis skills.
Ultimately, during your interview, the interviewers are trying to answer the question "if this candidate was to join my project tomorrow, do they have the necessary skills to complete the required work, and would the team enjoy working with them"?
You can expect:
Two 1-hour first round interviews: these typically happen online, back-to-back. They are led by managers in the company, and are usually based on a real-life problem that managers are working on with their teams at the moment - for example, "how would you size the market for a company producing kitchen cabinets in Germany?" You could also face a slightly more abstract question, such as "will the recently adopted law allowing women to drive, impact the economy of Saudi Arabia positively or negatively"?
Two 1-hour second round interviews: depending on the state of the pandemic in your select office location, second-round interviews are likely to happen in-person. They are led by principals or partners and might be based on a real-life problem, or a more hypothetical question such as "how would you price an imaginary machine that produces an infinite amount of electricity?"
The key difference between this round vs. the first, is that you will be expected to lead the interview and proactively ask questions that will help you crack the case.
In both first and second rounds, interviews will consist of:
Introduction and behavioural questions (10-15 minutes)
Case cracking (30-40 minutes)
Questions from your side (5 minutes)
Some last useful tips for the interview (Top)
Brush-up your quantitative skills: interviews at Strategy& are typically quant-heavy.
Show a genuine interest or ties to the office location you are applying for: you need to make sure that your interviewer knows you won't leave this city in less than a year.
Make sure to have a solid answer to "Why do you want to work for Strategy& vs. Tier 1 firms or other comparable Tier 2 firms" – Tier 2 firms know they can't compete with the MBB brand, thus, it is very important that you have a profound answer as to why you're interested in working at Strategy&. Non-tailored and generic responses such as "I like the culture" just won't do.
Make sure you ask smart questions at the end of your interview: try to avoid asking questions that you can easily answer by a quick Google search, and instead, focus on formulating 2-3 insightful questions that will showcase genuine interest in working at Strategy&.
Real interview drills. Sample answers from ex-McKinsey, BCG and Bain consultants. Plus technique overviews and premium 1-on-1 Expert coaching.