The product marketing career path
Al Dea, Sr. PMM at Salesforce, ex-Deloitte Digital
Published: November 10, 2020
Now that we've got a good sense of the responsibilities of product marketing, let's discuss your career path and inroads into product marketing.
Entry points
Career ladder
Levels and expectations
Variance of PMM roles
Exit opportunities
Entry points
Let's start with breaking into product marketing. There are 3 common entry points:
1. Peers of PMM (Cross Functional Partners)
Many (most?) PMMs will often come from other functions or teams who often work with PMMs. Getting the chance to work directly with PMMs gives you a look into the role and responsibilities of a PMM which is valuable for many reasons.
First, you get a sense of whether you like it or would enjoy it (because you see it up close in action). Second, you have insight into who the PMMs work with and what they work on, which is a huge advantage in making your pitch for why you want to become a PMM.
While there are many other functions that product marketing candidates can come from, here are a few examples that stand out:
Sales - Anyone who has ever had to sell has probably worked with product marketers, which can often be a great reason why to move from this discipline. Having a background in sales can be a huge advantage as a product marketer, and will certainly help if you end up having to work with sales teams in your role.
Customer Success or Account Management - These people are also customer facing, and are likely to have great PMM skills like customer empathy. In addition, they'll often have strong product knowledge (given they directly support customers using it).
Corporate Marketing - A background within corporate or general marketing is a strong foundation for many product marketers. This could be in a role such as demand generation, growth marketing, or brand marketing.
Support - The customer support agents are on the front lines of a tech company fixing issues, understanding customer challenges and coming up with solutions. This positions them well to understand the nuances of a product, but also, the common aspirations and challenges of the customers who use them. Knowing these two aspects makes them great candidates for PMM roles.
But what happens if you work at a company but in a function that doesn't work with PMMs? No sweat! If you're working for a company that already has an established product marketing team, then grab coffee with a few members of that team to learn more about their world. Even better, PMMs usually have more than enough things to do than hours in the day, so ask to pitch in to roll up your sleeves and get hands on experience. Whether it's supporting a product launch, helping write creative briefs, or interviewing some customers to produce customer research, you can find opportunities to get hands on PMM experience, which should position you well to land a role.
2. MBA Programs
Another popular path to product marketing is through an MBA degree. With a few years of work experience as well as an MBA from a top program, grads often find opportunities to transition into PMM.
Since product marketing is inherently cross functional, it helps to have experience, as well as comfort with other disciplines and functions that a product marketer might be exposed to, such as finance, operations, sales operations, product management, etc, which you get in business school. In addition to the curriculum, MBA programs offer internship opportunities (which often can convert to full-time job offers) as well as experiential learning opportunities and consulting projects, all of which give MBA students the chance to build the skills and experiences to land product marketing jobs upon graduation.
Another place where PMMs come from are from management consulting firms, where their analytical skill set, ability to work cross functionally and balance of qualitative and qualitative skills are often valued by companies that are hiring PMMs.
3. Undergraduate Associate PMM (APMM) Programs
While it's rare to have your first job out of college be in product marketing, there are a small number of companies that have associate product marketing manager (APMM) or rotational programs that give new college graduates a chance to work in PMM roles.
Two key examples of APMM programs are Google's and Salesforce's. Both programs hire junior PMMs right out of undergrad, but these programs are few and far between. While an APMM program can be a great learning ground, it's much more common for someone who is interested in product marketing to enter the career path via the first or second route listed above.
The PMM Career ladder
Below, we've included directional guidance on what a PMM career ladder *may* look like.
Remember, the the below path is just one example - as mentioned earlier, many people join the PMM career at different stages and many will leave for adjacent roles (discussed below at end of post).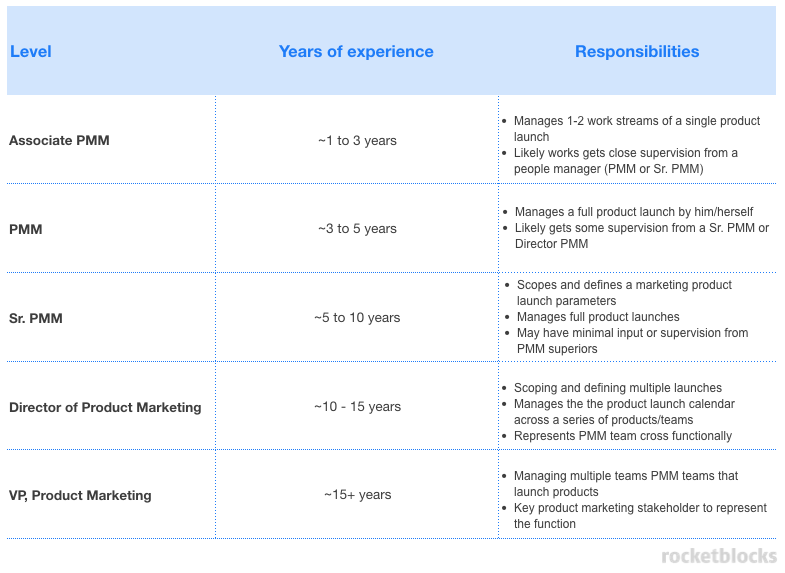 Common levels and expectations
Since PMM teams are structured differently at each company (and sometimes even within a company) these are going to vary a bit, but here are some guiding principles for the expectations at each of the levels.
Associate PMM/PMM Specialist
In this role, you are often supporting the overall efforts of larger projects or programs of someone who is on your PMM team. This could mean contributing to the messaging or positioning documents, or managing a few components on a product launch in support of another product marketer on your team. These projects could include things like handling the sales enablement training that will be delivered to your sales teams, creating some of the launch collateral, such as a 1-page overview of the product, or an internal FAQ document for key stakeholders. Whether it's on a product launch or another project, APMMs are usually supporting the work of a more experienced PMM. The more you can demonstrate ownership of a deliverable or project, the more likely your manager will want to provide you with more opportunities.
Product Marketing Manager
This level (Product Marketing Manager) is also the level that, as a new graduate from an MBA program, you will typically start at in your PMM career. PMMs are individual contributors who manage projects or responsibilities and while this role can vary, here are a few examples:
Go-to-market strategy: Shaping the Go-To-Market Strategy for your product and then working with a cross functional team to execute marketing campaigns to achieve the target metrics
Customer research: Working with Product Managers to conduct customer research (quantitative or qualitative) to identify new features, and then prioritizing the features for the product roadmap
Messaging and positioning: Managing the messaging and positioning for your product, including keeping updated documentation around buyer personas, internal messaging documents, and then ensuring that the messaging is used in key external facing assets, such as whitepapers, blog posts, the website, or other collateral that your sales teams use
Product expertise: Serving as the "evangelist" for your product by running events or campaigns with your product users that promote adoption and usage, or by running co-marketing activities that promote successful customers who are using your product
Sales enablement: Managing a sales enablement training program for your sales teams, and building the strategy and objectives for the program, working with a team to build the training content, and then tracking effectiveness and ROI from the sales teams that use it
Product launches: Running a launch around a new product, features, or set of features by "quarterbacking" the launch process and completing key launch deliverables such as creating internal or external content (ex: internal product sheets, external blog posts) running training or enablement sessions for sales teams, working with the broader marketing team to update the website with new information or with various marketing channel owners to promote the launch
Depending on the company you work at, the size and scope of your team's mandate, and the maturity of your product, you could be involved in any number of these responsibilities.
For those who are starting out in their product marketing career, you most likely will start with a few of these responsibilities, and over time and through experience, you'll start to tackle more of these responsibilities. However, at this level, you will get guidance and coaching from a people manager (usually a Director or above).
Senior Product Marketing Manager
At this level, you should have experience across all the common responsibilities of PMM (see above) and be comfortable diving into any of them. If your role is more focused on developing a GTM strategy and then executing marketing campaigns or sales programs to hit your KPIs, it's still expected that if needed, you could roll up your sleeves and tackle updating the messaging and positioning of the product. With a few years of being a PMM, ideally, you will have executed a handful of large projects under your belt, such as the launch of a new product, and that you can "own" a project or program from ideation to execution. This means not only identifying the project need (ex: we need to refresh our messaging and positioning documentation) but then managing it to completion.
At the Senior PMM Level, while you will still receive guidance and coaching from a manager (usually a Director or above) the expectation is that you can operate independently and with minimal supervision. At this level, it's also expected that you can identify opportunities, scope projects and execute them to achieve desired outcomes. In addition, you could also find yourself getting some people manager responsibilities (ex: managing 1-2 employees) depending on your team structure and size.
Group/Director Level
At this level, you've had strong experience across all aspects of the core responsibilities of PMM, and ideally have a PMM "superpower" in one of those areas (ex: excellent at product launches, the best at messaging or positioning). In this role, you are a people manager, and leading a team of PMMs. Leading the team means identifying the priorities, creating metrics that align to those priorities, clarifying your team's work and scoping projects for them, and then providing ongoing coaching and guidance to ensure your team is successful. Many at this level are "Player/Coaches." In this role, they are responsible for leading and directing their team, but they also must be ready to roll up their sleeves to do the product marketing work when needed. At this level, you also start to have a hand in the budgeting process.
VP of Product Marketing
At this level, you are responsible for the product marketing team, or in some cases a number of teams. This means setting the strategy, metrics, and reporting out on these and ensuring the team is successful. In addition to also ensuring your team is developing and growing, you are also managing relationships and any joint outcomes/OKRs with cross functional peers such as product management or sales. You also may have responsibilities especially for externally facing publicity/speaking engagements, such as Public Relations, Analyst Relations (ex: working with Industry Analysts at firms like Gartner, Forrester, or IDC) or other external facing events.
Variance of PMM Roles
Since product marketing looks different at each company, it's important to do your homework when you are evaluating roles. Just because you see a role for a Director of PMM at two companies doesn't mean that they have the same responsibilities, scope, salary, etc. Make sure to read through the job description to understand the scope and responsibility set, and speak with the recruiter and hiring manager. Here are some reasons why roles tend to differ.
Maturity of company or product marketing team/org
Companies with large PMM organizations (ex: Salesforce, Microsoft) also tend to be larger companies which means they have larger product marketing teams, or in some cases, an actual product marketing organization. This means that things like promotions tend to be pretty structured, and while you can move around internally to a new team, moving up and getting promoted usually has a fairly structured process that is hard to circumvent.
Maturity of Product
At smaller startups that have higher growth rates, your priorities may be constantly changing as you grow and evolve which means you're constantly being asked to take on new responsibilities or scope.
For example, at a large company with a product marketing org, you're more likely to be in a niche or specialized role, due to the size and scale of the organization. This means you have a couple key responsibilities that you focus on and do really well. Contrast that with being a PMM at a startup, or perhaps at a company with a very small PMM team, where you might be asked to go more "wide," and take on a lot of diverse responsibilities that sometimes may be in other marketing functions, such as demand generation, or growth marketing, but since those teams are not yet built, those responsibilities might fall in your lap.
"Exit" Opportunities for PMMs
Due to the cross functional nature of the role, in addition to rising up the PMM ladder, or leaving for a bigger PMM role at another company or on another team, there are other roles that PMMs often go into (that they often work closely with).
Product - If you want to get closer to building a product, you might find a way to work more into the product side.
Revenue/GTM - If you have a desire to manage a business and drive revenue/sales, you could find a way to become more of a GM type or Head of Go-To-Market where you own a P&L
Marketing - If you are more interested in marketing as a discipline you can often find ways to move up to a role that is more focused on driving demand or building the brand of the company.
Real interview questions. Sample answers from PMM leaders at Google, Facebook, Amazon, Uber, PayPal and more. Plus study sheets on key concepts like positioning, GTM & more.