Product marketing interview prep
Francisco Bram, Head of PMM, Uber Business, Uber Eats, Uber Health
Published: November 10, 2020
While product marketing interviews vary company to company, there are important, recurring question types that come up repeatedly.
Below, we'll cover the four key question / interview types:
Core concepts
Industry knowledge
Behavorial
Case studies
The underlying skills companies look for are consistent, but each company assesses candidates slightly differently. For example, a company like Uber leans heavily on case study interviews (e.g., "How would you enter a new industry vertical…?") while a company like Amazon does more behavioral questions aligned with their cultural principles. For this reason, it is important candidates prepare for 4 types of interviews.
1. Core concepts interviews
In these interviews, the interviewer will usually ask foundational questions to probe your domain knowledge of the role and responsibilities expected of PMMs. We've covered what the specific hard skills are here, and also soft skills here. In this section we'll focus on providing you with information for you to study or refresh concepts before the interview day.
💡 Tip: As previously mentioned, PMM's role & responsibilities will vary depending on the industry or company. The best way to stay closely aligned is to do your own research on the various ways Product Marketing is defined in the industry you are applying to. Start by looking at open PMM roles on LinkedIn, ZipRecuiter, Indeed or other recruiting sites that closely resemble the business, industry and company you are applying to. For example, if you are applying for a PMM role at Google Cloud, you may want to review PMM job descriptions from similar roles or companies, such as Salesforce.com, Amazon AWS or Microsoft Azure.
The first step in preparation is making sure you've got a grasp on key concepts that come up repeatedly in product marketing interviews (and on the job!). Below we've included a list of the topics that will likely come up:
Calculating the Total Addressable Market (TAM)
Using design thinking to derive customer insights
Designing a Go-to-Market (GTM) plan
Below, we'll do a deep dive on one of the aforementioned examples: how to address TAM questions.
Calculating the Total Addressable Market (TAM)
Definition. TAM is also referred to as total available market, in other words, it is the total revenue opportunity that is available to a business if they capture 100% market share.
Top-Down TAM approach
This approach starts by taking a large population of a known size that comprises the target market and using it to narrow down to a specific market segment. This approach normally relies on existing market reports or published financial information.
🎯 Example: You are interviewing for a PMM role at Uber Eats. You are asked to calculate the TAM for corporate meals in the United States for 2019. The interviewer gives you the following data points (these are fictitious numbers): 1) A 2015 Nielsen report estimated the food delivery market in the US to be $3B. 2) A 2018 Gartner report estimated the food delivery market in the US to be $5B. 3) Certify US SpendSmart reports that 1 out every 4 meals are expensed.
The first step you need to take is calculate the Compound Annual Growth Rate (CAGR) between 2015 and 2018. In this case the CAGR is 19%.
The second step you need to take is calculate the estimated 2019 total food delivery market: ($5B x (1+19%)) = ~$6B.
The third step you need to take is calculate the US corporate meal TAM which is ¼ of $6B = $1.5B.
Bottom-Up TAM approach
This approach is a more reliable method because it relies on internal data points and primary market research to calculate the TAM. It uses more reliable data based on the current market share, revenues, pricing or usage of a product.
🎯 Example: You are interviewing for a PMM role at Uber Eats. You are asked to calculate the TAM for corporate meals in the United States. The interviewer gives you the following data points (these are fictitious numbers): 1) Uber Eats' global market share is 45%. 2) In 2019, the total gross bookings for Uber Eats was $10B worldwide. 3) The United States food delivery market is 30% of the global market. 4) Certify US SpendSmart reports that 1 out every 4 meals are expensed.
The first step you need to take is calculate the United States total market for food delivery: if Uber Eats global 45% market share equals $10B then the total market would be ((100% x $10B) / 45%) = $22B.
The second step is to calculate the total food delivery market in the United States, which would (30% x $22B) = $6.6B.
The third and final step would be to calculate the TAM for corporate meals in the United States. In this case, ¼ of $6.6b which would be = $1.6B.
Value-based TAM approach
This approach relies on an estimate of the value provided to customers by the product or service and how much of that value can be reflected in the product pricing.
Value-based TAM is mostly used for companies pioneering new markets where there is no innovation or market precedence. In interviews, you are expected only to demonstrate your thought process for calculating this method.
When Uber was first trying to estimate their TAM, they could have used a market report that estimated the total Taxi industry or they could have used the value-based approach. Users opting to use Uber also have as alternatives the option of driving themselves, using public means, or taking taxis. Since users are willing to forego all these alternatives and take an Uber ride, the company can estimate the value that these users derive from using the Uber platform and determine how to capture the value in its pricing.
💡 Got a PMM interview? Our PMM interview prep can help
2. Industry knowledge interviews
These interview questions used to be very common 10 years ago but while less common today, PMM candidates should always prepare for them. These questions are designed to measure two areas, your real interest in the role and your understanding of industry. There are a few ways to prepare for these questions.
You can start by researching the company, by looking at their corporate site, understand their cultural principles and how they position their products. You should also research their competitors, their industry trends and other technology trends that might impact their business (e.g. cloud, mobile, digital currency). You should also research their customers, their demographics, their titles (if B2B) and how they rate and review the product and services of the business you are applying to.
You should also consider scanning through your LinkedIn network for any connections that either work or have worked at the company you are applying to. They are always a great source of information, and can give additional insights that normally you wouldn't find online.
🎯 Example: [If you're interviewing at Uber] What do you see the top 1-2 challenges Uber will face in the next year and how should we prepare for them?
Ultimately, what you want to create is a detailed one-page scorecard about the company, its products, competitors and high-level industry trends that will help you be more informed and prepare you for the interview. I created this scorecard template to help you prepare and below is an example of that scorecard applied to Uber.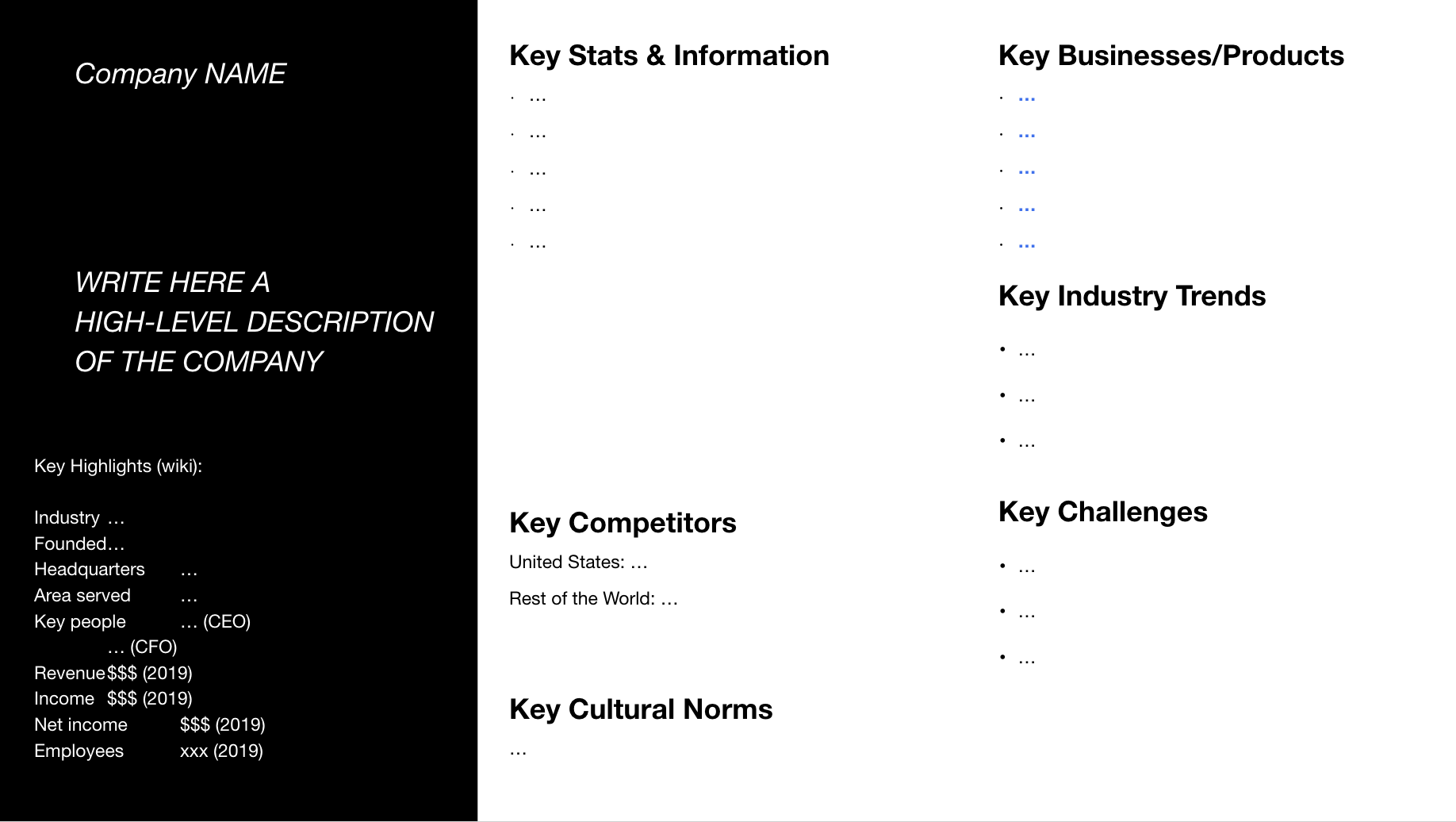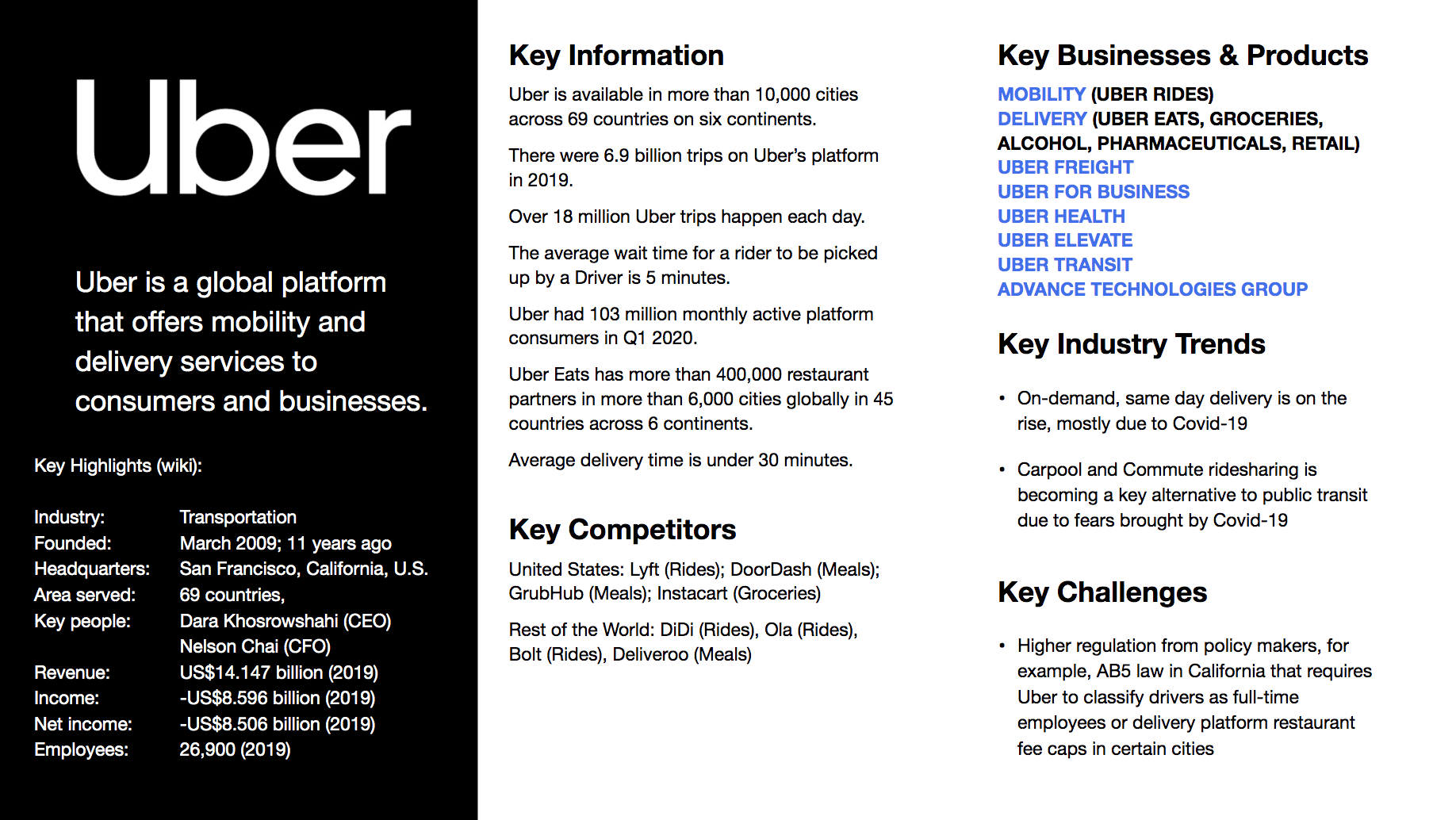 Sample interview questions:
What do you think are the biggest challenges for our business?
What industry trends could become opportunities for our company?
How familiar are you with our industry and our competitors?
What do you think makes our products unique?
3. Behavioral interviews
The goal of these questions is to get a better understanding of how your previous work experience (PMM or not) makes you a suitable candidate for the role you are applying to. Some companies like Amazon and Uber will often ask candidates questions focused on learning information on your past behavior and performance in earlier positions and how it aligns, or not, to their cultural norms or principles.
When answering these questions, always be truthful, share it from your individual experience (use "I" instead of "We") and when possible highlight how your work was impactful by sharing metrics and results. A good approach to answering these questions is by applying the STAR formula (widely used at Amazon):
Situation. Set the stage or background for your example story.

What was the situation you or your previous employer faced?
What happened?
How did this come about?
Who was involved?
What was the main issue?

Task. Describe your role in dealing with the situation.

What tasks were involved?
What responsibility did you take on to solve the problem?
Did your manager assign this task to you?
Did you take on this task on your own?
Did others have tasks as well?

Action. Explain the steps you took to address the problem.

What actions did you take?
What did you do first?
How did the person/situation respond?
What did you do next?

Results. Share the impact and outcomes of the actions you took.

What were the results of those actions?
What was the end result of the situation?
Was your manager satisfied?
Did you continue to handle this issue as time went on?
Were you given new responsibilities because of this particular event?
🎯 Example: "Tell me about a time when you had to be very strategic in order to meet all of your top priorities."
Let's walk through a potential response using the STAR method:
Situation. In my previous PMM role, I was put in charge of helping to launch an entirely new customer relationship management (CRM) system to help drive better tracking of marketing qualified leads to the sales funnel — this request came on top of handling my daily PMM responsibilities which included launching a new product also.
Task. The goal was to have the migration to the new CRM database completed by Q3, without letting it impact our sales team's objectives or my product launch.
Action. In order to do that, I had to be very careful about how I managed all of my time. So, I blocked off an 1-2 hours each day on my calendar to dedicate solely to the CRM migration and at least 3-5 hours to dedicate to my product launch. During CRM blocked time, I worked on transferring the data, as well as cleaning out old contacts and updating outdated information. Doing this gave me enough time to chip away at that project, while still handling my GTM tasks for the product launch.
Result. As a result, the transfer was completed two weeks ahead of deadline, I was able to launch a product and funnel leads through this new CRM system. Ultimately I finished the quarter with an increase of 15% in overall marketing lead attribution.
Sample behavioral interview questions:
Share an example of a product launch. What product was it, what objectives were defined and how did you measure success?
Can you tell me about a time that you let someone down? How did you handle it?
Describe a time when you had to manage numerous responsibilities. How did you handle that?
Can you tell us about a time you took initiative on a project or a task at work?
Tell me about a time your product launch or GTM plan failed. How did you deal with the situation?
In addition to these questions, you can find 30 more potential behavioral questions here.
4. Case study interviews
These interviews are structured and focused on a specific challenge or case study that the recruiter will normally share up-front and give you 2-5 business days to complete.
After submission, the hiring manager will review your exercise and if interested invite you to present to him and potentially a panel of future colleagues.
Case studies for PMM roles tend to be less technical and mostly an evaluation of your thought process and understanding of how to take a product or service to market. In many cases, the interviewer will model the exercise after a real challenge from that specific company.
Here's an example of an older exercise (now outdated) that I used to give to potential PMM candidates at Uber.
🎯 Example: Uber is used quite a lot for business purposes. In fact, Uber rides are the most frequent business expense in the US. Uber for Business gives companies an easy way to manage transportation for their employees, clients, and customers.

Current Uber for Business products include quick & easy business travel management, pre-arranged transportation for guest & customers, and healthcare transit solutions. Your goal: increase Uber for Business revenue with an effective product marketing strategy. Please use the following prompts to structure your response:

1) What opportunities should Uber for Business focus on, and why?
2) Which target audience(s) should be at the center of Uber for Business's product and marketing strategy? What key insights about the total addressable market, the audience and their behaviors should guide our approach?
3) What new investments should Uber consider to unlock growth, and how would you prioritize them? These could be product improvements, marketing initiatives, or operational investments.
4) How would you bring your top idea to market? Please include KPIs, external positioning, and a channel strategy.
5) Uber for Business has a sales team. What would your sales strategy be for the initiative you've prioritized, and what support (materials or activities) should PMM provide?
6) Finally, why are you uniquely qualified to be the PMM lead for this initiative?
Depending on the company, the delivery format of the exercise may vary, Amazon requires a Word document, while Uber might require slides. Regardless of the format, most PMM case studies follow a similar structure. I created this template to help you structure your thought process and organize all the sections to ensure your answers are MECE (Mutually Exclusive and Collectively Exhaustive).
Real interview questions. Sample answers from PMM leaders at Google, Facebook, Amazon, Uber, PayPal and more. Plus study sheets on key concepts like positioning, GTM & more.