B2C tech product marketing overview
Anna Wiggins, ex-Google, ex-PayPal, PMM Director at BlueVine
Published: November 10, 2020
In the prior post, we talked about B2B product marketing. Now, let's take a look at B2C product marketing, which targets individual consumers.
Tech B2C product marketing is a relatively new discipline. In the past, this work was mostly done by brand marketing and integrated marketing teams. However, now it's an established function at companies like Google, Facebook, Uber, and Lyft. And in early-stage start-ups, PMMs can actually take on brand marketing responsibilities until an official brand team is in place.
Key similarities to B2B
B2C product marketing is fairly similar to B2B self-serve. In both worlds, PMMs research, position, launch and drive product use, though B2C PMMs use a more casual tone and have a bigger focus on social engagement. Since B2C businesses generally have a lot of customers, PMMs focus on reaching a large audience at scale using mass communication channels like the website, in-product experience, digital ads, and social channels.
B2B and B2C product marketers pay very close attention to acquisition and engagement funnels and are responsible for metrics around sign-up, activation, adoption, and product use. For example, a Product Marketer at PayPal could be responsible for KPIs like a sustained healthy account activation rate, a certain number of transactions per user, and adoption of in-store checkout features within a target customer segment. To meet these goals, B2C PMMs partner closely with product, brand & PR, and channel marketing teams.
Finally and most importantly, both B2C and B2B product marketing requires an in-depth understanding of the customer. PMMs are regularly gathering feedback to identify customer needs, motivations, and goals and evaluating whether their product measures up to expectations. Of course, PMMs also develop personas and journeys to set the tone for how the product will be brought into and managed in market.
Key differences in B2C
While there are similarities, there are two key differences in B2C: 1) less direct engagement with sales and 2) customers are motivated by more ephemeral needs or wants vs. business problems. Let's look at each difference below.
1. Less engagement with the sales team
B2B customers are motivated by a need to solve a problem. Their purchases tend to be expensive and have a higher emotional investment because nobody wants to get fired for buying software that doesn't work. The B2B purchase cycle is layered with multiple decision-makers and much longer timelines. This is especially true for enterprise customers. So this means one of PMM's core functions is to provide the sales team with sales enablement resources like sales call scripts, battle cards, or white papers to help get buy-in from multiple contacts in the prospect's org. This process can take several months.
2. B2C needs are more ephemeral
In contrast, B2C customers are motivated by need or by want. B2C purchases are also much less expensive than B2B - compare a Spotify membership at $10/month to a Salesforce CRM solution that can cost thousands of dollars per month. With the low average purchase price, B2C customers have a lower emotional investment, need less information and time to make a decision, and don't justify having a sales team.
This also means that B2C purchases can be very spontaneous and product marketers need to have a deep understanding of customer psychographics to effectively show up along the buyer journey. While a B2B customer might take a logical journey, reading white papers, checking industry reports and attending webinars while considering a product, a typical B2C customer might see some viral videos, read a blog post and maybe watch a video demo before buying.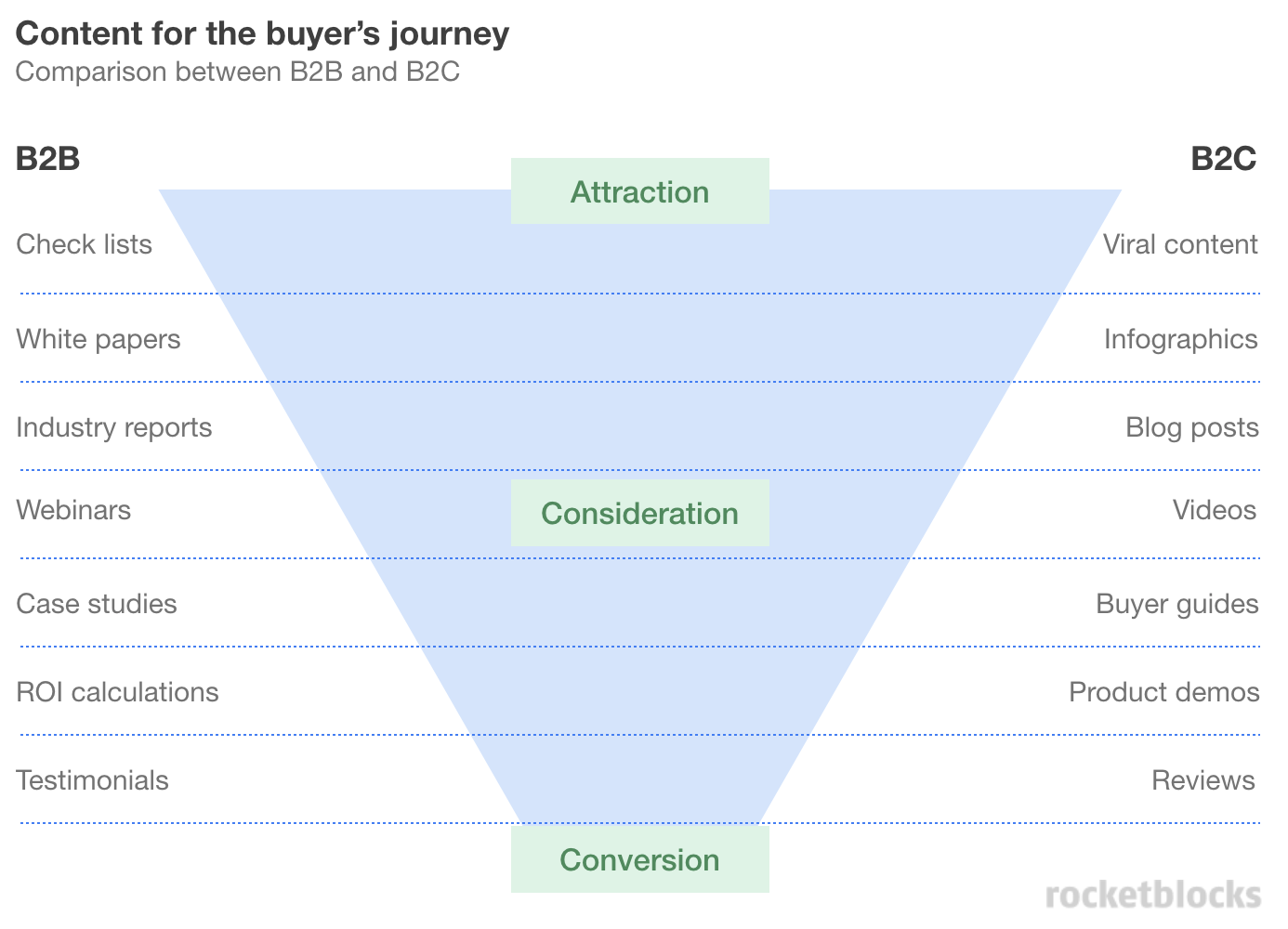 🎯 Example: Let's say that you are a PMM for a music streaming service and would like to get free customers to upgrade to the paid version. This decision can be influenced by factors like price, ability to create, save, and share playlists or by seeing a popular influencer use the app. Understanding your buyer personality and what they value will be critical in delivering a value proposition that clicks with your customers - whether it's based on competitive price, experience, or social proof. To bring this to life, product marketers frequently collaborate with partner marketing, brand marketing and PR teams.
In sum, B2B product marketing will be highly focused on customer education while B2C product marketing is focused on customer inspiration and engagement. While the strategies and tactics are similar, B2B PMMs are using one-to-one marketing and B2C PMMs are using one-to-many.
Check out this visual to get a sense about content along the B2B and B2C buyer journeys.
Real interview questions. Sample answers from PMM leaders at Google, Facebook, Amazon, Uber, PayPal and more. Plus study sheets on key concepts like positioning, GTM & more.