B2B tech product marketing overview
Anna Wiggins, ex-Google, ex-PayPal, PMM Director at BlueVine
Published: November 10, 2020
One of product marketing's fundamental concepts is customer segmentation, identifying groups of customers with a specific need for your product and positioning it as a solution for their unique situation.
You can segment customers using a wide number of categories across demographic, firmographic, and psychographic information. A good place to start is figuring out if your product is relevant for businesses (B2B) or consumers (B2C). We'll be focusing on B2B product marketing in this post and we'll cover B2C product marketing in the next post in the guide.
Introduction to B2B PMM teams
Many B2B companies have well-established product marketing teams. This is especially true for the software-as-a-service sector (SaaS), where the product is technically complex and needs product marketers (PMMs) to help customers discover its value.
Some examples of companies in this space include Salesforce, Tableau, Shopify, and Google and Facebook's ad business units, but there are many more.
Two key categories: SMB and enterprise
As a B2B PMM, you'll come across two customer segmentation categories: Small Business (SMB) and Enterprise. According to the Small Business Association, a small business has less than 500 employees, though this definition varies across industries. An example of a small business would be a graphic design agency with 100 employees or an eCommerce toy shop with 20 employees.
Conversely, an enterprise business has more than 500 employees and can be a large national or even international business like the consumer electronics giant Apple, Inc or retail powerhouse Nordstrom, Inc. In general, the SMB sector tends to be less complex with fewer key decision-makers and Enterprise is more layered and may require sub-segmentation insights to help define a product marketing approach for this group.
There are also two main customer acquisition channels in B2B: sales and self-serve. In self-serve, customers sign up for the product or service on their own, usually via a website, and do not receive dedicated support in managing their account. In a sales-driven model, your sales team proactively sells to prospects, and a customer success team offers some type of dedicated support to key accounts. It's relatively common for a company to have both models. In fact, the SaaS companies listed earlier all have self-serve and sales channels. In general, SMBs will sign-up via self-serve or sales and Enterprise will come via sales.
As you can imagine, customers acquired via a specific channel have a shared list of unique characteristics. This means that self-serve and sales become synonymous with customer segments. In more established companies, you may find PMMs who focus on just one such customer segment. However, in smaller start-ups, it's common for one PMM to cover both self-serve and sales areas.
💡 Got a PMM interview? Our PMM interview prep can help
B2B Product Marketing Tools
Let's first take a look at a sample list of tools product marketers use in B2B. While the tools are generally similar, you will see differences across self-serve and sales channels.
Since buyer and customer journeys will be different for sales and self-serve customers, the way you drive awareness and adoption of your products will be different as well. With self-serve, you'll rely much more on one-to-many communication tactics, while for sales customers, you'll work closely with the sales team to carry the message forward in their one-to-one conversations with prospects.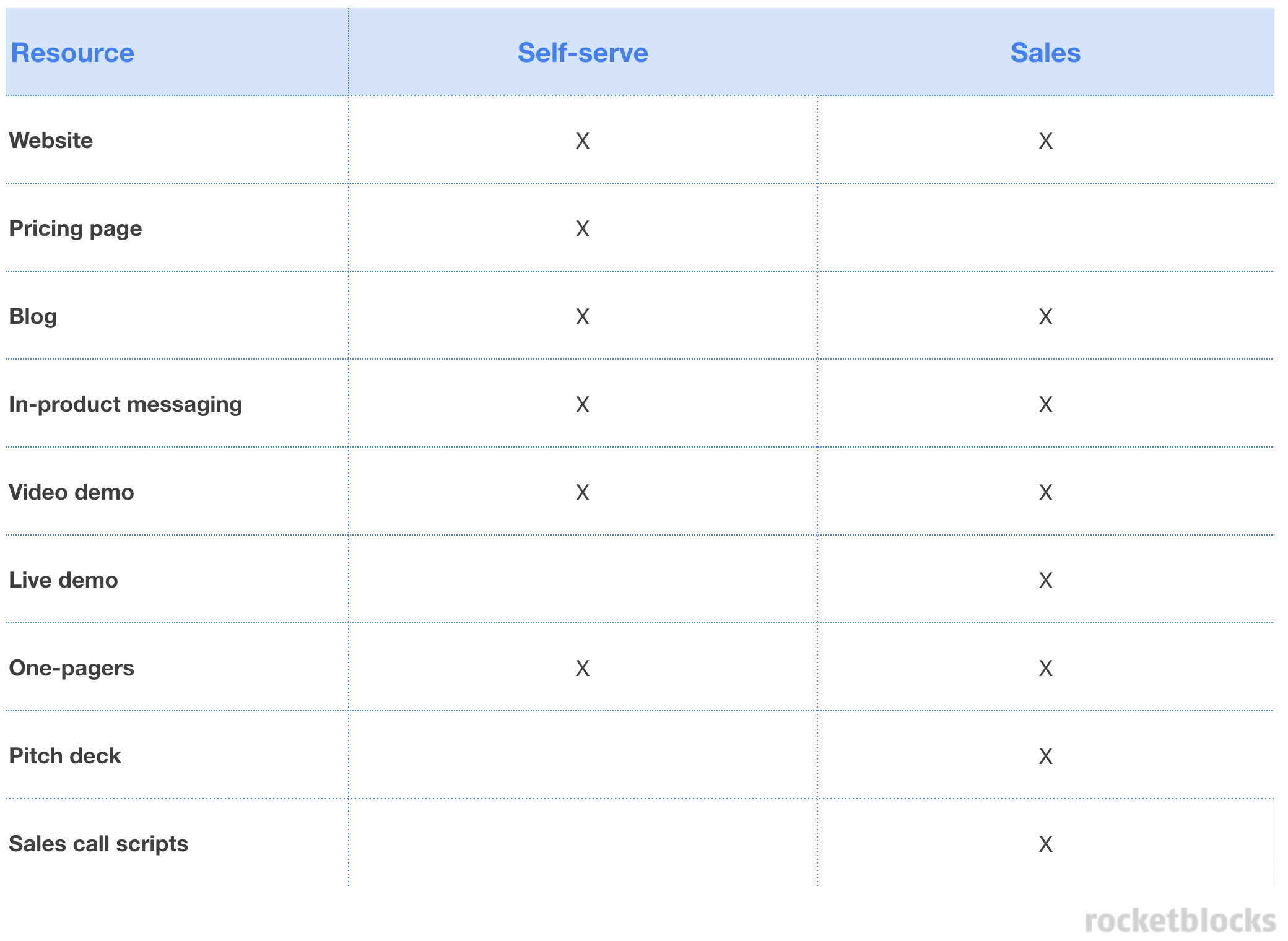 Self-Serve
The self-serve segment is about effectively reaching a large number of customers at scale. Since there are no sales and account management teams to give context and answer questions in real-time, your website and in-product experience become critical touchpoints for communicating value and supporting customers throughout their journey. Strategies and assets that can easily reach a big audience like SEO, SEM, paid media ads, case studies, video demos, help center articles, blog posts, and support articles are important levers in this setting. Your KPIs will be based on driving acquisition, activation, adoption, and churn behavior with self-serve. And your channel and growth teams who are responsible for SEO, SEM, paid media, and are likely focusing on the same metrics, will be essential allies in meeting your goals.
As mentioned earlier, during the new customer acquisition phase, the website is a vital touchpoint, and a product marketer's role is to effectively communicate product positioning and value proposition while anticipating and answering common customer questions. This is a great place to show how the product actually works with a product demo and provide social proof through third party testimonials.
The pricing page is another important contact point with potential customers because it's where they'll ultimately decide if they will sign up for your product. Product marketers develop and test pricing plans that have the right mix of features at the right price point for the right audience. They also ensure that messaging effectively communicates the benefits of the product and the plans. The pricing page can also be a good signal of what's going on with your customer base. Let's say that you have three pricing plans: free, standard, and premium. Many customers sign up for the free version and never upgrade to the paid plans. This can signal that either the paid plans are not compelling to the audience that comes to the site or the paid plan features are not communicated attractively. Either way, this is a good trigger for product marketing to research why this is the case and consider repackaging or repositioning current plans or partner with product to modify the roadmap with features that deliver on perceived value.
Now let's talk about current customers. In-product messaging is a highly contextual way to offer educational resources on how to use the product, update on new launches and account changes, cross-sell relevant features, and provide promotions to incentivize specific behavior.
For example, a new customer signs up for an account and is greeted with a welcome webinar and a product tour right when they login into their account. The same webinar is also sent to their email. As the customer sets up their account, help center articles, blog posts, and videos are surfaced at appropriate times during their journey. After sign-up, as the customer uses or doesn't use the product, they will receive messages that inspire specific behaviors with case studies or incentives. A lot of this will involve close collaboration with product and channel marketing to ensure the right message is delivered in the right place at the right time during customer onboarding.
Sales
In the sales world, product marketers actually have two customers - the sales team and the end-customer. Since the sales team can have a one-to-one conversation with a prospect, product marketers don't need to focus as much on product marketing at scale and instead work on developing sales enablement resources that help sales teams close the deal.
Examples of sales enablement resources include sales pitch decks, case studies, one-sheeters, demos, tailored webinars, and product trainings for Sales. Product marketers may also attend sales calls to help the Sales team better articulate specific product areas as well as hear customer comments, questions, and objections to help further inform positioning, messaging, and the product roadmap. Finally, Product Marketers work closely with their sales and customer success teams counterparts to identify customer pain points to influence product refinements or innovations and get them prioritized with the Product team.
Larger organizations with bigger sales forces may have dedicated sales enablement functions, but in smaller start-ups, this responsibility often sits with the product marketing team. In fact, in the Sales Enablement Landscape 2020 study from Product Marketing Alliance, over 60% of product marketers reported that some of their role involves sales enablement.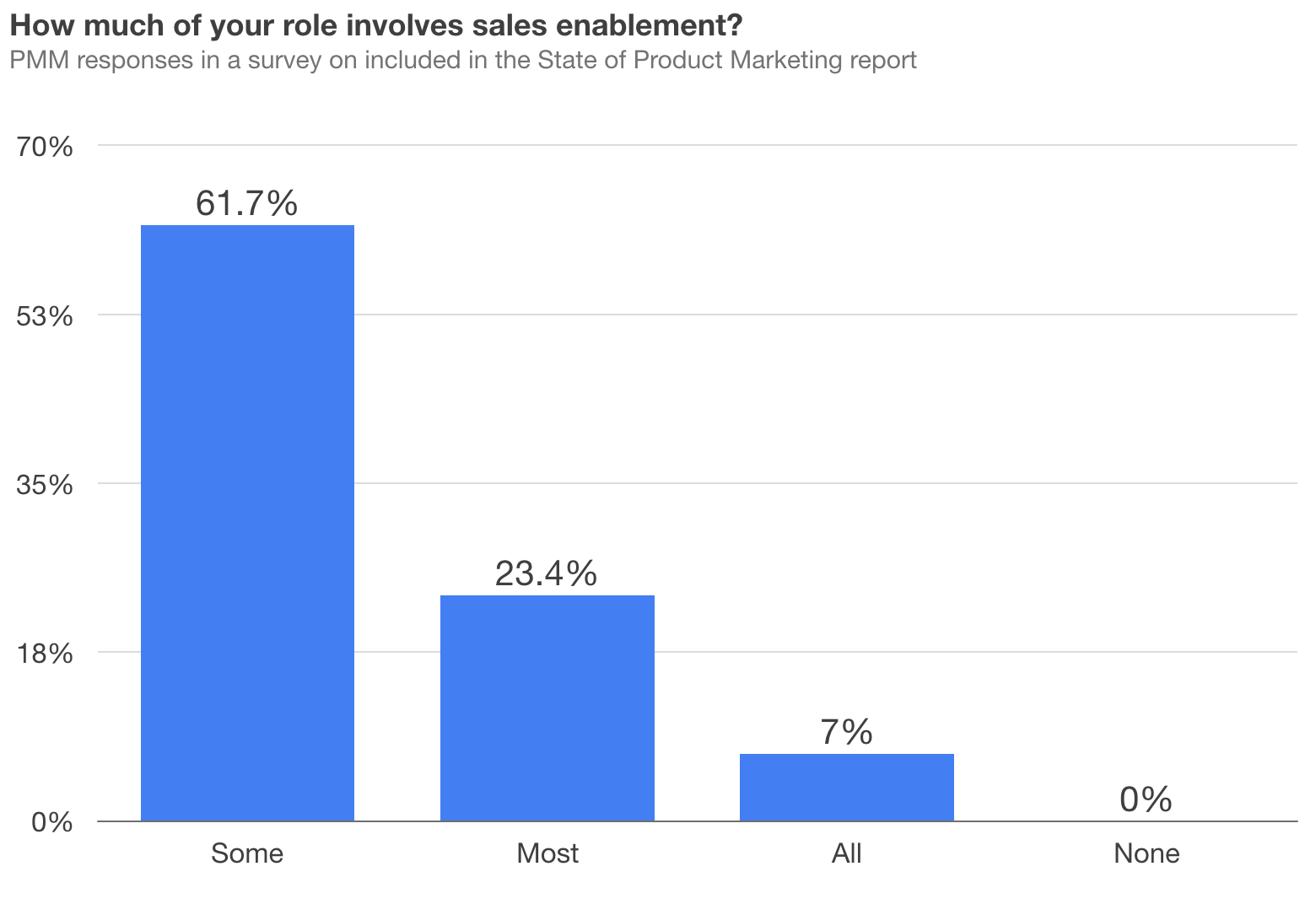 The same study evaluated most effective sales enablement resources and 78% of product marketers stated that case studies are the most effective assets.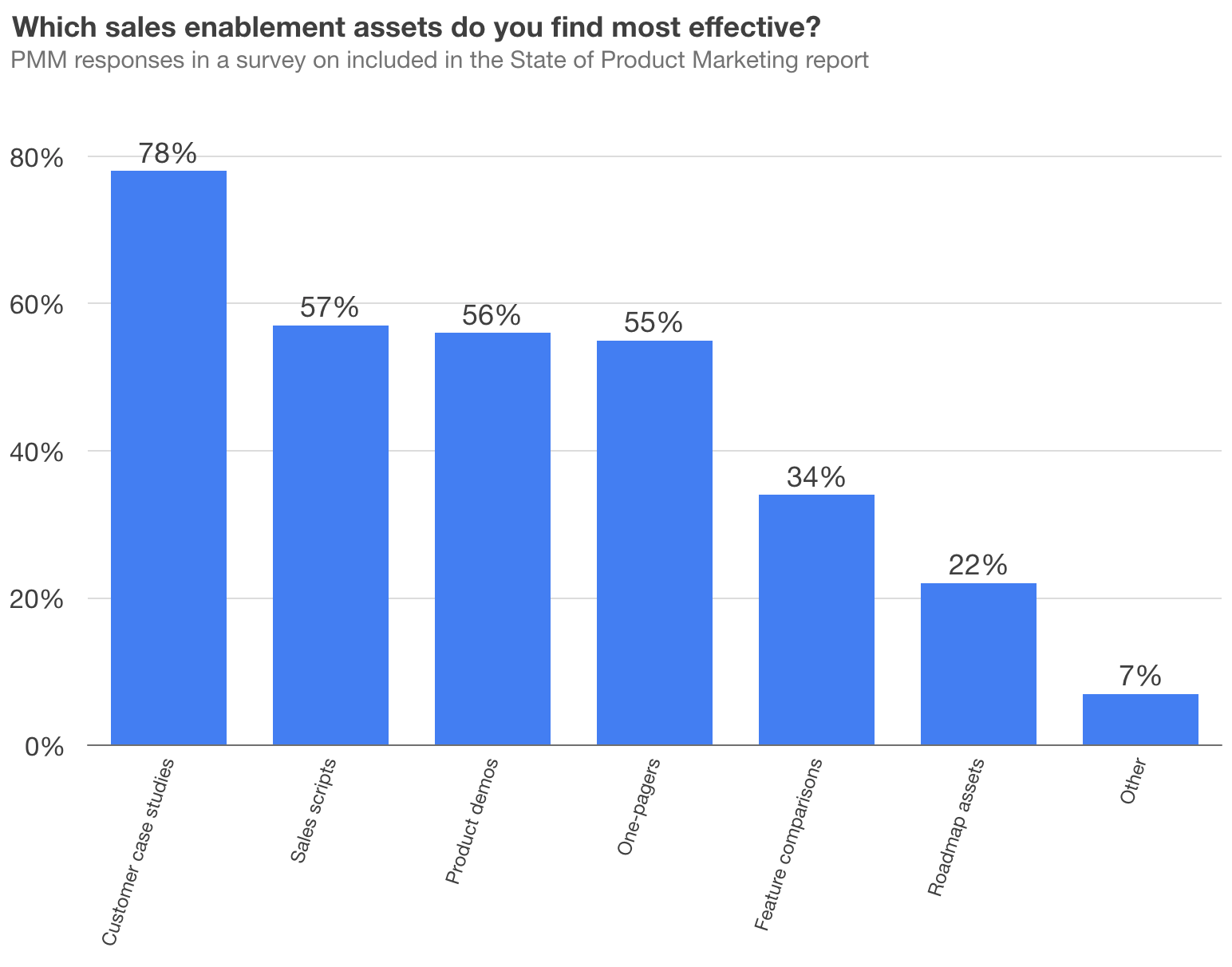 In a nutshell, B2B Product Marketing is a layered field. However, you should remember that even though you are marketing to businesses, you are also marketing to humans. So as you are creating product marketing strategies, make sure you are tapping into your buyer personas' unique challenges and emotional needs. Finally, if you want to learn more about B2B marketing, check out this blog from Hubspot.
Real interview questions. Sample answers from PMM leaders at Google, Facebook, Amazon, Uber, PayPal and more. Plus study sheets on key concepts like positioning, GTM & more.