How to get into an associate product management (APM) role
David Zuo, Product Manager at Zynga
Published: March 1, 2022
Where to apply | Pass screening | Pass interviews
Breaking into product management role for recent college graduates is tough - especially with limited work experience. This post walks through my thought process and gives you a roadmap on how to do it.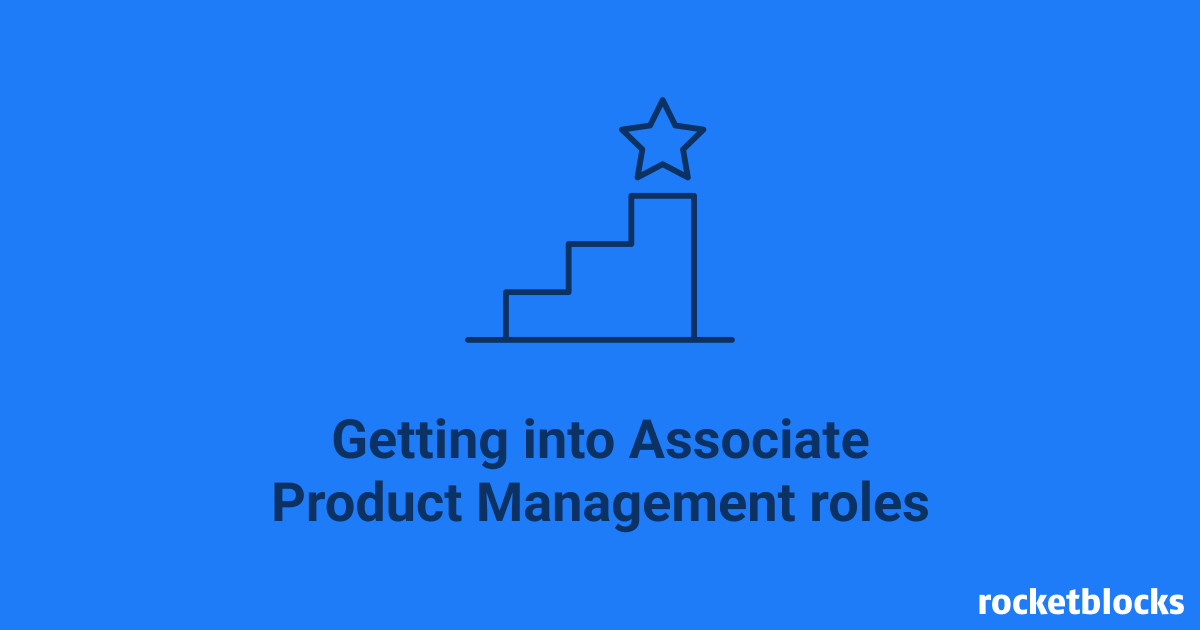 With potentially thousands of applicants vying for just a handful of spaces, it's incredibly important to stand out.
From a Rotational Product Manager (RPM) hopeful to helping lead recruitment for Zynga's RPM programme, here are some of my thoughts on the best ways to leverage your strengths and tailor your unique experiences for graduate product management roles:
Step 1: Where to apply? Understand the spectrum of product management (Top)
While product management being at the intersection of business, UX and engineering remains largely true across most organisations - there can be stark differences between PM roles that have different product management cultures and archetypes.
The first step to finding out which opportunities might be the best fit for you is to understand the spectrum of product management.
Product management culture is one aspect - Sachin Rekhi highlights this in the graph below: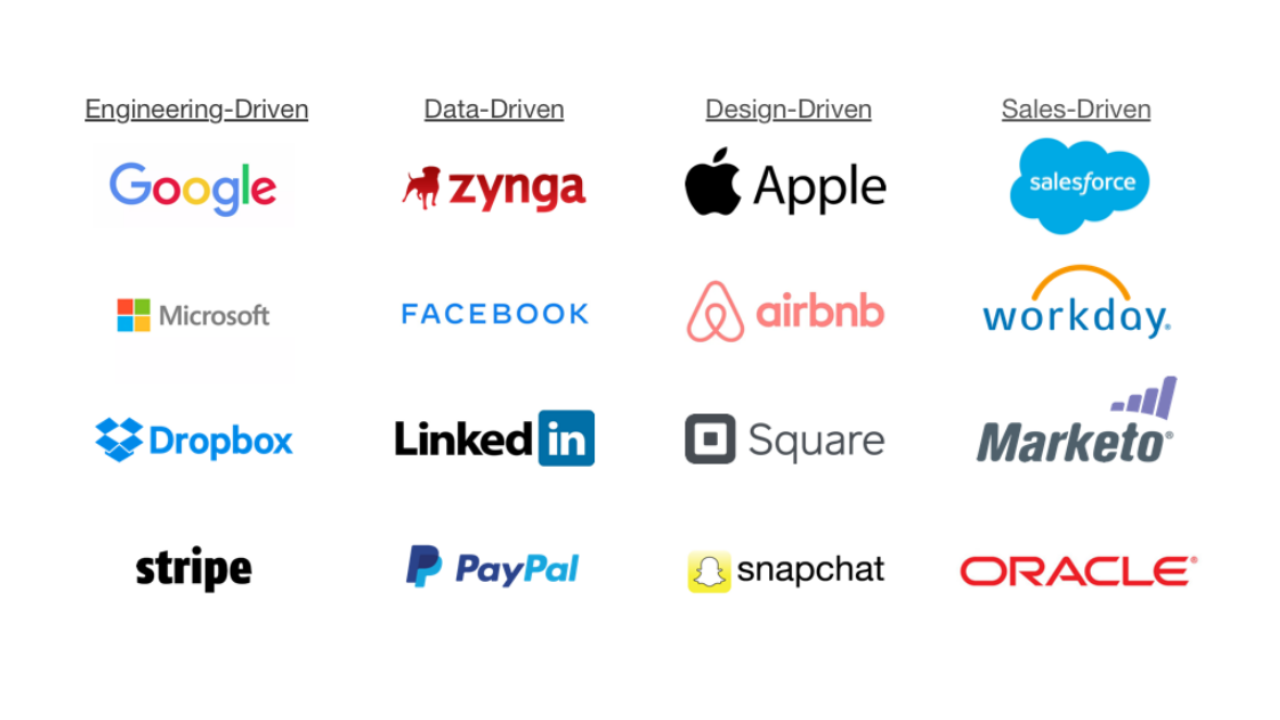 The product culture of a company often defines the product development approach and the processes surrounding it. For instance, Zynga is known for its Data-Driven approach to product management - many of our core decisions are made through validating our hypotheses through data while ensuring we have solid product metrics in place to help guide us there. Modelling and A/B tests are also heavily utilised in helping set benchmarks and forecast expected performance.
In contrast, a Design-Driven approach can be more subjective, focusing on every detail of the user experience (UX). Decision making within this approach may be more qualitative and revolve around deep design discussions.
Product management archetypes, as defined by McKinsey, take another spectrum into account: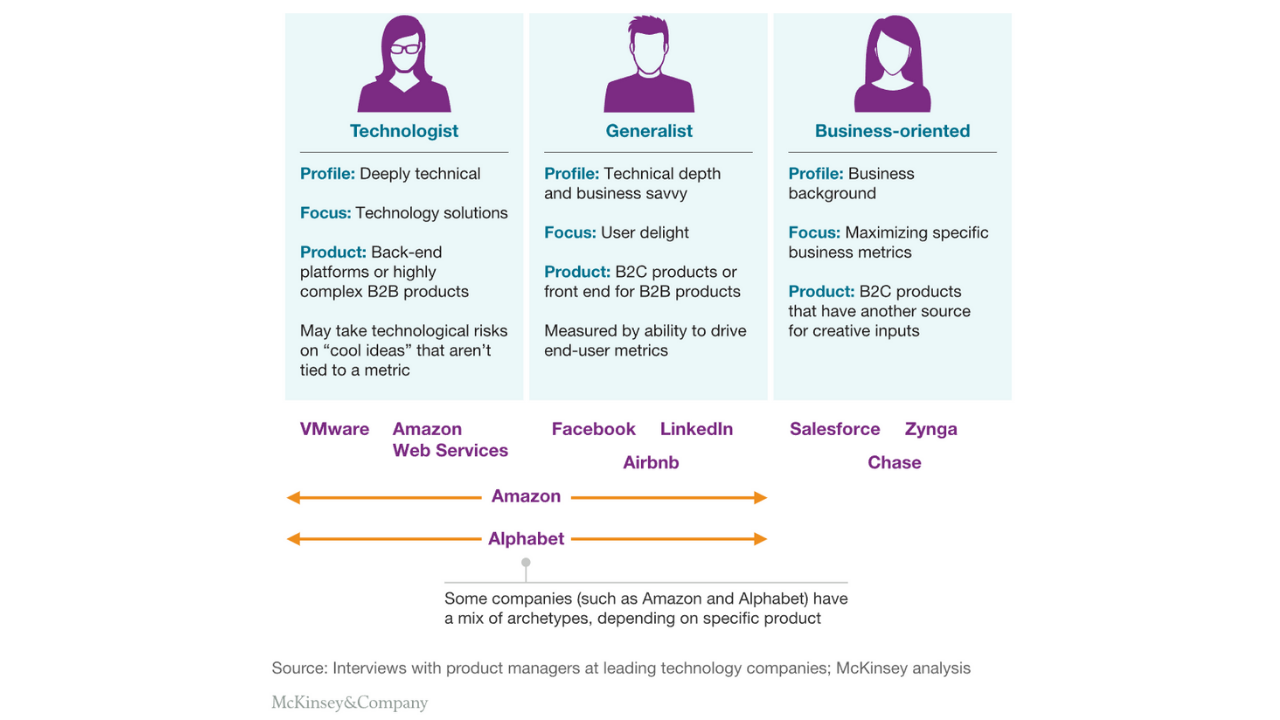 These archetypes categorise the different profiles and focus of PMs and show some of the product types they work on. This graph primarily details the technological - business spectrum of product management and can help you understand which products and companies may be the most closely aligned to your background and your areas of interest.
Now that you have a strong idea on what companies and products might be the best fit for you .. how do you show them that you're the best fit for them too?
Step 2: How to pass screening? Leverage your academic, internship and extracurricular experience effectively (Top)
From the perspective of a first-time applicant, applying for my first internship / grad role was pretty intimidating because I felt I had a limited amount of information about the process.
What does it look like on the other side? From a recruiting perspective, finding a candidate for a role is getting them through a funnel.
The interview loop is that funnel; at each stage, candidates are screened out and thanked for their time or progressed through to the next stage. This keeps going until enough candidates accept the offers given after passing through the final round.
A key thing to keep in mind at this point is whether or not the role you're applying to has a rolling deadline or not. If applications are being reviewed on a rolling basis, then it's in your best interest to apply as soon as possible.
This should also inform your application strategy - I personally believe that [Quality > Quantity] and a targeted approach is the best way to increase your chances of getting past the initial screening but it's also important to consider the trade-off, particularly if there's a rolling deadline in place.
For a graduate product management role, this is an example of what the interview loop funnel might look like: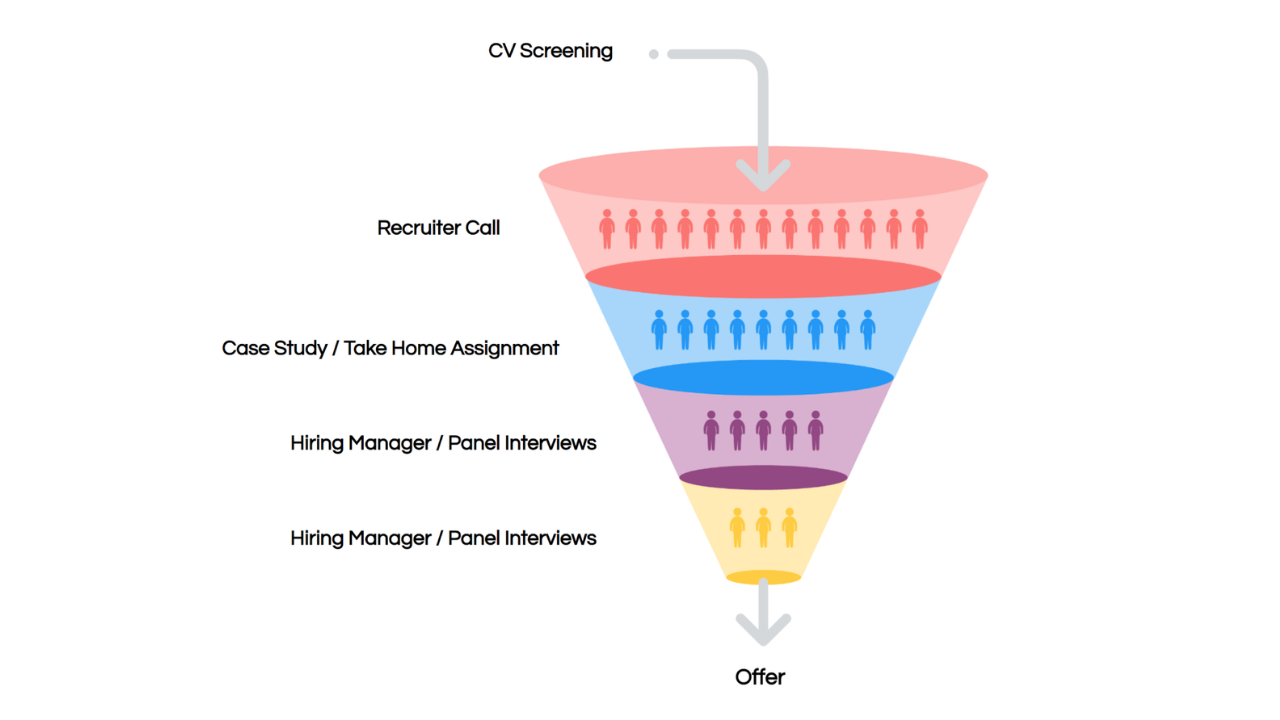 Typically, the initial screening is the stage of the funnel with the highest rejection rate. Aside from getting the timing and quality-quantity balance right - the other key factor in passing the screening is your ability to leverage your academic, internship and extracurricular experiences effectively.
Academic - Courses and projects
For academics, listing your most relevant courses to the role for your degree can help demonstrate the different facets of your knowledge - and how you might be able to apply it.
Similarly, consulting projects and any collaborative projects you undertake as part of courses can also be interesting experiences to write about.
Internships - Relevant, transferrable skills
No direct PM experience? Your internship experience doesn't have to be product management to be useful. Ensure that you effectively pick out relevant areas that could offer transferable skills.
For instance:
Consulting internships can demonstrate a logical thought process in breaking down problems.
Data analysis experience could showcase a data-driven approach and familiarity with metrics, SQL and data visualisation.
Project management experience can suggest great stakeholder and risk management skills.
Market research internships can be invaluable for conducting competitor analysis.
Experience isn't static - once you understand what a role is looking for, you're then able to best represent your experience as relevant. This goes for both writing CVs and answering interview questions.
Extracurricular - Achievements and additional learning
What do you do in your free time?
Any extracurricular activities and leadership roles can help you communicate some of your strengths such as collaboration and teamwork skills - both of which are highly valued in product management. This can also tie into the culture aspects for the company you're applying for too - perhaps they have an association or initiative you're passionate about and this could be your chance to demonstrate your interest (and potentially expertise too).
Fundamentally, your CV should demonstrate the reasons that you're a strong fit.
You can help convey this by framing your experiences in a way that makes sense for the recruiter / hiring manager when they look at the JD and consider you for the role they're hiring for.
... but what if you don't have any relevant experience?
In product management, it's possible to create your own! This can be a project with friends or at a hackathon for instance. This post does a great job of showing how you can build product management technical skills with a side project. The big upside of this is that you can really get a feel for some of the nuances and considerations that may be less obvious when embedded into a case study.
In-depth CV tips can also be found here as part of Justin Luk's (Product Manager at Meta) guide.
💡 Got a PM interview? Our PM interview drills help get you in top form
Step 3: How to pass interviews? Know what interviewers look for & conduct effective research (Top)
Different interviewers look for different things.
While all interviewers are assessing if you're a fit for the role - you are more likely to face product-centric questions when interviewing with a PM compared to interviewing with a Data Scientist or Designer.
Consider what your interviewers might find important. When I interview cross-discipline candidates, one of the biggest questions I try to find an answer for is "What will collaboration look like with them?"
Kenton Kivestu (RocketBlocks Founder, ex-Zynga PM) breaks them down here.
The three biggest tips I would give in terms of preparation:
Know the Product(s)
Once you're in the role, you'll (hopefully) know the product inside and out.
The aim here is to really dive deep into the product to simulate that.
What are the key features? How would you improve them? How does the product optimise for monetisation, engagement and retention?
This research also includes their competitors - bonus points for also discussing your thoughts on the business / technological landscape in relation to the company's product(s) and their vision. As a graduate PM, one of the best ways that you can help provide value despite limited experience is to demonstrate a solid understanding of the market and share insights that can help guide the decisions of others. For further information into product deep dives - Kenton covers them here.
Collaboration is key
Cross-discipline interviewers look for collaboration. They want to know that you're someone they'd enjoy working with.
Do you have a high level understanding of what they do and the areas they're working on? Think about the ways in which you might collaborate with them - how can you help make their lives easier?
Collaboration is part and parcel of any product management role and building a fantastic product takes cross-disciplinary alignment and a process that values the diversity of perspectives of different stakeholders.
Synergy between you and the role
Why are you a fit for the role? The answer should be in the Job Description and optimally, your CV. Know what you bring to the table and communicate it clearly.
An additional consideration to keep in your mind is your unfair advantage.
Unfair advantages are 'exclusive', hard to copy (especially in a short period of time) advantages that you have.
An example could be if you're fluent in multiple languages - this could potentially unlock whole new levels of collaboration and market analysis potential that wouldn't otherwise be possible.
APM/RPMs Programmes are fantastic learning opportunities and I hope that this guide was helpful in shedding some light on the process. With great responsibility, first comes great preparation.
Best of luck! :)
Disclaimer: These views are my own and do not reflect those of my employer.
Real interview questions. Sample answers from PM leaders at Google, Amazon and Facebook. Plus study sheets on key concepts.