Breaking into PM: Gusto PM Abby Grills
Kenton Kivestu, ex-Google, ex-BCG, Founder at RocketBlocks
Published: November 30, 2018
Breaking into PM | PM skills | Interview advice | Summary
Recently, we were lucky enough to sit down with Abby Grills, a Product Manager at Gusto, to ask her about how she broke into product management and what advice she has for others.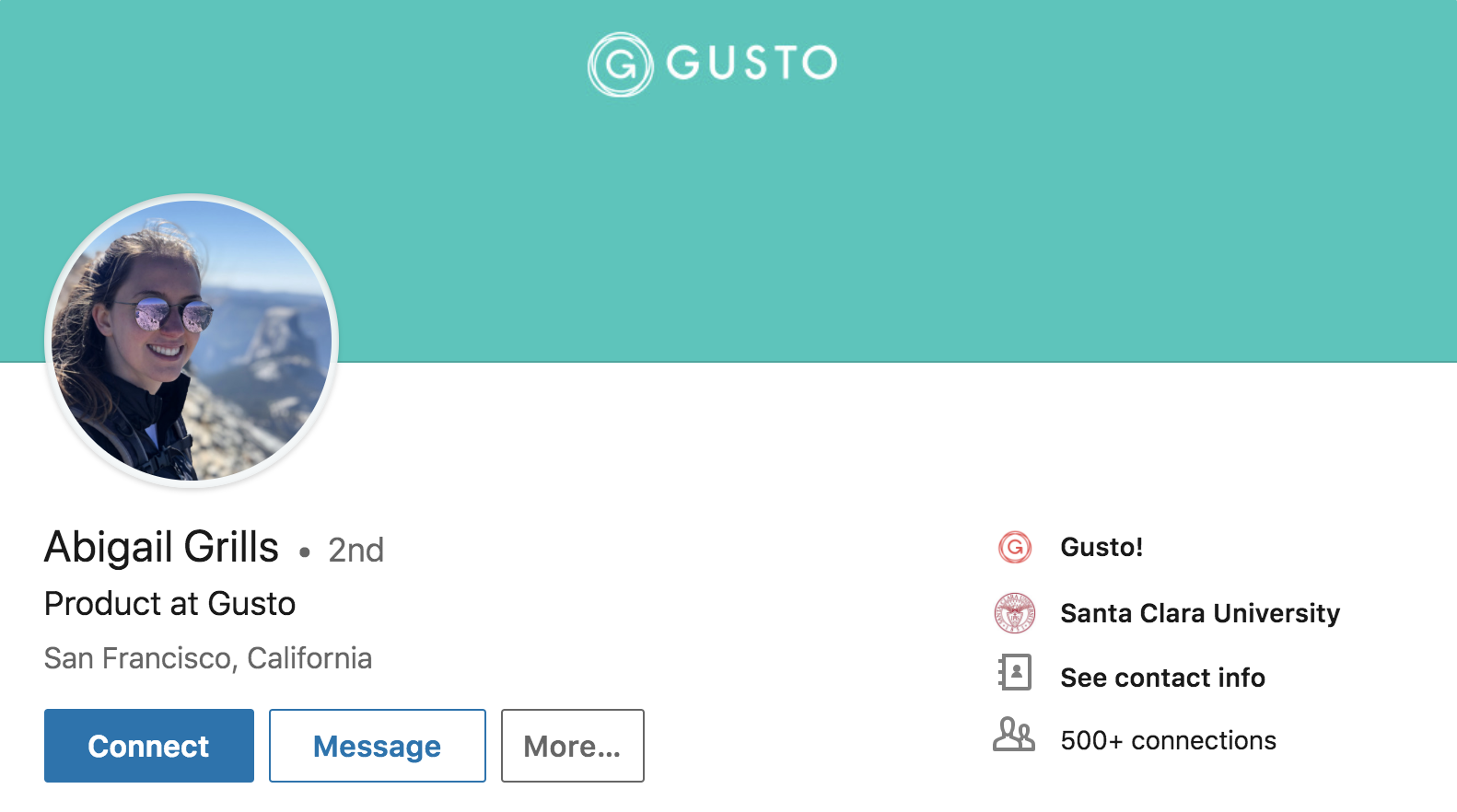 Product management is an increasingly popular career path these days, but breaking in is harder than ever due to intense demand. Even for the most qualified candidates, the process is rarely as simple as dropping a resume and nailing the interview. Instead, it involves years of being hands on in product management work, signalling interest and jumping on new opportunities when they arise.
With that said, let's jump into the conversation!
Getting your foot in the product management door (Top)
Kenton Kivestu: You're currently a PM at Gusto and before that you worked at two wearable startups. How did you get your start in product management?
Abby Grills: Honestly, I just stumbled into product management, which was really lucky considering how many people now want to get into product and how difficult it is to do so.
That said, I'd known that I wanted to get into tech since I was pretty young. I remember in middle school being really intrigued by the tech I was surrounded by, particularly, consumer electronics. Phones were a big category, iPods, laptops... I'd read all the specs and would compare all the details. When I went to college, what I saw as the route into the field was hardware/product design. I decided to become a mechanical engineer and thought that would get me toward product design for consumer electronics.
Beyond knowing what I wanted to major in, I also decided to go to Santa Clara because it was in Silicon Valley, which made sense for getting real exposure to tech.
KK: That's great. You put that together much faster than I did. I grew up liking tech - mostly gaming stuff - but didn't connect the dots until later. I grew up in Minnesota but went to Virginia for undergrad... I literally moved in the wrong direction. What happened next?
AG: My first real internship was at Orchard Supply Hardware (the hardware store) doing QA, of all places to work. I took the first internship I got because I was nervous about getting something after my junior year. However, I realized on the first day that it was not what I wanted to do. It just wasn't challenging.
KK: What did you do about that?
AG: A few weeks into my internship, I got introduced to the CEO of Moov, a very early stage, crowd-funded wearable company. I told them that I was a mechanical engineer, really wanted to be in consumer electronics and offered to do whatever they needed. I actually had a strong writing background as well - I'd founded a news website with a friend in school and hired an editorial staff. The Moov team was very international, and most people spoke English as a second language, so when I came in, I was able to help them start editing the website and other content, creating value on day 1.
KK: Cool. So were you able to line up a second internship there after the Orchard one ended?
AG: Yeah, it worked out well.
KK: Nice! Was it a product management internship at Moov?
AG: No, I didn't have a title. The first product role I really had there was in usability research - they just needed someone to do it! I've always been very critical of products so I figured I could do it.
That's really where the ball got rolling. I was able to show an aptitude for synthesizing information quickly, distilling findings and making recommendations for what to change in the product.
I was thrilled - this was the type of work I wanted to be doing! I knew that I wanted to be solving these type of problems. It was very satisfying - I really enjoyed the creative problem solving nature of the work. When my internship ended, they wanted to me to quit school work for them full time, which I thought was crazy. However, I did keep working for them during my senior year and joined them full-time after school.
KK: Did you join as a PM at that point?
AG: No! I didn't really have a title the entire time I worked there.
KK: ...?
AG: At some point, I learned that there was a thing called Product Management. And that's what I was doing already - so I just gave myself the title.
KK: Self-anointed! That's awesome.
How to gain product management skills (Top)
KK: When you have friends who approach you and ask for advice on how to break into PM, what do you say?
AG: One of the big things for me is that you can do product management work without having the title of 'product manager.'
For example, if you pick a process that isn't working, tear it apart and implement something better, that is very similar to product management.
Identifying something as broken and finding a solution is at the core of what we do as PMs. You can seek out that experience and practice those skills in many different roles, and at many different companies. Actually, a lot of people can do this in their current roles, even if it isn't at a tech company.
KK: That's a great point. Why do you think that is so helpful?
AG: You really learn the craft of product management by trying to solve a problem, encountering a roadblock and working around it. When it comes time to start interviewing for PM roles, these are relevant stories you can speak to.
For example, I've been helping a friend who works at Google in operations but wants to be a PM. He was looking at two internal roles. One was a role that works closely with a Google PM and the other was one that was in the sales group but entailed working with an external company (and their PM team) to build custom tools for AdWords. Although the latter wasn't defined as product management, my advice to him was to take that role because the day-to-day involved being hands-on in designing and building something.
A lot of times, people take roles close to PMs because they want to be PMs. However, I think the nature of your individual work matters more than your proximity to PMs.
Positioning and demonstrating your skills in PM interviews (Top)
KK: What advice do you give to friends as they approach interviews?
AG: I advise them to think of things they've done that reflect the specific requirements and be ready to speak to them with a PM lens. For example, if a job description says "create a roadmap for X," identify an experience in your past where you've managed a project with milestones that you can point to.
Also, there is some semblance of standardization to PM interviews. There are some common skills these companies are looking for: prioritization, problem solving, assessing different criteria, etc. Familiarizing yourself with how to demonstrate those, even if you don't use them day-to-day on the job, is important. To some extent, people are looking for something that matches their model of thinking.
If you arrive at the "right" answer, but your thought process is haphazard - or perceived as haphazard - by the interviewer, that typically doesn't work out well. Many PMs want to see a familiar, experienced product way of thinking: I established criteria, stack-ranked different solutions to get there, etc. People want to see evidence of a common vocabulary.
KK: Yes, I agree. Even if someone is brilliant, if the interviewer isn't confident that the process they used to arrive at a good answer is repeatable, it can create doubt for them.
AG: Yes. Having a toolbelt of skills and practices you can reference and present in a structured manner is important.
After being at two small wearable companies, I wanted to go to a bigger company with other PMs and people I could learn from. That was a pretty gruesome process to get a job.
KK: Why?
AG: Well, I was unemployed at the time, didn't have any big brand name companies on my resume and I'd been the only PM at both of my previous companies so I'd missed out on learning a lot of the common vocabulary in PM.
It was harder to know how phrase things for the larger companies. I got feedback like, "We really liked you, really liked the approach but we just need someone a little more senior." Part of my challenge was not really framing things in the ways that they were used to hearing them.
KK: Any final pieces of advice for aspiring PMs?
AG: Be gritty about getting PM-like of experiences. Since people do really want relevant experience, getting in on a project, even if it's volunteering, is good. What's important is that you get the experience.
Summing it up (Top)
Here are the three take-aways from our conversation with Abby.
Breaking into PM isn't a straight-forward journey. Rather than a resume drop, getting your foot in the door will likely entail identifying a problem, demonstrating you've got the skills to address it and pitching in.
Learning common PM frameworks and terminology is useful because it establishes a common ground with a PM in an interview - even if you don't use those frameworks on the job day in, day out.
Experience. Experience. Experience. Focus on getting the experience before getting the title. Ultimately, the title will come if you've been "gritty" about accumulating lots of PM-like experiences you can credibly point to in an interview.
Finally, if you're considering a career in product management, we encourage you to check out our Getting started guide, which is chock full of insights from PMs at companies like Google, Amazon, Stripe, Facebook, Twitter and more. And to keep up with what Abby's journey, you can find her on Twitter @AGrillz.
Real interview questions. Sample answers from PM leaders at Google, Amazon and Facebook. Plus study sheets on key concepts.