Breaking into product management (Facebook)
Kenton Kivestu, ex-Google, ex-BCG, Founder at RocketBlocks
Published: April 6, 2019
Discovering PM | Entrepreneur to PM | First PM job | Career advice | Summary
In this post, we had the pleasure of interviewing Khary Francis, a former Bain & Co. consultant, who transitioned into product management after starting his own company.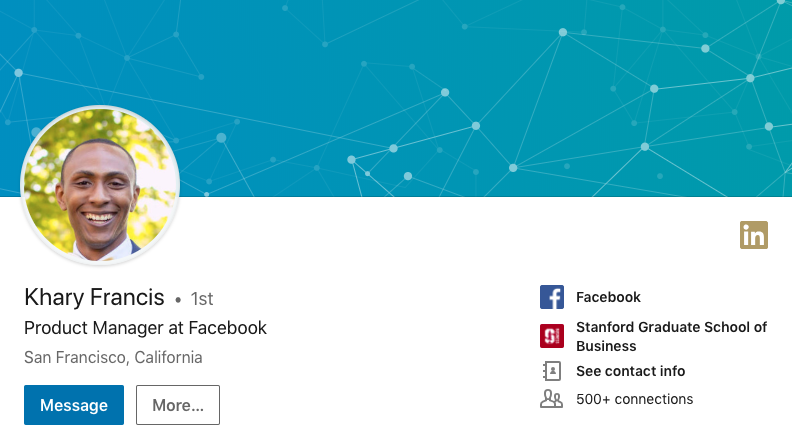 Khary landed his first PM role at Chegg after a tour of duty as a PMM at LinkedIn and co-founding his own company. This is his story about how he learned about product management, what helped land his first job and his advice for others looking to do the same.
Learning about the product management career path (Top)
Kenton Kivestu: How did you decide that you wanted to be a product manager?
Khary Francis: It started when I was at the Graduate School of Business at Stanford.
What I learned from the career center there was that prior students had found success landing three types of roles at tech firms: business operations, product marketing and product management roles.
I knew I didn't want to do business operations, because that was similar to my prior consulting experience at Bain, and I wanted to learn a new function and skillset. I decided I was interested in both product marketing and product management.
The truth of the matter though is that I didn't really know what a product manager did. I tried reading blog posts but it was hard to gain a concrete sense of what product management really was. Whatever product management was, I wasn't sure if I was really qualified for it.
With product marketing, however, I'd had internship experience in marketing and had done customer acquisition strategy as a consultant, so I felt more qualified to pursue a product marketing role.
The net result of this is that I joined LinkedIn as a product marketing manager out of school. Almost immediately, I realized that the center of gravity and action was product management and, within six months of joining, I knew I wanted to go the product management route.
Product experience via starting a company (Top)
KK: Got it. Did you think about switching into product management at LinkedIn?
KF: Yes. Once I was inside and saw the deltas between PM and PMM work, I knew the PM role was what I ultimately wanted to do. I tried to make that transition at LinkedIn but it became clear that there wasn't an avenue there for it.
KK: Really, why was that?
KF: As I understand it, a former product head set an edict that no one should transfer into product management unless they had a technical background - which I did not. I angled for a bit to see if I could overcome that, but it wasn't an option so I started looking elsewhere. Obviously, this "rule" might have changed since my time there too.
KK: What was your PM job search like at that point?
KF: Well, it was unique since I actually explored two options simultaneously: finding a PM role and starting my own company.
Obviously, starting my own company is different. However, I'd noticed that many companies, if they did well and were acquired, the CEO often joined the acquiring company as part of the PM team. And if it didn't go well, I'd at least gain experience working directly with engineers, assessing a market need and launching a product - which was the experience I really wanted. So in either case, it actually felt like a decent stepping stone to product management.
I ended up starting my own company. My co-founder and I joined an incubator in London, raised a seed round and went to work. About a year in, we had to decide whether to accept offers for follow-on seed funding and ultimately decided there weren't enough legs in the business to continue. So that's when I decided to go look for full time product management roles.
💡 Got a PM interview? Our PM interview drills help get you in top form
Landing the first full time product management role (Top)
KK: What was the job search process like this time around?
KF: One of the first key things was deciding how to frame myself. After my company wound down, I'd actually taken a role in London at a startup factory - basically it hired a bunch of engineers, designers and PMs, assembled them into groups and had them work on new product ideas.
My role there was a PM role but I only stayed for three months before moving back to SF. I decided that rather than trying to explain that specific role and why I'd only stayed for a short period, I'd leave that off my resume and attempt to land a PM role given my entrepreneurial experience and background at LinkedIn, GSB, etc.
KK: Did the entrepreneurial experience angle work?
KF: Yes, it did! I ended up joining Chegg, working on a new product for them which was focused on matching students to jobs.
The lesson here for me was two-fold: my experience at the startup built credibility because I'd gone through process of building and launching a product and my domain expertise was a good fit for Chegg. I'd worked in the careers space in LinkedIn and my startup, Quantize, was in the career space as well. Ultimately, those two reasons were why my manager took a chance and hired me as a PM.
KK: That's great. When you were trying to land your first PM role, what advice did people give you?
KF: Well, I got a lot of different advice. Frequently, people would tell me to take a coding class. At the GSB, I took that advice and I enrolled in an entry level javascript class but quickly determined that it wouldn't translate well into a PM job.
At a high level, learning to code made sense since PM job descriptions often mention technical knowledge as a requirement. But, in reality, I learned that you don't need to know how to code to be a good product manager!
KK: Isn't it shocking that no one tells you that?
KF: Yes! Knowing how to code is just a positive signal that you might be able to work effectively with engineers and earn their respect - that is the part that truly matters, not knowing how to code.
I'm glad I didn't sink much time into learning how to code, especially relative to investing time in more useful things like collaborating with an engineer on a side project, etc.
Advice for others (Top)
KK: So now that you've worked at Chegg as a PM and are newly working at Facebook as a PM, what advice do you have for others looking to break in?
KF: First, match your current strengths to the right PM role.
There are a lot of different product management roles out there. For example, if you're a data analyst now and are great crunching numbers in Excel, SQL, etc. and doing detailed analysis, you could be a really great fit for an analytically oriented role like a growth-focused PM.
KK: That's good advice. What else do suggest?
KF: Don't hold yourself back artificially.
When I was switching in, I did have a bit of imposter syndrome and felt I couldn't make the leap from a PMM to PM. As a result, I had to start my own company to prove that I could do the work. But, I think this was wrong.
Often times, smaller companies are more open to taking a chance on a smart candidate - maybe it's because they don't have the pick of the litter like Google or Facebook. Regardless, I found this counter intuitive because I thought that startups or smaller companies would only want people who had PM experience already and could hit the ground running. It's true in some cases, but not all, so I should have explored that. And once you've got the title, you can use that to move to a larger company down the line if you like.
KK: What's your advice for preparing for the interviews themselves?
KF: If it's a company that has a structured interview process, you should definitely do whatever you can to learn about that process - asking the recruiter, researching online, talking to friends at the company, etc. For example, Facebook has three types of interviews: Product sense and design, execution and leadership. Once you understand what the interviews are like, you can practice by thinking about potential questions and answering them, doing mock interviews, etc.
KK: What about for smaller companies where the interviewing process is less structured?
KF: That's tough, but I do think your high level story about why you belong there is relatively more important.
Due to that, I'd say put yourself in the shoes of the hiring manager - what are the things they might be worried about in your profile? If you haven't done product management officially, he/she might wonder if you can be specific enough to define a PRD and work with an engineer to implement it. Figure out what those hesitations might be in advance and how you can best address them.
KK: That's a very good point on getting ahead of any concerns. Any final words of wisdom?
KF: Understand your strengths and highlight them.
For me, I'm a business guy who comes from a consulting background, did business school, etc. so product management roles that lean toward really figuring out, say go-to-market strategy versus API design, are a good fit for me. Being aware of this and then specifically connecting the dots for your interviewer is really helpful.
Summing it up (Top)
To recap, three key takeaways jump out in our conversation with Facebook Product Manager, Khary Francis:
Be patient: Khary's journey from learning about product management to landing his first official role was a multi-year journey, so keep working toward it and don't give up.
Get hands on experience: there is no substitute for building and shipping products so find a way to get that experience, whether it's a side project or starting your own company!
Coding isn't required: While you need to be technically fluent, you don't actually need to know how to code and likely it's better to double down on your advantages.
Finally, if you're considering a career in product management, we encourage you to check out our Getting started guide, which is chock full of insights from PMs at companies like Google, Amazon, Stripe, Facebook, Twitter and more. If you're interested in learning more about Khary, you can follow him on LinkedIn here.
Real interview questions. Sample answers from PM leaders at Google, Amazon and Facebook. Plus study sheets on key concepts.