What's the difference between first and second round consulting interviews?
Emma Rovit, ex-Bain, ex-Instacart

Published: February 27, 2020
Whether your sights are set on MBB or a more boutique consulting firm, you can generally expect to go through two rounds of interviews before being offered a management consulting position.
The two rounds, often called the first and second rounds (or sometimes final round), have fairly predictable formats and aim to assess slightly different aspects of your candidacy.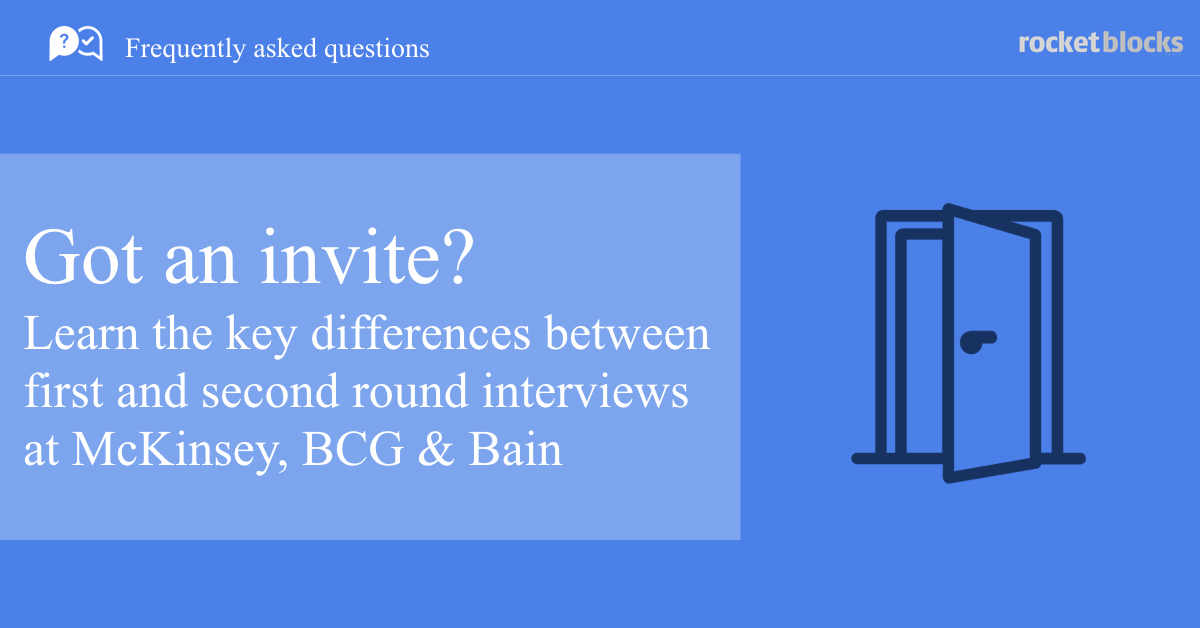 In general, the first round is about screening for core competencies, while the second round is more about ensuring you're a good fit for the firm. We'll get into more detail about this below, including:
The consulting interview timeline
If you're going through on-campus recruiting (e.g., straight from an undergrad or graduate program), you can expect to follow a designated process with roughly six weeks from interview invitation to offer.
However, if you're an experienced hire (e.g., transitioning to consulting from a different job), your timeline will likely be different.
Below, we compare a fairly standard on-campus recruiting timeline with an experienced hire timeline. Note, experiences in both groups can vary widely depending on the region you're recruiting in, firm you're looking at, and your years of experience.
For example, a Fuqua MBA student recruiting for a consulting position at McKinsey New York would experience a different timeline than an experienced hire looking to transition out of a healthcare management role in New York. The timeline is a function of the number of candidates going through the same process at the same time.
Consider the Fuqua business school example: 100+ students might be applying to full-time positions each fall, so their timing and experience will be standardized in terms of when their interviews will be scheduled and when they will hear back about their application status. An experienced hire might be the only person going through a recruiting process in April, so interviews can be adjusted for their travel schedule and decisions will be communicated more quickly.
Regardless of your unique recruiting timeline, there will still be a first and second round interview, so let's jump into a comparison of these two now.
Key differences between first and second round interviews
Across firms, there is a fair amount of standardization in what you can expect for the first and second rounds.
The main goal of first round interviews is to test whether you have the skills to succeed at the firm. These interviews will be slightly shorter, spend the majority of time on a case, and be run by consultants with less tenure. If you pass the first round, it means you've got the core mechanics down; your case cracking skills were solid and you have the analytical ability the firm is looking for.
Next, you'll go through second round interviews. These will still have a case component, but the focus will be on your potential fit at the firm. These interviews are likely to last a full hour, have more time devoted to behavioural questions, and be run by partners.
We've summarized the main differences below:
Let's go through what these differences mean for you in more detail.
First round interview details
In general, the first round of interviews is geared towards assessing your quantitative, problem-solving skills. This is why ~80% of the interviews will be centered around a case. If you're looking for an in-depth description of case interviews and the skills they test, we recommend starting here.
💡 Tip: Our consulting interview prep can help
Interview location
If you're recruiting from an undergrad or graduate program, your first round interviews will probably be on-campus. This enables firms to cycle through more candidates in a short amount of time and streamline logistics. Interviewing on campus means less travel stress for you and the comfort of a familiar environment.
However, there are some cases where you might have your first round over the phone. For example, if you have conflicts during on-campus interview dates or if you're recruiting from a school that historically hasn't had as many applicants. In these situations, you'll probably be using a video conference platform. Make sure you find a quiet place with strong wifi to take this call!
Interview length
In terms of scheduling, you're likely to have two or three back-to-back interviews. Each interview will be 1:1 and should last about 30-45 minutes. After a quick intro, you'll dive right into a case. After this, you'll typically have 5-10 minutes of questions about your experiences and motivations for applying to the job. Your interviewer will typically save a few minutes at the end for you to ask questions.
Interviewer tenure
First round interviews are run by more junior staff (e.g., junior project leaders), who are likely to stick to more straightforward cases and typical behavioral questions like "Why are you interested in consulting?" or "Tell me about a time when you failed?"
Since this round is all about assessing the core mechanics, your primary goal is to ace the case, so your interviewers are confident enough in your skills to pass you through to the next round. You'll be speaking with partners in the second round, and their time is valuable. If a consultant has doubts about your analytical capabilities, they won't want to waste a partners' time in evaluating you for fit.
Second round interview details
If you make it to the second round, it's generally assumed you know how to crack a case. Partners and senior staff will still verify your case skills, but significant emphasis will be placed on your previous experiences and fit with the firm. Check out our post on consulting fit fundamentals for more on this topic.
Interview length
Second round interviews will last 45-60 minutes, and will be split fairly evenly between case and fit questions. Interviews will be 1:1 and back-to-back, similar to the first round. That said, partners have unpredictable schedules, so it's not uncommon to have last-minute changes. Don't get rattled if your list of interviewers changes last minute, this is normal!
Interviewer tenure
As we mentioned, second round interviews will be run by partners or senior managers at the firm. These individuals have run hundreds of interviews, so they're more likely to give you a case they've worked on with a real client or are currently working on. They may also ask more open-ended questions to gauge your business acumen, like "What would the risks be in rolling out your recommendation?"
Offer gatekeepers
Your second round interviewers are the gatekeepers between you and your offer, which means they'll be laser-focused in arriving at a yes or no decision on your application.
They've likely read notes from your first round interviewers, so will be probably push on any aspects of your candidacy that were flagged as question marks. For example, if you stumbled on some mental math during a first round case, expect to be grilled on your calculations in this round. Similarly, if an interviewer had concerns about your motivations for applying to the firm, your second round interviewer will probably spend more time here.
With this in mind, we recommend taking some time to debrief after your first round interviews and giving yourself an honest assessment. While the interview is still fresh in your mind, note down where you excelled and where you could have done better. This will help guide your preparation between rounds.
Final thoughts
In conclusion, while the first and second rounds of interviews are structured in a similar manner, they are geared towards assessing different aspects of your candidacy.
First round interviews are testing your problem solving, analytical, case-cracking skills. Second round interviews are testing your soft skills and potential fit with the firm. That said, both types of interview questions - case and fit - will come up in both rounds of interviews, so don't underestimate the importance of one at the expense of the other in your preparation!
One final note: back-to-back interviews can be tiring, so make sure you show up rested, fed, and well-caffeinated. Try to approach each interview with a clean slate and maintain your enthusiasm throughout the day. Don't forget, the interviewers are likely back-to-back as well, so will be grateful for your positive energy.
If you want more information about recruiting for management consulting or resources to help you prepare, our free guide is the best place to start!