What are the best associate product manager (APM) programs?
Kenton Kivestu, ex-Google, ex-BCG, Founder at RocketBlocks
Published: May 28, 2019
Associate Product Manager programs are structured, multi-year programs offered by a handful of leading tech companies to grow their base of product management talent. They're an incredible way to launch a career as a PM and, as a result, can be extremely tough to break into given the high candidate interest.
In this post, we'll answer a few key questions:
Where applicable, we've linked to further details on specific programs (such as application instructions, deadlines and more info).
What is an associate product manager (APM) program?
APM programs are specifically designed, time-bound programs that: 1) admit a cohort of promising, young product talent to a company (e.g., fresh university grads or early career folks) 2) train that talent in product management and company specific product philosophy (e.g., Google's "put the user first and all else follows" mantra) and 3) establish a deep "bench" of future product leaders for the company.
While all tech companies hire PMs, not every tech company offers an APM program (e.g., a structured cohort with pre-set rotations and specific offerings like a world-tour, speakers, etc.)
What are the benefits of joining an APM program?
The benefits of these programs are threefold.
First, since most universities don't have a product management degree, an APM program is likely the closest formal training you'll get in the craft of product management. Furthermore, since APM programs admit people in the beginning of their careers, they've been designed to incorporate more training, mentorship and on-the-job learning than most other roles offer.
Second, due to the cohorted nature of the programs, you get a built in network of other new product managers to learn from (and with) while you're learning the ropes. Since product management can vary significantly from role to role and company to company and PM'ing can often be "lonely" - a team might have 10 engineers but only 1 PM, having other PMs you can ask questions and get advice from is super useful.
Third, APMs get compensated very, very well. On the lower end, APMs at Twitter or Uber can expect total compensation of around $115K, while on the higher end, APMs at Google or Facebook could be looking at upwards of $130K. Furthermore, since product management training is so valuable but, simultaneously so scarce, anyone who gets into an APM program at a reputable company will have ample career opportunities down the line as other companies often look to "poach" APMs when hiring PMs for their own roster.
Which companies have APM programs?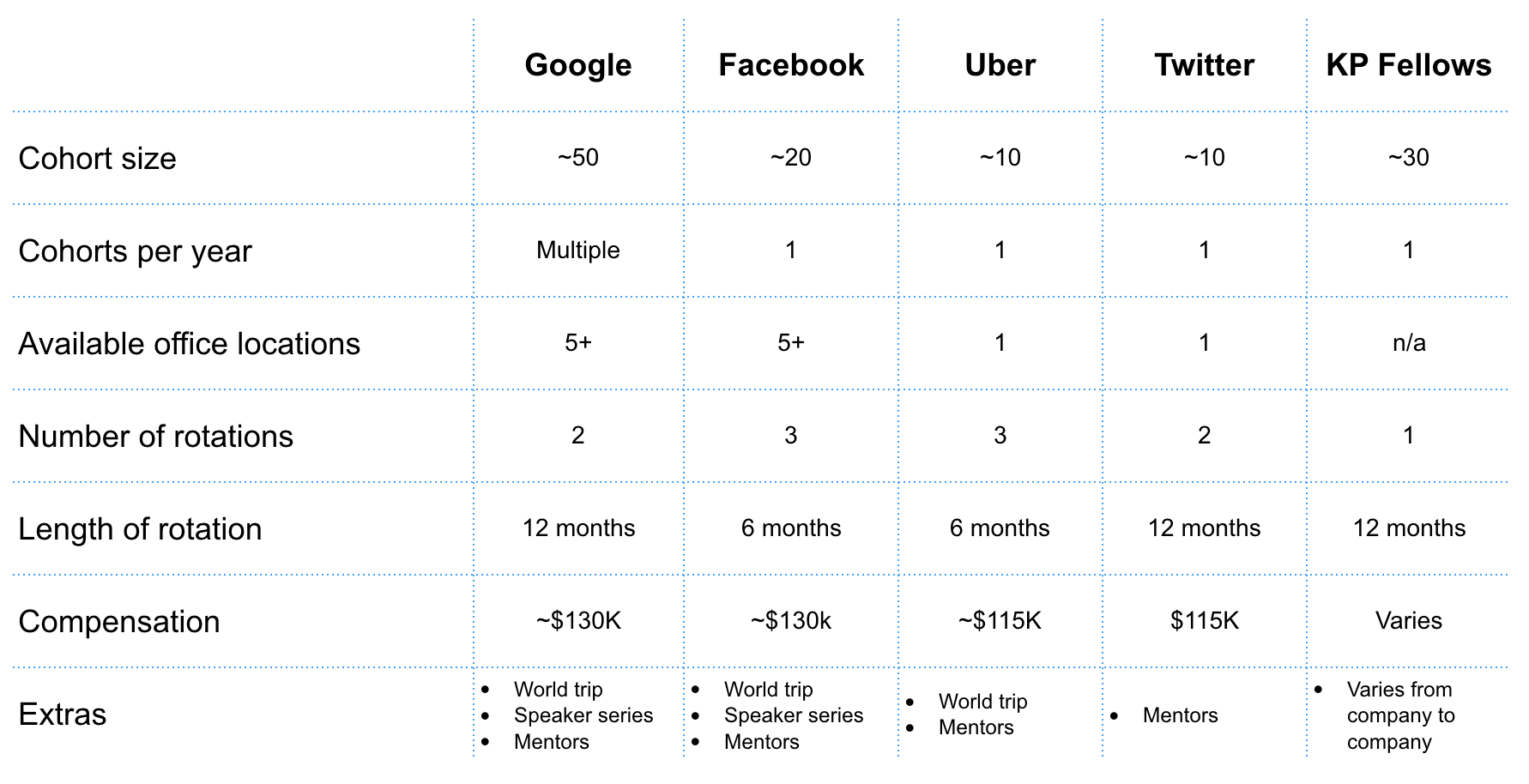 Top Associate Product Manager programs
Google Associate Product Manager (APM) program
This is reigning champion of APM programs. It was the first of its kind when Marissa Mayer, an early Google PM and eventual CEO of Yahoo!, started it in 2002. It's currently the largest APM program, one of the few that accepts multiple cohorts per year and offers multiple locations (Zurich, London, New York, Mountain View, Tokyo). Furthermore, it's become the default template that most companies model their APM programs after.
The two year program gives new or recent graduates (up to 3 years of work experience) opportunities to launch, iterate and improve upon key products in the Google product suite - ranging from ads to Google hardware. The program is well known and well respected within Google, and the very first APM, Brian Rachowski, now leads the program, in addition to his duties as VP of Product.
Given its the only APM program with a decade plus lifespan, it boasts an impressive alumni base too: Google APM alums include Jess Lee, who sold Polyvore to Yahoo! and is now a Partner at Sequoia, and Bret Taylor, Founder of Quip (acq. by Salesforce) and FriendFeed (acq. By Facebook).
Learn more about the Google APM program here.
"Rocketblocks was essential in my PM internship prep. Overall, RocketBlocks allowed me to develop crucial PM interviewing skills without which I could not have landed multiple internship offers." -- Anurag Ojha, Google PM, Darden MBA
Facebook Rotational Product Management (RPM) program
Facebook's rotational product management (RPM) program is similar to Google's in many key ways: it accepts recent college grads and people with a few years of experience, gives them a chance to rotate through three different, six-month stints on various product teams and teaches them Facebook's product management philosophy.
RPMs work on everything from optimizing new ad formats for emerging markets (part of FB's core business) to building experimental new apps on the Oculus VR platform. Facebook also invests heavily in making sure RPMs get assigned PM mentors and ample on-going learning and development classes to build their product skills. In addition, similar to the Google APM program, RPMs get the opportunity to travel together globally to research users and build a global perspective.
Learn more about the Facebook RPM program here.
The Twitter Associate Product Manager (APM) program
Twitter's APM program is the younger, smaller cousin to the Google and Facebook programs. It began in 2017 with four APMs and is expected to grow in 2019 to around 10 APMs. While Google and Facebook consider both new and recent grads, Twitter's program is focused on finding freshly minted college talent (e.g., their first job) who also have a specific interest in media and social platforms.
Structurally, Twitter APMs go through two, one-year long stints in various product groups within the organization. Similar to the Google and Facebook programs, Twitter APMs get mentorship from senior leaders, access to a speaker series and an on-going set of learning and development classes to build product skills.
Learn more about the Twitter APM program here.
The Kleiner-Perkins (KP) Fellows program
The KP Fellows program is unique amongst APM type programs. First, it's run by a venture capital firm, Kleiner Perkins, rather than one of the major tech companies. Thus, rather than joining a specific company, a KP product fellow is accepted into the program and then joins a participating company for a 1-year stint at a participating company, which includes top growth stage companies like Airbnb, Stripe, Robinhood, Pinterest, Doordash and Gusto.
Learn more about the KP Fellows program.
Uber Associate Product Manager (APM) program
Structurally, Uber's APM program is similar to Facebook's: they accept one cohort of APMs each and year and each APM does three, six-month rotations across different Uber product groups. However, Uber does take special care to call out key differentiators from other APM programs: notably the opportunity to work on 1) a product at the intersection of the digital and physical world and 2) a tech company with a large operational aspect to it.
The program kicks off with a two-week learning "bootcamp" and then APMs jump into their first six month rotation where they'll be paired with a Senior PM for coaching, guidance and mentorship. Between the first and second rotation, APMs go on a "world tour" visit to four operationally challenging cities to do market research, build user empathy and build a global product perspective.
Learn more about the Uber APM program here.
Do other companies offer APM programs?
Other top tech companies like Microsoft, Amazon, Dropbox, Zynga hire plenty of new and recent college graduates as PMs too. And many of them offer specific training programs and bootcamps to ramp up new hires on key internal practices and their product management philosophy.
However, while these can be fantastic opportunities, the nature of them is different since you're not entering a program with a set cohort of fellow PMs, for a set amount of time (e.g., three, six month rotations) and there won't be a stable of program specific offerings (e.g., a world trip, speaker series, etc.).
Real interview questions. Sample answers from PM leaders at Google, Amazon and Facebook. Plus study sheets on key concepts.