Why go into consulting?
Emma Rovit, ex-Bain, ex-Instacart

Updated: August 1, 2022
People & Culture | High impact work | Perks & Compensation | Advanced tips (video)
"Why do you want to go into consulting?" Often, the simplest questions are the toughest.
It's not only a common interview question but an important question you should first ask yourself. While only you can come up with your unique, authentic answer, there are common building block themes that underpin almost everyone's answers.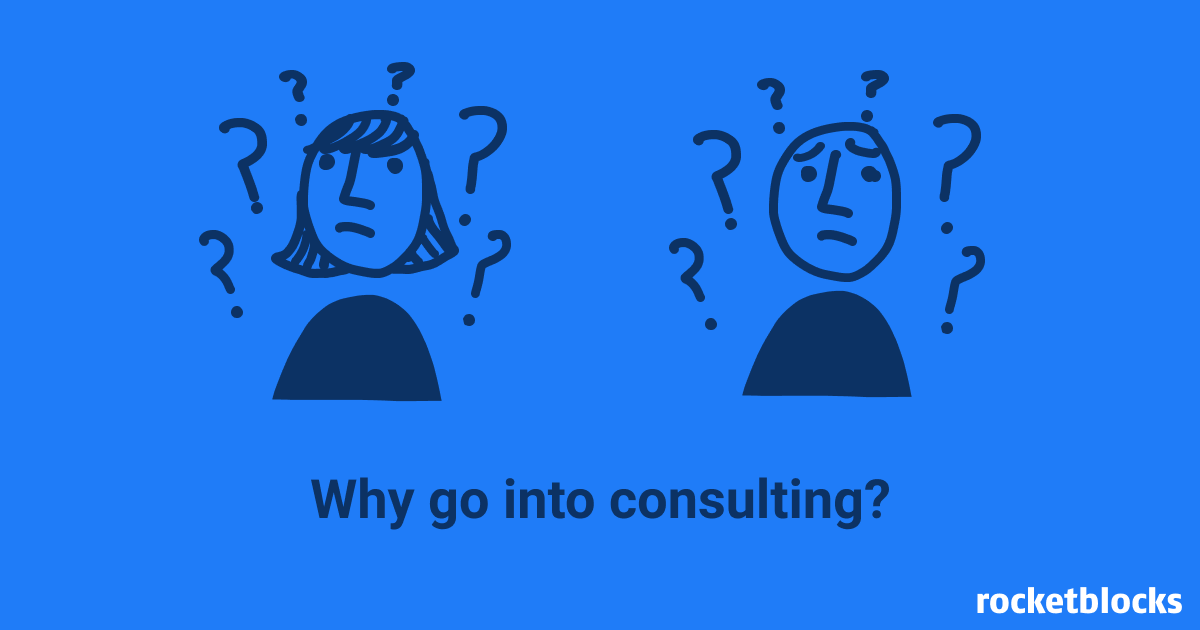 In this post, we'll dive into all the reasons we've heard from past and present consultants about why they would recommend a management consulting career path. By the end, you'll have an insider's view of the wide range of benefits that come from this career path, and have the building blocks for answering this question when it comes up!
RocketBlocks can help ace this common consultancy position interview question and the whole interview.
The people and culture (Top)
Ask most people why they enjoy working in management consulting and the first words out of their mouth will most likely be about the people they work with or the culture at their firm.
MBB all invest heavily in recruiting, marketing, and internal events to enhance and promote these aspects of the job. Firms point to their Glassdoor rankings, large alumni networks, and diversity stats. Regardless of the PR factor though, everyone agrees people and culture are huge benefits of going into the industry.
Tight-knit working environment
Given the long hours in consulting, getting along with your co-workers is pretty critical to enjoying the job. This is why there's such a focus on behavioral questions during the interview process - firms are trying to figure out which candidates will fit in with their specific culture and be fun enjoyable to spend time with.
As a result of this selective process, peers are often primed to get along naturally. Add in the small team and intense working environment, and it's no surprise that consultants often end up becoming close friends both within and outside of work. Firms further support this bonding by hosting company-wide events like summer offsites and holiday parties, and giving case teams a budget to go to meals or do various activities throughout their engagements.
Even as people move onto different opportunities, it's not unusual for them to remain friends long after their time in consulting. Many end up going to business school together, tapping into previous managers as mentors, or starting businesses with old peers (check out Plaid, founded by two ex-Bainies). This strong and supportive community is why many people are drawn to consulting.
Powerful Alumni Network
It's no surprise that the top management consulting firms have large and accomplished alumni networks.
People as varied as Sheryl Sandberg (ex-McKinsey), John Legend (ex-BCG), and Mitt Romney (ex-Bain) all got their start in management consulting. Check out our firm-specific posts on McKinsey alumni, BCG alumni, and Bain for a longer list of notable alums. By working at one of these firms, you automatically join a community with these individuals and get to tap into the broader network.
In addition to the network in-house at any consulting firm, consultants also interact with clients directly, which further expands their opportunities for networking.
While these networks aren't necessarily something you'll take advantage of as a consultant, their functionality as an alum can not be overstated. These networks can be incredible resources for sourcing casual coffee chats or more formal job searches. Firms support their development by curating internal career portals, hosting webinars, sharing alumni updates, and coordinating in-person events. As MBB continue to expand their global footprints, these networks will only become larger and more useful tools.
High impact work (Top)
The second bucket of 'Why Consulting' reasons you'll typically hear fit under the umbrella of the day-to-day work. There are three aspects to this: the training, the projects, and the career opportunities.
Top caliber business training
Spending a few years in management consulting is often compared to earning an MBA, and rightly so. From day one, you'll have complex problems in unfamiliar industries thrown at you. There will be training sessions to get familiar with the basics - like Bain's weeklong Associate Consultant Training (ACT) in Cape Cod - but the majority of your learning will be done on the job.
As you transition from case to case, you'll add more skills to your toolkit. Before you know it, you'll be comfortable running surveys, completing due diligence, diving into large datasets, and preparing clear and insightful slide decks. The knowledge you gain will be applicable to all sorts of career paths, and will leave you with many valuable experiences to draw on.
💡 Shameless plug: Our consulting interview prep can help build your skills
High impact projects
If you're looking at management consulting, you're probably not shy about a challenge. In fact, most consultants are eager to be put to work on some of the biggest companies' most pressing problems. Maybe a CEO is looking to make a large acquisition, develop a long-term strategy, or reduce their costs.
At MBB, these are exactly the types of projects you'll be working on. As a first year consultant, you could be leading the pivotal analysis that tips an exec team towards making an acquisition. You'll be faced with questions that are front and center for your clients, and the answers will dramatically shape the future of these companies. If you're looking to make an impact in the business world, it's tough to beat consulting.
Should you mention creating impact through projects focused on the acquisition, the 'why consultancy' question may well be followed by an M&A case study question. But don't worry, RocketBlocks has got your back with its tools and information!
Post-consulting career opportunities
The benefits of going into consulting don't end when you're ready for a new phase in your career. We've already mentioned the powerful alumni network you'll be able to tap into. Now, we'll share some common career paths of an MBB consultant, so you can see why consulting is often just the first step in a long and successful career.
For pre-MBA consultants, a couple years at MBB will often be followed either directly by an MBA, or a move into private equity, corporates, or start-ups. However, some may go on to law school, into politics, or even into med school. At this stage, all the doors are open, and consulting has only expanded your career options.
For post-MBA consultants, it's common to move from consulting into industry, tech (Amazon, Google, etc), or start-ups. At this tenure, a stint in consulting accelerates the typical career progression someone might otherwise expect. Moves into industry are often at the Sr. Manager or VP level, whereas someone 2-3 years out of an MBA that didn't go into consulting would likely be a layer below.
The perks and compensation (Top)
Last but not least are the perks that come with consulting. These are aspects of the job that round out the experience and really differentiate this career path from other high caliber ones like investment banking or tech.
Fun travel
Although it varies by firm, most consultants can expect to be staffed on a travel case fairly often - although this might change in a post-COVID world (e.g., more Zoom calls and less in-person meetings).
Travelling is part of the client services industry, so you'll typically be going to the client Monday through Thursday for several months. While you won't always be going to the most exciting destinations, you'll still be travelling with your awesome case team (see reason 1) and earning airline and hotel points at the same time. As you become more tenured at the firm, your international travel opportunities will increase as well.
Generous compensation
Consulting firms know they're competing for exceptional talent, so their compensation packages are structured to be very competitive as well.
As a result, consulting is one of the best career paths to follow if you're looking for a high base pay straight out of college or business school. For instance, if you're starting as an analyst or associate after getting an undergraduate degree, you're looking at a compensation of $60K to $100K right off the bat.
Don't forget, total compensation rises quickly with tenure, greatly rewarding those that make it to partner.For instance, Bain partner compensation is around $600k, according to Glassdoor.
While this is true that consultancy jobs are well-paid, and it may well be a driving factor for you to take the management consultant career path, it's best not to mention money or perks during a consultancy job interview.
What Are Interviewers Looking for When They Ask 'Why Consulting?'
It's common for interviewers and recruiters to ask candidates why they want to work in the field they applied for. Believe it or not, this single question can help interviewers weed out the best from the rest.
But there are a couple of reasons consultancy firms ask this question.
Does the candidate understand the job?
Consultancy, especially in companies like the MBB, is much more than giving advice. A consultant's job has a much bigger scope. So, naturally, interviewers are interested to know whether a candidate understands the requirements and the importance of the job.
Consultancy jobs are popular among fresh graduates, especially MBAs. It's particularly interesting for candidates who do not yet know what they want to pursue. Since the work is quite versatile, many tend to apply for consultant positions.
However, the interviewers are interested in people who are genuinely interested in consulting and don't just see it as a means to another career.
So your answer to 'why consulting' helps them determine how much you know about the various duties under the consulting umbrella.
How does the candidate think?
Some interviewers may ask this question just to gauge your thought process. They might not care for what you utter but how you came up with the answer. In other words, they may be more interested in how you structure your answer.
Interviewers use your answer to this question as an analysis of your structural thinking because consulting jobs involve breaking down complex issues into easy-to-resolve smaller ones. For example, check out this interview of a BCG alumni where he mentions that at BCG, he learned how to "approach challenges in a highly structured manner."
There are many reasons one could want to be a consultant, which can, unfortunately, result in an incoherent answer.
You don't want to give them 10 reasons why you want to be a consultant. So it all comes down to which few reasons or perhaps one reason you choose and how you justify it.
Is the candidate enthusiastic about the job?
Interviewers looking to hire graduates into entry-level consultant positions are more interested in people that are likely to stay. That's because the company is investing in such candidates, allowing them to learn the ropes.
On the contrary, investing in someone who isn't as enthusiastic about the job can result in a loss for them.
The question 'why consulting' is the best opportunity for candidates to show their interest and enthusiasm for a management consulting career path. They look for passionate, personal answers that indicate the candidate's interest in the field.
This is why consulting jobs at top firms like McKinsey have a just one percent hiring rate. Out of hundreds of thousands of applicants, only one percent or less make the cut.
How to Structure Your Answer to 'Why Consulting'
Now that you know the common reasons why people go into consulting and why interviewers ask this particular question, here's how you can structure your answer, so it's cohesive and articulate.
Provide the main reasons (ideally no more than three).
Provide the rationale behind each reason (personal story, real-life situations, industry examples, etc.)
Support the rationale with evidence (past experiences, industry statistics, etc.)
Here's an example of a good answer that follows the above framework:
Interviewer: "So John Doe, tell me: why go into consulting?"

Candidate: "There are three main reasons why I want to go into consulting. First, there is extensive diversity in the job - from working in telecom to mining and I find that exciting. Secondly, I love the problem solving nature of the role. And third, it will allow me to work with super smart co-workers.

Allow me to elaborate more. On the diversity of the role, I've always been someone who has loved digging into various subjects. At school, I double majored in CS and Economics and took a minor in music - and I'm interested in a job that will let me learn lots of different functions and industries as well.

Similarly, I love the idea of working on complex business problems. I'm the type of person who can't quite get to sleep when an unsolved problem is nagging me. And the satisfaction of finding a great solution is incredible. In school, I took an advanced CS algorithms course not because I expected to use the knowledge day-to-day but just because I loved the problem solving angle. So to be able to do that day-in, day-out, while helping clients seems rewarding.

Lastly, and most importantly, I believe it matters who you work with. And as I've met and heard about more people from your firm, I'm convinced this would be an incredible group of colleagues to work and grow alongside. In my prior internship, I found that the work I did was important but the people around me were the most important aspect.

Advanced tips for crafting your answer (Top)
Now that you've got a good idea of the fundamentals, check out this video in which our ex-BCG, ex-Google founder, Kenton Kivestu, goes deeper into tips on how to present your case for why you're interested in consulting (hint: saying comp isn't a great answer!)
Conclusion
As you can see, there are many reasons to go into consulting, from the people, to the work, to the perks.
These are all legitimate benefits of the industry and great reasons to go into the field, which is why many people often list the same points. However, what will really differentiate you when it comes time to give your answer to 'Why consulting?' is explaining why a particular aspect matters to you and how it fits in with your broader story.
RocketBlocks can help you understand that and articulate your answer in the best way. Sign up for consulting interview prep to distinguish yourself from the competition and earn a spot at the most coveted consultancy firms in the world!
Real interview drills. Sample answers from ex-McKinsey, BCG and Bain consultants. Plus technique overviews and premium 1-on-1 Expert coaching.