Why go into consulting?
Emma Rovit, ex-Bain, ex-Instacart

Published: June 23, 2020
People & Culture | High impact work | Perks & Compensation | Advanced tips (video)
"Why do you want to go into consulting?" Often, the simplest questions are the toughest.
It's not only a common interview question but an important question you should first ask yourself. While only you can come up with your unique, authentic answer, there are common building block themes that underpin almost everyone's answers.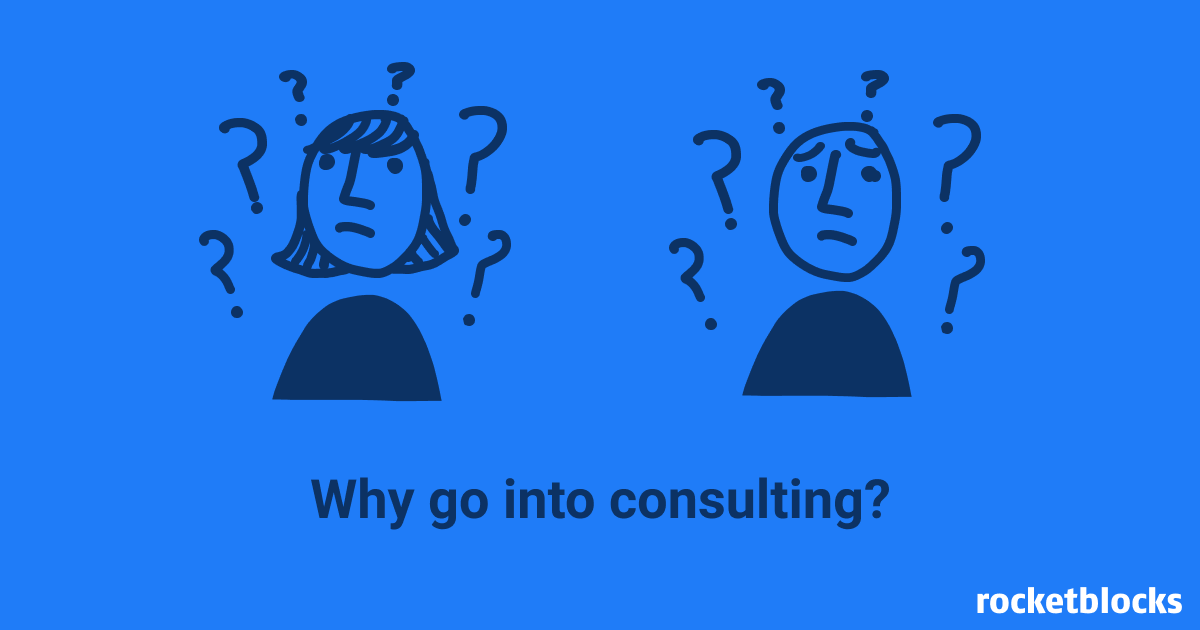 In this post, we'll dive into all the reasons we've heard from past and present consultants about why they would recommend management consulting. By the end, you'll have an insider's view of the wide range of benefits that come from this career path, and have the building blocks for answering this question when it comes up!
The people and culture (Top)
Ask most people why they enjoy working in management consulting and the first words out of their mouth will most likely be about the people they work with or the culture at their firm.
MBB all invest heavily in recruiting, marketing, and internal events to enhance and promote these aspects of the job. Firms point to their Glassdoor rankings, large alumni networks, and diversity stats. Regardless of the PR factor though, everyone agrees people and culture are huge benefits of going into the industry.
Tight-knit working environment
Given the long hours in consulting, getting along with your co-workers is pretty critical to enjoying the job. This is why there's such a focus on behavioral questions during the interview process - firms are trying to figure out which candidates will fit in with their specific culture and be fun enjoyable to spend time with.
As a result of this selective process, peers are often primed to get along naturally. Add in the small team and intense working environment, and it's no surprise that consultants often end up becoming close friends both within and outside of work. Firms further support this bonding by hosting company-wide events like summer offsites and holiday parties, and giving case teams a budget to go to meals or do various activities throughout their engagements.
Even as people move onto different opportunities, it's not unusual for them to remain friends long after their time in consulting. Many end up going to business school together, tapping into previous managers as mentors, or starting businesses with old peers (check out Plaid, founded by two ex-Bainies). This strong and supportive community is why many people are drawn to consulting.
Powerful Alumni Network
It's no surprise that the top management consulting firms have large and accomplished alumni networks.
People as varied as Sheryl Sandberg (ex-McKinsey), John Legend (ex-BCG), and Mitt Romney (ex-Bain) all got their start in management consulting. Check out our firm-specific posts on McKinsey, BCG, and Bain for a longer list of alumni. By working at one of these firms, you automatically join a community with these individuals and get to tap into the broader network.
While these networks aren't necessarily something you'll take advantage of as a consultant, their functionality as an alum can not be overstated. These networks can be incredible resources for sourcing casual coffee chats or more formal job searches. Firms support their development by curating internal career portals, hosting webinars, sharing alumni updates, and coordinating in-person events. As MBB continue to expand their global footprints, these networks will only become larger and more useful tools.
High impact work (Top)
The second bucket of 'Why Consulting' reasons you'll typically hear fit under the umbrella of the day-to-day work. There are three aspects to this: the training, the projects, and the career opportunities.
Top caliber business training
Spending a few years in management consulting is often compared to earning an MBA, and rightly so. From day one, you'll have complex problems in unfamiliar industries thrown at you. There will be training sessions to get familiar with the basics - like Bain's weeklong Associate Consultant Training (ACT) in Cape Cod - but the majority of your learning will be done on the job.
As you transition from case to case, you'll add more skills to your toolkit. Before you know it, you'll be comfortable running surveys, completing due diligence, diving into large datasets, and preparing clear and insightful slide decks. The knowledge you gain will be applicable to all sorts of career paths, and will leave you with many valuable experiences to draw on.
💡 Shameless plug: Our consulting interview prep can help build your skills
High impact projects
If you're looking at management consulting, you're probably not shy about a challenge. In fact, most consultants are eager to be put to work on some of the biggest companies' most pressing problems. Maybe a CEO is looking to make a large acquisition, develop a long-term strategy, or reduce their costs.
At MBB, these are exactly the types of projects you'll be working on. As a first year consultant, you could be leading the pivotal analysis that tips an exec team towards making an acquisition. You'll be faced with questions that are front and center for your clients, and the answers will dramatically shape the future of these companies. If you're looking to make an impact in the business world, it's tough to beat consulting.
Post-consulting career opportunities
The benefits of going into consulting don't end when you're ready for a new phase in your career. We've already mentioned the powerful alumni network you'll be able to tap into. Now, we'll share some common career paths of an MBB consultant, so you can see why consulting is often just the first step in a long and successful career.
For pre-MBA consultants, a couple years at MBB will often be followed either directly by an MBA, or a move into private equity, corporates, or start-ups. However, some may go on to law school, into politics, or even into med school. At this stage, all the doors are open, and consulting has only expanded your career options.
For post-MBA consultants, it's common to move from consulting into industry, tech (Amazon, Google, etc), or start-ups. At this tenure, a stint in consulting accelerates the typical career progression someone might otherwise expect. Moves into industry are often at the Sr. Manager or VP level, whereas someone 2-3 years out of an MBA that didn't go into consulting would likely be a layer below.
The perks and compensation (Top)
Last but not least are the perks that come with consulting. These are aspects of the job that round out the experience and really differentiate this career path from other high caliber ones like investment banking or tech.
Fun travel
Although it varies by firm, most consultants can expect to be staffed on a travel case fairly often - although this might change in a post-COVID world (e.g., more Zoom calls and less in-person meetings).
Travelling is part of the client services industry, so you'll typically be going to the client Monday through Thursday for several months. While you won't always be going to the most exciting destinations, you'll still be travelling with your awesome case team (see reason 1) and earning airline and hotel points at the same time. As you become more tenured at the firm, your international travel opportunities will increase as well.
Generous compensation
Consulting firms know they're competing for exceptional talent, so their compensation packages are structured to be very competitive as well.
As a result, consulting is one of the best career paths to follow if you're looking for a high base pay straight out of college or business school. Take a look at our previous post if you're looking for more detail on these numbers. Don't forget, total compensation rises quickly with tenure, greatly rewarding those that make it to partner.
Advanced tips for crafting your answer (Top)
Now that you've got a good idea of the fundamentals, check out this video in which our ex-BCG, ex-Google founder, Kenton Kivestu, goes deeper into tips on how to present your case for why you're interested in consulting (hint: saying comp isn't a great answer!)
Conclusion
As you can see, there are many reasons to go into consulting, from the people, to the work, to the perks.
These are all legitimate benefits of the industry and great reasons to go into the field, which is why many people often list the same points. However, what will really differentiate you when it comes time to give your answer to 'Why consulting?' is explaining why a particular aspect matters to you and how it fits in with your broader story.
Real interview drills. Sample answers from ex-McKinsey, BCG and Bain consultants. Plus technique overviews and premium 1-on-1 Expert coaching.