Uber product management interviews
Kenton Kivestu, ex-Google, ex-BCG, Founder at RocketBlocks
Published: Jan 31, 2023
Criteria | Interview structure | Skills tested | Interview questions | Culture & metrics
Uber is one of the most ambitious companies in the technology sector.
It's stated mission is to make transportation as reliable and pervasive as running water. And Uber product managers are critical to executing against that mission.
Given that, it's no surprise that landing a PM job at Uber is tough - the competition is intense because the opportunity is compelling. And the salaries don't hurt either. Levels.fyi reports that Uber PMs can make total compensation of around $156K for it's entry leve APM position and hits as high as $1.27M for Director level roles.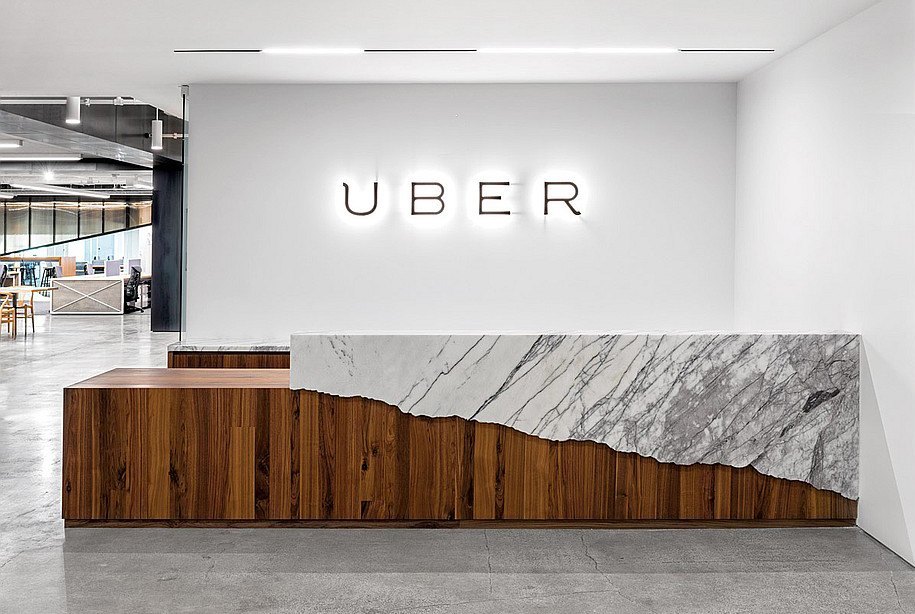 In this deep dive, we'll cover what to expect in the Uber interviews and how to prepare:
What is Uber looking for in product management candidates?
How are Uber PM interviews structured?
How does Uber assess the core skillsets they're looking for?
How to prepare for interviews with skills-based questions?
How to gain a leg up by diving into the company, metrics and culture?
Uber product management criteria (Top)
Let's start by understanding what Uber looks for in its product management candidates. Browsing through Uber PM listings, here is a pretty typical summary of the requirements: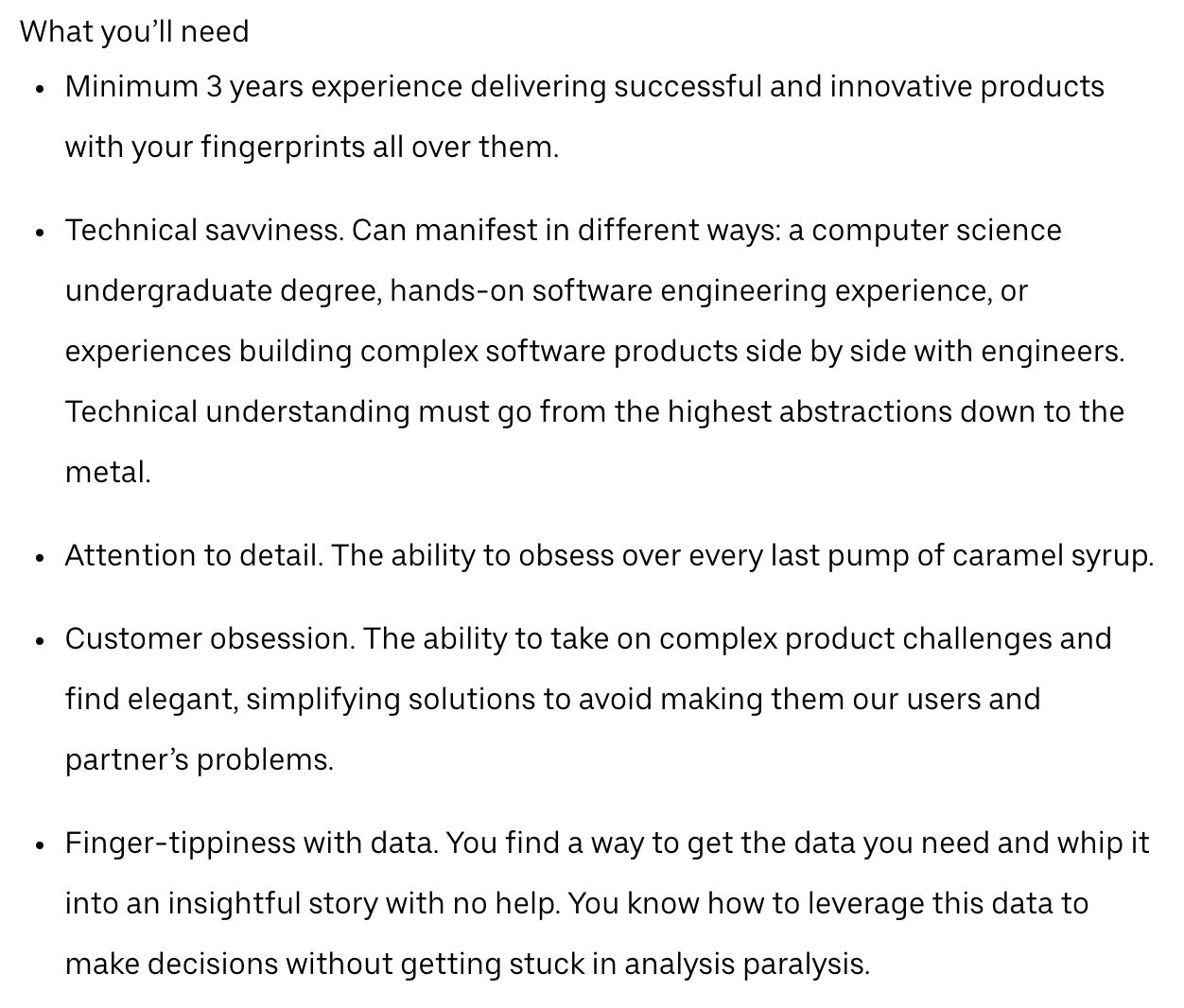 A few things immediately jump out: relative to peer company PM job listings like Facebook's and Google's, Uber's PM requirements are more role-specific (e.g., the one above, for an Uber Eats role, references a specific Eats use case, handling custom order requirements in the attention to detail line).
However, amongst the unique attributes, Uber also consistently calls out four key requirements for product managers: core product experience, data-driven decision making, technically fluent and customer obsessed.
Uber PM interview structure (Top)
In contrast to Google, Facebook, Amazon and others, Uber starts most product management interviews with a group interview called a jam session. After a jam session, if a candidate performs well, they'll be invited back to an on-site "loop" where they do one-on-one interviews with four to five interviewers across functions (e.g., PMs, engineers, designers).
What is an Uber jam session?
A jam session is a group interview with 2-3 Uber product managers focused on a product case question.
The candidate is expected to lead a discussion and dissect the product problem from all relevant angles. In many instances, the product problem is sent to the candidate in advance but not always (sometimes the prompt is given at the start of the jam session).
During this discussion, Uber PMs want to see that the candidate can frame the problem, lay out objectives, walk through proposed solutions and articulate how to measure success and impact. It's common for the interviewers to question assumptions, probe deeper on key topics and throw out their own ideas for the candidate to react to.
Allegedly, the origin of the jam session came from long, product-oriented discussions that Uber Co-founder and early CEO, Travis Kalanick, used to have with friends and early hires. They were said to be "jamming" on product ideas and, in the early days, Kalanick would often attend interview jam sessions.
Jam session deck
Assuming the prompt is provided before the actual interview, you'll want to come prepared with your thoughts on how to dissect the problem. This doesn't mean that the conversation will be a one-way presentation but rather that your prepared thoughts will serve as a jumping off point for the discussion and provide an anchoring for how you approach the problem.
I covered how to put together a jam session deck in deep detail here, but I'll call out a few snippets here as well to provide a sense of how I framed up the discussion.
NOTE: This particular homework assignment is from the early days of Uber and the problem statement was broad: design a better driver home screen for Uber drivers.
Stating the problem: Clearly stating the problem to be addressed in the exercise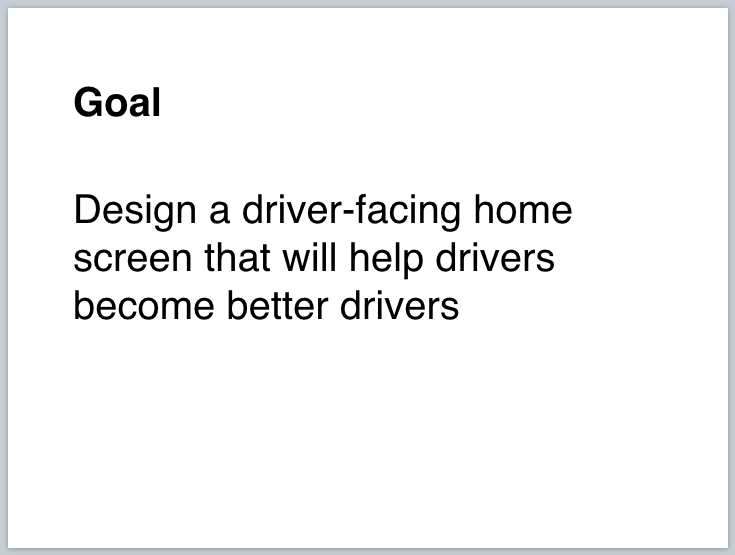 Framing the approach: Defining how the candidate is constraining the problem and hammering it home with a visual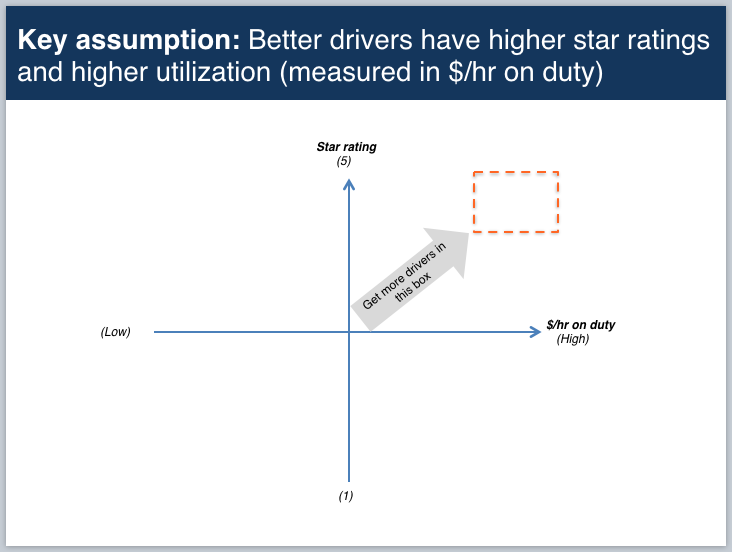 Laying out hypotheses: Giving a window into the view of the variety of considered approaches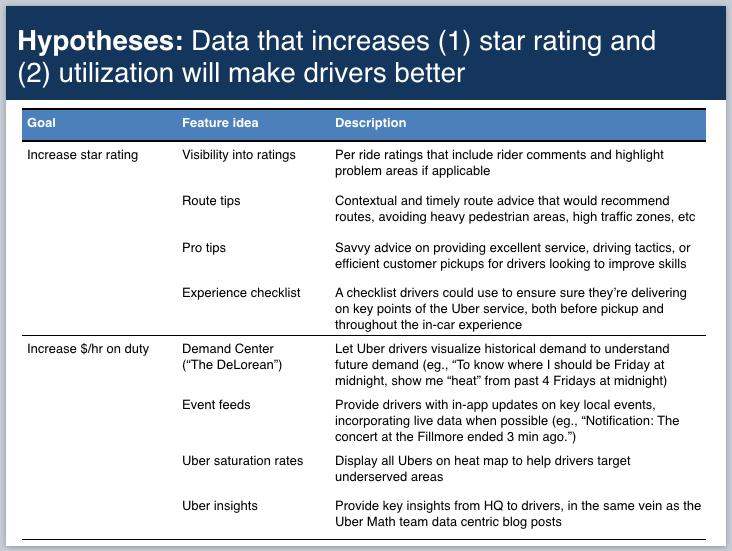 "RocketBlocks was a perfect interview tool during hectic recruiting seasons. I could quickly do it for 20-30 mins between my prep or if I had more time I could deep dive into some of the larger exercises. It does a great job throughout." - Anirudha Nandi, Uber APM, Ivey HBA Grad
The loop
The so called loop is more traditional and mirrors the mix of cross-functional, one-on-one interviews that peer companies like Google and Facebook do as well.
In these interviews, candidates can expect to answer questions across core PM skills like product sense, technical fluency, analytical skills as well as behavioral questions about leadership, etc.
Uber's key skill sets
For all the skill set categories Uber tests, the questions mostly revolve around Uber's domain (e.g., transportation, logistics and on-demand services).
This is different than companies like Facebook, which often ask questions outside their core domain, like "How many Instacart deliveries are made a day in NYC?"
Product sense and design skills
As with all leading tech companies, this is *the* critical category for PMs. It's no different for Uber's product managers either.
Similarly to Amazon, Uber places a high premium on obsessing over meeting customer needs as a north star in its product development process. Here interviewers will be trying to assess the following capabilities:
Define a product vision and strategy: Can the candidate articulate a compelling and credible product strategy that fits with Uber's overall mission?
Deliver innovative experiences: Does the candidate have a nose for innovative for products and how to deliver on them successfully?
Obsess over customer needs: Does the candidate understand the customer needs? Can they identify and deliver elegant and simple solutions for their needs?
Analytical and data-driven
Analytical skills are in demand at all tech companies, but Uber adds its own, unique twist on this.
Uber refers to this as "finger-tippiness" with data: the ability to ask the right questions, source the right data to answer them and avoid getting bogged down in analysis paralysis.
Ask the right questions: Does the candidate demonstrate a proficiency with identifying the right questions to ask and knowing how to answer them with data?
Source the right data: Can the candidate locate, pull and curate the right data they need to answer those questions?
Avoid analysis-paralysis: Does the candidate know to prioritize correctly so that they don't get bogged down in the weeds analyzing everything?
Technical
Uber hires for a wide range of PMs. Some roles are extremely technical (e.g., PM for API platforms) while other roles are less technical (e.g., PM for Rider Experience).
However, while the level of technical fluency required varies, there is a common baseline Uber interviewers will expect. Here are the baseline questions interviewers will want to answer:
Understand product implications: Does the candidate understand the product, end-user facing implications of various technical decisions (e.g., do they understand how it all fits together)?
Communicate effectively: Can the candidate comfortably engage in technical discussions with the engineering team at the right level of detail?
Earn trust of technical team: Will the candidate be able to build an effective relationship with the engineering teams and collaborate with them effectively?
Culture fit: drive, grit and more
All leading product companies often cite drive as an important cultural trait, but more than others Uber puts lots of emphasis on finding PM leaders who exhibit significant drive and grittiness - likely traits that were engrained in the culture early on as the company battled entrenched taxi operators and protectionist government regulation.
Here Uber interviewers will be asking themselves the following questions:
Mission fit: Does the candidate exhibit excitement for the transportation, logistics and on-demand space that will likely lead to unique insights?
Grittiness: Is the candidate willing to push for his/her ideas? Will they be able to surmount significant obstacles put in their way?
Bias toward action: Does the candidate demonstrate a bias toward moving quickly, making fast decisions and getting things done?
Interview questions and prep tips (Top)
As with all tests, knowing what skills will be tested is only the beginning of the battle.
Dedicated PM interview question practice
To prepare thoroughly, you should dedicate time to drilling yourself on the types of questions that will come up in an interview.
There are a ton of ways to do this. You could ask a friend to quiz you. You could use the Uber product and make up sample questions for yourself. Or you could use something like RocketBlocks PM prep to work through sample PM questions and answers (with embedded concept reviews).
Regardless of the method, don't go into the interview cold turkey. To help kick the preparation off, here are some sample questions to think about:
Product sense and design sample questions
How would you design a lost-item retrieval system for Uber?
Design a rewards program for Uber. What it would like and how would you roll it out?
Analytical and data-driven sample questions
Propose an experiment that might increase the amount drivers receive in tips.
Ride cancelations shot up 4.5% week-over-week (WoW). How would you investigate what's going on?
Technical fluency sample questions
Walk us through what the Uber Eats API might look like for major partners.
What happens, from a technical perspective, when a consumer opens the Uber app on the phone?
Advanced tips: Know the metrics & culture (Top)
At this point, almost everyone is intimately familiar with at least one Uber product as a user (whether it's Uber X, Uber Eats or Uber Pool). However, truly understanding the mechanics of Uber's products and business requires going a step deeper.
You should devote time to thinking about the business of Uber: what products do they offer and why? How does their product suite compare to their competitors? What major competitive advantages does Uber possess? How can they leverage those to create increased differentiation between them and their competitors?
One helpful starting point for asking and answering these questions is reviewing Uber's growth over time and their core business metrics.
Key business metrics
We've gone into extensive detail on Uber's core metrics in the Uber data pack here, but here we'll highlight a few key starting points here.
Uber rides per day growth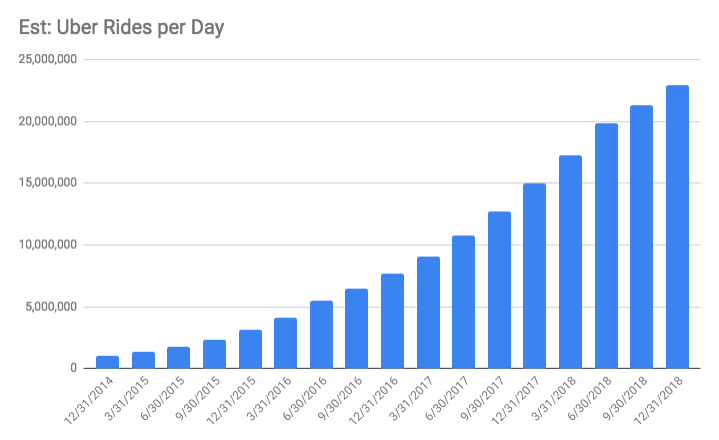 Rides per day growth over the last 4 years has been explosive - growing 20X in the last 4 years from 1M to 20M.
Major setbacks in Uber's history, such as exiting the China market, don't seem to have put any noticeable dent in rides per day growth.
Given that Uber has long argued that profitability will come with scale, what level of rides per day need to be reached for profitability to kick in?
Revenue per ride
Given the high-scale business Uber is in, it's interesting to look at how much revenue they pull in per ride. Note that since the number of rides per day and net revenue are estimated, the following analysis serves only as directional guidance, not a precise forecast.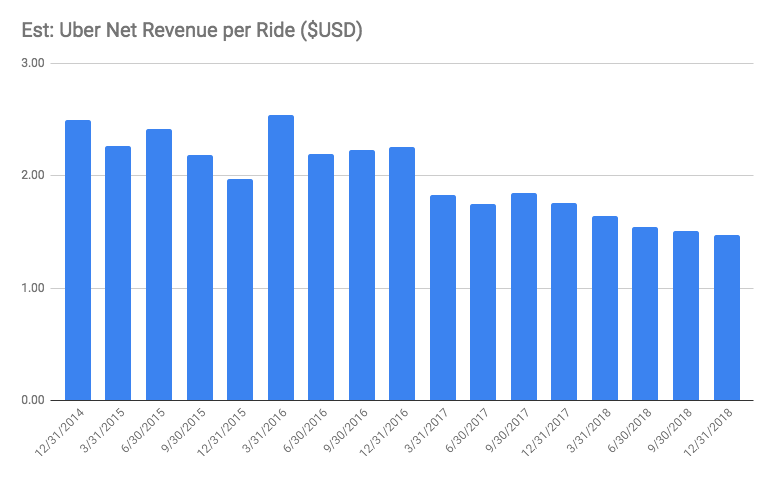 Key takeaways on revenue per ride
Net revenue per ride has declined over the last four years pretty consistently
It's possible that this decline is driven by an increased adoption of cheaper Uber alternaties, like Uber Pool and Uber Pool Express which launched in late 2014
Finally, given the overall revenue numbers available for Uber don't back out the Uber EATS contribution, it's possible the decline is overstated.
Company culture
Uber's culture is a reflection of its founders and their drive to reinvent the global transportation industry. At its best, the culture is hard-charging, determined and obsessed with providing unrivaled value for its customers.
Often, cultural strengths taken too far can be weak points as well and Uber's experienced its share of well-documented struggles under Travis Kalanick's tenure as CEO. That said, Dara Khosrowshahi, the new Uber CEO, is making dedicated strides in the right direction.
Finally, if possible, it's always helpful to reach out to friends who work (or have worked) at Uber and ask them for their first hand input. If not, the next best resource is to observe what the company representatives say publicly in interviews, conferences, and blog posts.
Real interview questions. Sample answers from PM leaders at Google, Amazon and Facebook. Plus study sheets on key concepts.