Wayfair product manager interview process
Satish Subramanyam, Senior Product Manager at Chime, ex-Wayfair PM
Published: March 15, 2022
Recruiter screen | Phone interview | Onsite #1 | Onsite #2 | Onsite #3 | Onsite #4 | Team matching
The PM Interview at Wayfair consists of a combination of computational cases, product design cases and behavioral rounds. Product Managers at Wayfair are expected to demonstrate good business sense, customer-centric product sense and data-informed decision making. In this blog, we will dive into the interview process and discuss some tips to ace the different parts of the PM interview.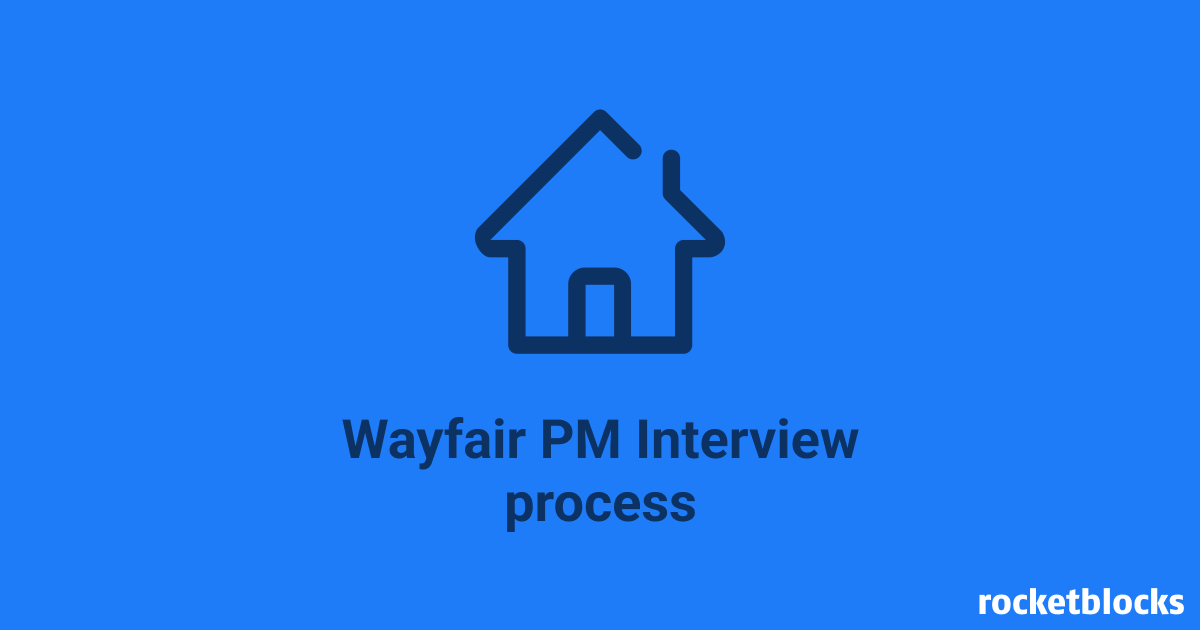 Company overview
Wayfair offers a zillion things home. Wayfair believes everyone deserves a home they love, and that furnishing your home should be a source of fun, not anxiety. With one of the world's largest online selections of furniture, home furnishings, décor and goods, including more than eight million products from over 10,000 suppliers, Wayfair helps people find the perfect product at the right price. Our extensive selection and superior customer service coupled with the convenience of online shopping, make it easier than ever before to find exactly what you want for your home at a price you can afford.
Product organization at Wayfair
Broadly speaking, there are two product orgs which requires very different skillset and follows slightly different interview process.
Storefront org: Most of the consumer facing features that customers use day to day are managed by this team - homepage, imagery, AR, listings etc.
Operations Product Innovation (OPI) org: This org is an internal consulting team that seeks to make things run more efficiently by using technology. They analyze the operations of Wayfair business (Customer Service, Outbound Sales,New Product Addition,Fulfillment, Financial systems, Transportation and Warehousing) and find opportunities to improve CX and reduce costs.
Product management levels at Wayfair
Associate PM: An IC role who is starting off a career in product.
Sr. Associate PM: An IC PM with 2-3 years of experience in product or related discipline.
Product Manager: An IC PM role with 3-5 years of experience in product or related discipline.
Sr. Product Manager: An IC or people manager role with 5-7 years experience in product or related discipline. Usually manages 1-2 PMs but can be an IC too.
Associate Director: A people manager role aspiring to step into a Director role soon. Usually manager 2-3 Sr. PMs.
Director: A leadership role managing a product area and 1-2 Associate Directors.
Interview process
Interview consists of mostly a combination of computational cases, product design case and behavioral rounds.
Recruiter screen (Top)
Standard recruiter screening to see fit based on past experiences and interest. Recruiters also give an overview of the company, org and answer any questions you may have about the role of the company.
Sample question #1: Walk me through your experience in product
Sample question #2: Talk about a product or feature you launched
Sample question #3: What do you know about Wayfair?
Sample question #4: Do you have any questions for me?
Phone interview: Mini Product Case (Top)
If the recruiter finds you a good fit for one or more of open roles, a senior person from the org sets up a phone call. This round usually tests your ability to think like a PM. Your approach to an open ended problem is more important than getting to the right solution. The case will usually be related to wayfair's current problems. Having past ecommerce experience is helpful but not necessary to succeed. You can always draw inferences from your personal life using an ecommerce product or service.
Sample question #1: What factors would you consider while designing a return experience at Wayfair?
Sample question #2: Customers must call to make a return, during the call the call center employee fills out a return form for the customer, how can you change this process to cut down on call center time/employees/customer wait times.
Sample question #3: Do you think Wayfair should start building their own warehouses? Why or why not?
Onsite #1: Product case - Product Design (Top)
This round tests your ability to understand the problem, break down ambiguous problems and design an elegant solution. My advice would be to focus on customer needs or pain as the starting point and think critically about the business problem at hand next. Once you have zeroed in on the exact problem to solve within the problem space is when you start thinking of solutions. Feel free to get creative with your solutions and think long-term when recommending a solution you would implement. Absolutely no expectation to draw out hi-fi wireframe even a basic illustration of user journey should suffice. Always remember to summarize the case.
Sample question #1: Customer service costs have gone up by 20%, how would you reduce it?

Design a solution to decrease the call time for customer service.
Calculate the reduction of call center employee hours that can be attained with a new self service return tool kit.
Wireframe the solution.
Determine the percent reduction of customer service call hours.
Sample question #2: How would you improve the post-order delivery experience for a furniture delivery?
Sample question #3: Design and test a preview tool for arranging furniture in a room.
💡 Got a PM interview? Our PM interview drills help get you in top form
Onsite #2: Product case - Product Analytics (Top)
Wayfair puts data central to decision making, so naturally PMs are expected to dive deep into numbers and make data-informed decisions. My advice here would be to not get overwhelmed with all the numbers throw at you and instead focus on metrics that matter. Ignore everything else. Also clearly callout any assumptions you're making to simplify the analysis. The math will be basic math and approximate range is all the interview looks for. For experimentation related case studies, a stat 101 would be helpful but not a prerequisite as the interview will test your critical thinking 'around' framing the experiment and not the design itself.
Sample question #1: Improve OTD (On-time delivery) of parcels by 5%. This new tool created from the project would cost $100K.
Sample question #2: You want to give out incentives to increase no. of reviews from 1 to 5 over 6 months. How much incentive can you give for 100 listings?
Sample question #3: Design an A/B test study to make phone numbers optional when a business makes a purchase which leads to similar yields in business purchases while customer purchases increase, decide based on the data if this was a failure or not.
Onsite #3: Past product experience deep-dive (Top)
This round focuses on diving into your past experience (if any) in building products. Interviewer will ask you about a project your PMed and will dive into the whole process from ideation till post launch. Be ready for this project teardown discussion. My advice would be to be prepared with a refresher of your past experience. I found the SAR (Situation, Action, Result) framework very helpful to craft concise stories to walk through for the various situations. Always helpful to pick projects that best tell the story to the interviewer's question. Just remember to not get lost in all the details and always provide context upfront since the interviewer maynot be familiar with your product area or domain.
Sample question #1: What problem were you trying to solve here?
Sample question #2: How did you set success metrics?
Sample question #3: How did you come up with the MVP?
Sample question #4: What is your experience with A/B testing?
Onsite #4: Working with stakeholders (Top)
As a PM, you work with various stakeholders across different functions like design, marketing, Operations, Finance etc. The goal of this round is to get a signal on your working style, relationship management tactics and conflict handling style.
Sample question #1: What is your experience working with cross functional folks?
Sample question #2: Describe a situation where you handled a difficult partner?
Sample question #3: How would you handle a partner whose goals conflict with yours?
Sample question #4: How do you work with engineering?
Onsite #5: Team matching with hiring managers (Top)
This round will be an informal conversation with one or more Hiring Manager who would be interested in hiring you. Hiring managers will try to gauge your areas of interest and would want to know if you are interested in the work they're doing.
Real interview questions. Sample answers from PM leaders at Google, Amazon and Facebook. Plus study sheets on key concepts.