Interviewing product managers
Mike Lyngaas, ex-Gusto, Director of Product, Ethos Life (Sequoia backed)
Published: August 14, 2020
Playbook steps | Success criteria | Interview loops | Interview templates | Grading rubrics
So you're a product leader, and need to hire a PM. If you work at a company like Amazon or Google, you've likely got a robust infrastructure to lean on: a recruiting team to help screen candidates, question banks honed from thousands of PM interviews, and calibrated interview panelists on standby.
But what about the rest of us? This playbook will help you reduce subjectivity, save time deliberating on candidates, and above all, hire great product managers -- all with a fraction of the resources of FAANG.
The PM interview process playbook (Top)
First, a little context on my perspective:
The guidance here comes from a blend of my own experience at Gusto and Ethos, where I've interviewed over 200 PMs, and conversations with product leaders from other companies who have scaled their product teams at Stripe and Coinbase.
While the focus of this framework will be on interviewing and finding exceptional generalist PMs, you'll find the core concepts can be applied (with some additional steps) for roles like Growth specialist or VP of Product.
The focus of this post is firmly on the interview components of the hiring process. Here's where it sits:

I'll walk you through each step, using concrete examples:
Define PM success: align your team on the attributes required to be a great PM at your company.
Design your interviews: map these PM attributes to steps in your interview process.
Templatize: standardize the interview format
Standardize grading: Use a consistent grading rubric.
#1. Define PM success criteria at your company (Top)
An obvious-in-hindsight mistake many product teams make is not testing candidates on attributes they value post-hire. This is a bit like holding tryouts for the basketball team by testing tennis skills. You may end up finding good PMs, but it will lead to misaligned expectations for them and company, and costly hiring mistakes.
So it's imperative that your company articulate the attributes you want PMs to embody.
Let's illustrate with an example: my fictional bike-sharing company, Mike's Bikes: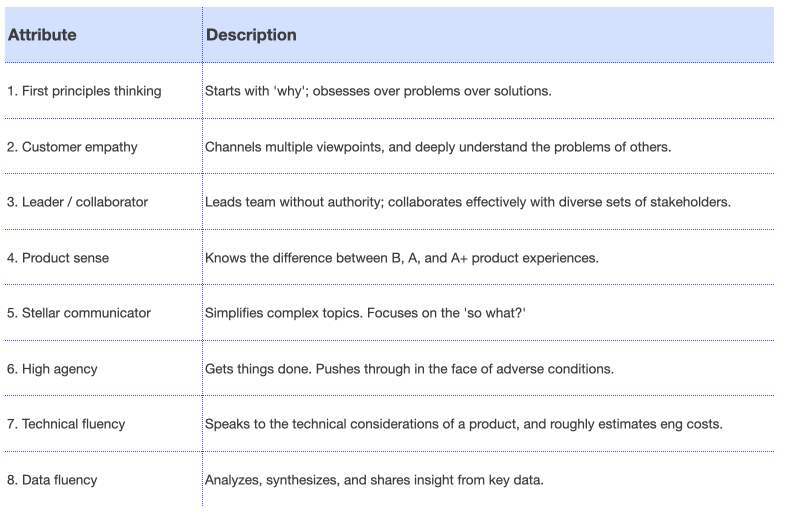 💡 Candidate tip: ask your recruiter or hiring manager what PM attributes they look for. Bonus points for the company if they've outlined this publicly on their blog or website.
Prioritize the attributes you want to test for
Many PMs will spike in some areas and be average in others. And you likely don't have time to deeply test each attribute. So it's important to decide which of your attributes are deal breakers vs. nice-to-haves.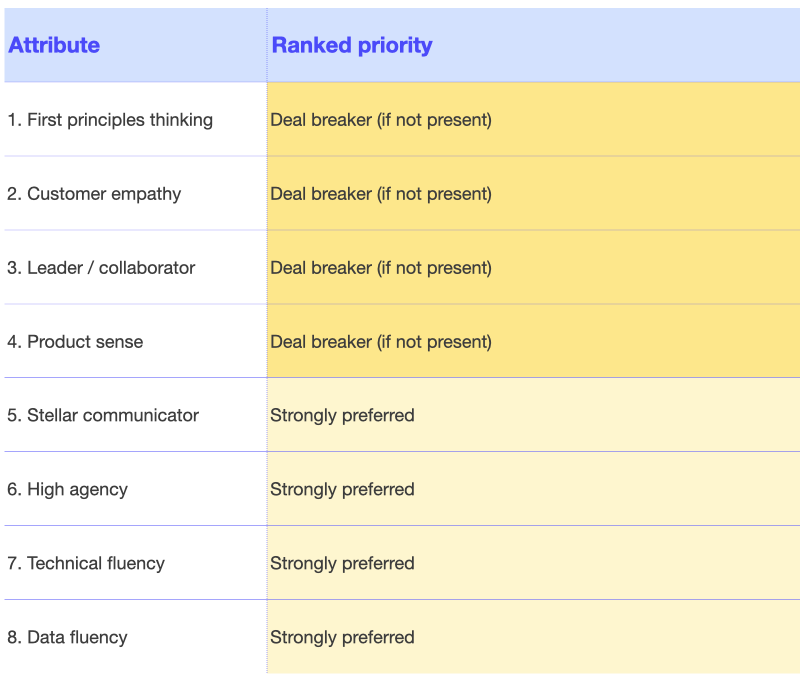 💡 Got a PM interview? Our PM interview drills help get you in top form
#2. Design your interview loops (Top)
There are many different ways to interview PMs, but I'd summarize the most common formats as:
Product skills assessment:
Product case study (this can be in panel presentation form, or a 1-on-1 session)
Technical exercise
UX exercise
Analytical exercise
Soft skills assessment
Behavioral experience
Values assessment
Map interview steps to PM attributes
Now we need to align what we want to test for (attributes) with how we test for them (interview formats).
A couple pointers:
Your high priority attributes should be tested in at least two different interviews. This gives your interview panel multiple data points to measure the candidate on what matters most to you.
If you find that multiple interview steps are testing for the exact same attributes (as is the case with Behavioral and Values interviews below), consider consolidating.
Assemble your interview panel
Product managers are the ultimate dot connectors, working closely with partners from engineering, design, product marketing, sales, performance & lifecycle marketing, operations and leadership. So it's important to get a diverse set of interviewers on your panel.
Depending on the size and makeup of your company, this may need to be tweaked, but here's a sample for Mike's Bikes:

💡 Candidate tip: familiarize yourself with each of these panelist roles, and be ready to "speak their language." For example, emphasizing an unexpectedly delightful user experience may resonate more with a Designer or PM than a VP of Sales.
#3. Build interview templates (Top)
For each interview, we now need to define the 1) the prompts and 2) rubric used to grade responses. I recommend creating a single document containing both that can be easily shared with panelists, and copied for each new candidate.
Here a sample product case study I've used for round 1 PM interviews.
📄 Sample interview template: 1-on-1 Product case study
Make a copy of this document to conduct your interview, take notes, and grade the candidate.
Context and format
This is the initial phone or video call with the PM Lead, PM, or PMM before the candidate reaches round 2. Interviewers will score the candidate across the following 4 attributes. See the rubric for more guidance on grading candidates.
First principles thinking
Customer empathy
Product sense
Stellar communication
Length of interview: 60 mins
[10 min] Intro & warm-up
[40 min] Case study
[10 min] Q & A
[10 min] Intro & warm-up
Hi [candidate], excited to speak with you today. We'll start by getting to know each other briefly, then spend most of our time working through a product case study together. At the end, I'll save time to answer questions you have about our company, product, role, or anything at all.
Sound good? Let's get to it.
Before we jump in, a little bit about myself:
I lead our Product and Design teams at Mike's Bikes. Our charter is to make biking the default way to commute in every major city, and take polluting cars off the road.
My current focus is on our employer experience -- making it really easy for companies to offer Mike's Bikes as a commuter option to employees.
Before Mike's Bikes, I held various product roles at Gusto and Yahoo.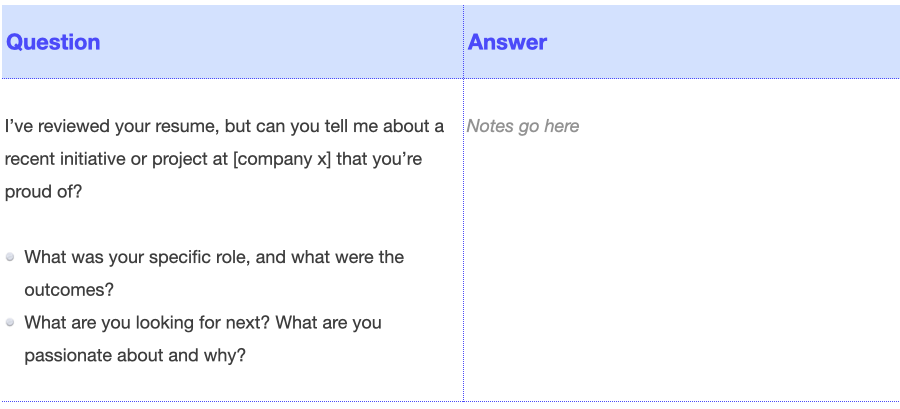 [40 min] Case Study
Part 1: High level scoping
Let's say you were a Product Manager at Airbnb, and an executive came to you with an idea to allow guests to book cars through the Airbnb platform, as an add-on to Homes (places to stay) and Experiences (curated travel experiences).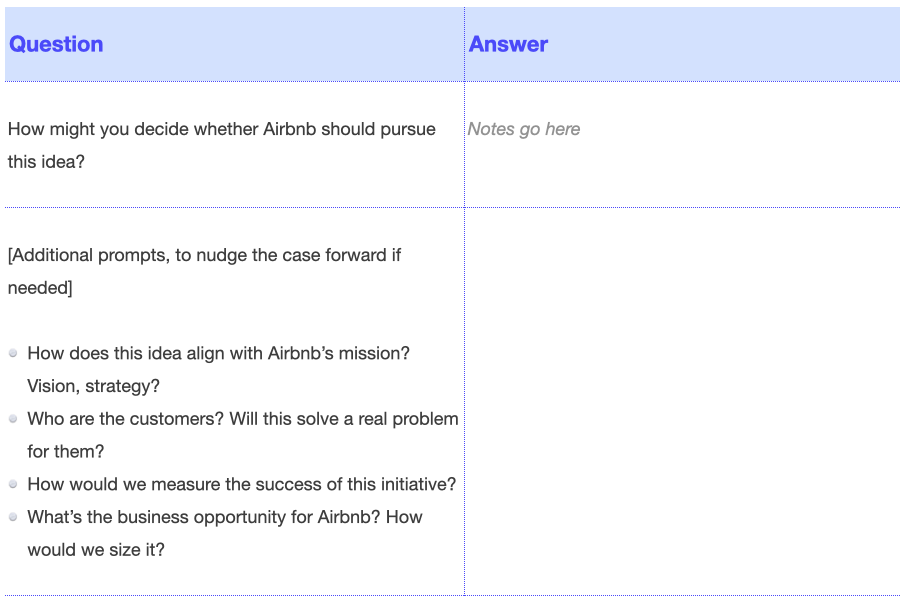 📌 Alternative question: a Spotify executive wants to create a video tab in the Spotify app.
📌 As much as possible, tee the candidate up, then get out of the way. Awkward pauses are to be expected.
Part 2: Use case details
Let's say the idea was greenlit, and we need to dig into the details.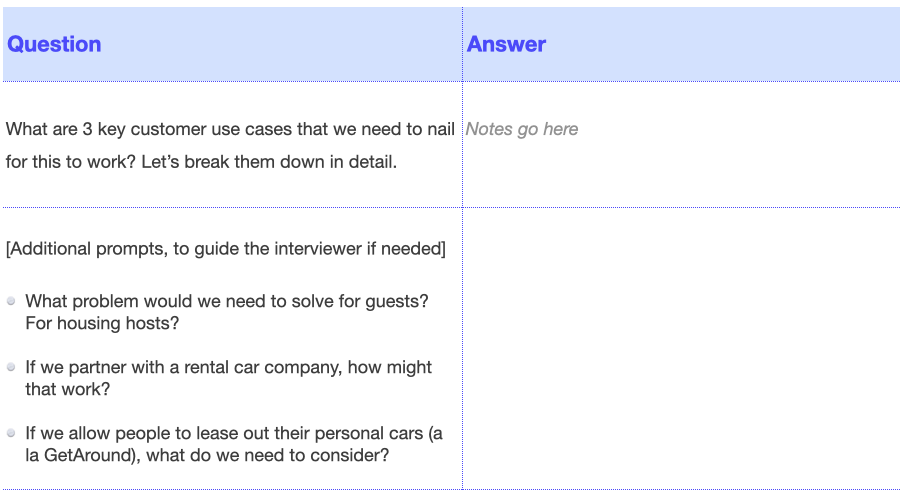 [10 min] Q & A
Thanks so much for going through that with me. Now the floor is yours.

📌 This is a good way to gauge the candidate's genuine interest in your company. They've just gone through an exhausting exercise and their guard may be down. Look for deep interest in your product, mission, and team, not surface-level questions.
#4. Establish a consistent grading rubric (Top)
Some guiding principles on grading:
This isn't Jeopardy: do not judge the candidate on coming up with specific details. Though they should find their way to reasonable solutions, their thought process and high level structure are what we are judging them on.
Don't expect perfection: PM's don't actually scope new opportunities in short video calls, so have tolerance for some rough edges to their responses.
If it's not an easy yes, it's an easy no: If you find yourself agonizing between scoring a candidate as a 2 or 3, go with 2.
Score the candidates from 1 to 3 on each of the key attributes: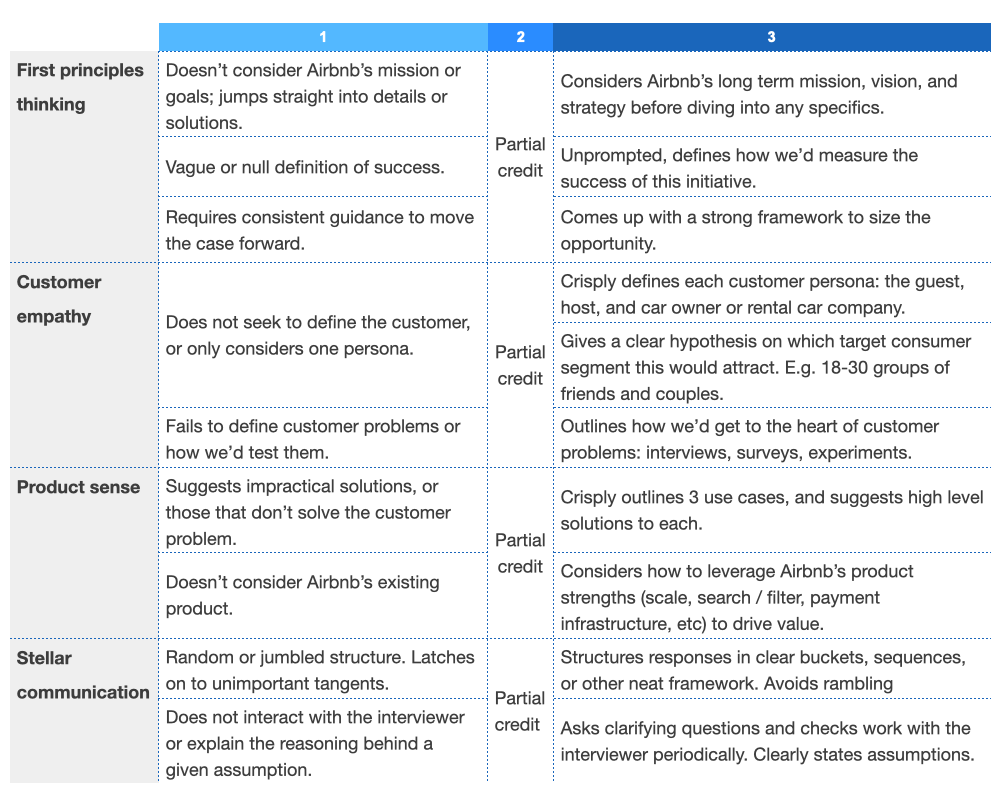 Add any concerns that you'd like other panelists to dig into:
Concern 1 goes here
Concern 2 goes here
Summary: compounding benefits (Top)
Investing in this process is a non-trivial amount of work, but it will lead to compounding benefits as your company and team grow:
Time savings: hiring managers won't need to reinvent the wheel for each open PM role.
Reduce thrash: the consistency created will lead to less turbulent candidate debrief sessions and hiring decisions.
Company polish: the interview process is a reflection of the organization, and candidates will take note of a well-tuned and efficient process.
Finally, I hope this playbook will be a useful tool, but it's certainly not one-size-fits-all: test it, tweak it, and make it your own.
✋ I'm always looking to iterate on this. Have feedback? Shoot me a note at mlyngaas777@gmail.com or on Twitter @MikeLyngaas.
Thank you to Packy McCormick, Stephanie Long, and Kenton Kivestu for reviewing drafts of this post.
Real interview questions. Sample answers from PM leaders at Google, Amazon and Facebook. Plus study sheets on key concepts.