Consulting case interview library
Emma Rovit, ex-Bain Consultant, ex-Instacart
Published: July 16, 2020
McKinsey | BCG | Bain | Deloitte | Accenture | LEK | Oliver Wyman | Roland Berger | OC&C | RocketBlocks
Familiarizing yourself with the case interview format is a key part of preparing for consulting interviews.
This post will give you resources to learn about the format itself and 29 real case examples from leading firms like McKinsey, BCG, Bain and Deloitte.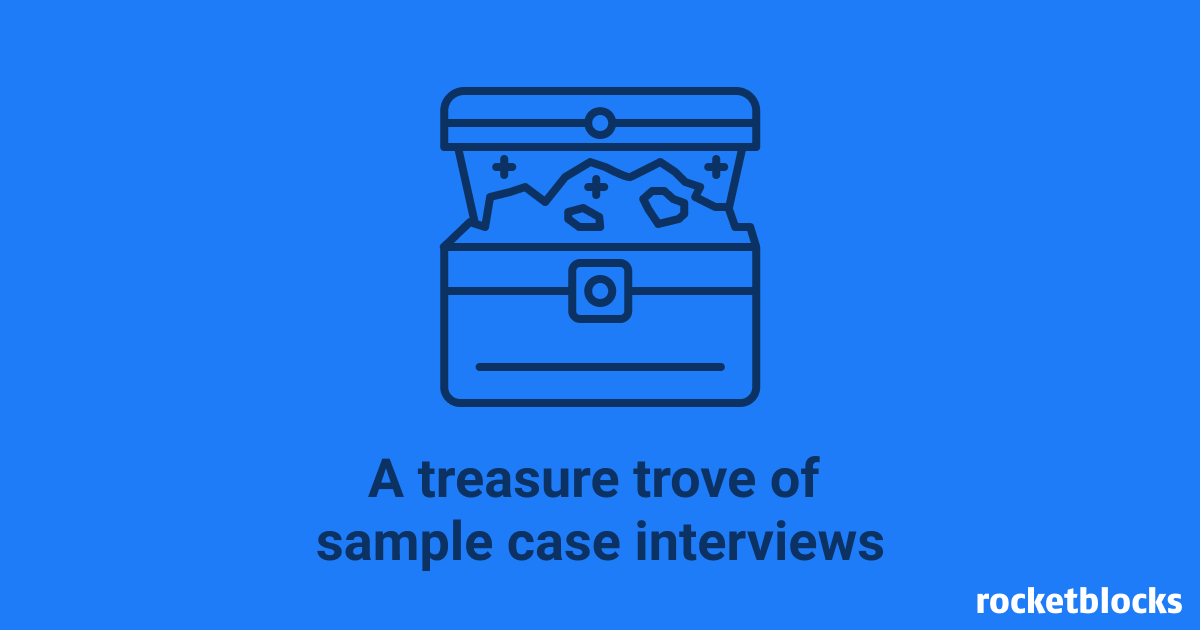 First, we recommend you get familiar with the format of a case interview. We've compiled a list of super helpful resources below.
Once you're comfortable with the format, we recommend reading the tips that the firms themselves provide. We've highlighted a few key ones below to get you started.
Practice case library
Great, now you're ready for the sample cases!
Most consulting firms, including the market leaders McKinsey, BCG and Bain, have entire sections of their websites dedicated to recruiting, and more specifically preparing for interviews.
These practice cases are great opportunities for you to go through realistic cases and see how each firm would suggest approaching them. They typically include one or more sample answers to illustrate the thought process they expect to see in a star candidate to take.
Below, we've pulled together links for practice cases from each firm's website, along with the intro to the case itself, so you can quickly read through and decide where you want to focus your efforts.
McKinsey practice case interviews (Top)

"I recommend RocketBlocks to everyone at Wharton who asks. Our 1st years just had a great recruiting season thanks to RocketBlocks and it helped me land my McKinsey internship." -- Morgan Cummings Gray, McKinsey Engagement Manager
BCG practice case interviews (Top)
Bain practice case interviews (Top)
Coffee Co., case type: market entry. Your friend wants your help in determining whether opening a coffee shop outside of London is a good idea.
Fashion Co., case type: profitability. FashionCo has experienced declining revenues each year for the past five years. What is causing this and what can they do to drive revenue?
Deloitte practice case interviews (Top)
Oliver Wyman practice case interviews (Top)
Wumbleworld, case type: profitability. WumbleWorld, an amusement park in China, has asked Oliver Wyman to identify the reasons for their company's declining profits and develop suggestions for how to reverse this trend.
Aqualine, case type: profitability. Our client is Aqualine, a manufacturer of small powerboats. Its CEO has hired Oliver Wyman to determine the factors behind a sales' slowdown and identify sales growth opportunities.
OC&C practice case interviews (Top)
Leisure clubs, case type: growth strategy. The client wants to know what they should do with their leisure clubs division. Look at the market trends and assess competition in the leisure clubs industry.
Whisky blues, case type: profitability. A manufacturer and distributor of whisky has experienced a slowdown in growth and profitability. Help them understand what's driving this and how to reverse it.
Roland Berger practice case interviews (Top)
Transit development part I, part II, case type: profitability. Guided video of a case focused on increasing revenue and profits for a local public transport operator in Germany.
3D Hips part I, part II, case type: market entry. Guided videos of a case assessing whether additive manufacturing and selling of 3D hip implants is a lucrative business.
Accenture practice case interviews (Top)
Case workbook, case type: n/a. In-depth resource with tips, case format descriptions, and practice cases (skip to page 19 for these).
LEK practice case interviews (Top)
Case tips, case type: n/a. Video with advice and a three sample case prompts which are included toward the bottom of the web page.
Full Cases from RocketBlocks (Top)
The RocketBlocks Casebook, we have created dozens of self-paced, peer-practice and video cases to review during your prep.
Summary
The good news is: there are a lot of resources out there!
We recommend taking full advantage of all the practice cases, insiders tips, and prep materials you can get your hands on. Go through as many cases as you can prior to the actual interview, as you will become more comfortable with each attempt.
Once you're familiar with the case interview format, make sure all your ready for all the key components: structuring the case, analyzing data and nailing the mental math. If you need a little extra support, RocketBlocks has you covered with our drills and coaching services.
Real interview drills. Sample answers from ex-McKinsey, BCG and Bain consultants. Plus technique overviews and premium 1-on-1 Expert coaching.