BCG consulting interview prep plan
Justin Hopkins, Associate at BCG, University of Oxford
Published: Nov 30, 2021
Understanding consulting | Prep your application | Pre-interview assessments | Interviewing
Hi, everyone! Today, I am going to explain how to break into BCG from a non-business background.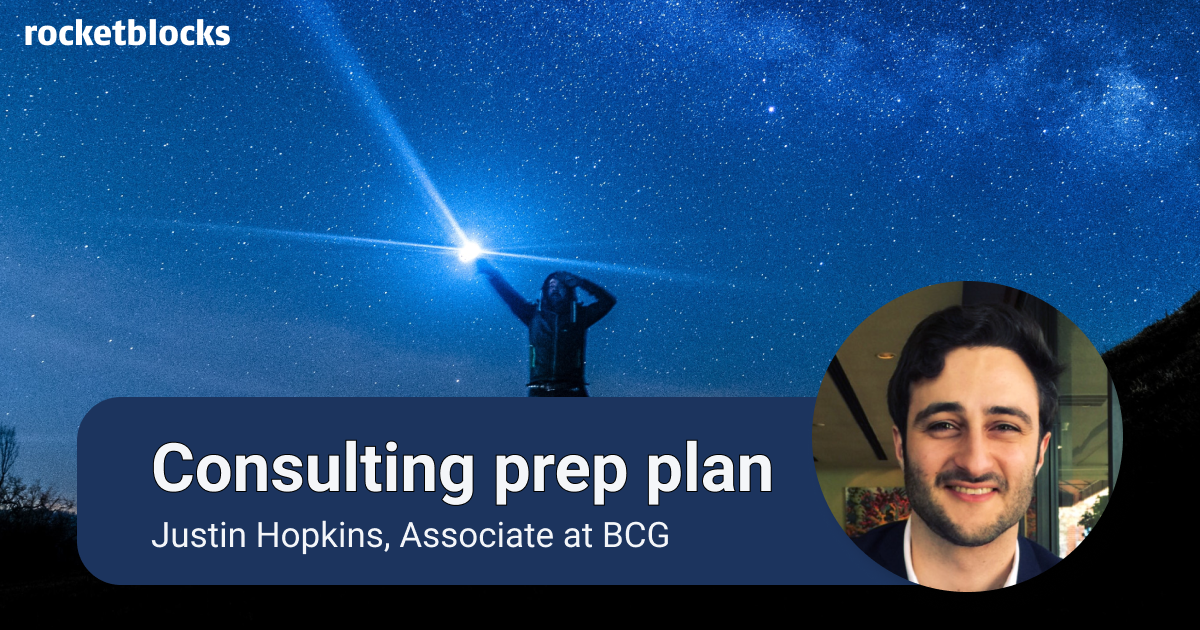 As someone with a non-traditional background prior to consulting, and coming from Oxford University in 2019 – I had to piece together a holistic set of best practices to break into BCG, largely from first principles. Whether you are currently working; in undergraduate, MBA, or another graduate degree; or studying Business, STEM, English, or Philosophy – if you follow my strategic and tactical guidance, I am confident you will maximize your chances of successfully breaking into consulting.
As you might know, getting into many consulting firms has 1-5% overall odds, meaning 95 to 99 out of every 100 candidates do not get in. Likewise, getting into consulting can feel especially ambiguous to execute on if you don't already know someone in the field.
Therefore, it is crucial to do every step in my process as perfectly as possible, and not only focus on case interviews. There is unfortunately little to no margin for error across the application process. On the flip side - if you follow these steps, you will optimize your potential, and getting into a firm is doable!
My guidance is segmented into the chronological buckets of applying: 1) understanding what consulting entails and what firms are looking for, 2) preparing your initial application materials and how to get noticed, 3) practicing for any required pre-interview assessments, and 4) preparing for case and PEI interviews.
While this piece broadly covers each of the logical buckets for maximizing application success, I will be able to offer substantial strategic and tactical tips for each step through expert coaching sessions, which you can book from this page. Now, let's get into it:
Understanding what consulting entails (Top)
Time: 1-4 weeks
Before you can begin to prepare for consulting application processes, it is first important to know what consulting is, and if you would be interested in the work – not just hypothetically, but day-to-day. Consulting is demanding on your work-life and fast-paced with a steep learning curve, but it has substantial benefits in the short- and long-term if you are interested!
To confirm your understanding of consulting it is necessary to conduct secondary research and optional to do primary research. Secondary research means learning from online resources (RocketBlocks, Youtube, etc.), and primary research means learning from current consultants at your desired firm(s).
This step is helpful not only to confirm you want to pursue consulting, but also to begin to synthesize invaluable information specific to the firms in which you are interested, which you can leverage in future interactions with relevant firm members throughout the application process.
Secondary research -
Learn the basics of the role. e.g., what kind of work gets done, which industries are covered, how are teams organized, and what do you do day-to-day.
Learn the traits that your desired firm(s) are looking for, so you can tailor your application materials accordingly – e.g., problem-solving, autonomous. While the majority of admitted candidates come from business or STEM backgrounds (correlated to being most applicants), firms care far less about the specific experiences you have beforehand and more so about if you are demonstrating excellence in the traits they are looking for in your particular context.
For the office locations you are interested in, deduce which application process path your material would be most aligned to (e.g., on-cycle recruiting if in undergraduate or MBA, experienced hire recruiting if you are working and/or if you are from a non-MBA graduate program). NOTE: Tips for thinking through office selection here.
Primary research –
Consultants can generally be somewhat guarded with their time given their busy schedules so, as a result, this step is optional. Tactically, you would want to reach out to consultants in your desired firm and office, asking for 10-15 minutes of their time. For more details on how to do this, check out this blog post by a BCG Consultant that has tactical details of how to go about networking. Once on the phone, repeat steps two and three from "secondary research" – i.e., ask about the firm's desired traits and specifically how they manifest in your chosen office. Additionally, ask about office culture and industry foci (much more on this in coaching sessions).
For more information on networking, watch this video on how to write and use a career networking blurb - a short piece of writing that can be the difference between getting your foot in the door or not at a company you want to work at.
If you are able, attend a virtual or ideally in-person open house, so that you can hear many perspectives at once for the answers to your questions, through meeting many members of the firm and recruitment team. E.g., google search - company name, office location, open house, title of your role and recruiting channel (e.g., experienced hire associate). You can sometimes search recruiting events by office from their websites, as well (e.g., check out BCG's examples here).
After completing these steps, you should be able to know exactly what consultants do and exactly what your desired firms are looking for in general and specific to your chosen office.
Preparing your application materials (Top)
Time: 1-4 weeks
Getting a first-round interview is not a simple meritocratic process, as much as it should be.
In other words, even if you think you have an impressive and special background, you could still get lost in the pile of applicants if you are not strategic at this phase. Applicant readers have very little time to scan your materials. Here is how to prepare your application and get noticed to maximize your chance of an interview.
Cover letter – prepare a cover letter that primarily demonstrates the traits consulting firms desire – e.g., simplified - I'm a strong problem solver, and here are three examples showing how. Still mention briefly why this firm, why this office, and any people you've connected with in the office.
Resume – organize your resume in terms of demonstrating the same traits – explicitly and implicitly. Get to the "so what" of your experiences quickly, and try to provide quantifiable impact. Potential categorization of activities - work experience; relevant extracurricular experience. Organize your bullet points from first to last in order of descending impact and demonstration of consulting traits. This shows ability to prioritize and 80/20 thinking - another related set of consulting traits.
Networking – to optimize your chances of not getting missed, get on the phone with key application stakeholders at your desired office(s), so that you can win over the individuals that actually read your application (much more on this in coaching sessions).
Reviewing this step overall, you should be able to present yourself in terms of what consulting firms are optimizing for, and you should be able to maximize your chances further by trying to speak with recruiters from your desired office.
Preparing for preliminary assessments (Top)
Time: 1-4 weeks
Some offices for consulting firms require pre-interview assessments (e.g., BCG chat bot interview), designed to gauge candidates' problem-solving abilities. These are not strictly IQ tests, but they usually are graded to a high standard – by practicing, you can greatly improve your chances.
Do 10-15 practice tests before your official assessment. Each time, review the types of problems you are missing, understand the reasons why, try to draw thematic conclusions where applicable, and focus additional time between tests on drilling those thematic and consistently missed points.
After this step, you should be able to perform to the best of your abilities on the assessment, hopefully moving onto a first-round interview.
Preparing for the case and behavioral interview (Top)
Time: 1-4 weeks
The next step is to prepare for the case and behavioral interview. Most firms first spend ~15 minutes on behavioral questions, then switch to a ~35-45 minute case. Preparing for these adequately is as follows.
First, to the best of your knowledge, figure out how much time you would have between assessment/initial application and the interview itself. This varies by firm and office. You want to make sure that you have enough time to prepare, given you effectively only get one try per firm, and you want to make the most of it.
Second, you want to prepare for the case portion of the interview before preparing for the behavioral portion. This strategy is multifaceted. The best way by far to learn how to case is through live practice, given there are so many specific aspects to "what good looks like" within a case interview that relate to "what to say" as much as "how to say it."
Specifically, tactically –
Watch 10-20 Youtube videos showing "good" practice cases.
Read/practice 10-20 cases online - through RocketBlocks, consulting club casebooks, and otherwise.
Practice the kinds of math you do in consulting for 30 focused minutes per day. Topics you should focus on include dealing with large numbers (lots of 0's). Math is typically all or nothing in terms of how it is graded within the case. Even if you think you are good at math, this step is mandatory – math in a consulting context is technically straightforward, but easy to screw up – given the high, exact stakes and multiple equation inputs.
Do 15-25 live cases with someone experienced that knows what MBB good looks like.
Learn all the core best practices across key case dimensions. In my view, especially if you know little to nothing about consulting beforehand – 15-25 live cases is the minimum to ensure you maximize your chances. Every word out of your mouth in a case will be scrutinized and held against you. The strategic and tactical best practices for each part of the case are complex to put together in real time, especially dealing with new problems each time (general format: prompt, structure, exhibits, brainstorm, conclusion). To really maximize your chances, your goal is not to get barely good enough and then interview – rather, your goal is to end up doing your last 3-4+ cases well, so that when a totally novel problem arises in the real interview, and nerves set in on top, you can overcome these obstacles as close to second nature as possible and focus on solving the problem at hand.
In my view, only practicing with peers who are also interviewing is not ideal because this can cause a phenomenon of "blind leading the blind," especially relative to practicing with a coach/experienced person, who knows how to close your outstanding gaps in a hyper targeted way. Compared to other preparatory steps, live expert practice is where most of the learning comes from, because it is the closest to the real unique experience of a case interview.
For behavioral practice, you should prepare 2-3 weeks prior to your interview, 1-2 hours a day.
Practice speaking to high probability behavioral questions first – e.g., tell me about yourself (much more on this in coaching sessions). NOTE: RocketBlocks has a behavioral interview module that can help with this.
Know how to speak about any part of your submitted resume (much more on this in coaching sessions). E.g., an interviewer could ask you a PEI style question about a specific line item from your resume that you might find not very important, nor remember much about. Be sure you can understand at a high-level the key stakeholders, challenges, and impacts beyond your bullet points for every experience on your resume.
Reviewing this step, you should be able to know what good looks like for case and behavioral portions of the interview process, and execute against this knowledge in any case setting.
That's the process at a high level! If you are interested in discussing a variety of specific, substantive strategy & tactics related to any of the above, I am always happy to help. I have a multitude of best practices across the application process – having just gone through this process two years ago at BCG and, since then, participating in it from the interview side.
Good luck in your preparation in the meantime!

"I am impressed with the quality and feedback from Justin. He is great at going through all the processes and what is most important!"
"Justin gave great, actionable ideas on how to approach a case interview."
" Super helpful with case structure and the ways to move through a case!"