Product marketing manager vs. marketing manager
Chad Meirose, Product Marketing Manager at Lyft
Published: July 22, 2021
PMM vs. marketing manager | Similarities | Differences | Preference
Marketing manager or product marketing manager…is there a difference? In my experiences, having been both a marketing manager and product marketing manager, there is.
In this blog post, I hope to use my experiences in EdTech to help illuminate some of the key differences in day-to-day tasks and expertise needed for success in each role.
Product marketing manager vs. marketing manager (Top)
According to Product School, the definition of product marketing "much like digital and traditional marketing, involves getting the product to market and making sure it reaches the right customers… product marketing sits at the intersection between product, marketing, and sales." On the other hand, a marketing manager, as defined by Hubspot: "lead[s] the marketing efforts for a business, service, or product...lead[s] a marketing team to develop and implement creative and unique strategies to drive customer interest through multiple media channels."
Having held both roles, I think the easiest way to distill the difference between the roles is to highlight the core responsibilities and skill sets needed for both roles. However, it is worth mentioning that both roles are not exclusive to each other and that at times both roles may execute the same responsibilities, depending on the company.
Similarities (Top)
In my time as a marketing manager, and now as a product marketing manager, skills that have helped me across both roles are: creativity, data analysis, and empathy. Empathy, in this case, for the customers or users you are trying to serve. Which is an easier skill for me in Edtech as I started my professional career as a high school English teacher. Nevertheless, here are some core job responsibilities that I've had as both a product marketing manager and marketing manager.
Copywriting
This is where creativity comes into play. As both a product marketing manager and marketing manager, I have owned writing emails, social posts, webpage copy, in product banner, and internal documents needed for training for aligning cross functional teams. Being able to create compelling content that engages your customers to take action is crucial to both roles. It can really make the difference when it comes to metrics around open rates and other marketing engagement metrics.
Storytelling
As mentioned before, creativity around compelling content is crucial to both product marketing and being a marketing manager. In addition to creating stand alone content that is engaging and enticing to users to get them to perform a desired action, continued retention around engagement really relies on the story you're sharing with your customers. An effective product marketing manager and marketing manager thinks about how the story they are creating for an audience and/or product ties into a customer's user journey.
Engagement goals
At the end of the day, both roles work towards engaging their audiences with the product of the company. These goals may differ in scope (more to come in the differences portion) around what engagement looks like, but the end job of both roles (and marketing as a whole) is to engage users with the company and/or product.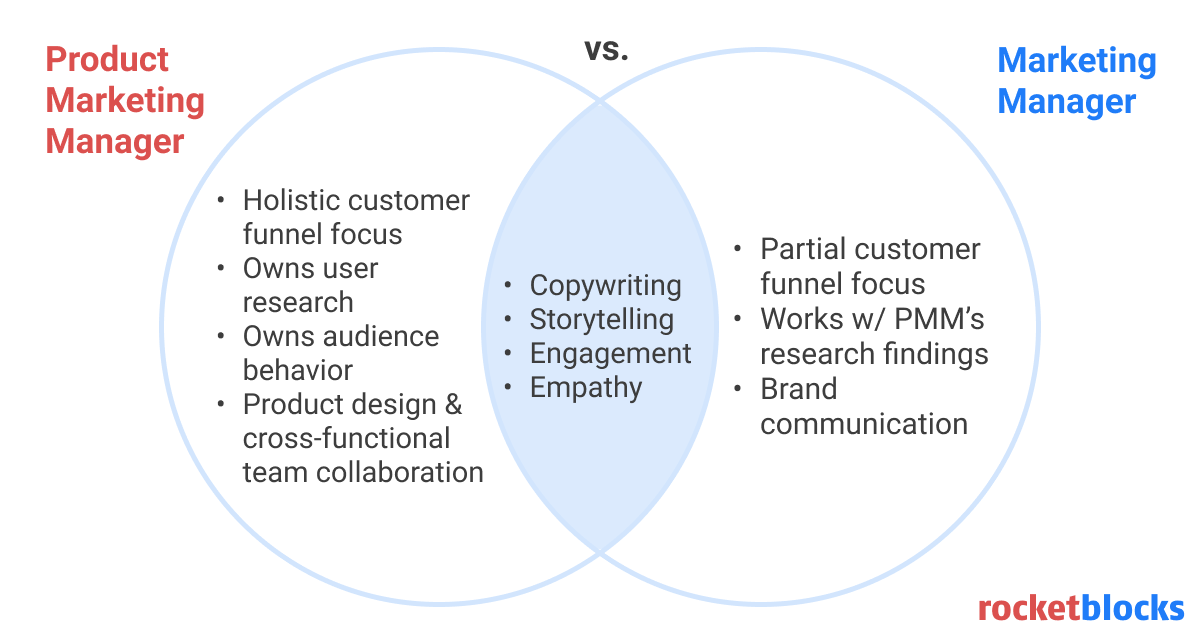 Differences (Top)
These roles will differ in scope and range depending on the company you work for while holding these titles; however, the below differences highlight my experiences when transitioning from a marketing manager role (content and community) to a product marketing role owning an audience.
💡 Shameless plug: Our PMM interview drills can help
Funnel focused
In contrast to the pure engagement metrics mentioned prior, product marketing roles really focus on the customer funnel. As a marketing manager I focused on a particular part, let's say engagement, but as a product marketing manager, I've owned the full marketing cycle from awareness to retention. Furthermore, I run more tests and experiments with growth marketing counterparts to optimize our reach and conversion along the funnel.
Example: When it comes to adopting a product, I've launched campaigns aimed at moving users from "awareness" to "adoption". Specifically, for our messaging product, how do I get teachers to send their first message?
Research
As a product marketing manager, I have been tasked with owning full research around users. This looks like establishing personas, understanding their behavior with the product, conducting user research, and running marking tests. As a marketing manager, I worked with the PMM team's findings, but as a product marketing manager, I've owned this experience and own the audience experience more holistically.
Example: When establishing a product market fit, I scheduled interviews with 30 teachers to discuss their needs, their current situations, and ways that a new product could improve their experience. Furthermore, prior to the interview, I was tasked with designing the interview guide, the types of questions, and the critical success framework needed to meet our goals.
Product roadmap influence
And with the ownership of the audience and research, product marketing has taken me into a greater role with the Product team. As a marketing manager, again, it was more about engaging and making sure our brand was communicated effectively to users. Now, as a PMM, the research and testing I run influences the decisions that the product team makes in addition to the prioritization of milestones on the product roadmap. As a product marketing manager, you also work much closer with cross functional teams, namely design, engineering, sales, and customer success.
Example: As a new product is being launched, the product team will have milestones around feature development. Using the research I was conducting, I was able to reprioritize features on the roadmap. The prioritization matched the needs of our users and therefore led to great adoption and engagement with the product.
Product design collaboration
Alongside the ownership of audience behavior and influence on the product roadmap, comes working closely with product designers. The insights and data you gather from tests and interviews with your audience, help the product designers develop and create more delightful experiences for the users that can positively impact metrics like retention. Also,working closely with design helps you support usability testing, sentiment analysis, and other direct product/user moments.
Example: When developing a new product, the best, user-friendly UX is unknown. Will the users understand how to use a feature? Click the right button? So, using the findings from my interviews with users, I guided the product designers and developed an onboarding standard for users to use with the product, if necessary.
It's all about preference (Top)
In the end, it really comes down to preference. What are the roles and responsibilities you are looking for? That being said, product marketing tends to pay more in the industry, but it also comes with more control and responsibility. Personally, this is how I decided between the two marketing functions when I was looking for my next role.
If you prefer brand creativity and thinking of ways to engage your users to ensure your customers are happy and delighted by your company's product, the marketing manager role is great for you.
If you prefer a more critical lens with research, testing, and experimentation mixed in with your creativity, product marketing is a great path.
Best of luck with your career goals, and I hoped this helped share some insights into the similarities and differences between the roles!
Real interview questions. Sample answers from PMM leaders at Google, Facebook, Amazon, Uber, PayPal and more. Plus study sheets on key concepts like positioning, GTM & more.