Mastering go-to-market strategy interview questions
Francisco Bram, Head of PMM, Uber Business, Uber Eats, Uber Health
Updated: September 20, 2022
Foundational GTM questions | Behavioral GTM questions | Case GTM questions | Conclusion
If you want to succeed in landing your dream product marketing job, you need to be ready to confidently answer any questions related to go-to-market planning and strategy.
Product management owns the roadmap, engineering owns development, sales owns the customer pipeline, marketing owns acquisition and product marketing owns the go-to-market (GTM) strategy and plan. In this article, you will get an overview of the top interview questions hiring managers could ask you when evaluating your knowledge and experience in defining and executing on a GTM strategy.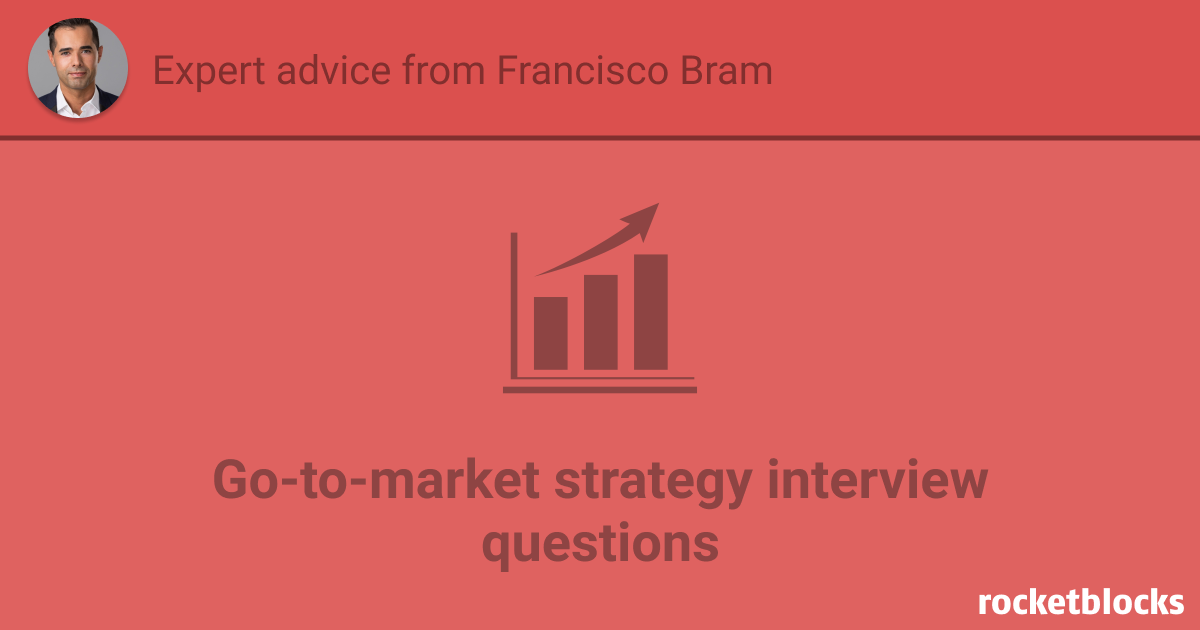 Foundational knowledge questions (Top)
These interview questions are designed to evaluate a product marketer's understanding and knowledge of GTM planning and execution. If you are applying for your first product marketing job, this section is especially important for you.
What is a go to market strategy?
What are all the elements that support a GTM strategy?
What cross-functional teams are part of a GTM strategy?
When do you start planning for your GTM strategy?
What is the most important pillar of a successful GTM strategy?
How do you measure the success of a GTM strategy?
Below we will review these common foundational questions with suggestions on how to answer each.
Question 1: What is a go to market strategy?
A go-to-market strategy is a comprehensive commercial, marketing and launch plan for reaching and serving the right customers in the right markets, at the right time, through the right channels, with the right products and the right value proposition. The purpose of a go-to-market strategy is to create a detailed plan on how the organization will:
Attract, win, and retain the most desirable customers by,
Solving their pressing problems or fulfilling their needs by,
Effectively communicating the value of a new product or service
Question 2: What are all the elements that support a GTM strategy?
A successful GTM strategy is a plan that allows an organization to execute on the 7P's of Marketing:
Positioning: What are we trying to solve? Why is this a problem? Do we have quantitative evidence of the problem? What are the implications of this problem, if unsolved? Who is being affected? What are their pain points? How is your company best positioned to solve this problem?
Product: What's your product narrative and value proposition? What makes your product unique and differentiated? What are the benefits of your product? What is your product name?
Price: What's your product price? What pricing models should you consider? How will you test pricing? Will you offer bundles? What is your promo & incentive strategy? What are your product target margins?
Promotion: How will you raise awareness about your product? What campaigns will you consider? What is your content strategy? How will you develop persona-based messaging?
Placement: What channels will you use to communicate the value of your product? What media will you prioritize? What is your strategy to leverage your own channels (email, app, blog, social media, webinars)? What is your strategy to leverage earned media (PR, media briefings, keynotes)? What is your strategy to leverage paid channels (influencers, search ads, social ads, out of home, TV, video, print, radio, trade shows)?
Proof points:What evidence-based marketing will you develop? How much effort will you place on case study development, customer testimonials, and/or peer-reviewed articles?
People: How will you enable sales to successfully position your product and win deals? What is your product demo strategy? How will you educate customers? What is your strategy to educate and acquire thought leaders and product advocates?
Question 3: What cross-functional teams are part of a GTM strategy?
Even as individual contributors, product marketers can lead cross-functional teams, and this is an essential skill required to successfully execute on a GTM strategy.
Depending on the company size and target market (B2C or B2B) a successful GTM strategy will require collaborating with researchers, marketing managers, product managers, engineers, business development, sales managers and even customer support.
Question 4: When do you start planning for your GTM strategy?
A GTM strategy should start once you have identified a target segment or market. You should be thinking about a commercial GTM strategy once you have determined the total addressable market, have captured and validated customer insights, and have determined what actions to take based on those insights. Once you have aligned with product or business development on the new solution, service, or partnership you need to launch, you can start the work to distinguish your buyer persona(s), design and experiment with your narrative, value proposition and content matrix. Brainstorm on creative execution, visual language, and channel strategy.
Question 5: What is the most important pillar of a successful GTM strategy?
The most important pillar of a successful GTM strategy is customer centricity, this means your strategy is grounded in a deep understanding of your customer needs, wants, pain-points, communication channels and predictable behaviors. Every touchpoint of your customer with your product or service must be remarkable, memorable, positive, consistent and of high quality. When you can design that, then you are on your way to deliver a customer centric GTM strategy.
Question 6: How do you measure the success of a GTM strategy?
A successful GTM strategy combines a series of programs and tactics with specific milestones:
Launch progression metrics are milestones that show progress towards your launch plan, such as dates and approvals that ensure your launch plan is on time.
Marketing goals are engagement metrics, conversion rates, acquisition targets, customer acquisition costs and sales funnel metrics.
Product adoption goals are sign ups, usage rates, churn rates and referral rates.
Business KPIs are related to order volume, revenue, profit margin and customer lifetime value. Not every product or service requires this extensive list of KPIs, as the GTM strategist it is up to you to define the most important success metrics.
Behavioral, experience-based questions (Top)
These questions seek to learn more about your experience as it pertains to hypothetical situations to see, on a macro-level, how much experience you have accumulated in planning and driving GTM plans or other similar roles that could be relatable.
For these types of questions, you should bring up examples from your past work that can help the interviewer understand how your acquired experiences position you as the ideal candidate for the role. Potential questions include:
Can you walk me through a time when you had to plan a product launch? What were you responsible for and what did you accomplish?
What have been some of your biggest learnings from designing GTM strategies?
What's your GTM checklist for launching a product or service?
Can you tell me a time when cross-functional team members kept missing milestones in your GTM plan? How did you handle it?
Can you share an example of a customer centric GTM strategy you were involved with? What was the key customer insight you used to inform your strategy?
If you could go back in time and fix an issue you encountered with a previous product launch, what would it be? And why?
You are convinced you have a robust GTM strategy, but a senior executive is not sold on your plan. What do you do?
Case or exercise example (Top)
These are questions designed to evaluate your ability to put your foundational knowledge into practice, and your ability to work in "white space".
Here's an example: Uber wants to leverage its driver network and food delivery platform to enter the grocery delivery market. How would you help Uber enter this market?
For case interviews, there is rarely one "right answer" but rather a problem solving approach that is being evaluated. Given that, here's a suggested approach:
Summarize the objective. This will help you clarify and ensure that you are on the same page as the interviewer (e.g., Uber wants to expand their delivery business to groceries).
Outline the different steps and phases of your plan. From understanding the target audience, performing research to uncover insights, understanding existing players/competitors to what makes Uber unique.
Propose your plan. This is where you would outline your positioning statement, promotional strategy, placement/channel plan, pricing and product considerations, proof points and persona-based narratives.
Detail how you would measure success. Market penetration, product adoption, new orders, recurring orders, new merchants on the platform, etc.
💡 Shameless plug: Our PMM interview drills can help
Conclusion & next steps (Top)
Creating a great GTM plan relies on strong knowledge of customers and how to reach them. You can always improve your ability to do both. The following are some recommended readings that can help you get in the mindset of customers and designing customer centric marketing initiatives.
Real interview questions. Sample answers from PMM leaders at Google, Facebook, Amazon, Uber, PayPal and more. Plus study sheets on key concepts like positioning, GTM & more.