The product marketing resume
Anna Wiggins, Sr. Director PMM at BlueVine
Published: April 26, 2022
Resume basics | Key skills | Examples & feedback
The first step to landing a great product marketing role is having a strong resume. In a product marketing job search, you are the product, your experience is the value proposition, and your target audience is the recruiter or hiring manager. If you are unsure how to put together a resume that helps you shine, this post will help. We'll go over principles like length and format, core PMM skills, and review a few resume examples.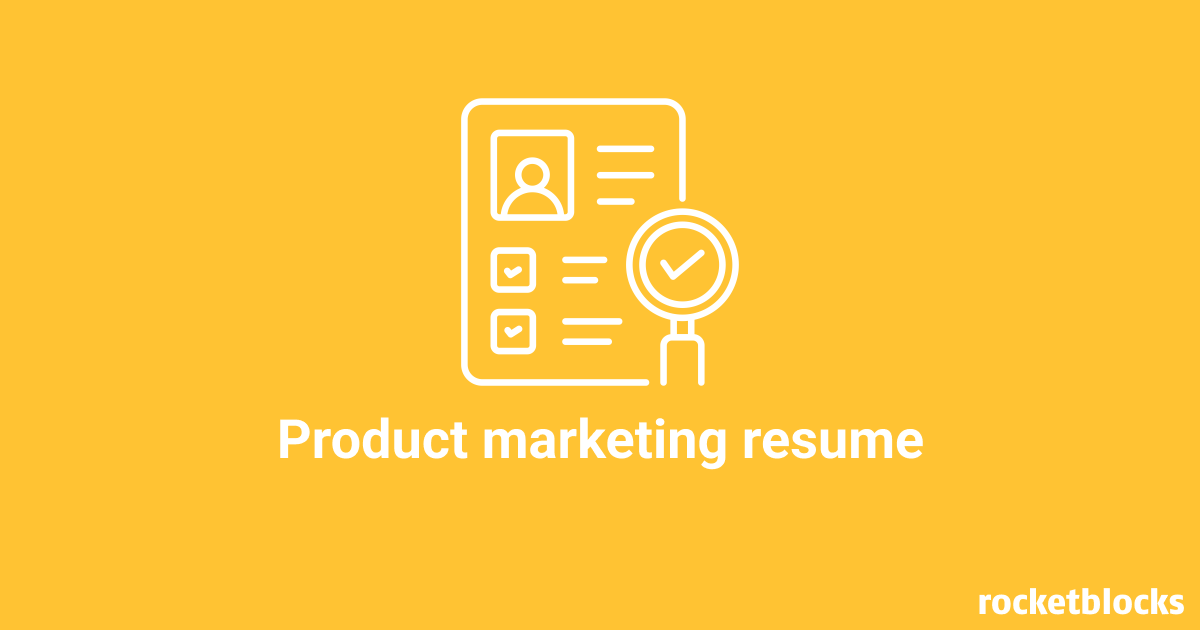 Product marketing resume basics (Top)
Let's start with the basics. Recruiters and hiring managers are busy, so they quickly scan resumes – mainly focusing on titles, recent experiences, and a few bullet points from past roles. Your resume should be easy to read so they can quickly understand what you bring to the table. The resume shouldn't be too long, and the formatting should be straightforward. In other words, your resume should decrease, not increase, cognitive load for your user. To learn more about cognitive load in product marketing, check out this RocketBlocks post.
Rule #1: 1 page per 10 years
A good rule of thumb is that your resume should be one page for every ten years of experience. As a PMM, you should be able to convey what you did in each role in a few bullet points while striking a balance between brevity and details. If you want to highlight special projects like research studies, certifications, or awards, you can list those on a second page titled something like "Research & Awards."
Rule #2: Use tried and tested formatting
For formatting, using a resume template helps organize your thoughts and ensures that every detail is in its appropriate place. Your MBA program career office typically has a good resume template that's been tested with thousands of students. The benefit of using the template is that recruiters and hiring managers know the format and can quickly find the info they need. However, it's also OK to experiment with creative formatting -- just make sure the graphics do not overshadow the content.
Rule #3: Quantify your impact
And finally, product marketing is a data-driven field. You'll be expected to analyze customer behavior data, forecast go-to-market (GTM) response and adoption, and even market size on occasion. So make sure your resume quantifies your impact for each of your roles. We'll talk more about how to do this in the next section.
Key product marketing skills (Top)
In addition to being simple, your resume needs to highlight relevant product marketing experiences, making it easy for recruiters and hiring managers to understand why they should interview you. This is especially important if you are switching into product marketing from another function.
PMM responsibilities can vary widely across companies, so you'll need to do some homework to figure out how product marketing is done at your target company. For example, bigger companies tend to have a narrower definition of product marketing. In contrast, start-ups look for a jack-of-all-trades who can drive inbound insights as well as perform end-to-end outbound campaign execution. Your first clue is the responsibilities section of the job description - it should be a good overview of what the role entails. Informational interviews with past or current employees are also very helpful in getting the scoop on what's expected in the role.
Regardless, your resume should show your experience with problem solving, ability to influence without authority, project management, customer focus and empathy. In general, most product marketing roles will call for some combination of research, positioning and messaging, GTM strategy and execution, and sales enablement. Let's look in more detail at these skills.
Skill #1: Research
Show your experience with qualitative interviews, quantitative research, and competitive analysis, and make sure to quantify your insights and what they helped accomplish. Here are key research responsibilities you should call out on your resume:
Audience definition
Competitive set development
Brief creation
Survey design
Customer interviews
Insight synthesis
User journeys
Research agency management
Recommendation development and socialization
Skill #2: Positioning & Messaging
Demonstrate that you can leverage customer insights to develop positioning as well as product value propositions and turn these into external messaging. Quantify your work by explaining how your messaging frameworks contributed to acquisition, conversion, or retention and show your experience with the following:
Insights-based positioning
Value proposition development
Messaging hierarchy & frameworks
Message testing
Skill #3: Go-to-market (GTM) strategy
Go-to-market is a critical PMM skill set and the impact should be reasonably easy to quantify via site visits, customer conversions, and product usage. Highlight these GTM activities on your resume:
Stakeholder alignment
Target audience definition
Value proposition & messaging
Product naming
Asset development
Sales training & resources
Measurement
Skill #4: Sales Enablement
Sales enablement is an important part of driving awareness and adoption – especially for enterprise SAAS products. If you are applying to a sales-driven organization, make sure to show your experience with:
Competitive analysis
Sales collateral including pitch decks, battle cards, one-sheeters
Product demos
Lead generation campaigns
Client call support
Trade show presence
💡 Shameless plug: Our PMM interview drills can help
Product marketing resume examples (Top)
Now that we've covered the main core product marketing skills, let's review a few real-life resume examples. The green color coding indicates strengths, yellow areas could be improved, and red areas need improvement.
Product marketing resume #1: Needs work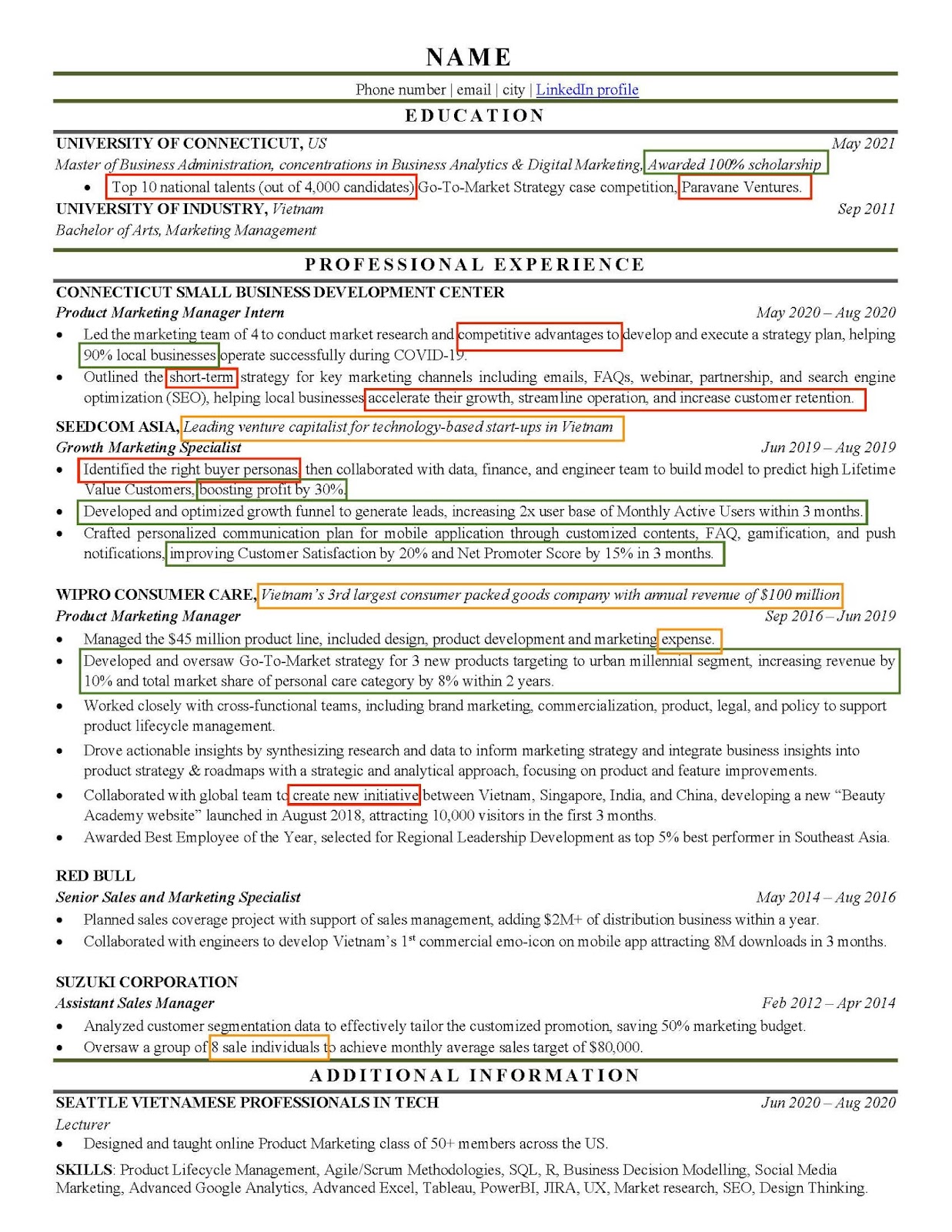 Green
This applicant does a great job quantifying accomplishments. For example, they increased market share for Wipro Consumer Care by 10% and received a 100% scholarship for their MBA program.
This resume also shows diverse product marketing skills ranging from funnel optimization to driving customer MAUs to leading GTM for three products. The breadth of experience should catch recruiters' attention.
Yellow
There are a few formatting inconsistencies. For example, Wipro Consumer Care and Seedcom Asia have descriptions while other companies do not.
Also, the applicant should use more common phrases like "sales team" instead of "sales individuals" and "marketing budget" instead of "marketing expense."
Red
This resume should be more specific so recruiters can better understand how it fits with their open roles. In the education section, the applicant could give more detail about "Top 10 National Talents" and "Paravane Ventures" because most people will not be familiar with these accolades.
Similarly, under Connecticut Business Development Center, the applicant could explain what competitive advantages they created and how those helped small businesses operate during Covid. Also, the resume highlights developing "short-term" marketing strategies. The word "short-term" is unnecessary because it can imply that the applicant doesn't have long-term strategy experience. Finally, instead of stating that the marketing strategy helped local businesses accelerate growth, the applicant should explain how the strategy helped accelerate growth.
In the Seedcom Asia role, the applicant could cover what they did to identify the right buyer personas and what the "right buyer personas" mean in this context. And in the WIPRO customer role, the applicant could further contextualize the "new initiative" they created by adding information about goals and target audience.
Product marketing resume #2: Average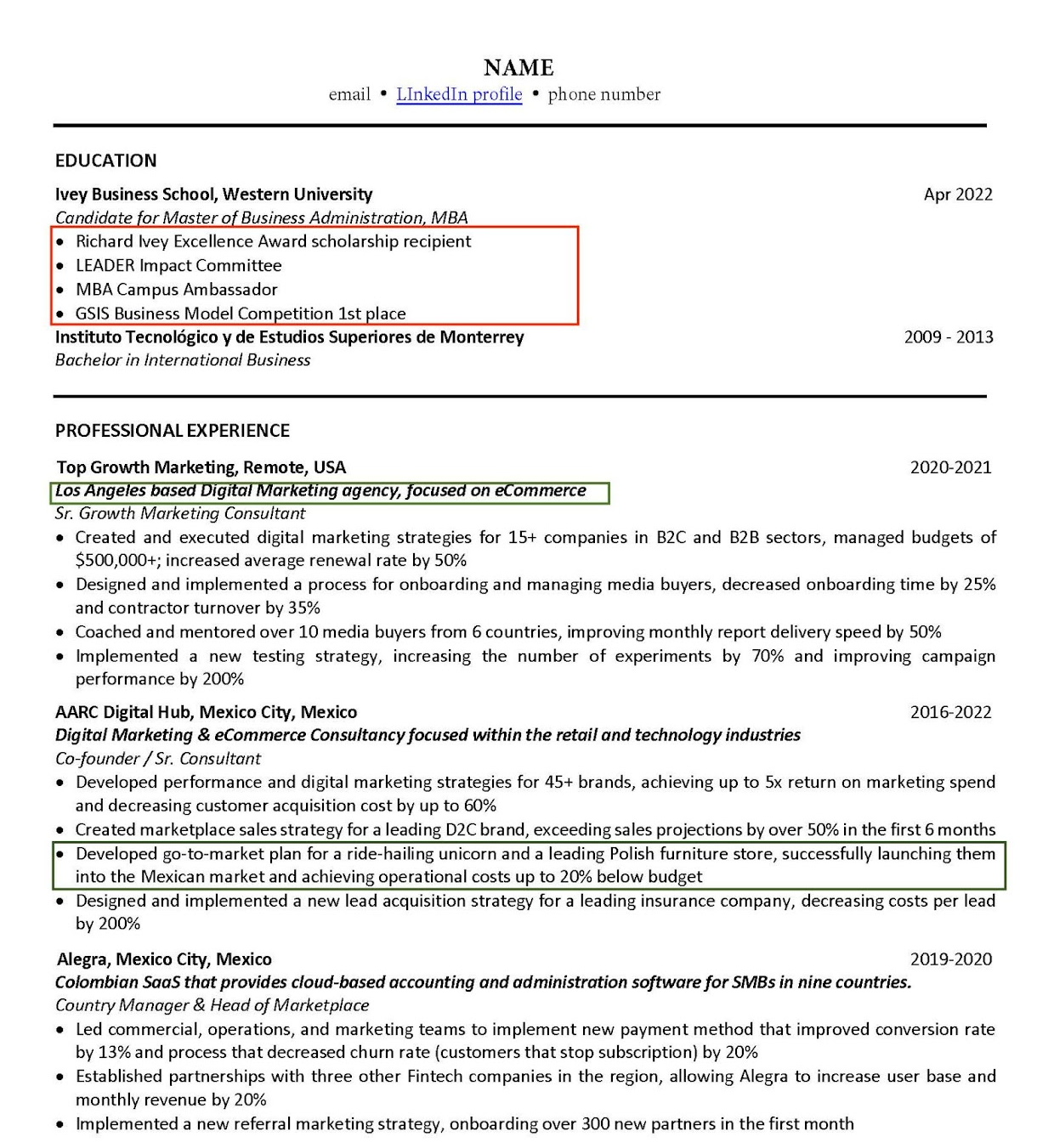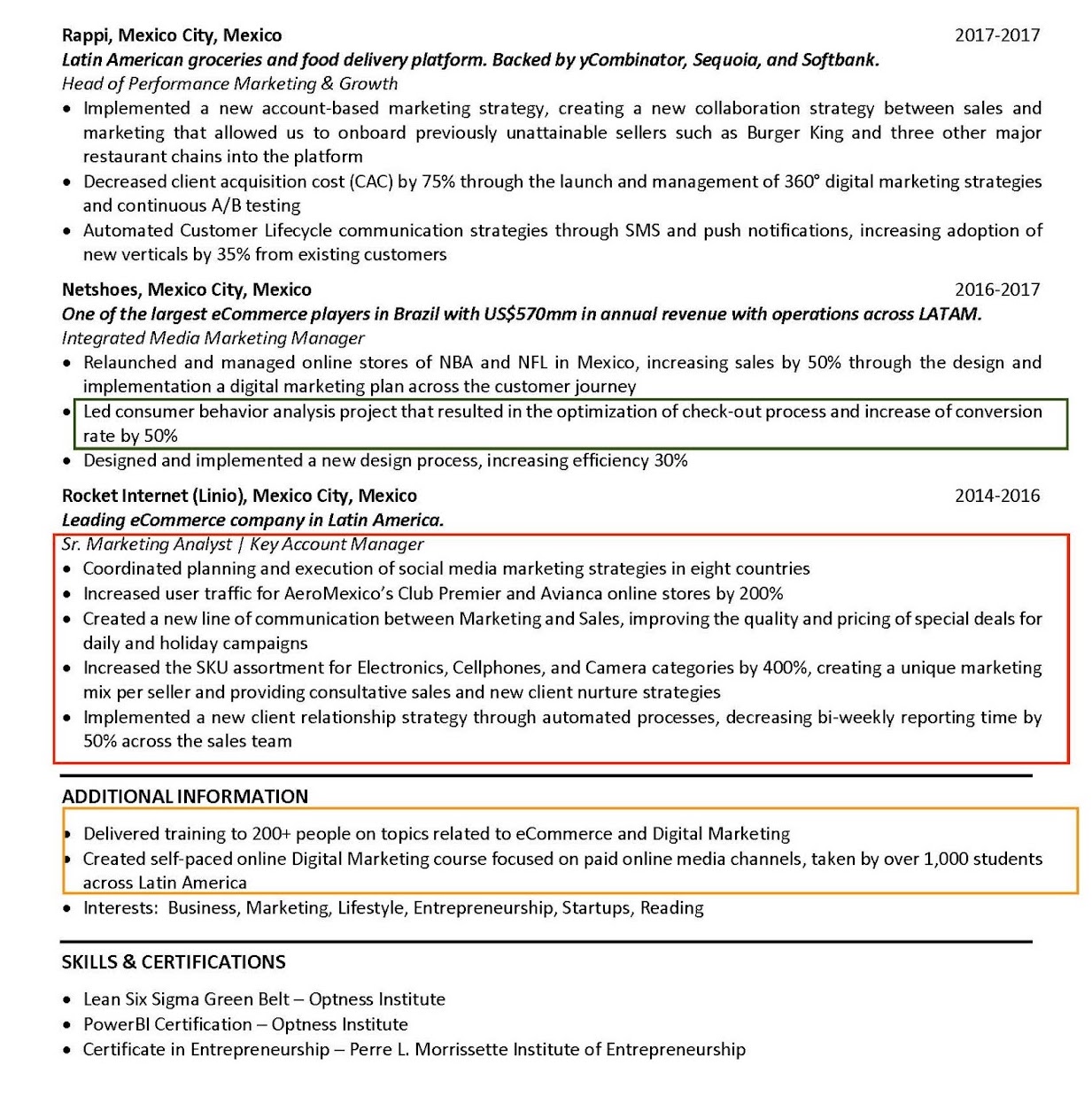 Green
This resume does an excellent job quantifying impact, and signals that the applicant is a data-driven high performer who gets results. The formatting is consistent, thereby reducing cognitive load.
The resume highlights a few core product marketing skills like consumer behavior analysis and GTM – showing recruiters relevant experience for PMM roles.
Yellow
The "Additional Information" section can be edited for brevity.
Red
Overall, the resume is long and should be trimmed down to one page. Remember, recruiters are busy and the rule of thumb is one page for every ten years of experience. For example, the education section can be reduced to a few bullet points. Similarly, earlier roles in the applicant's journey like Rocket Internet should be edited to include only the most important points.
Generally, this resume showcases digital marketing expertise but doesn't surface enough core PMM skills. The applicant could reframe their resume to show more research, messaging, GTM, and sales enablement. For example, the applicant states that they designed and implemented a new onboarding process for media buyers. To reframe in terms of product marketing, they can include their research approach to understand media buyer pain points, share specific insights that helped reduce turnover by 35%, and give examples of collaboration with product or sales cross-functional teams to develop and launch the new process.
Product marketing resume #3: Great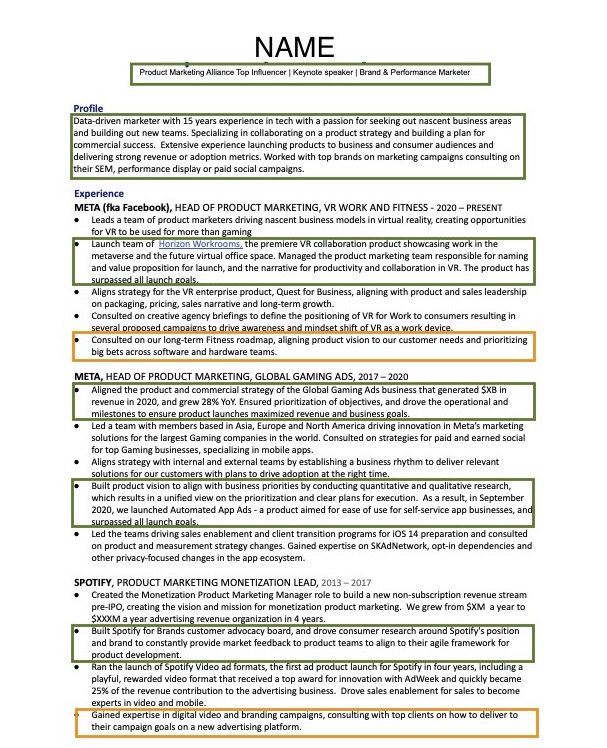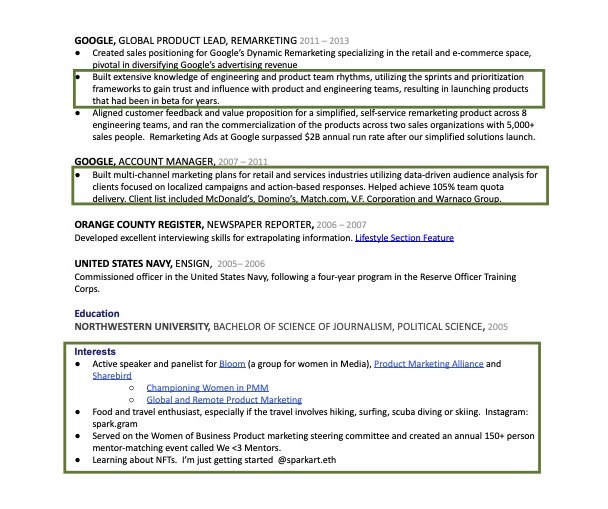 Green
This powerful resume shows breadth and depth of expertise across key product marketing pillars such as research, GTM, and cross-functional alignment.
The candidate immediately positions themselves as a seasoned product marketing leader by featuring their accomplishments directly under their contact information and highlighting key experiences and results in the profile paragraph. The candidate also dedicates most of the resume real estate to their more recent and relevant experience at Meta, while concisely summarizing Google experience from earlier in their career. This is very helpful for hiring managers who scan resumes and try to understand an applicant's story quickly.
Throughout the resume, the applicant consistently quantifies their impact, signaling they were pivotal to the success of their teams. They also make it easy for recruiters to follow their story by providing quick explanations of their projects and linking out to live examples as they do for Horizon Workrooms.
A key aspect of product marketing is establishing and nurturing relationships with the Product team. The applicant showcases this skill in the Google role with tangible examples of how they collaborated and drove alignment with product and engineering teams.
Finally, at the end of the resume, the candidate highlights their professional interests, giving recruiters insight into culture fit.
Yellow
The candidate could provide more specifics about approaches used to align vision to customer needs in their most recent Meta role.
In the Spotify role, the candidate states they gained expertise in digital video and branding campaigns helping clients achieve goals. They could provide more detail about their client's goals, and how they helped clients achieve goals through video and branding.
Summing it up
Your resume is your product marketing calling card. Keep it concise and easy to read, use clear formatting, and make sure to show as much product marketing experience as possible. As your roles evolve and you gain more experience, make sure your resume reflects your journey. Good luck!
Real interview questions. Sample answers from PMM leaders at Google, Facebook, Amazon, Uber, PayPal and more. Plus study sheets on key concepts like positioning, GTM & more.