Product management career coaching
Eindra Kyi, RocketBlocks PM Intern, Smith College
Published: Feb 11, 2021
Breaking in | Common questions | Our PM coaches | Candidate testimonials
Are you thinking about a career in product management (PM) ... but are unclear how you go from today to a dream job as a PM at Google, Microsoft, Uber or a great new unicorn?
Overwhelmed by the resources available and not sure where to even start? Or maybe you've applied to jobs in your dream role but didn't get a first round interview?
Don't worry, we've all been there.
Breaking into PM (Top)
Transitioning into your dream job as a PM is tough. The challenges are numerous.
First, the PM role is new-ish and the interview process is still evolving. This means interviews vary from company to company - sometimes substantially.
Second, competition is intense. The top associate product manager (APM) programs have acceptance rates below 1%. So even if you're top notch, the reality is that companies have a lot of great options.
Third, companies often prefer to hire PMs with PM experience already. This puts you in an odd "chicken vs. the egg" scenario if you're trying to break in for the first time.
But, there is good news. Principally, PM is an intensely cross-disciplinary role. This means that one can often bring relevant experience to the role from a wide variety of other roles - whether it's engineering, ops, customer support, marketing, etc.
The main challenge becomes framing your story in a way that makes sense, grabs recruiters' attention and is unique to you. This is where PM coaches come in.
Common questions and hurdles (Top)
Given the aforementioned challenges, it's normal for any PM candidate to have a ton of questions going into the process. Likely, you're asking yourself some (or all of) the questions below:
Is PM right for me given my interests and skills?
How do I pivot into a PM role with my current skill set?
Should I focus on big companies or unicorns?
Given my background, what type of company do I target?
How do I effectively get company X's attention?
What should I be focusing my time on right now (e.g., networking, interview prep, etc.)?
How can I stand out in PM recruiting?
How do I frame my behavioral responses for PM roles at a specific company?
Is PM coaching right for me?
If the above questions are familiar and you fall into one of these big buckets below, PM coaching can be an effective way to kick-start your transition into product management.
You're a student (college/MBA) and want to get a job or internship in product management
You're in an adjacent role (UX / software engineering / ops / sales / support) and want to transition into product
You're currently in your desired role but need help figuring out next steps to advance your growth (e.g., Sr. PM)
You're doing an x-industry transfer: moving from B2C to B2B or from traditional industries like health into consumer tech
You're trying to plan out your interview preparation strategy
RocketBlocks PM coaches (Top)
RocketBlocks vets and works with a small group of top-notch product managers with experience at leading companies like Google, Facebook, Amazon, Airbnb, Uber and more. All RocketBlocks PM experts have:
5+ years as PMs at leading tech companies
Extensive experience managing, interviewing and mentoring PMs
Are at the Senior PM level or above
Are passionate about coaching!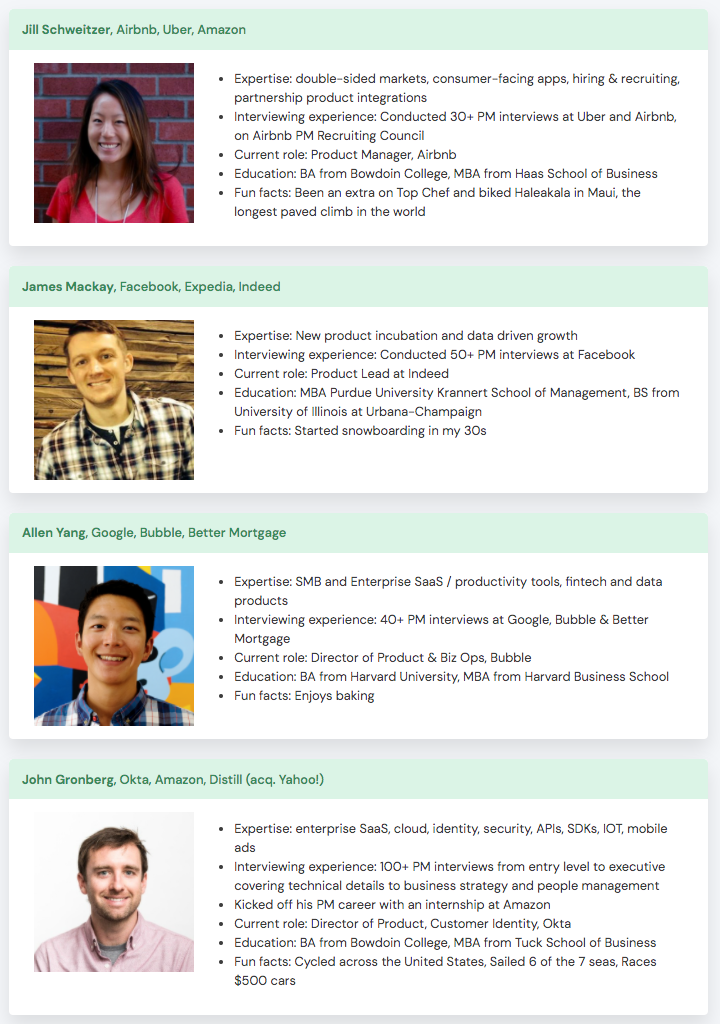 In each RocketBlocks PM coaching session, our experts will do the following:
Understand your career goals
Learn your background, including your past projects and what you have enjoyed doing in the past
Help clarify your visions
Brainstorm possible paths
Help you plan targeted preparation for interviews
Provide focused, actionable feedback
Candidate testimonials (Top)
"I had a great 1:1 session with Jill. She answered my questions clearly and with a fair amount of reasoning. The fact that her background across startups, MBA, and working in tech companies of various sizes made her observations more relatable to me. The coaching went very well. I am very happy with the observations and suggestions that Jill shared."
"I appreciated his [James'] approach to coaching. James is a natural teacher and gave detailed and thorough feedback on cases as well as general tips on the interview process which I found to be very helpful."
"John [Gronberg] asks very well thought out questions and tries to truly test the breadth and the depth of the interviewee's knowledge. He quickly identifies weak spots and helps to address them. I would highly recommend John for product managers and product leaders to practice and prepare for interviews."
"Jill was involved, shared her observations and backed up her suggestions with sound reasoning extracted from her own experiences across MBA, startups, and product. I found this very useful personally."
Sign up for a PM coaching session today (Top)
RocketBlocks PM coaching is open to all RocketBlocks members. To join, start your 7-day free trial here which gives you access to any of the vetted RocketBlocks PM coaches.
Real interview questions. Sample answers from PM leaders at Google, Amazon and Facebook. Plus study sheets on key concepts.