Deloitte Consulting's hiring process
Stephanie Lam, ex-Deloitte Consultant
Updated: September 20, 2022
Hiring criteria | Interview process | Sample questions | Culture
Making an impact that matters. That's a tall order, but one that is central to how Deloitte operates.
Now landing a job at Deloitte Consulting to allow you to make an impact that matters is not the easiest feat. However, there are a few things to keep in mind to best position yourself when recruiting for Deloitte.
Note: The below points are related to recruiting to Deloitte's Consulting practice. Differing hiring practices may be in place for different service lines (i.e. audit, risk advisory, financial advisory etc.) and/or geographies.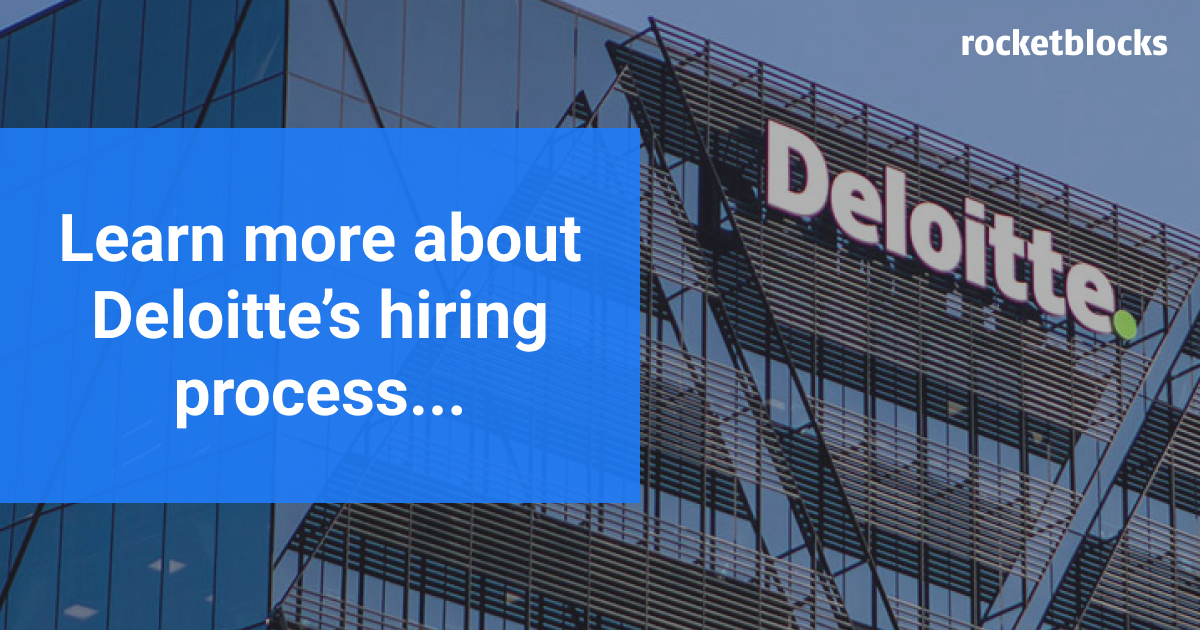 Understanding Deloitte Consulting's hiring criteria (Top)
First, to understand the hiring criteria, it is important to look at the role itself.
As a Strategy Analyst you are comfortable with ambiguity and creating your own path. You are driven to lead and make an impact no matter how big or small the problem. You leverage a 'business first lens' across functional and industry topics to drive strategic transformation and deliver solutions to clients. You will be successful by demonstrating a breadth and depth of capabilities and will be positioned as a 'best athlete' who is prepared to take on a variety of business, technological and organizational challenges. Examples of these may include innovating and improving processes and experiences; implementing tools, new offerings and data powered advancements; shaping lifecycle activities; identifying efficiencies to enhance organizational performance; and architecting innovative operating models. This individual will help some of the largest and most innovative organizations address their complex and pressing business challenges.
In this role, it is clear that there are four skills that are highly desired:
Ability to think critically
The ability to be methodical and structured is critical in addressing problems of all sizes. This naturally comes through via case interviews. Further questions resume reviewers and interviewers may look for include:
Application: How has the candidate demonstrated and applied these critical thinking skills in the real world?
Comfort with data: How has the candidate showcased their ability to use data to inform their thinking and/or decision making?
Consistency: Has the candidate applied this mindset consistently throughout their varied life experiences?
Ability to communicate clearly
The ability to clearly and professionally communicate to both teams and clients is critical in this soft-skilled focused role. With this, communication is an essential checkmark to achieve through:
Clarity: Can the candidate communicate clearly?
Conciseness: Can the candidate communicate their intent concisely?
Storytelling capability: Can the candidate structure their story across different mediums well?
Ability to lead while supporting each other
The ability for the candidate to be flexible in their role as a team member or a leader is in line with how projects and various practice development opportunities that are run within Deloitte. Candidates are expected to be able to shift and refine both these skills during their tenure, and are foundational to their success at Deloitte.
Leadership: How has the candidate demonstrated their leadership capabilities? How do they shift from being a team member to a leader?
Teamwork: How has the candidate demonstrated their ability to contribute to their team?
Building relationships: How has the candidate built strong, trusting relationships with those that they have worked with? How do they attempt to build those relationships during the interviews?
Taking on a high performer mindset
High performers are highly sought due to their ability to adapt quickly to changing situations (and all too common scenarios in consulting). Although, this is hard to measure, some key facets that are considered include:
Curiosity: How has the candidate demonstrated their curiosity for new topics / conversations?
Thriving in ambiguity: How has the candidate demonstrated that they are comfortable adapting, navigating and thriving in ambiguous situations? How have they reacted when these situations arise?
Lived experience: What lived experiences indicate that they are a high performer (outside of academics)? How has this shaped who they are today?
Deloitte recruitment overview
Getting recruited for a consulting position at Deloitte involves a multi step selection processs. Here are the five main stages
:
Initial screening: Once your application is submitted through the online portal, it will be reviewed by the Talent Acquisition team who will reach out to you if they want to move forward with your application.
Interview process: The interview process consists of two rounds of behavioral and/or case interviews. More on this below.
Assessment/Testing: Depending on the type of role, some candidates may be required to complete a psychometric or skill based test.
Pre-employment checks: Following the interview process, pre-employment checks are conducted (which include employment references).
Offer: Once you have sucessfully completed the interview process and pre-employment screening, a member of the Talent Acquisition team will contact you and make a verbal offer and follow up with a written contract.
Deloitte interview process (Top)
The typical interview process at Deloitte includes two rounds of interviews, with an optional human resource screening upfront for off cycle hires. The amount of interviews in each round varies geographically. The two rounds of interviews are structured as such:
Round 1: One (or two) behavioural interview(s), one (or two) case interview(s)
Round 2: Two behavioural interviews
Each interview is typically 45-60 minutes long, with 15 minutes allocated at the end of each for Q&A for the candidate. Candidates will typically meet a new interviewer during each conversation, with each assessing for fit and skillset. Due to service line and geographical differences, be prepared for either one or two case / behavioural interviews each in the first round.
Behind the scenes, if the candidate has applied to multiple geographies / service areas, there may be conversations to determine how best to proceed with the candidate. Reshuffling of candidate pools based on their primary and secondary choices sometimes occurs, and may result in additional conversations.
💡 Shameless plug: Our consulting interview prep can help build your skills
Deloitte sample interview questions (Top)
Interview questions are typical amongst the consulting realm, and should not be a surprise to those interviewing for consultant positions. Preparation for these questions will be key, and your ability to communicate and convey your story in a convincing manner will be assessed during each step.
Foundational questions
Why are you interested in consulting?
Why are you interested in Deloitte?
What experiences would indicate that you would be a good consultant?
Situational questions
Tell me about a time that you demonstrated your ability to lead/resolve a conflict.
Tell me about a time where outcomes did not turn out as expected. How did you resolve it?
Tell me how you would tell a client that they are missing a critical component in their data analysis.
Critical thinking questions
Tell me how you would estimate the potential market share of (insert organization) in their industry.
Tell me how you would determine if an investment would be beneficial to the organization. What inputs would you need, and what assumptions would you make?
Tell me how you would approach a potential project focused on innovating the organization's product line.
Cultural fit questions
What excites you?
Where do you see yourself in the next year?
Why do you think you would fit well at Deloitte?
Below is a great video on finding the right stories for your fit interview.
Deloitte's company culture (Top)
The culture at Deloitte is as open and collaborative as one can find. Humility and willingness to learn are core tenets of the culture, in addition to the openness to meet, share and converse with colleagues around the globe. Operating in over 150 countries globally, the Deloitte network will provide everyone the opportunity to reach out to subject matter experts across the globe.
Note: You may be interviewing for a specific service line (and likely sub-service line as well). Having an understanding of what the service line does, and tailoring to such is critical.
Consulting structure
Deloitte Consulting operates on a matrix model, with service lines and industry specification denoting the intersection where one operates in.
Service lines: Deloitte Consulting is structured into six service lines, with 20 sub-service line categorizations. Overlaps between some service-lines are common, along with partnership across service-lines when working on large projects.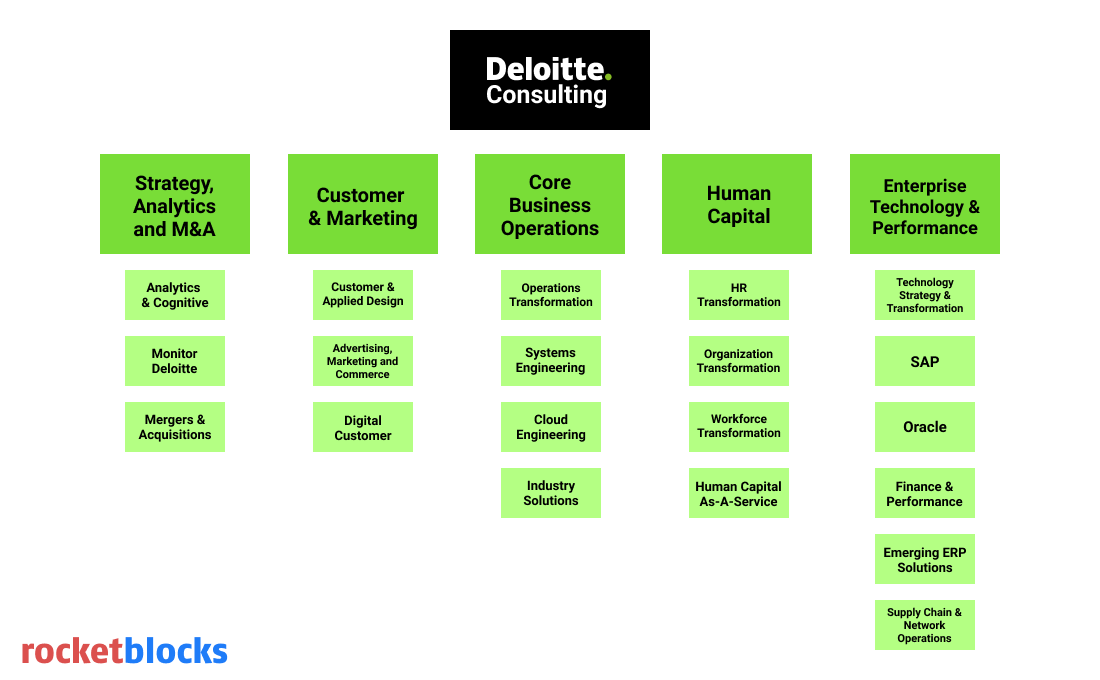 Industry Specialization: Further specialization by industry focus is available (particularly for experienced hires), with six key industries of choice:
Consumer
Energy, resources, and industries
Financial services
Government and public sector
Life sciences and health care
Technology, media, and technology
Capping it off
Preparing for an interview with Deloitte will require you to be prepared for both behavioural and case questions (no surprise). Understanding the Deloitte culture, how it is structured, and articulating why you want to join Deloitte will help differentiate you amongst other candidates.
Keep in mind that an interview is an opportunity for both parties to assess whether it's a good fit. Each person at Deloitte is just as curious to learn more about you, your story, and why you want to join consulting. Take this opportunity to let your personality shine!
Real interview drills. Sample answers from ex-McKinsey, BCG and Bain consultants. Plus technique overviews and premium 1-on-1 Expert coaching.