Acing Accenture's interview process
How to apply | Accenture hiring process | Accenture skills interview
Accenture interviews can be fairly challenging, even for the most skillful of candidates. With an enormous number of applicants and slim acceptance rates, landing your dream job in the company certainly requires a well-crafted strategy.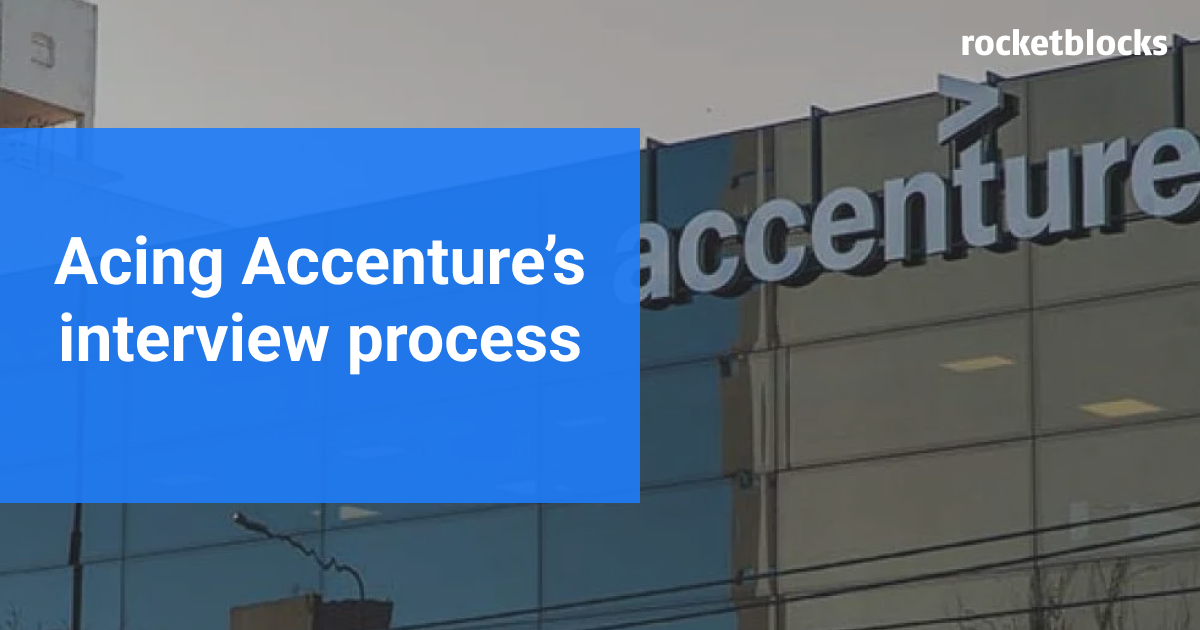 However, the good news is that it'll be relatively easy to navigate the Accenture recruitment process with proper preparation. So, at RocketBlocks, we will walk you through the whole interviewing process and teach you tips and best practices to help you succeed in your application.
About the Accenture Hiring Process
Accenture is a leader in consulting firms worldwide, offering a range of services. Some of them include business operations, business strategy, digital services, outsourcing, and technology. Initially established in 1989, it now has branch offices in more than 200 cities and 50 countries across the globe.
The company's credibility and remarkable services have made it a desirable employer for thousands of candidates who apply for a job every year. To be eligible for a job at Accenture, you need to fulfill the following criteria:
Have a relevant degree for the role you're applying for and a GPA or an aggregate of 65%.
Not have any backlog at the time of the recruitment process.
Not have an education gap of more than one year between your studies.
How to Apply for Accenture Job Opportunities (Top)
To apply for a job at Accenture, you can go to their official website. From there, you'll be able to navigate existing positions and apply to those that match your skills and experience. After sending your resume and your cover letter, you should get prepared for various rounds of interviews.
As you move forward with the Accenture hiring process, you'll be interviewed by more senior representatives. Especially if you're applying for a software engineer position, you can expect at least three to five exhaustive interview sessions, each one lasting at least an hour. These include:
HR round
Accenture Potentia interview
Accenture Case interview
Accenture Fit/PEI interview
Extra: Technical round
How long does the whole accenture interview process take?
On average, the Accenture hiring process lasts about a month from beginning to end. However, during busy recruiting periods, it might take longer.
A Rundown of Accenture's Hiring Process (Top)
Usually, the Accenture recruitment process starts with an online assessment which is essentially a mass elimination process. Accenture evaluates the candidates' cognitive function and ability through a series of tests, with occasional technical questions.
The assessments might include logical and numerical reasoning, verbal ability, and quantitative aptitude. If you make it to the next round, you'll be called for the technical interview.
1. Accenture HR Round
The Accenture HR round involves a series of behavioral questions that help determine the candidate's personality. The aim of these questions is for the recruiters to figure out if you're a good fit for the company and how you would handle the role. The questions are centered around your background, strengths and weaknesses, hobbies, experience, and qualifications. Here are some examples:
Why do you want to work at Accenture?
Tell us a bit about yourself.
Why did you apply for this position?
What makes you stand out?
How do you deal with stress in the work environment?
Describe a professional achievement of yours.
What are your strengths and weaknesses?
What are your salary expectations?
2. Accenture Potentia Interview
If you're applying for a strategic position, you'll be required to go through a prime assessment called Potentia Interview. This round aims to test your creative thinking and strategic capabilities. During the one-hour interview, you'll be presented with a short paragraph about a business topic and be given five minutes to analyze it.
After this, you'll be requested to present your thoughts to the interviewer in a conversation. No calculations will be needed at this stage. The goal is to display a range of thought and practicality. To achieve that, we suggest putting your thoughts in order so that the recruiter will be able to follow up. In other words, instead of brainstorming different ideas on the subject, try to establish some frameworks and brainstorm within each branch.
3. Accenture Case Interview
Case interviews are candidate-led sessions where the interviewee has to lead conversations instead of merely participating in them. Although very similar to the case interviews of BCG and Bain, Accenture's case interviews tend to be a bit more structured.
It can be pretty challenging to answer these kinds of questions, but try to focus on giving answers that are relevant and precise. Start by identifying:
The situation
The data provided
The data not provided
Then proceed to:
Develop a framework
Explore the framework
Provide recommendations
Here are some tips to help you out in your Accenture interview questions:
Make sure you understand the question - Don't rush into stating the answer. If you didn't get the question, don't hesitate to ask the recruiter to repeat it. In addition, feel free to paraphrase it, just to be sure you're on the same page.
Take notes - This is vital for keeping up with the presented case and being able to address a solution in detail. You'll be most likely allowed to take notes, as well as bring a graph paper in case you need to show charts or graphs.
Develop a framework - This will help you put your thoughts in order before rushing into a reply. Plus, it'll portray organizational skills and a clear way of thinking. Finally, we'll provide a sample answer with the STAR framework to help you understand what we mean.
Answer questions professionally - Think of this interview as a presentation to a future client. Sit up straight, maintain eye contact, talk clearly, and remain composed. This will give the impression of a candidate who knows what they're talking about.
4. Accenture Fit/PEI Interview
Finally, Fit/PEI interview questions aim to determine whether you're a good fit for the firm depending on your leadership, entrepreneurial drive, and personal impact. Fit are more generic questions that usually start with "why". Here are some examples:
Why Accenture?
Why consulting?
Tell me something that's not included in your resume.
Walk me through your resume.
Describe your greatest professional accomplishment.
On the other hand, PEI stands for professional experience interview. These questions usually begin with "tell me about a time when". Here are some common examples:
Tell me about a time when you managed conflict
Tell me about a time when you overcame a challenge
Tell me about a time when you led your team through a difficult situation
Accenture recruitment assessments usually include a mix of these questions to understand your character. They care about the person beneath the surface, and they'll evaluate your answers carefully.
Extra: Accenture Technical Interview
The technical interview focuses on evaluating your coding and programming skills. This means that thorough knowledge of data structures, algorithms, and computer-science-related subjects is necessary. Especially for software engineers, you need to have knowledge of programming languages, such as C++, Java, DBMS, OOPs, etc.
The more critical the position you're applying to, the more technical rounds might be. For example, if you're applying for a network engineer role, it's most likely that you'll also be tested in networking systems and security.
The Accenture interview questions might be asked via phone or an on-site interview. That's why it's vital to choose a programming language you're proficient in to feel confident in answering the technical questions. Notably, the on-site session could be held online if you're not near. It's basically a chance for the recruiter to figure out your problem-solving skills.
💡 Shameless plug: Our consulting interview prep can help build your skills
5 Tips to Navigate the Accenture Skills Interview (Top)
Now that you know what to expect in your Accenture final interview, let's discuss some extra tips on how to hone your skills and maximize your chances:
Before the Accenture Interview Process
1. Practice Makes Perfect
You can't have a chance to proceed in the Accenture recruitment process unless you practice consistently and brush up on your skills. The competition is high, so you really need to take the extra mile to stand out. Finding as many Accenture interview questions as possible and preparing your answers is key.
At RocketBlocks, we provide you with the tools, tips, and knowledge to land your dream job. Featuring insights from ex-McKinsey, BCG, and Bain leaders, we help you launch or redirect your career. Read our free guide on recruiting for consulting to get started!
2. Boost Your Math Skills
During your Accenture hiring process, you'll be expected to do fast calculations and give accurate answers. Of course, you don't need to have a perfect GPA or GMAT score to achieve that. That said, it's important to refresh standard formulas and metrics in your mind, like ROI and breakeven point. Moreover, by boosting your math skills, you'll be able to approach similar questions with an analytical way of thinking and eventually become a better coder.
3. Hone Your Problem-solving Skills
Problem-solving is the most high-in-demand skill recruiters are looking for. Since you'll be facing significant challenges every day, it's important to develop a strategy to help you navigate them. The best way to enhance your problem-solving skills is by practicing solving questions every day. This way, you'll program your subconscious into finding solutions instead of focusing on the problem. Eventually, your approach and understanding of any given problem will be changed.
4. Enhance Your Technical Skills
If you want to have a real chance of reaching the Accenture final round interview, you need to be a master of the basics first. Excelling at coding, algorithm, and data structure concepts is non negotiable. So, focus on practicing those skills and refreshing your knowledge on system-design problems.
5. Clarify Your Questions
If you have question marks on the technical bits and parts, make sure you dust off your knowledge by joining forums, reading, or practicing. There's no room for mistakes, so make sure you do your homework to avoid any unpleasantness.
During the Accenture Interview Process
1. Sell Yourself
Throughout the Accenture skills interview process, don't forget that this is you selling yourself. From the way you dress and your body language to your tone of voice and confidence, they all matter for a successful interview. If you feel uncomfortable doing so, just remember that it's all about feeling understanding the value you provide and acknowledging your expertise.
So, don't be modest about your accomplishments; talk about your successes, and share your wins. This is no time to hold back. Make the most out of it whenever you're given the opportunity to sell yourself through the Accenture interview questions. You worked really hard for those skills, and now you deserve to take the credits.
2. Be Confident and Composed
Before rushing your answers after every Accenture interview question, take your time to understand the question and give an accurate solution. Remember that half of the game is won by impressions. A confident, calm, and composed attitude showcases that you're an expert in the field. Additionally, it gives you plenty of time to lay down a solid strategy before solving a problem.
3. Think Out Loud
It might sound counter-intuitive, but talking aloud can actually help the recruiter understand how you think and your way of approaching things. So, don't be afraid to brainstorm your ideas and construct your thoughts before your recruiter.
4. Ask Questions
As tricky as the Accenture recruitment process can be, remember that interviews are not meant to be passive interrogations for the candidates. Instead, they should be a mutual conversation where both parties try to determine if this is a good fit.
Asking questions at the end of the interview is a stellar way to show your interest and gain more insights into the company and the role. However, don't overdo it, as too many questions might indicate that you weren't paying attention.
5. Use the Star Framework to Answer Questions
The STAR framework stands for Situation, Task, Action, and Result, and it can be a valuable ally to help you structure your answers to common interview questions. Let's see an example. The recruiter asks you, "Tell me about a time when you embraced a team member's ideas". Here's how you should respond:
Situation: "In my previous management position, I had a team member suggest that we use new hardware. Our company had a limited budget, so I had to figure out a way to embrace new technology solutions without overspending".
Task: "My goal was to show my colleague that their input is appreciated and also contribute to the company's technological advancement with cost-effective solutions".
Action: "So, I found some time to meet with my team member to discuss further why they think that new hardware could be useful for the company. Then, I did my own research to determine if this investment was cost-effective for our department. I concluded that it was feasible, so I managed to fit it into our budget and create training materials for other team members".
Result: "This process left my colleague satisfied for contributing to the departure's advancement, and I also learned to be open-minded and willing to embrace the ideas of others".
Ready for Your Next Accenture Interview Process?
To sum up, the Accenture interview process can be tricky, especially compared to standard corporate interviews. Many candidates are often overwhelmed by the idea of applying for job opportunities in such a big corporation. However, with the right preparation strategy, landing your next dream job will be a lot easier.
At RocketBlocks, we help candidates get better acquainted with the intricacies of the interview process by providing guidance and training. Moreover, we train you in a manner that helps you win! So if you're applying for Accenture next, claim your golden ticket to success with RocketBlocks' complete programs.
Real interview drills. Sample answers from ex-McKinsey, BCG and Bain consultants. Plus technique overviews and premium 1-on-1 Expert coaching.