Product management frameworks
Kenton Kivestu, ex-Google, ex-BCG, Founder at RocketBlocks
Published: April 30, 2019 | Last updated: May 7, 2020
Every job has its "tools of the trade" and product management is no different. There are workflow tools (e.g., JIRA), communcation tools (e.g., Slack) and intellectual tools: frameworks.
Below, we've compiled a list of commonly used and referenced product management frameworks. We've categorized them into four main categories by output or goal of the framework (e.g., "What will this framework help with?"):
How to use product management frameworks
Frameworks can be extremely powerful in highlighting key strategic decisions, illuminating the key metrics a team should focus on and guiding development and discovery processes. There are many instances in which a good framework, whether a bespoke one created for the unique scenario or a "stock" one from the list below, will be valuable.
Heads up! But, while frameworks can be very helpful, they can't be applied blindly! Judgment needs to be applied about which framework is appropriate to use in your unique product situation.
Roadmapping and feature prioritization
Gusto's prioritization framework
This is simple 2x2 matrix framework that helps you map the type of features you're building for your product (or what you've already built).
It's helpful for illuminating the mix of your current features and for planning what features need to be launched in the future.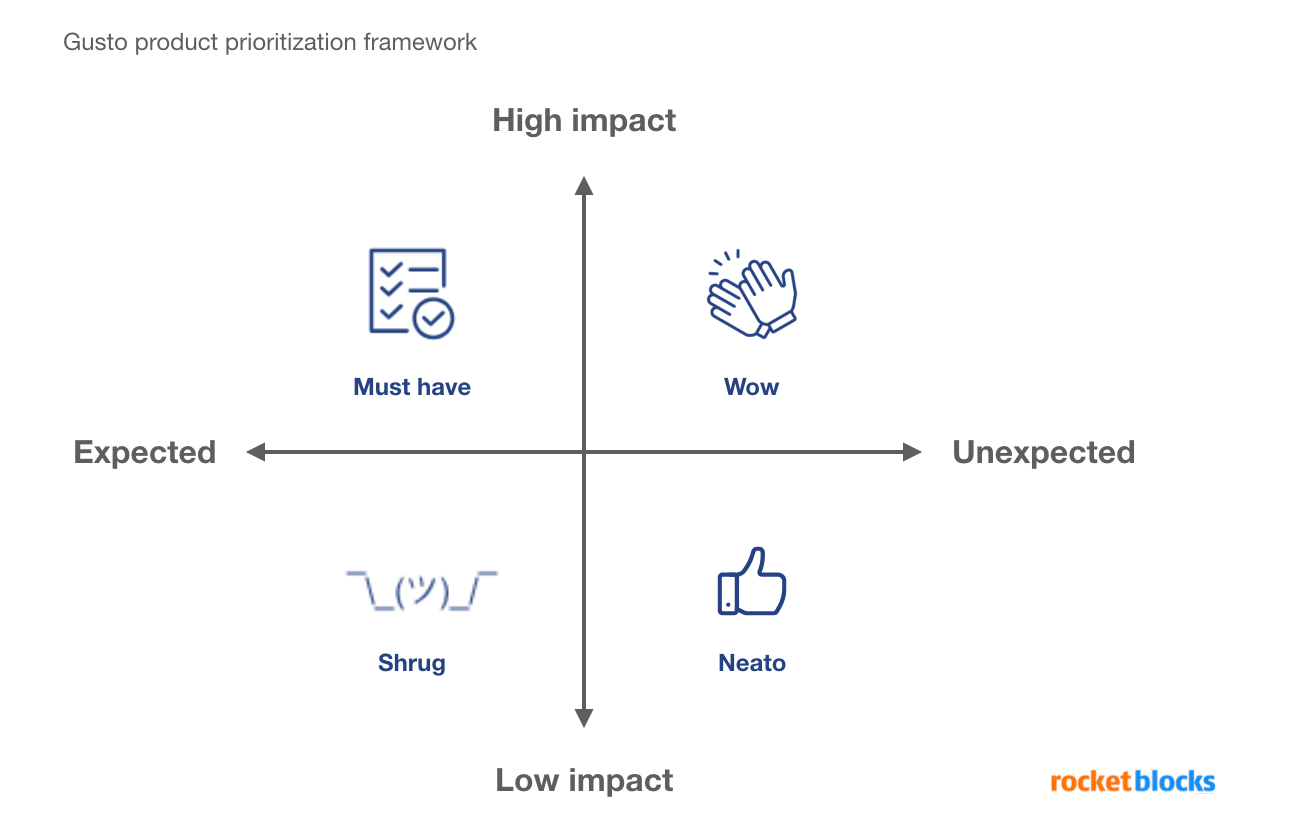 Plotting features on this matrix reminds you to compare apples to apples when making prioritization decisions. For example, you can't really compare a "must-have" feature to a "Wow" feature and choose to do the "Wow" feature because it's more exciting!
More reading: Tomer London, Gusto's co-founder and Chief Product Officer, on their prioritization framework
Facebook's 3 question approach
This is a clean, high-level, question-based framework to ensure that any product work done is meaningful and will have the desired impact.
For any feature or product, three questions should be answered so that they can focus the development effort and ensure that success can be measured.
What problem are we trying to solve?
How do we know it's a real problem?
How will we know if we've solved this problem?
More info: Julie Zhao, Design VP at Facebook, on the three questions design approach
Amazon's working backwards / PR release
Amazon PMs are known for working backwards and using an internal press release as a forcing function for starting with the customer and working backwards to the product.
The idea is simple: start by writing the press release you'd love to issue for the feature or product you're planning to build. While each PMs approach to this exercise might vary a little, key items to consider are the following:
Heading: the name of the product in a easy-to-understand name
Summary: what is the product and the benefit?
Problem: what problem does it solve?
Solution: how does it solve it?
Testimonial: what's an ideal customer testimonial?
The document should be concise (1.5 pages max) and use "Oprah speak." In other words, the press release should be simple enough for the everyday consumer to understand that it might be the type of description Oprah would give to her audience about your product.
More reading: Ian McAllister, Director of Product at Amazon, on internal press releases and working backwards
Jobs to be done
While it's not product management specific, the jobs to be done framework can be incredibly useful for product and feature planning.
The core idea is that a job is what an individual, say your customer or prospective customer, wants to accomplish in a given circumstance. The circumstances themselves are more important than product attributes, technologies, etc. And good products or features solve problems that had only poor or inadequate solutions before.
For PMs, understanding the "jobs" their customers want to "hire" their product for is a critical guide for knowing what to build, how to build it and how to market it.
More reading: Clayton Christensen explaining the jobs to be done framework
💡 Got a PM interview? Our PM interview drills help get you in top form
Metrics oriented
Funnel analysis
Funnels are a technique that allow PMs to quantify user flows through the product.
It's a super helpful technique because it nicely connects the visual design and interaction model of the app to the quantitative realities of how users engage with the product.
In mission critical parts of the product, like signing up for the product or making a purchase within the product, you'll want to have a clear understanding of how users "flow" around that part of the app. For example, we can visualize the ClassPass sign up flow (see below).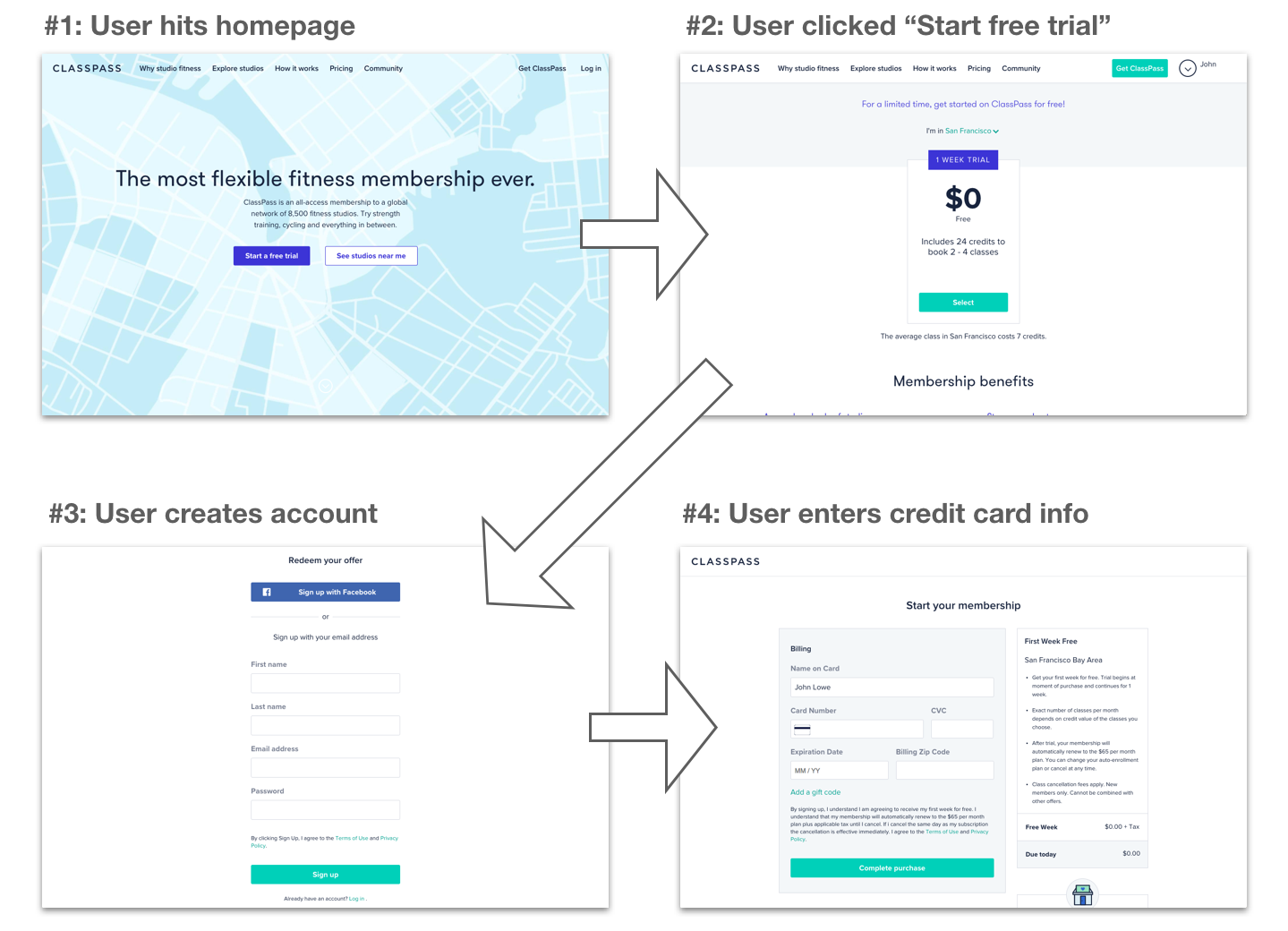 Furthermore, we can take this visual flow and turn it into a funnel analysis to understand how efficient our flow is, where users drop off and gain insights into where the product could be improved.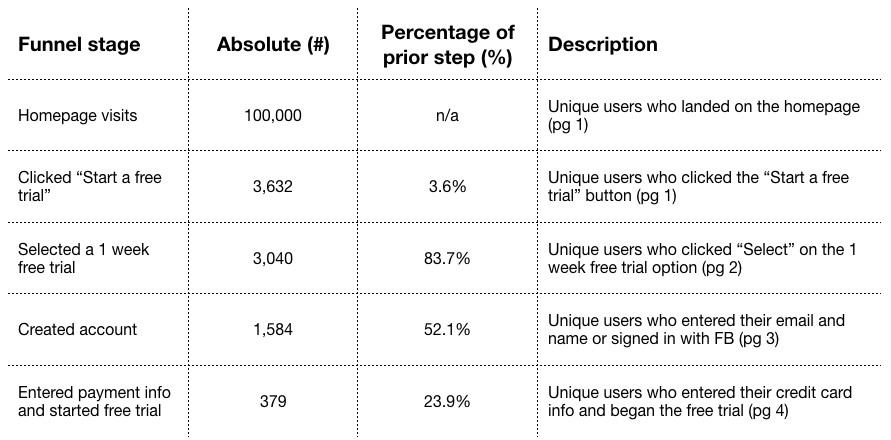 AARRR
The AARRR framework, first outlined by Dave McClure, provides a mental map for tracking customers from initial acquistion to a monetization event (e.g., buying a product, subscribing, etc.).
While the specific metrics a company or product tracks will vary depending on the tactics they use (e.g., Facebook ads versus email marketing, etc), the steps in the user journey that teams will be fairly consistent:
Acquisition: users enter your site / app / product from various channels
Activation: users learn about and engage with your product
Retention: users return to your product
Referral: users refer other users to your product
Revenue: users are monetized by your product
One could argue that revenue comes before referral, but regardless, the AARRR framework is helpful in illuminating key steps product owners might track.
More reading: Dave McClure's original presentation on AARRR metrics
User growth framework
Understanding user growth for consumer or SaaS applications is critical and often "first look" numbers like total users or monthly active users (MAU), aren't super helpful.
The user growth framework can help illuminate the drivers of user growth by decomposing an aggregate number like MAU (or DAU, WAU, etc.) down into segments. For example, MAU = New users + Reactivated users - Churned users.
To illustrate the power of this framework, consider an example. Two companies in the same space both have 10M MAUs - will their fates be the same? One may have extremely low churned users but slower growth versus the other which has high new user growth driven by heavy advertising coupled with very high churn.
More reading: Jonathan Hsu, Social Capital, on breaking down user growth
Engagement focused PM frameworks
Hooked Model
The Hooked model was developed by Nir Eyal to describe a model of how modern tech products engage users.
While it was originally designed with consumer products in mind (e.g., Pinterest, Facebook, etc.), the model is increasingly applicable to various enterprise SaaS models as well). Below, we show what the loop looks like roughly for an app like Instagram.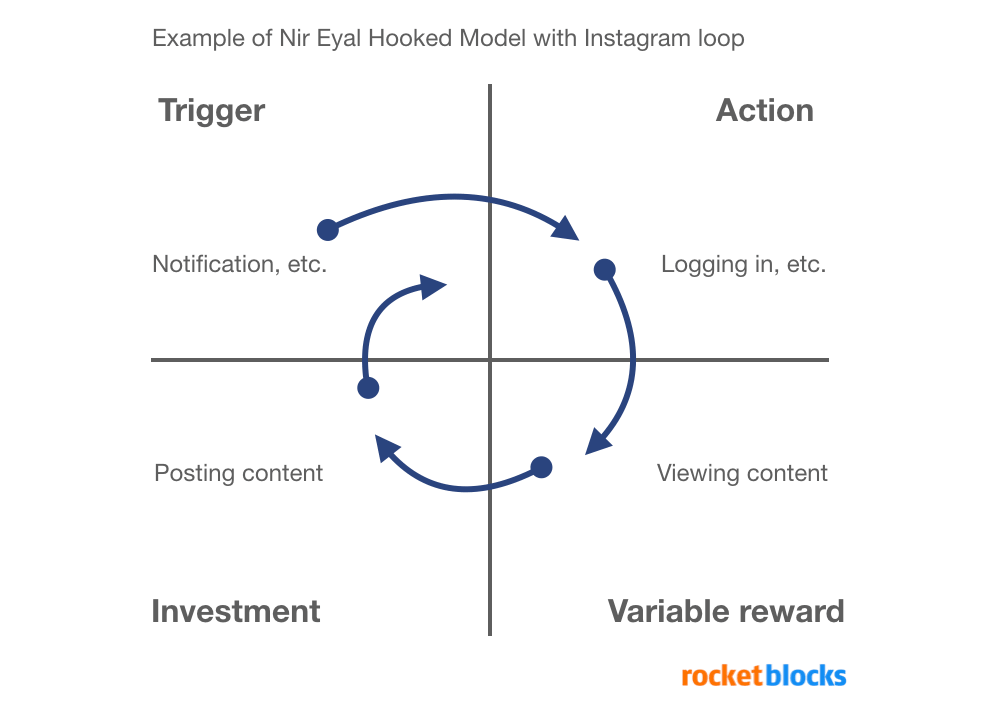 The model describes a four-step process: a trigger (e.g., a notification about a friend sharing a story), an action (e.g., logging into Instagram), a variable reward (e.g., user sees their friends story and loves it, or not) and an investment (e.g., the user contributes his/her own story to the app, which increases his/her likelihood of returning).
More reading: Nir Eyal's blog explaining the habit forming model
Process focused PM frameworks
GV design sprint
GV's own explanation says it best:
The sprint is a five-day process for answering critical business questions through design, prototyping, and testing ideas with customers.
The process proscribes specific activities to each day, starting with mapping the problem on day 1, proposing solutions on day 2, picking a "best" solution on day 3, building a dead-simple prototype on day 4 and testing it with potential customers on day 5.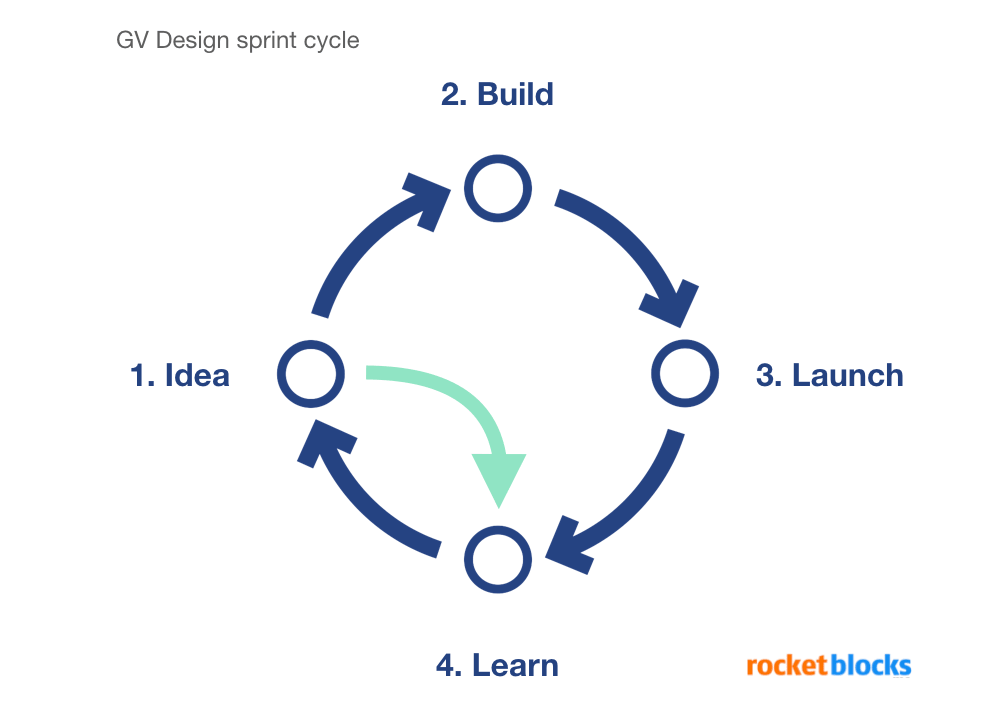 More reading: The GV team extensively documented the sprint process with guides in this design sprint overview
Dropbox 3 phases model
This framework is focused on illuminating where a product team is in the lifecycle of a project. It has similar elements to the Facebook 3 question approach but is slightly more geared toward helping the team (and external stakeholders) understand where they are in the lifecycle.
Phase 0: What is the problem we're trying to solve?
Phase 1: How are we going to solve that problem?
Phase 2: What does our solution look like?
The value from this model is two fold: 1) clarify the right questions and feedback for a particular project (depending on the phase) and 2) divorces getting agreement on the problem.
More reading: Sean Lynch, former Dropbox PM, on the three phases approach
Superhuman product-market fit exercise
Rahul Vohra created this simple process to measure whether his startup, Superhuman, had true product market fit.
To start, you survey your users and begin with one critical question: "How would you feel if you could no longer use Superhuman?" The options are: 1) very disappointed 2) somewhat disappointed and 3) not disappointed. Studies have found that products who have 40% or over answer "very disappointed" tend to get traction and take-off.
Knowing how many users answer "very disappointed," and importantly, what type of users they are can kickstart a process of user segmentation and feature iteration. Ultimately, the goal is to understand what segment of users really care about your product, identify similar users who are more ambivalent currently (e.g., "somewhat disappointed") and determine what the product could do to convert them.
More reading: Rahul Vohra, founder of Superhuman, on a process for measuring product-market fit
Real interview questions. Sample answers from PM leaders at Google, Amazon and Facebook. Plus study sheets on key concepts.