How an Associate Consultant at Bain & Company prepped for interviews
Jay Lakhani, Consultant at BCG
Published: August 9, 2023
Background | My prep | Advice
Jay Lakhani is currently an Associate Consultant at Bain & Company and a RocketBlocks expert.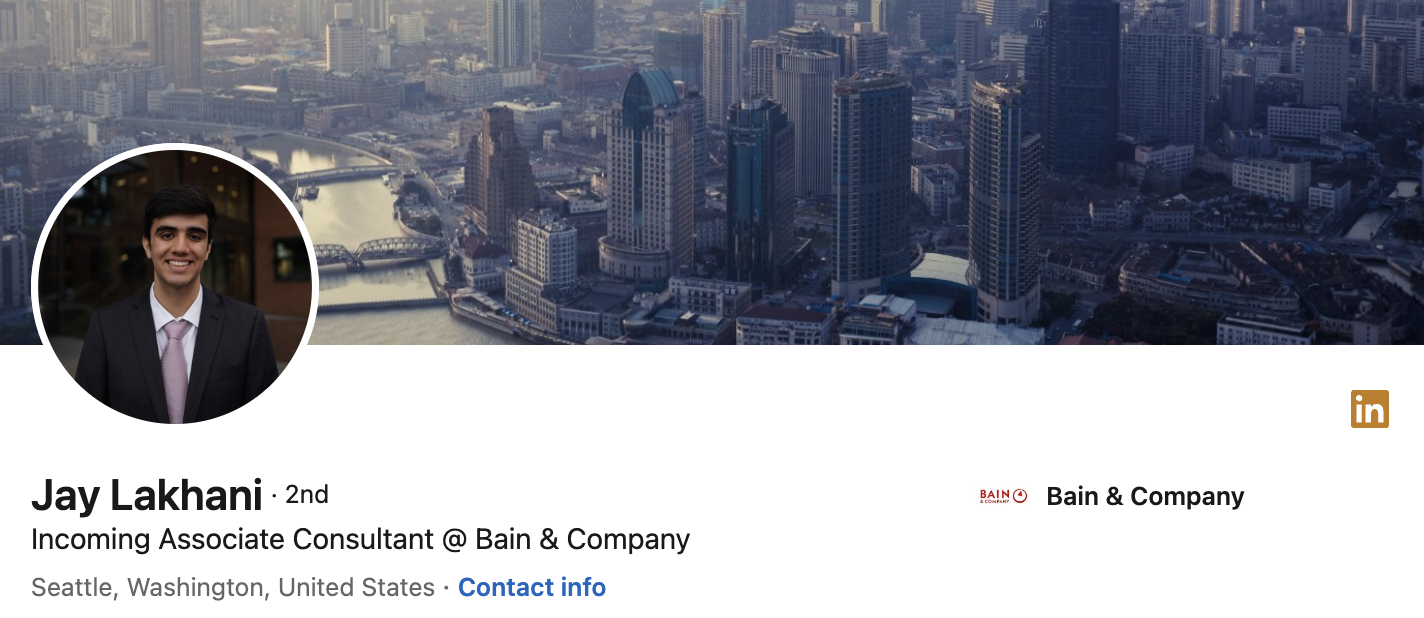 In this post, we'll hear about how Jay prepped for his consulting interviews, what worked and what didn't, and the advice he has for candidates who are in the thick of the interview process.
Why I pursued consulting (Top)
What's your professional background? Why did you decide to pursue Consulting?
As someone who was unfamiliar with what consulting was, and that consulting jobs were frequently spoken about by peers, I decided to join the University of Washington Consulting Association (UWCA).
Through UWCA, I quickly came to learn that consulting closely aligned with my interests: a fast-changing, collaborative, and impact-driven field of work. I was drawn to the appeal of getting to work in a variety of industries and learning what specific area of business I would like to specialize in. Additionally, I was told about the great travel opportunities and benefits that consultants receive. Soon after joining UWCA, I made a plan to land a role at a consulting firm post-graduation.
Through meeting peers who had successfully landed a role at the Big 4 and MBB, I knew that I could also achieve the same role at one of these firms if I put my mind to it. During my junior year summer, I interned as a Health and Benefits consultant at Mercer, a management consulting company. Although the field of work did not strongly appeal to me, I learned about key business operations and gained valuable industry knowledge. After my internship, I landed a role as an Associate Consultant at Bain & Company.
My interview prep (Top)
What were the first steps you took as you began your interview prep?
The first step I took to begin my interview prep was watching case interviews on YouTube. This was a great way to get a feel for what a case was and provided a visualization of what the 'end goal' looked like.
Next, I did some research on resources to help people prepare for a case interview. From my research, I found that many people were recommending a casing book called Case in Point, and peers at my consulting club recommended signing up for Rocket Blocks.
Reading Case in Point provided me with the essential foundation framework skills and how to guide through a case. I also found some helpful websites that explained different cases and frameworks that would help for each type. After this, I found peers who were also recruiting for MBB through UWCA and also through RockeBlocks's website and began to practice casing.
How much total time did you spend prepping for interviews? How many mock interviews did you complete?
I spent A LOT of time preparing for case interviews by reading textbooks, completing drills, and practicing casing. It took me a few weeks to grasp the basic frameworks and general workings of cases, and I learned these skills through reading textbooks and taking online lessons.
I cased rigorously every day for three months before my application cycle and continued to case during the rounds of interviews as well. I estimate that I have completed over 100 cases so that I could consistently provide well-developed and tailored answers.
How did you identify areas to work on during your interview prep? How did you practice?
I identified areas to work on during my interview prep by:
Reviewing case answers provided and comparing them to my own. Specifically, looking for ways to improve framework structure, market sizing etc.
Receiving feedback from those that I case interview with. The best piece of feedback that I received was to demonstrate coachability in the interview. This is essential, as interviews through Zoom can lead to unintended miscommunications. I have explained what this means in question 5.
Completing drills on these areas of weakness' on RocketBlocks. I challenged myself by doing extra framework and market sizing drills.
I practiced casing by:
Peers who were recruiting for MBB
Family members
MBB employees
Incoming and current employees
By myself with cases from textbooks, online, etc.
Ensuring that I review the case answers and take note of areas of improvement
Others on RocketBlocks
What was the most impactful part of your prep?
The most impactful part of my prep was when I learned these two things: to be coachable during the interview and to provide creative and case-tailored answers. Being coachable is a key skill that employers look for, and you can show this by being flexible and open to receiving guidance from the case interviewer. Lastly, one can demonstrate strong business acumen and shine in the interview by providing creative and tailored case answers.
What was the least impactful part of your prep/the biggest waste of time and energy?
I found that memorizing frameworks was the biggest waste of time. Whilst knowing the basics of each type of case framework is important, the best way to answer cases was by applying real-life examples and practicing as much as possible.
Everyone can learn the basic frameworks, so you will limit your success in the interview process if you do not specifically tailor the framework to the case and demonstrate business acumen by providing real-world examples. I discovered that keeping up with daily news was an effective method of showcasing my knowledge during cases.
How confident were you going into interviews?
Like most people experience, I had nerves going into the interviews. However, I felt assured that I had invested sufficient effort in my preparation and was putting forth my best effort.
Knowing what you know now, what advice would you give to yourself at the very beginning of your interview prep?
I would strongly suggest that you find multiple avenues of casing, whether that be with a professor or through the methods that I used.
In addition, whilst learning the frameworks is important, it is equally important to apply real-world examples and statistics to demonstrate business acumen during the interview. Practicing areas of weakness using RocketBlocks's drills is a really effective way to study. Lastly, ensure that you give yourself at least two to three months of preparation time before you apply.
Real interview drills. Sample answers from ex-McKinsey, BCG and Bain consultants. Plus technique overviews and premium 1-on-1 Expert coaching.