How a Consultant at Bain & Company prepped for interviews
Britanny Biggs, Consultant at Bain
Published: August 9, 2023
Background | My prep | Advice
Britanny Biggs is currently a Consultant at Bain & Company and a RocketBlocks expert.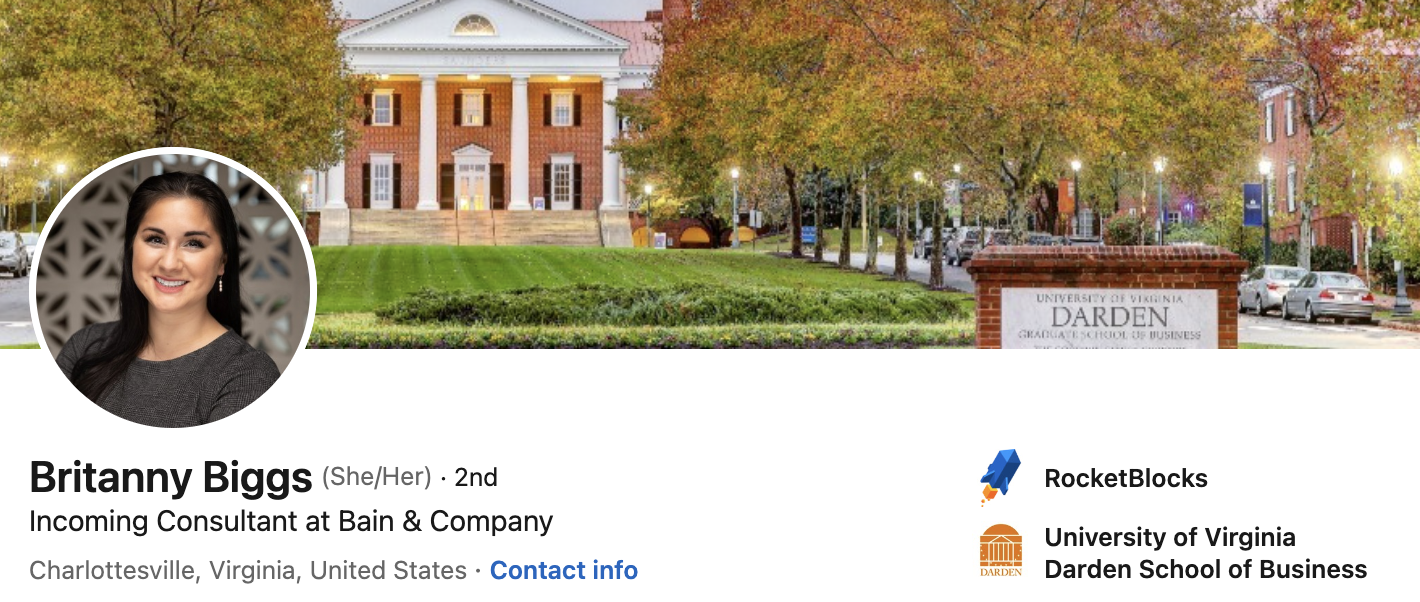 In this post, we'll hear about how Britanny prepped for his consulting interviews, what worked and what didn't, and the advice she has for candidates who are in the thick of the interview process.
Why I pursued consulting (Top)
What's your professional background? Why did you decide to pursue Consulting?
My background is in the education sector. I was a teacher and school Vice Principal. Consulting felt like the best fit as a career switcher because it provides exposure to the broadest array of industries and capabilities.
My interview prep (Top)
What were the first steps you took as you began your interview prep?
I didn't know what casing was when I started! I was advised to gain some context first by watching videos of people's case, then watching Victor Cheng's Case Interview Workshop series.
How did you identify areas to work on during your interview prep? How did you practice?
Math made me nervous!
I struggled to determine what math to do on an exhibit, and my casers would note that this often ate up too much time. To get better at this I would use the last few seconds of my framework to think about what information I'd need to know to solve the problem, and how I'd use it. Once I got to the exhibit, this helped me determine the most relevant variables more quickly.
How much total time did you spend prepping for interviews? How many mock interviews did you complete?
I interviewed in the summer during pre-MBA recruiting and with just 4 weeks to prepare, needed to prioritize the highest leverage components.
During the 1st 2 weeks: I spent 2 hours per day focused primarily on my pitch, my behaviorals, watching case walkthrough videos, and listening to the WSJ "What's News" podcast to get a sense of the key trends in industry. I did a live case practice about every 3rd day and live behavioral practice every other day.
During the 2nd 2 weeks: I spent 3-5 hours per day with one hour focused on behavioral practice ( live as much as possible) and listening to WSJ, 30 minutes focused on RocketBlocks charts and framework practice, and 1.5 hours on RocketBlocks math modules and mixed bag math drills. During this time I did a live case or a case drill about every other day.
In total, about 80-90 hours over the course of a month and 12 cases.
What was the most impactful part of your prep?
Rehearsing my behavioral responses and pitching them in person and on Zoom with multiple people. This allowed me to feel more at ease interacting with my interviewer and as a result, my responses came through with more clarity and authenticity.
This also translated to my case interview, which I felt less confident about, as I was able to ensure that the way I delivered my insights was as a partner rather than a performer.
What was the least impactful part of your prep/the biggest waste of time and energy?
Running cases by myself was NOT a good use of time- I was far less fluent when casing with another person than I'd anticipated and realized how important it is to practice speaking everything out loud.
How confident were you going into interviews?
Not at all. I worried so much about the math and performed best when I thought about ALL of the case components. When I focused on starting the case strong by leaning on my more qualitative strengths, I was able to begin the case on a confident note, then move into the quantitative components with my nerves more settled.
Knowing what you know now, what advice would you give to yourself at the very beginning of your interview prep?
I'd tell myself, "It's important to improve your weak areas, but when it comes to your strengths, you need to knock it out of the park." My coach gave great advice when she told me to think about getting an "A-" on my weaknesses and an "A+" on my strengths so that I didn't spend so much time working to be proficient in one area that I forgot to make sure I was an ace somewhere else.
Real interview drills. Sample answers from ex-McKinsey, BCG and Bain consultants. Plus technique overviews and premium 1-on-1 Expert coaching.